Our Choice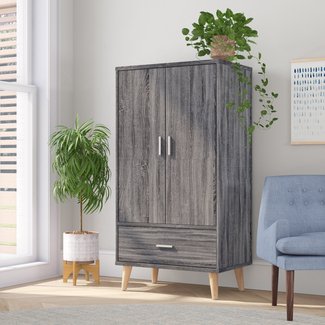 Grosso Armoire
Enhance the look of your bedroom with this spacious wardrobe that comes in two colour variations. It features an ample main compartment with a clothing rod and a hinged door as well as a bottom drawer that glides on metal tracks. The wardrobe is elevated on round flared legs that highlight the mid-century look and make it extremely easy to keep the underneath surface clean and dust-free.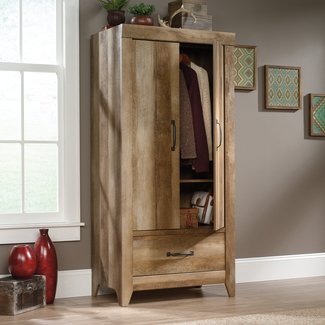 Mald Storage Armoire
This gorgeous armoire will add a unique vintage vibe to your bedroom or entryway. It's engineered with MDF wood covered with a paper laminate finish that showcases the most genuine surface design of natural wood. It will look great in a farmhouse with its classic country appearance. It comes with a hidden bonus—an adjustable shelf to further personalise the storage of your garments and accessories.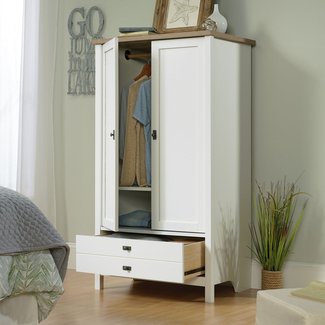 Myrasol Armoire
Organise your clothing clutter with this armoire featuring a rodded chamber with 25lbs capacity, adjustable shelve, and easy-roll drawer. The patented T-lock drawer system allows a quick assembly. It's ISO-certified and it meets ASTM international's safety standards with its tipover restraint device. It's an ideal pick for creating a hazard-free home where children's safety is a priority.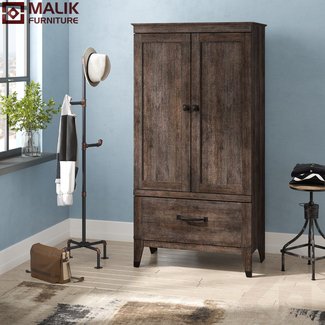 Chappel Armoire
This sturdy wardrobe fuses rustic detailing and industrial inspiration with a modern silhouette. It's available in three colours: lintel oak, coffee oak, and Washington cherry. The well-worn black metal handles further enhance the overall aged look. Surround it with natural hues, especially greys, coffee, sand as well as dirty blues and greens to carry on with the urban organic theme.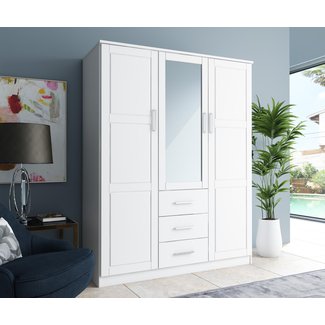 Delfina Armoire
Invest in a durable multi-compartment organizer by acquiring this massive armoire. Besides the classy look, it provides ample space for your garments, sheets, blankets, and shoes. The interior is fully customisable with a possibility of 10 adjustable shelves. There are 3 drawers with a sturdy plywood bottom surface to hold substantial weight. The built-in mirror enhances its appearance and extends its functionality.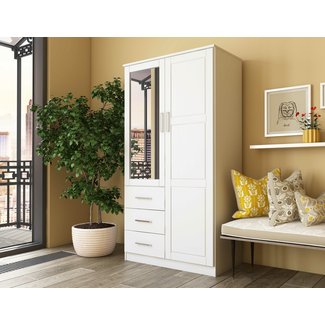 Derlyum Mirrored Wardrobe Armoire
This wardrobe is cleverly designed to accommodate hanging and folded clothes as well as accessories like belts, scarves and underwear, therefore it's an ideal pick for pedantic organisers. It comes with 3 spacious drawers, 2 hanging rods, and 2 shelves (and a possibility for more shelves). You can be sure the solid pine wood construction will withstand the test of time and the natural wood grain colour variation will quench your thirst for authenticity.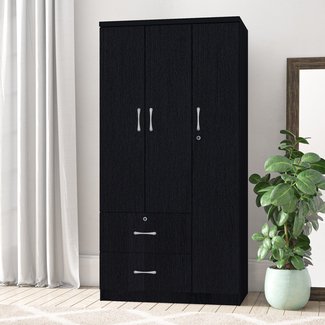 Blankenship 3 Door Armoire
This 3 door armoire crafted from medium-density fiberboard is a perfect solution for anybody who seeks extra protection and privacy for their belongings. It's equipped with a lockable drawer and 4-shelf compartment, so you can rest assured your precious or private possessions are safeguarded from roommates or snooping kids. The armoire comes with a tipover restraint device for extra safety.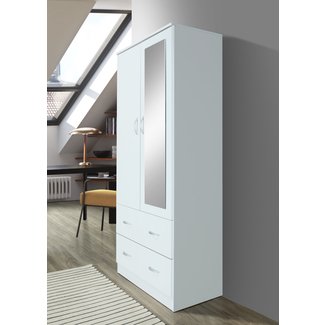 Mapleville Armoire
If you're looking for a simple clean-line design accompanied by durability and sturdiness, look no further. This mirror-enhanced piece is available in 6 earthy tones: beech, cherry, chocolate, mahogany, black, and white. Such a wide colour selection allows you to easily expand the storage in your bedroom without visually disrupting your existing decor. The double handles of the drawers boost the overall presence while ensuring an even and break-resistant glide.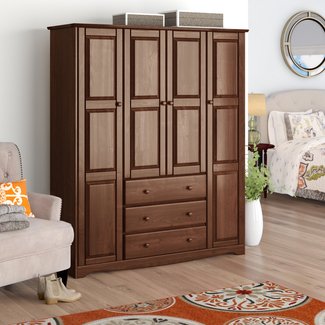 Musman Armoire
Organise your garment clutter with this spacious 60-inch-wide solid wood armoire. It features two tall chambers located on each side perfect for long dresses and coats, and a shorter middle compartment for regular hanging clothes. The 3 drawers run smoothly on metal Euro rollers ensuring easy-breezy access to heavy loads. If you need more space for folded clothes and accessories, you can personalise the main compartments of the wardrobe by adding sets of adjustable shelves.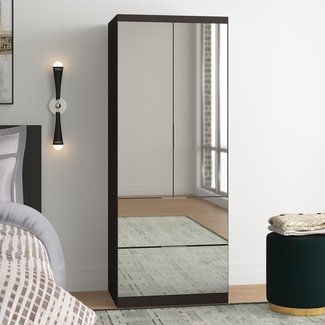 Alpha Centauri Mirrored Armoire