Our Choice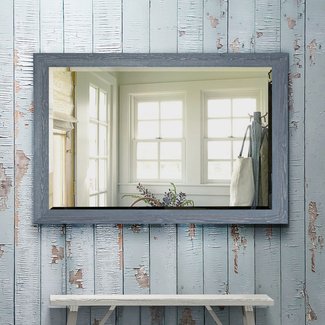 Zandra Farmhouse/Country Mirror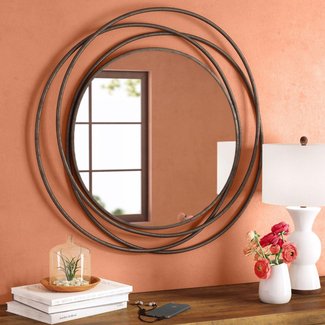 Stier Accent Mirror
This round ornamental mirror uses brass rods as a frame and as decoration. It is a unique item that would be equally attractive in a bathroom or living room. The overall size of the mirror plus its slightly antiqued frame is 41 inches by 41 inches. The warm tones of the coppery frame would lend itself equally well to a farmhouse or steampunk theme. The mirror will easily serve as an accent or a last-minute check on appearance.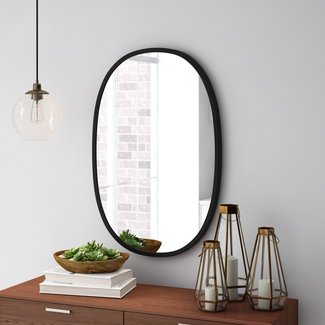 Hub Modern & Contemporary Accent Mirror
Beautiful in its simplicity, this oval mirror with its black frame is perfect as an end of the hall accent or as a Feng Shui mirror in any desired indoor location. It is available in several sizes, and it can be hung either horizontally or vertically. The mirror reflects without distortion. The frame is black rubber, giving an unexpected element to this mirror. It also gives an added amount of durability and buffering against bumps.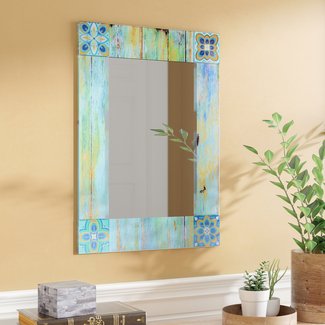 Arrigo Rustic Accent Mirror
This mirror is an interesting piece. The frame is made of 4-inch-thick silk-screened glass. The design on the frame imitates rough wood and has a blue detailing built right in. The corners of the frame are accented with colorful tiles, giving a delightful boho look to the mirror. It could be a beautiful addition to any room in the house, and could act as a conversation piece. Hanging wire is included on the back.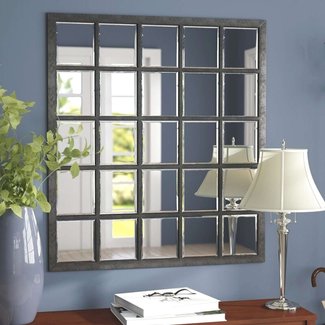 Traditional Beveled Accent Mirror
Interesting beveled accent mirror, divided into squares like an old-fashioned leaded glass window. The dividers, however, are oil-rubbed bronze which gives a warm tone to the mirror. Perfect for creating an imitation "second window" in your living or dining room. Designed for dry areas only. If hung on a wet wall, it can cause the mirror backing to distort and damage the mirror. Do not use wire to hang. Instead, use the attached hanging slots.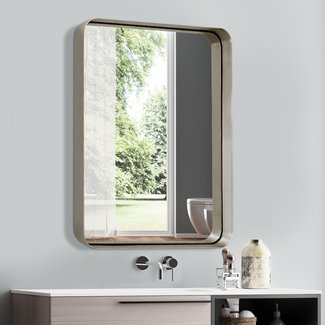 Traditional Beveled Wall Mirror
Clear distortion-free beveled mirror framed in polystyrene designed to look like attractive wood. The dark, wood-tone frame makes an attractive statement in the hallway or living room. This mirror needs a dry area, and would probably not be the best choice for a bathroom. To clean, simply wipe with a dry cloth. This mirror is made in China. The mirror can be mounted vertically or horizontally to fit the desired space.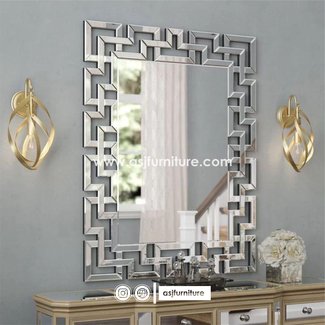 Caja Modern & Contemporary Beveled Wall Mirror
Charming beveled wall mirror with Greek traditional design frame created with pieces of mirror. This lovely artwork could be hung anywhere to good effect. It has no problem with being wet, and can become part of your bathroom décor. The silver-toned mirror framework gives an interesting reflection of light and color in your room. The mirror and frame can be hung either horizontally or vertically to fit the space where you would like for it to be.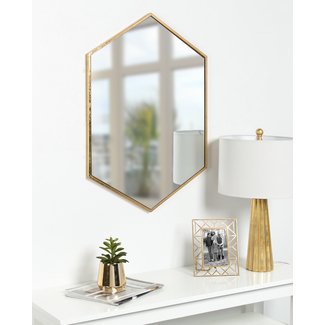 Hentz Modern & Contemporary Accent Mirror
This modest hexagonal mirror with gold-colored frame can be placed almost anywhere. The unusual six-sided shape, with two short sides at the top and two short sides at the bottom, with elongated areas on either side, make it easy to place this mirror anywhere you would have placed a rectangular mirror. It is the perfect accent mirror to place behind an occasional table in a hallway, especially with a bouquet placed in front of it.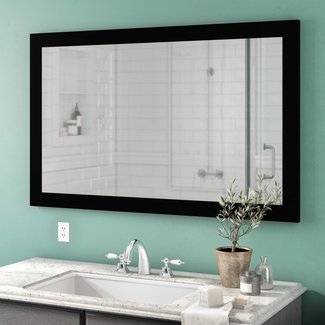 Hayley Accent Mirror
A bold, two-inch-wide, black wooden frame sets this mirror apart from others. Available in various sizes, it can be hung either horizontally or vertically. Available in eight graduated sizes, you are sure to be able to find one of these to fit your space. It is one of those "hang anywhere" mirrors, so it can be used from bathroom to front hall without problems. Two sets of hangers are provided on the back.