Our Choice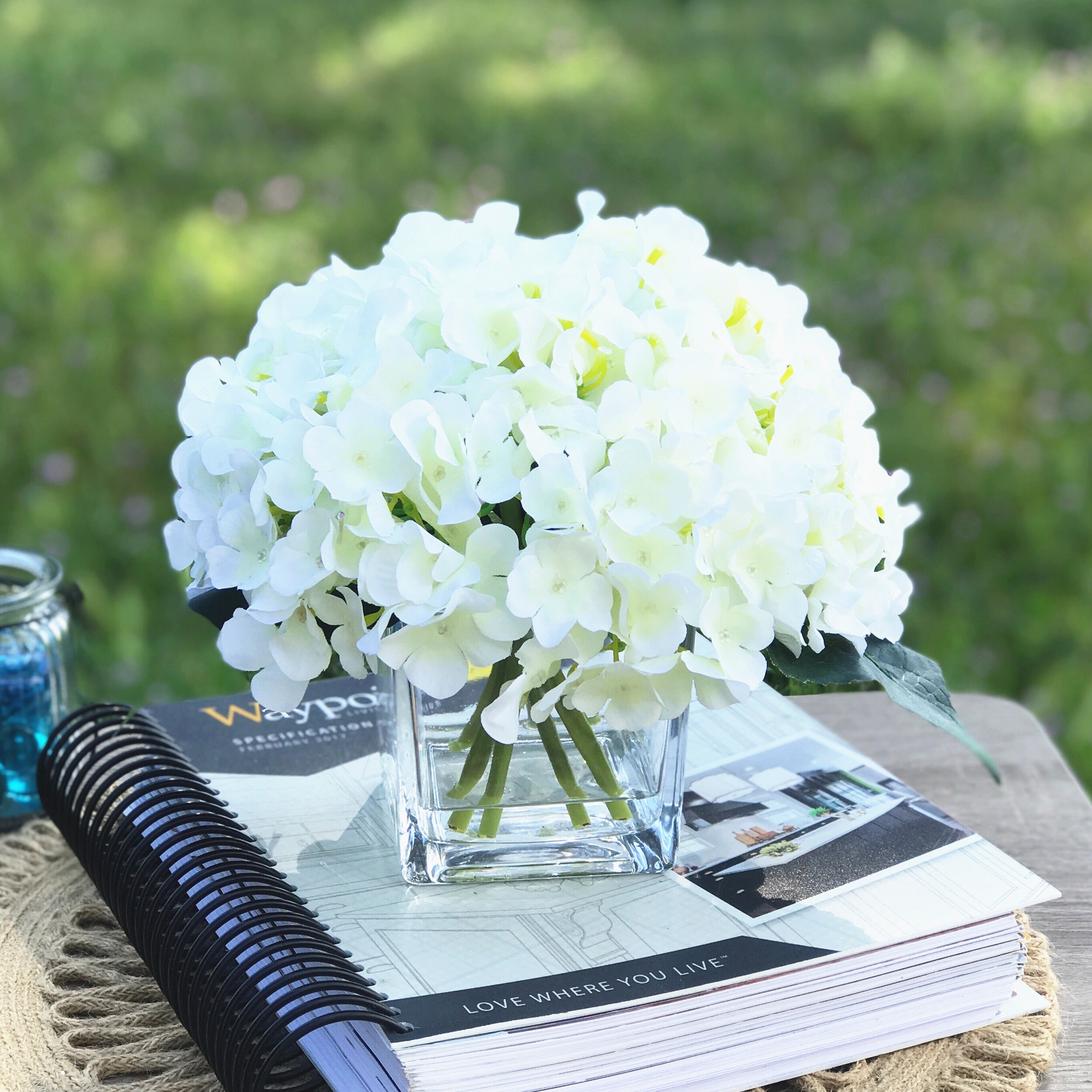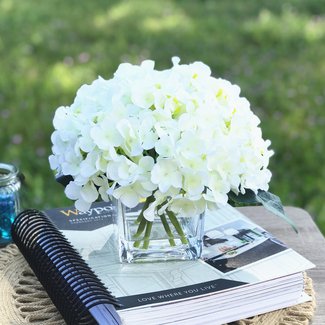 Hydrangea Floral Arrangement in Vase
Hydrangeas symbolize heartfelt emotions and their beauty captures this nicely. This 4"x4" glass vase holds 7 radiant stems that blend together in harmony. High quality silk brings life to the arrangement and brings serenity to any space. A pool of acrylic can be found in the bottom of the vase, giving the impression of water. Your bouquet is stunningly real and ready to brighten up any dark corner. Made of cream colored silk, place on your night stand or in an entry way for a happy factor.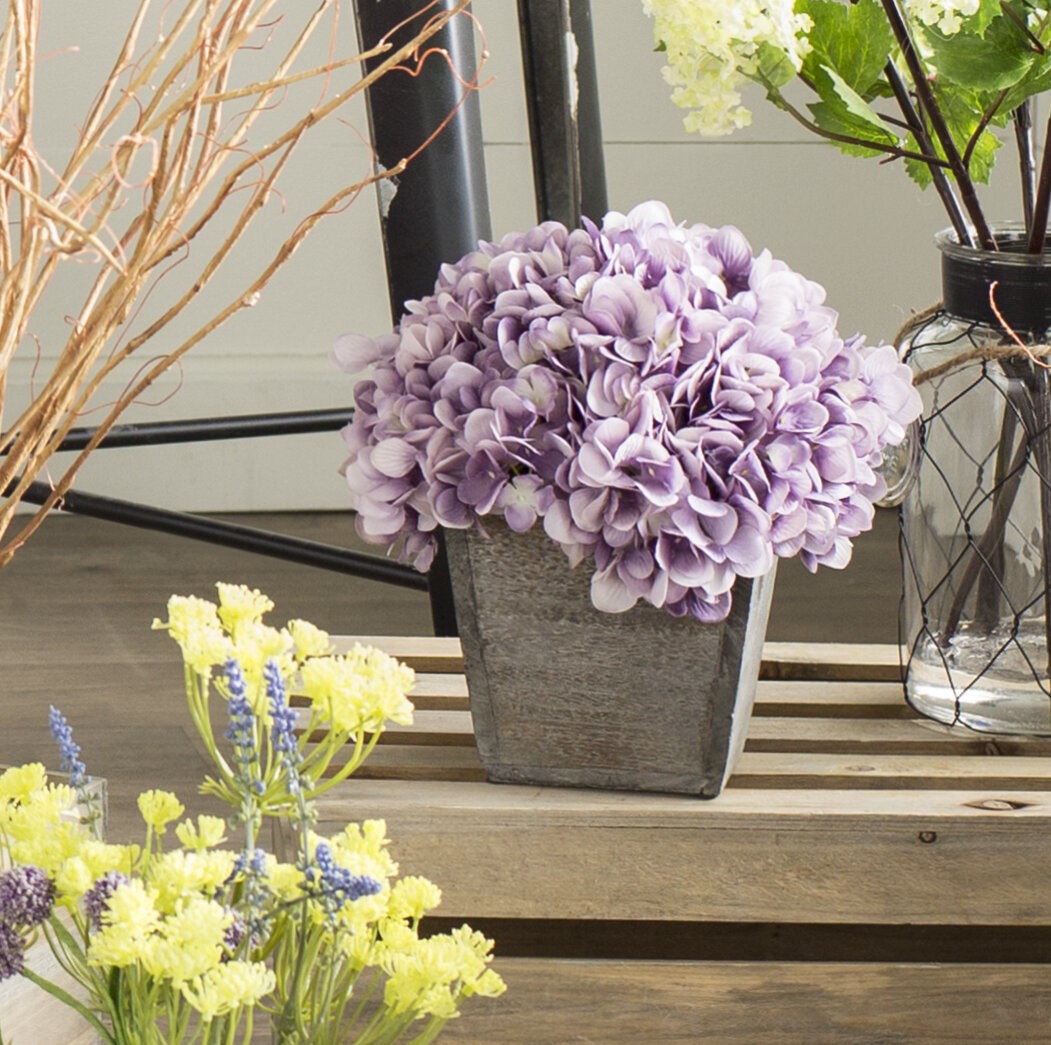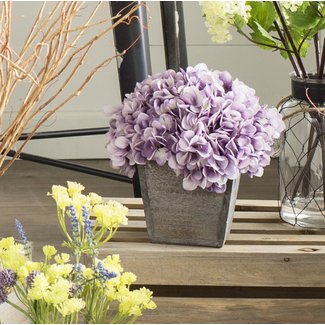 Artificial Hydrangea Floral Arrangement in Planter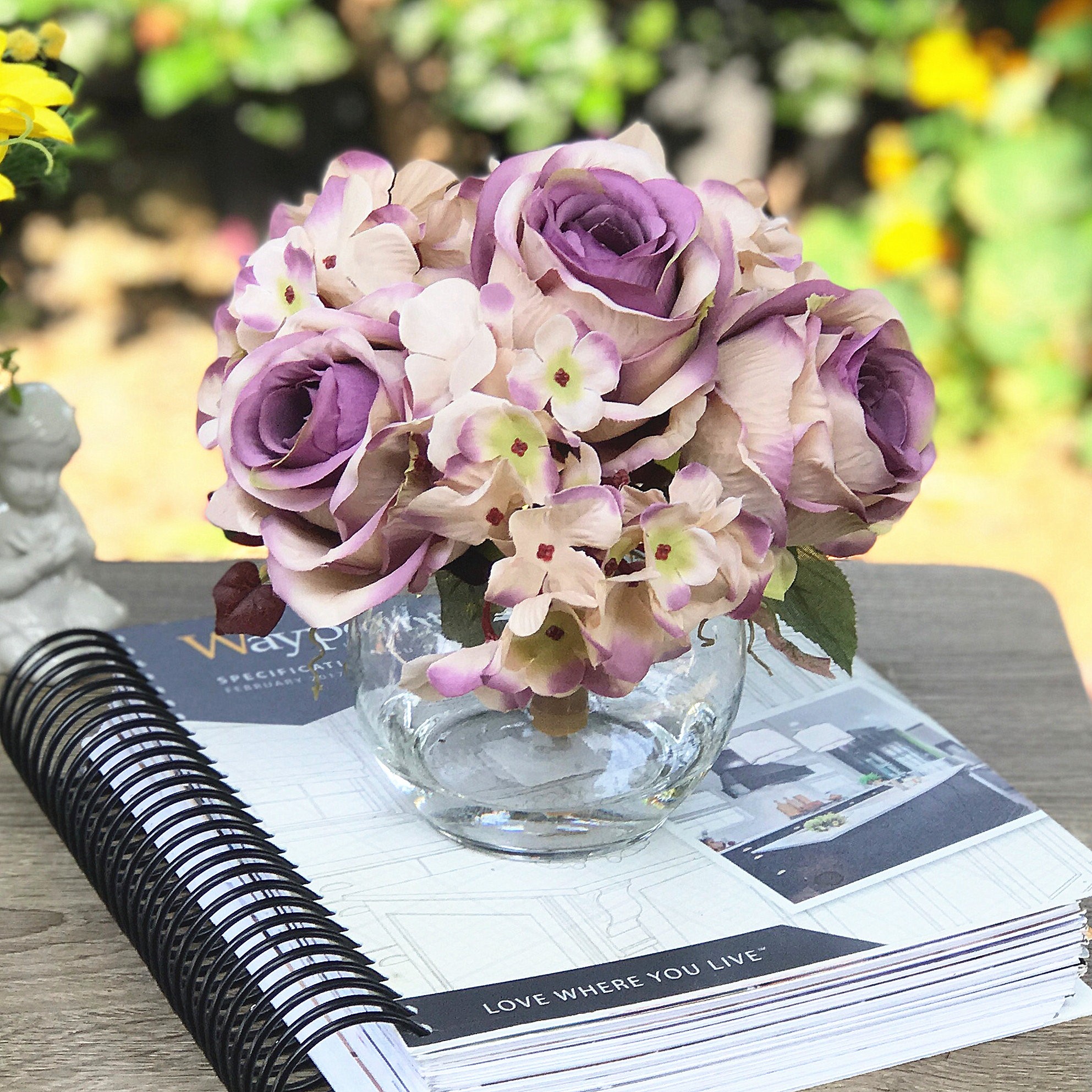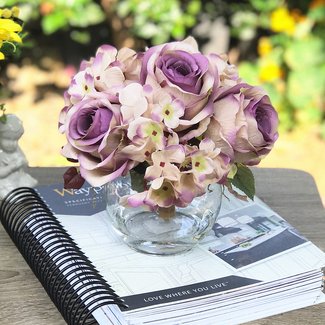 Hydrangea and Rose Silk Centerpiece in Vase
Hydrangeas and roses form the perfect message as a centerpiece at a wedding reception, intimate dinner or a patio luncheon with good friends. Fresh and colorful, the flowers gather to display a bouquet of love and heartfelt emotions. Surrounded by a clear glass vase, their beauty appears real although made from quality silk. The vase measures 8"x8" and has a small amount of acrylic water to further the reality. Don't hide your centerpiece when the group leaves, but place where you will enjoy it.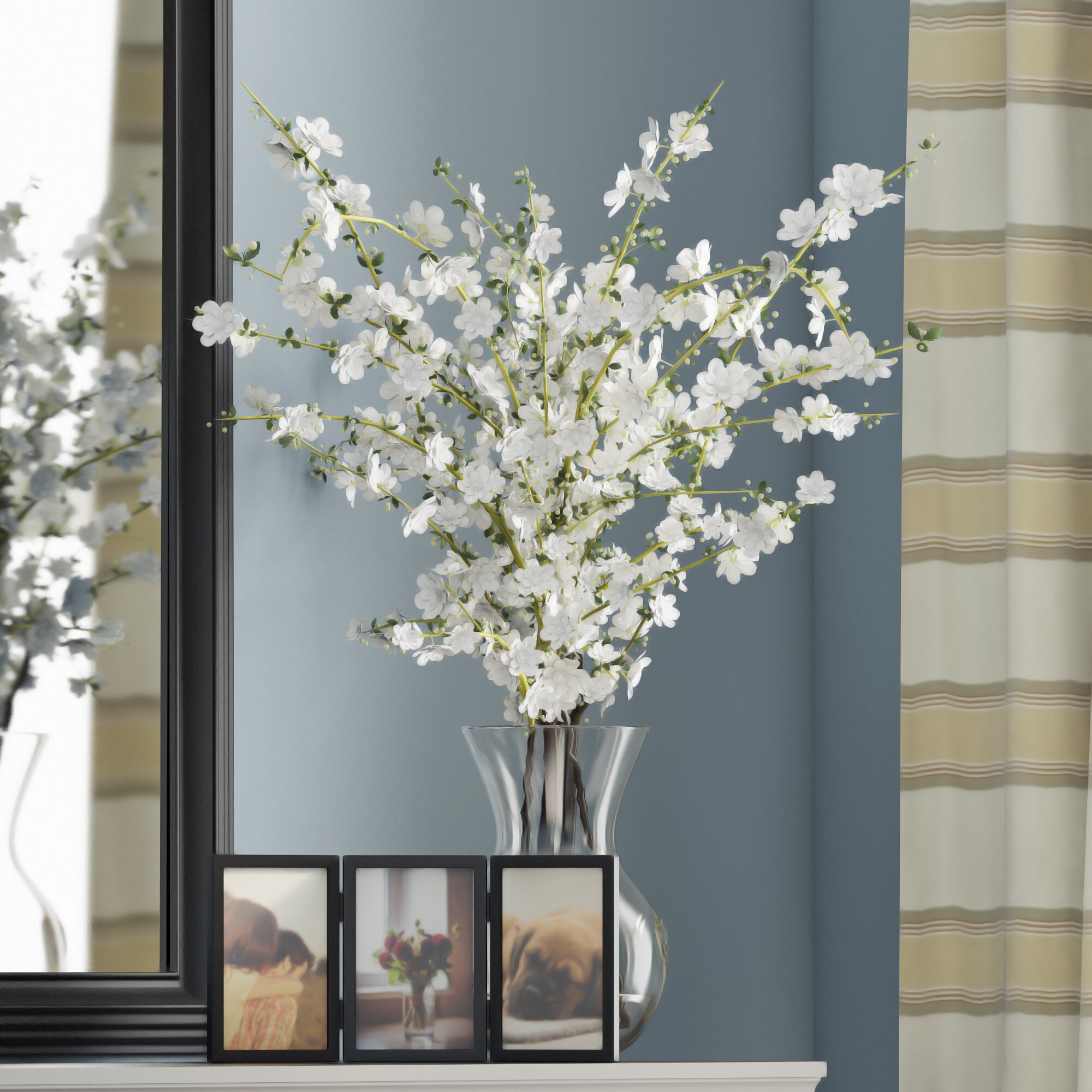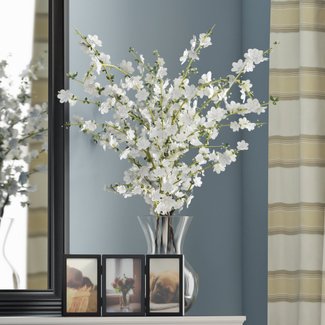 Cherry Blossom Floral Arrangement in Vase
Cherry blossoms have a unique quality in their meaning. Promoting spiritual awareness and love, they are an invaluable part of the Japanese culture. Spread the value of their meaning and beauty with this gorgeous grouping of 30" tall flowering stems in a 6"x6" clear hourglass vase. The stunning look of realism is made from plastic, silk, faux silk and polyester. Place where you will most be reminded of its pure goodness, like a bedroom, study or living room table.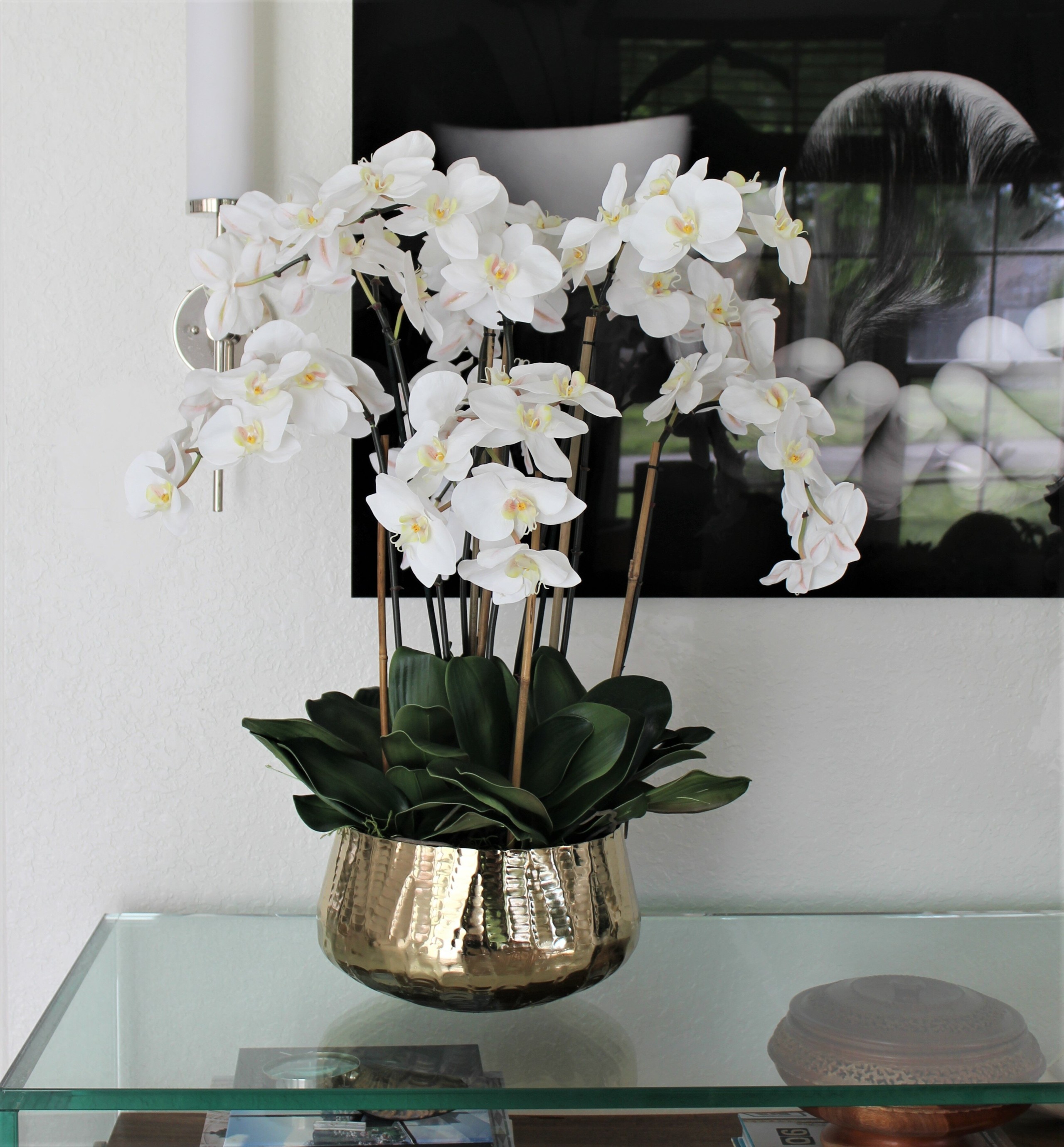 Phalaenopsis Orchids Floral Arrangement in Planter
Innocence, elegance and beauty are captured in this oriental dish that welcomes white orchids in addition to other intriguing greens. The boat-like base is made of shiny black finish over plastic. The flowers are a mixture of plastic and fabric that produces a realistic look to the orchids.  The vase measures 11.8" wide which brings proportionate value to the orchids that are also 11.8" tall. This lovely arrangement will look beautiful as a centerpiece or on a side table alone.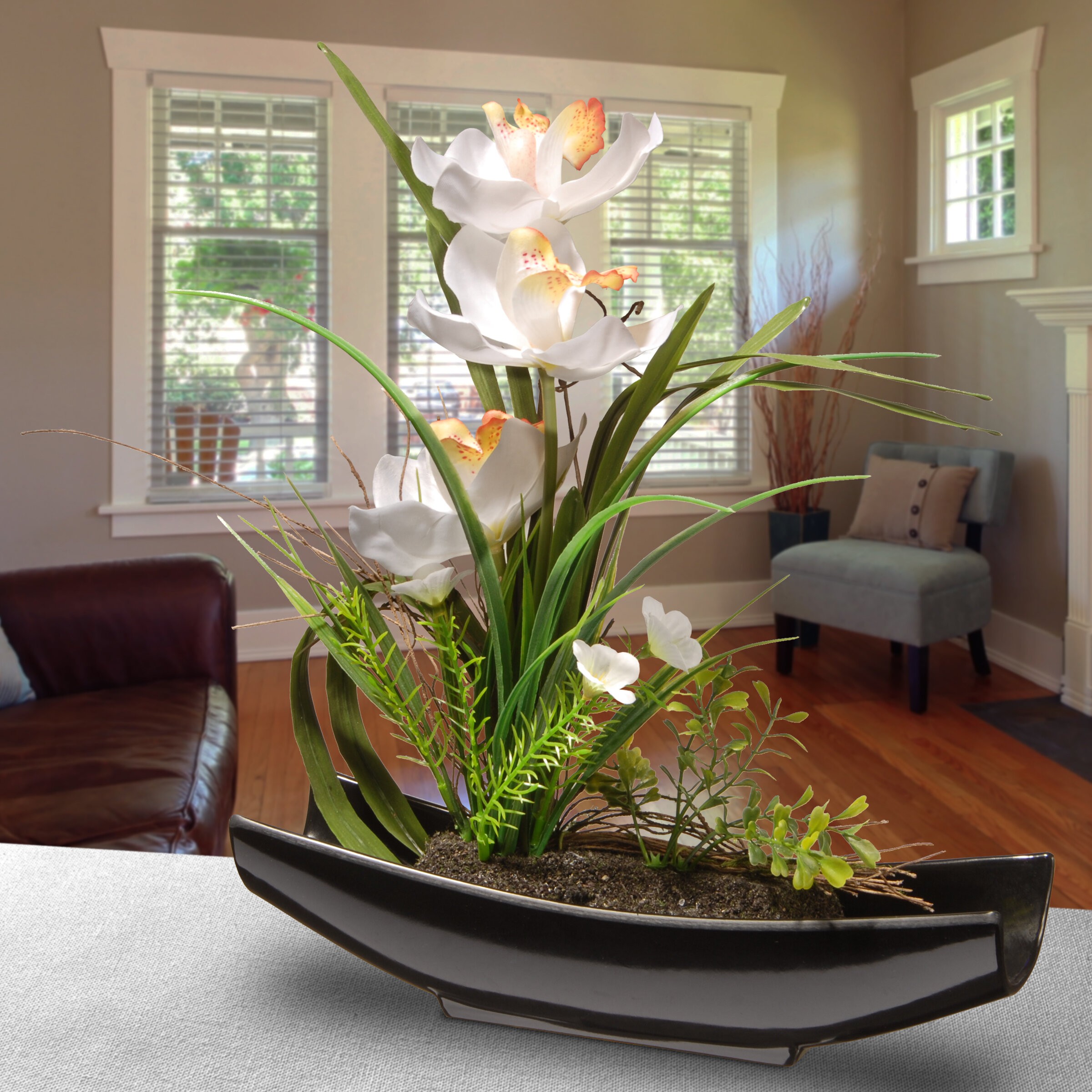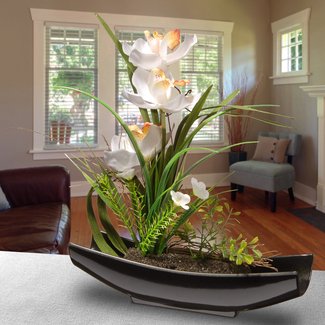 Orchid Floral Arrangement in Planter
Lavender hydrangeas come to life in this planter that is covered with washed wood. If lavender is not your favorite color, several other colors are available. The flowers are made from fabric and are an awesome replica of the real thing. They will look great in your country home as a reminder that flowers are the heart of our life. The dimensions are  9'' H x 10'' W x 10'' D. This is Just the right size for a centerpiece or a special welcome in an entryway.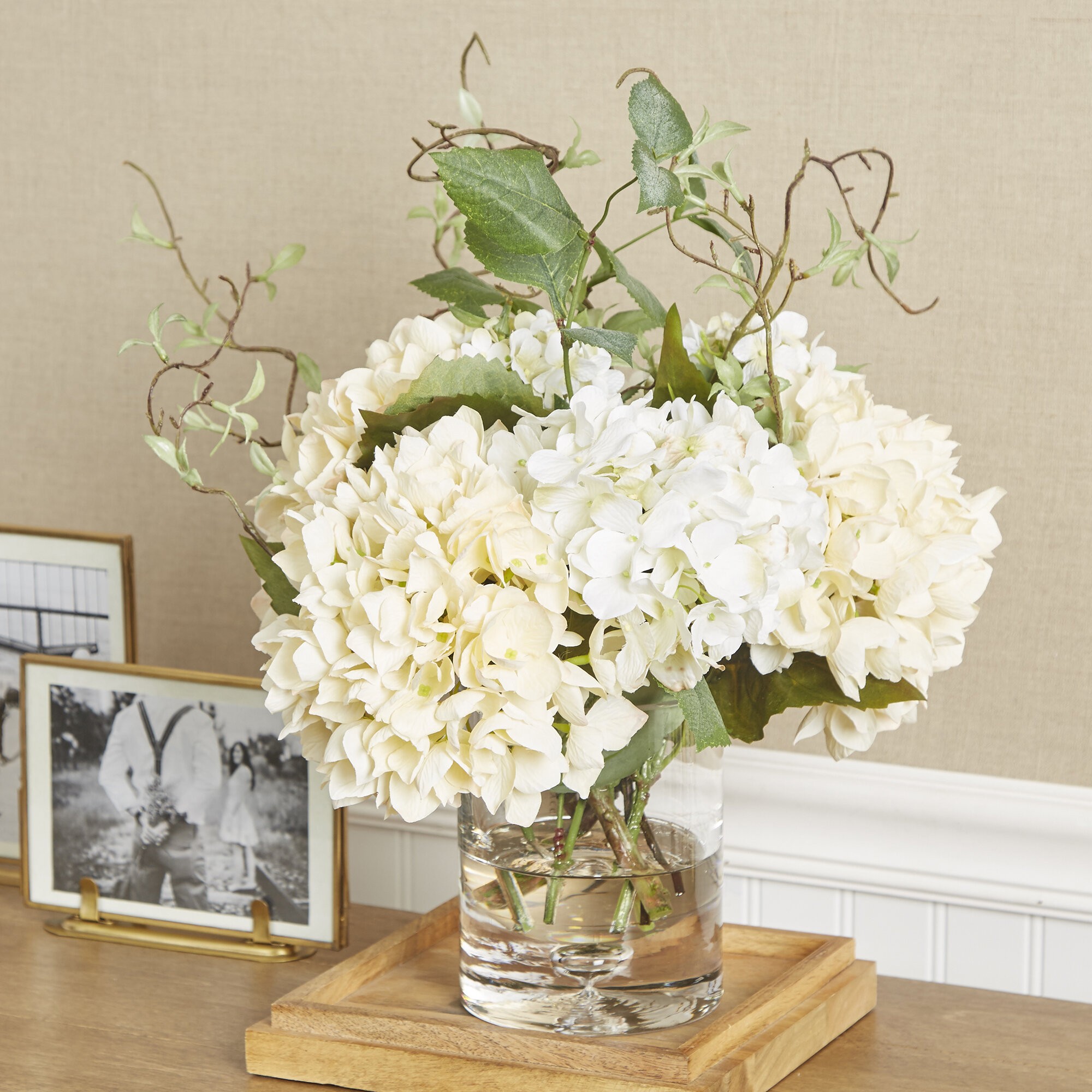 Faux Hydrangea Centerpiece in Vase
A cylinder shaped glass vase that is 6" in diameter holds a beautiful bouquet of white hydrangeas. Aesthetic with a springtime beauty, this centerpiece will enhance the look in any room. Made in the USA, this fabric floral has been designed to fluff up into a natural shape. Add some twigs from outside or artificial pieces of small sprouts to enhance the realism. Place on your night stand to introduce sweet dreams or use as a model of happiness on a coffee table.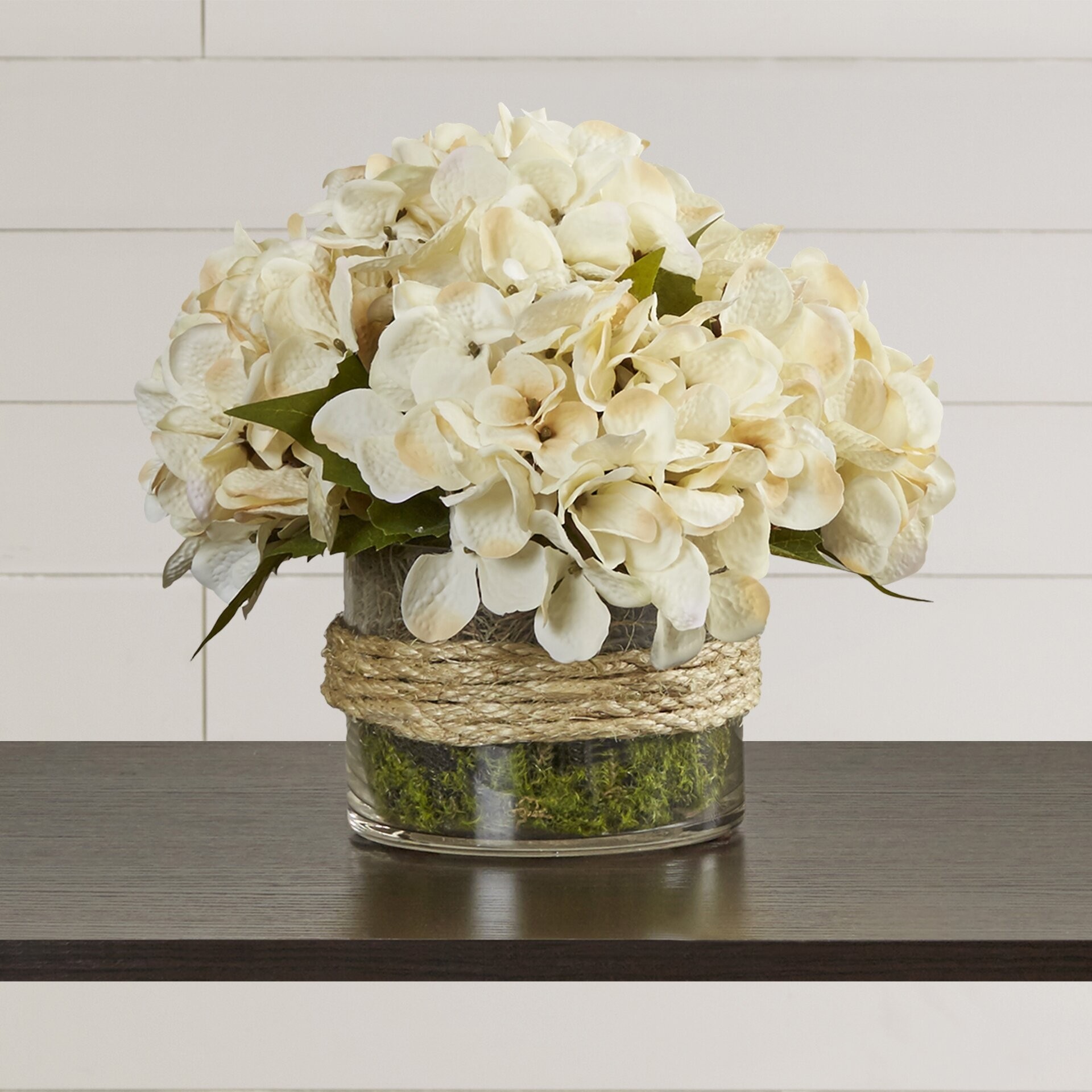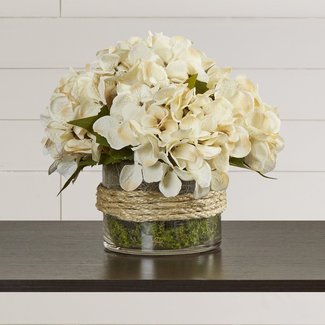 Hydrangea Floral Arrangement in Rope Glass Vase
This fresh pouf of springtime will invigorate anyone. The nice rounded bouquet of white hydrangeas is arranged in a cylinder 8" glass jar with 5 tiny ropes hugging the exterior. Country or rustic ready, this small detail is just enough to add outdoor beauty to a half-bath or a guest bedroom. Greenery has been added to the bottom of the jar to expand the countryside feel. Your guests will feel welcome and loved with this sweet reminder of love and harmony.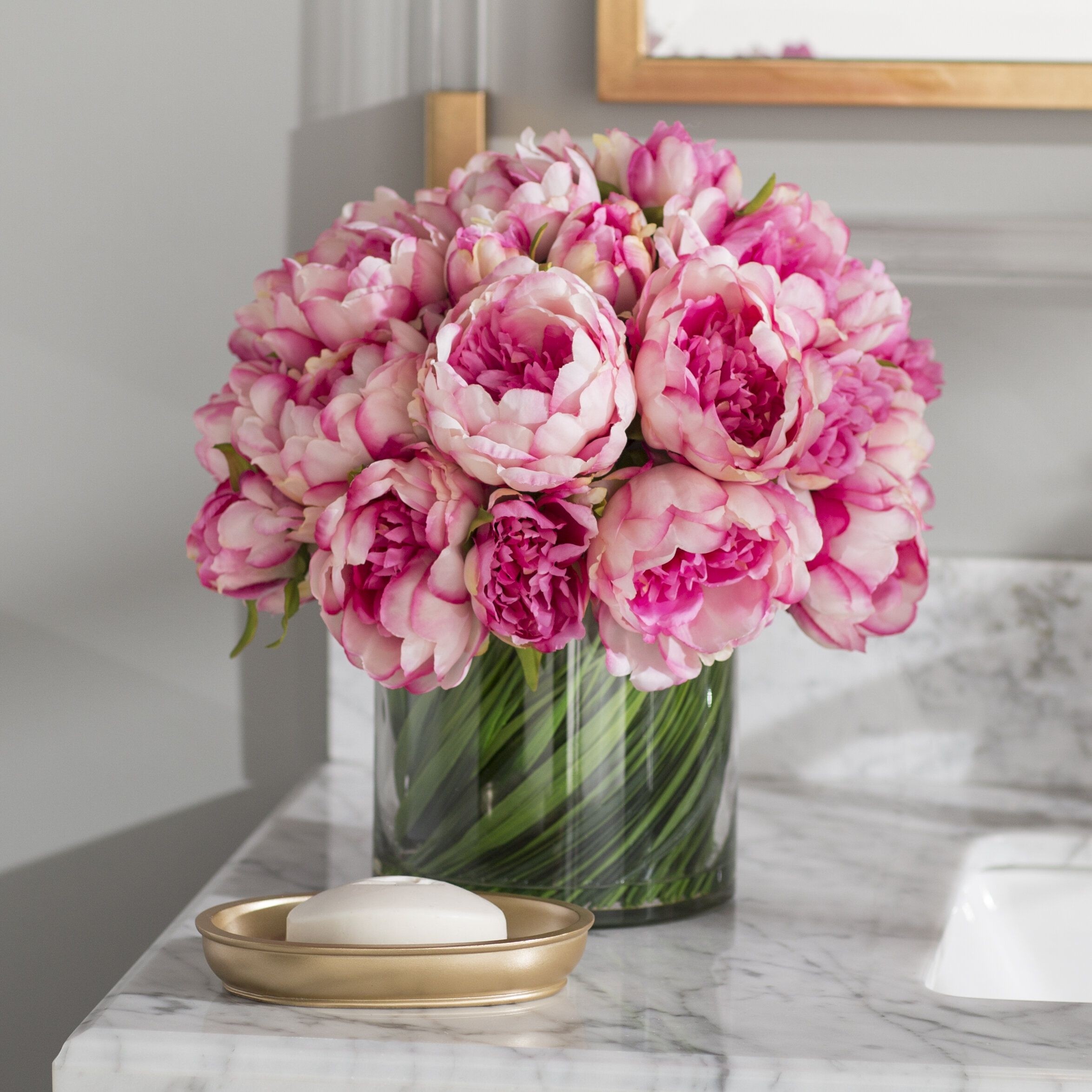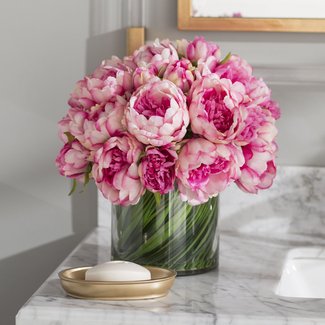 Faux Magenta & Pink Peony Floral Arrangement in Glass Vase
In some parts of the world, peonies signify good health, a happy life and prosperity. This robust grouping of magenta and pink peonies will deliver the feeling of abundance just by its beauty. Twisted greens fill the bottom portion of a 5"x5" glass container to add a fresh addition to the floral arrangement. Made of polyester in the USA, the colors are vivid and easy to maintain. Simply blow on cool air setting with a hair dryer to loosen and remove dust and dirt from the petals.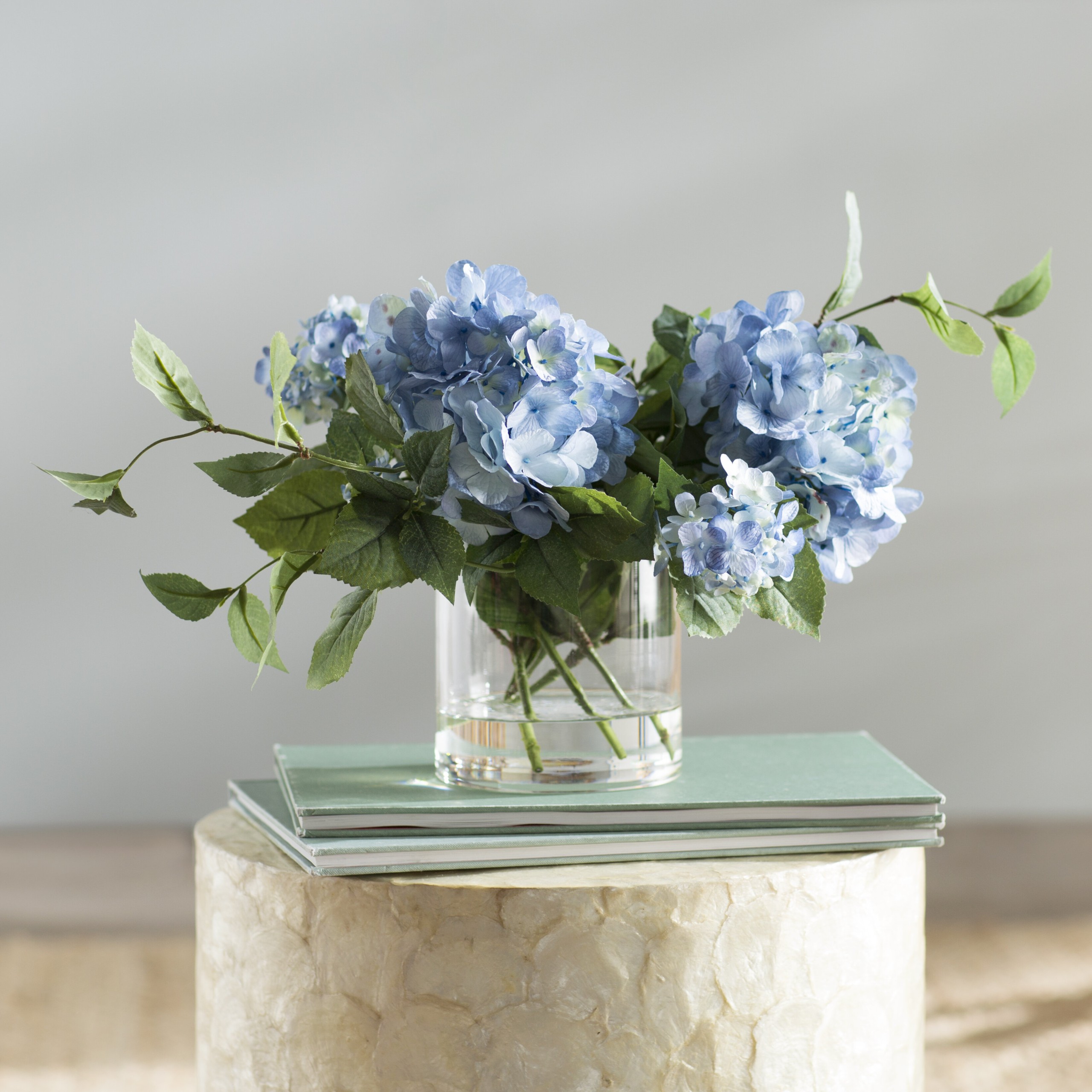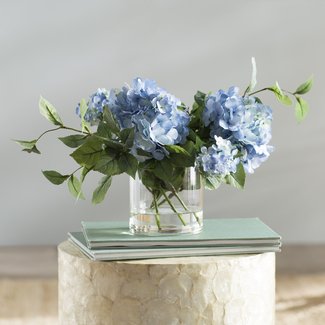 Hydrangea Floral Arrangement in Vase
Blue hydrangeas simply arranged in a glass vase appear as if they were just cut from your garden. Individual pieces made of Poly silk are displayed in a 4.5" diameter thick clear vase. The stems on the flowers have been kept slightly long to give a picture of freshly cut flowers. Blue enhances any space and the bouquet is small enough to place on an end table or a kitchen counter to appreciate.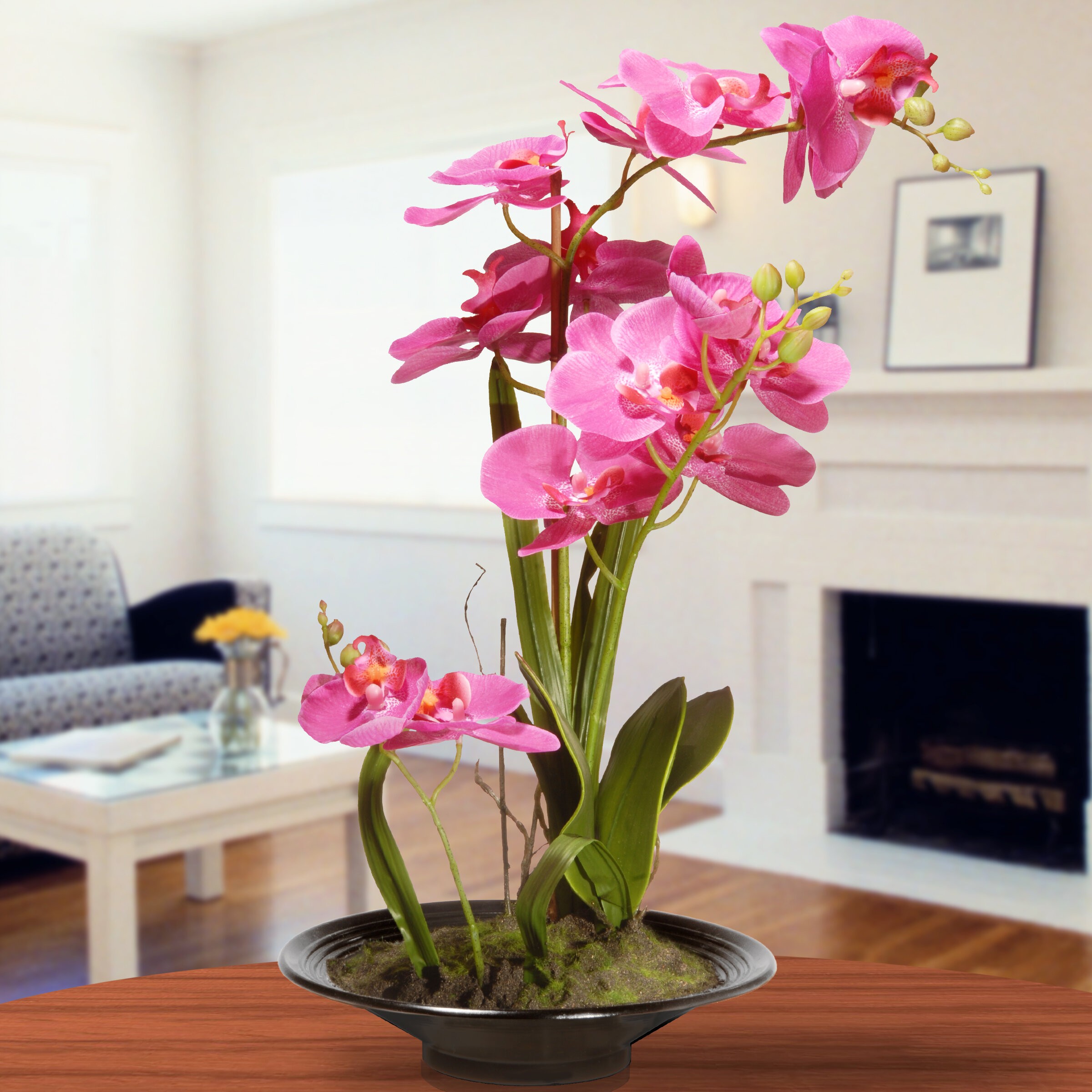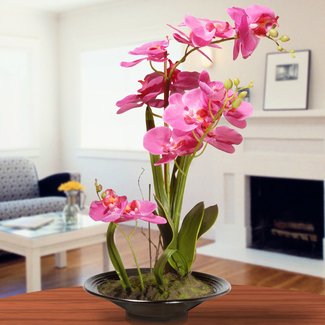 Spring Orchid Floral Arrangement in Planter
Pink orchids in a decorative black bowl send a signal that spring is in the air. Regardless of the weather outside, orchids send a message of joy and new beginnings. One of the most popular exotic plants in the US, their care is paramount to their life. However, this arrangement is made of realistic fabric so you will always enjoy its lasting beauty.