Our Choice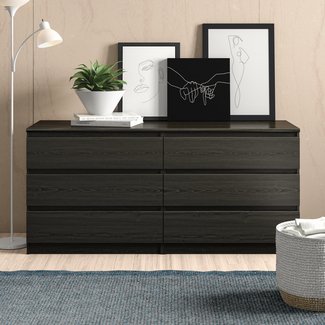 Kepner 6 Drawer Double Dresser
This unique double dresser comes with an understated style that will add class to any bedroom. Its clean-lined silhouette is completed with a neutral solid finish that easily matches up to any décor in the room. There is also ample storage with a total of six large drawers. The dresser is relatively lower too, leaving enough space at the top counter for a mirror or any other accessories that you may want to add there.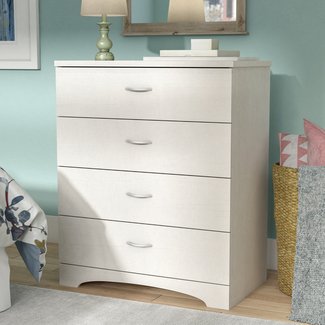 Poulson 4 Drawer Chest
With a modern white finish, intricate molding, and a series of beautiful nickel toned plastic hardware along with the drawers, this dresser lends incredible style to any bedroom. The unit is constructed from manufactured wood and its compact design ensures it offers all the storage you need without eating too much space. The piece offers a total of four large drawers. You also get a tip-over resistant device in there.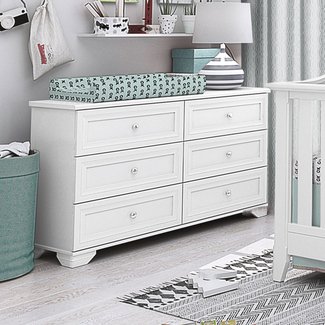 Essex 6 Drawer Double Dresser
This classy dresser is designed for the kids' room and its premium features will blow you away. It has six large drawers in there and also comes with a neat neutral finish to ensure it easily blends into your décor. The dresser is made from manufactured wood. Its lower height gives you additional space at the top for a lampshade or a plant pot. This is an incredibly stylish piece that everybody will love.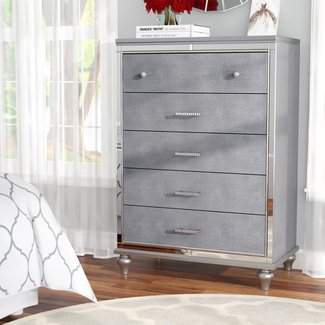 Valencia 5 Drawer Chest
In case you are running out of closet space, be sure to try out this five-drawer dresser to take care of your overflowing storage needs. The piece comes with a unique reptile skin-like finishing. Its neutral finishing is accented using beautiful bejeweled handles for that ultimate classy look. The hardware is also removable just in case you'd like to customize the unit further. The piece is made from quality solid rubberwood and will serve you for years.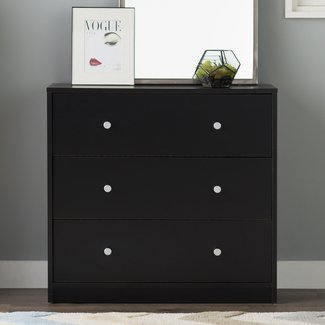 Altus 3 Drawer Chest
With its breathtaking streamlined style and a clean-lined rectangular silhouette, this sleek dresser features a plain back finish with incredible white hardware accents. The unit is made from manufactured wood and offers three large storage drawers that should be enough to compliment your existing storage at home. The Scandinavian inspired dresser is also relatively short and its compact design makes it a perfect choice for small bedrooms out there.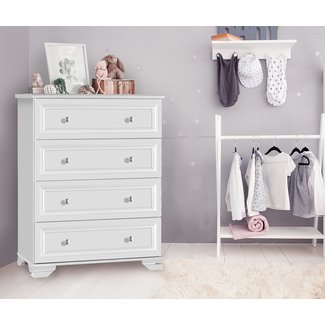 Essex 4 Drawer Dresser
This stylish and compact dresser is perfectly suited for your crib. It is designed to offer additional storage in your home while still lending a brilliantly modern and classy appeal to your spaces. It features four large drawers, each with two beautiful hardware accents on each side. The dresser can be neatly tucked into one corner of the room due to its compact design and space up top utilized for additional storage or display needs.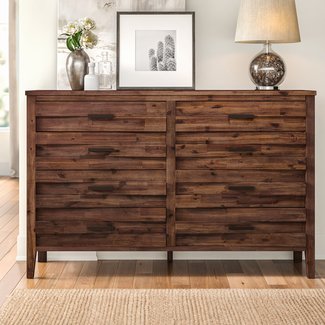 Northwich 8 Drawer Double Dresser
This quality dresser is made from a mix of quality solid and manufactured wood. It comes with a breathtaking natural walnut finish and a uniquely classic look that will bring outstanding farmhouse-inspired elegance into your home. The walnut finishing is accentuated with stunning industrial black metal bar pulls as well. There are six drawers for you, enough to take care of most bedroom storage needs in most homes.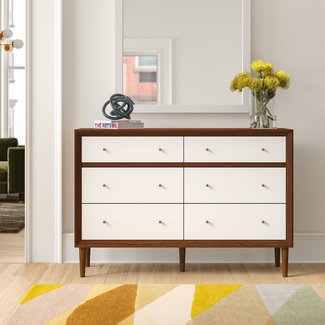 Adelia 6 Drawer Double Dresser
In case you are looking for a minimalist and functional dresser that compliments your laidback vibe in the bedroom, then this is the product for you. The piece features a breathtaking two-tone finish that includes white on the drawers and walnut for the other parts. Its unique midcentury-style coupled with a durable construction will offer you outstanding value for money. The dresser is made from a combination of manufactured and solid wood too.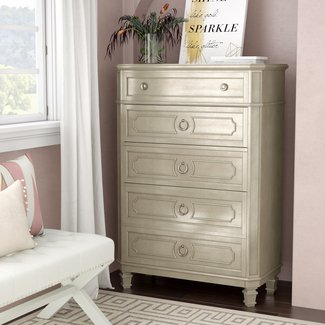 Haneul 5 Drawer Standard Dresser
Add a touch of royal glamour and an understated touch of vintage elegance into your bedroom with this beautiful bedroom dresser. The piece has incredible decorative features. It starts with beautiful canted corners and additional molding at the top and on the drawers. You also get a total of five drawers, each set upon durable metal glides for excellent usability. The dresser is finished with a distressed white tone for that stately look.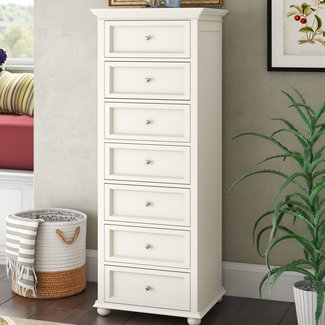 Jago 7 Drawer Lingerie Chest
Looking to add more storage into your bedroom without eating into your already dwindling floor space? Well, this compact and relatively taller dresser does just that. The piece comes with seven smaller drawers that can be used for a wide range of storage needs. Its white modern finish is accentuated with beautiful chrome-plated knobs that bring out its incredible beauty. Combine the dresser with a mirror at the top and a plant pot by its side for the best look.