Our Choice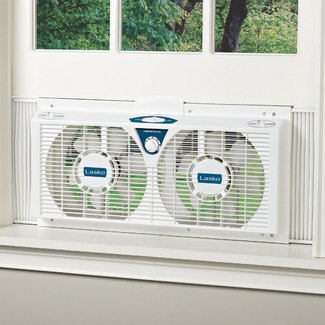 8" Window Fit Fan
This window fan provides versatility at its best. Featuring an independent motor control for air intake, exhaust, and exchange, this fan is as convenient as they come. Choosing between two fan speeds is as simple as turning the adjustable thermostat and the twin fan fits most double hung windows, while the expanded panels allow other windows a custom fit. It can also be used on tabletops, or placed on the floor by snapping on the feet.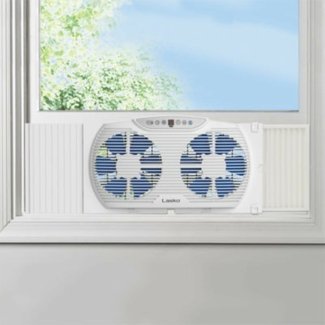 Electrically Reversible Oscillating Window Fit Fan
Consider this twin window fan a smart one. It has an electrically reversible function and can be linked to your smartphone via Bluetooth. The fan contains two independently controlled motors for intake, exchange, and exhaust. If you want to control it the smart way, then simply link it to your phone, and you'll never have to leave your seat. It has extended expanding side panels for a safe and custom fit in a double-hung window as well as three fan speed settings.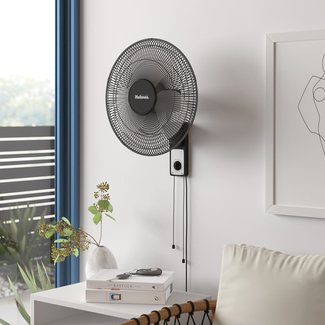 Holmes® 16" Oscillating Wall Mounted Fan
This traditional wall-mounted oscillating fan features a sturdy frame that is designed to last. It can be controlled using the rotating knob or the three-way pull chord. While mounted on the wall, it can be turned upwards and oscillate at the same time. The number of fan speed settings included in the device like the others is three. If you live in an apartment or a space that's very limited, then a wall-mounted oscillating fan is a great idea.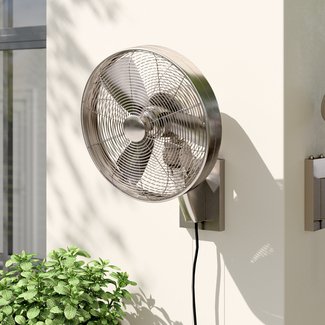 Anywhere Oscillating Wall Mounted Fan
If you're looking to give your interior decor a bit of a boost in the contemporary direction, then this wall-mounted fan is the answer. The oscillating fan is ideal for indoor and outdoor environments and can be mounted to a standard electrical box or directly into the outlet. Thanks to the sleek silver design, it will seamlessly blend into any contemporary decor setting. This oscillating fan is one of the best options when you can't access a ceiling fan.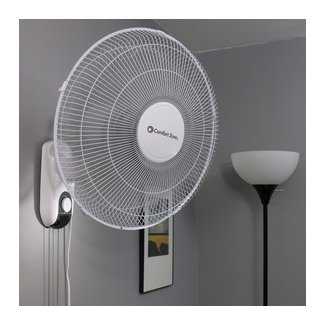 Oscillating Wall Mounted Fan
Inspired by the bygone era, this fan features an industrial look and feel. The high powered, wall-mounted fan delivers a bold contrast to the latest trends in home decor. And thanks to the strong and sturdy construction, this fan is designed to last for years to come. With the three included fan speed settings, it is designed to deliver comfort simply and effortlessly.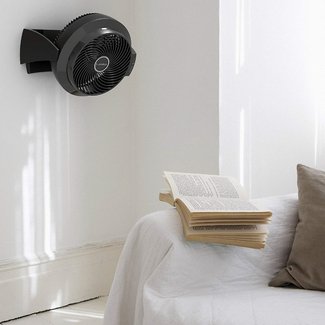 Air Flexor Wall Mounted Fan
This automatic, wall-mounted fan has a futuristic and cutting edge flair. It comes with a remote control so you never have to leave the comfort of your seat, and you can still experience all that the fan has to offer. Made from stylish black plastic, it is recommended for home use and will seamlessly fit into a contemporary and state-of-the-art home.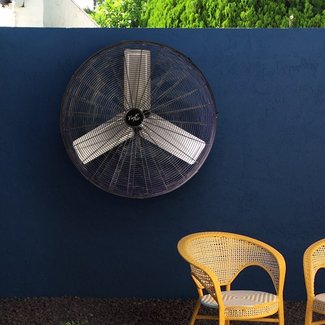 Vie Oscillating Wall Mounted Fan
Spend more time enjoying the cool breeze and less time setting up this oscillating wall-mounted fan. With its powerful airflow, it does a great job of cooling down specific areas. It also has two variable settings so you can control the speed and intensity of the airflow directly in your space. Thanks for the tilt-mechanism, it greatly improves the fans ability to freshen up the room and is a reliable and satisfying feature, especially when you need to get cool fast.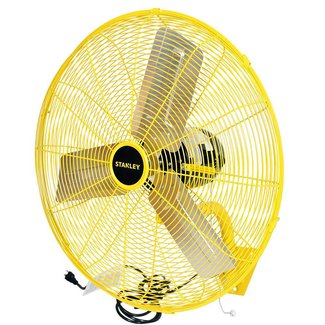 High-Velocity 24" Wall Mounted Fan
Take this fan anywhere that cooling power is needed. From your home, to the office and workshop, it's easy to use and it's powerful enough for you to notice when it's not there. Thanks to the three speed settings, you can determine the intensity of the airflow. The wall mounts is great for saving space and allowing air movement in any location. The entire fan is constructed from metal, making it extremely robust and long-lasting. Ideal for cooling, drying, and general air movement inside your home.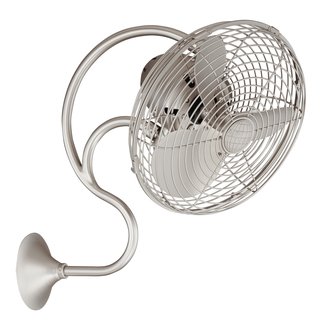 Angwin 13" Oscillating Wall Fan
This wall-mounted fan has some of the best air cooling properties when compared to the table and pedestal fans. This is mainly due to the tilt mechanism allowing it to reach all areas of the room. The fan is available in various finishes, so you'll find the perfect match for your interior decor setting. The switch controls the blade speed and the oscillation while the melody oscillation wall fan delivers cool air on demand.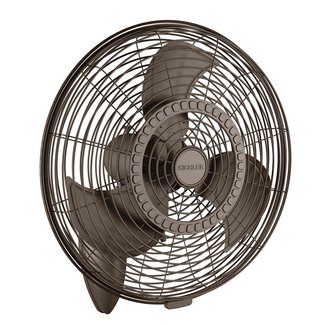 Pola Oscillating Wall Mounted Fan
The satin natural bronze finish and the satin natural bronze blades provide this fan with an elegant and sophisticated look. The plug-in cord is easy to install, and using the pull chain; you can access the variable speed settings. Constructed from steel, it is rugged and long-lasting, giving you years of air cooling capability. The natural bronze finish also gives it a modern and edgy look that will blend in effortlessly with modern-day decor.