When you're looking for ways to make the lead-up to Christmas even more exciting, there's only one way to go: an advent calendar. Used for years to help amp up the anticipation long before the big day itself, an advent calendar can be enjoyed by Christmas lovers young and old.
The basic idea of an advent calendar involves putting a tiny treat or gift in a display and numbering them appropriately to lead up to Christmas Eve. Sometimes, the focus is less on a gift and more on a fun, decorative, timeless calendar that just helps you track a countdown to the most wonderful time of the year! The display can be used as decor in and of itself, and as the days count down to Christmas, you or a family member can take special joy in opening one tiny package each day, moving a tracker one day closer, or just having another reminder that each day of the week brings your family closer to Christmas.
Of course, you can purchase advent calendars, but they can be pricey - and no one knows what you or your family like just as well as you do. With some household materials and a little ingenuity, you can easily whip up an advent calendar that can help you celebrate the Christmas spirit, all season long.
In this helpful guide, we've put together 8 easy advent calendar ideas for you. Which one do you think will be best for your family?
Eight DIY Calendars for You to Try
1. A Festive Garland of Mini Burlap Bags:
Whether you swag this garland over a doorway or arrange it tastefully on a wall, this simple, tasteful idea couldn't be easier. It's also suited to match a number of different styles, from farmhouse rustic to minimalist and modern! Start by taking a number of small drawstring bags, and cutting out felt pieces in holiday shapes (such as trees, hearts, stars, and snowflakes). Pro tip: Cut a few stencils out of paper before you begin, and the overall effect will be much more uniform. Affix these shapes to the bags with hot glue, label with the numbers 1-24, and hang on your wall for a very easy DIY advent calendar with just enough room in each pouch for a tiny handful of nuts, candy, or small toys for you or your family to enjoy.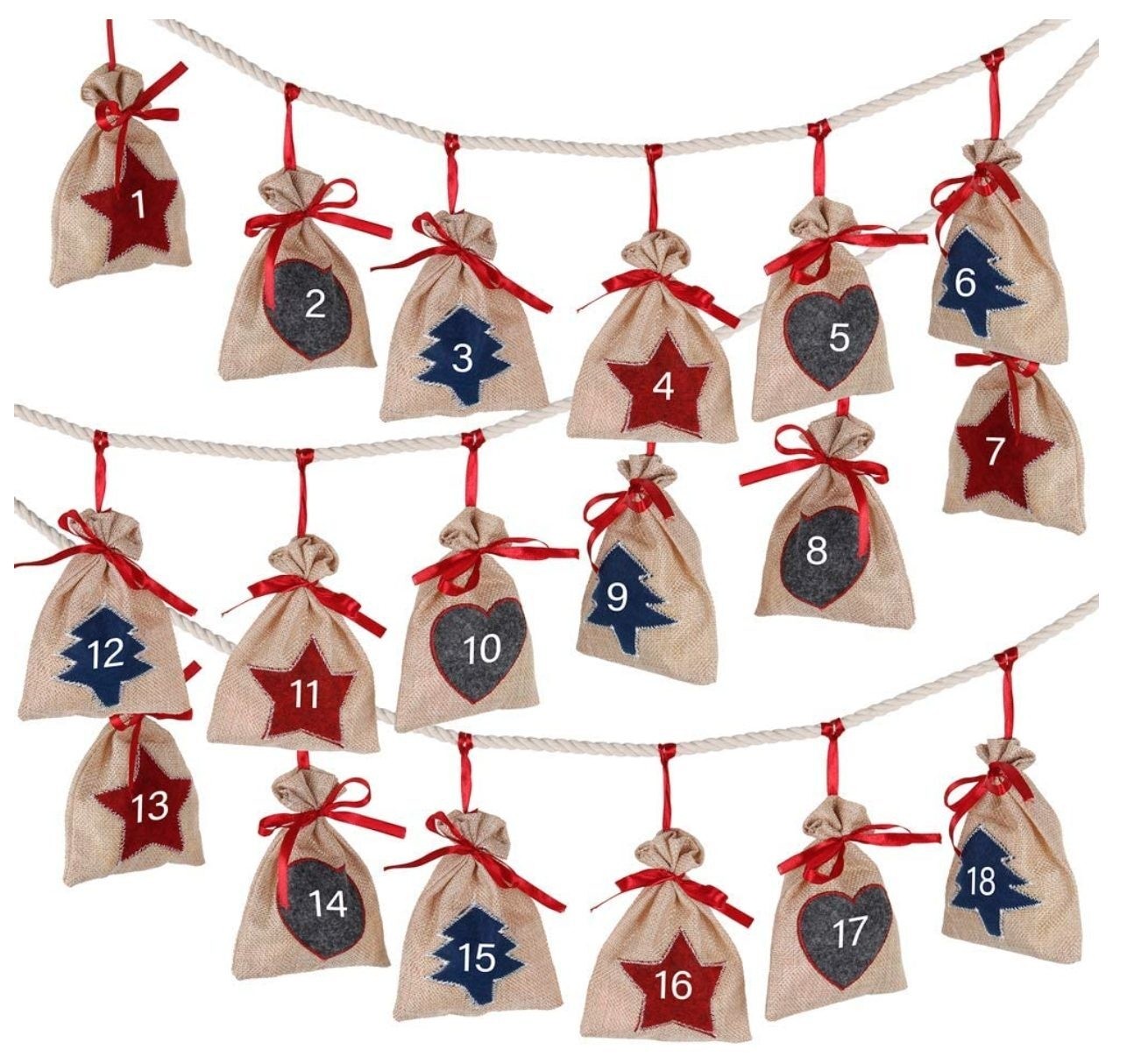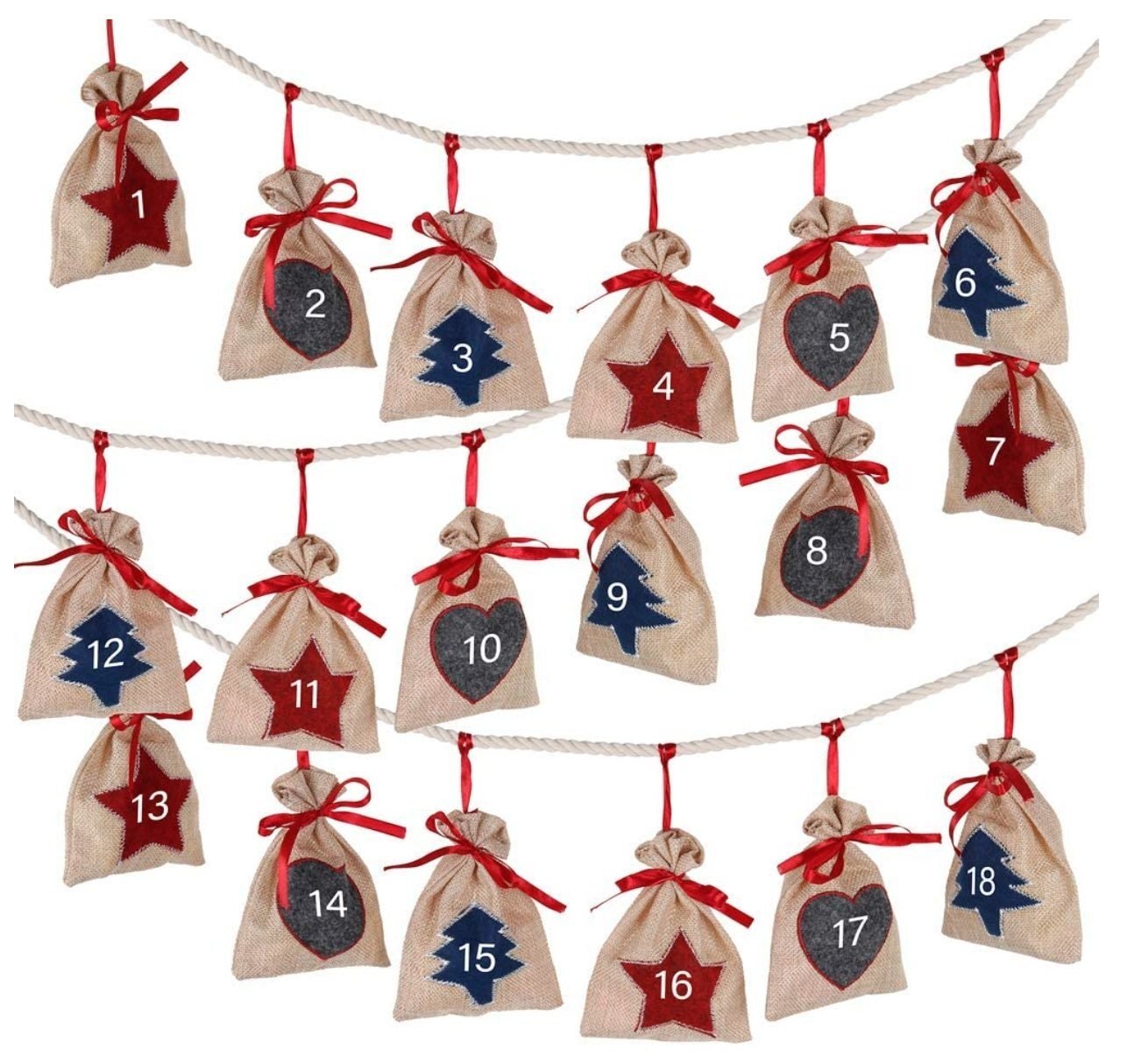 2. A Colorful, Scandinavian Calendar Display:
If you'd rather keep your calendar a little flatter and more decor-oriented, consider a more mod, color-blocked option such as a felt tree with 24 tiny pockets. Begin by cutting out a large tree shape on green felt. Follow this up by cutting out 24 squares out of different colors of felt. On these 24 squares, paint, embroider, or hot glue different Christmas-themed whimsical pictures: a candy cane, a mouse, an ornament, a mini present. Candles and mittens are also great ideas! Affix the squares to the tree in either random formation in a grid. Only hot glue the bottom three sides of each square, leaving the top open to create a tiny pocket. Finally, into each pocket you can slide a tiny toy or treat to discover in the weeks before Christmas!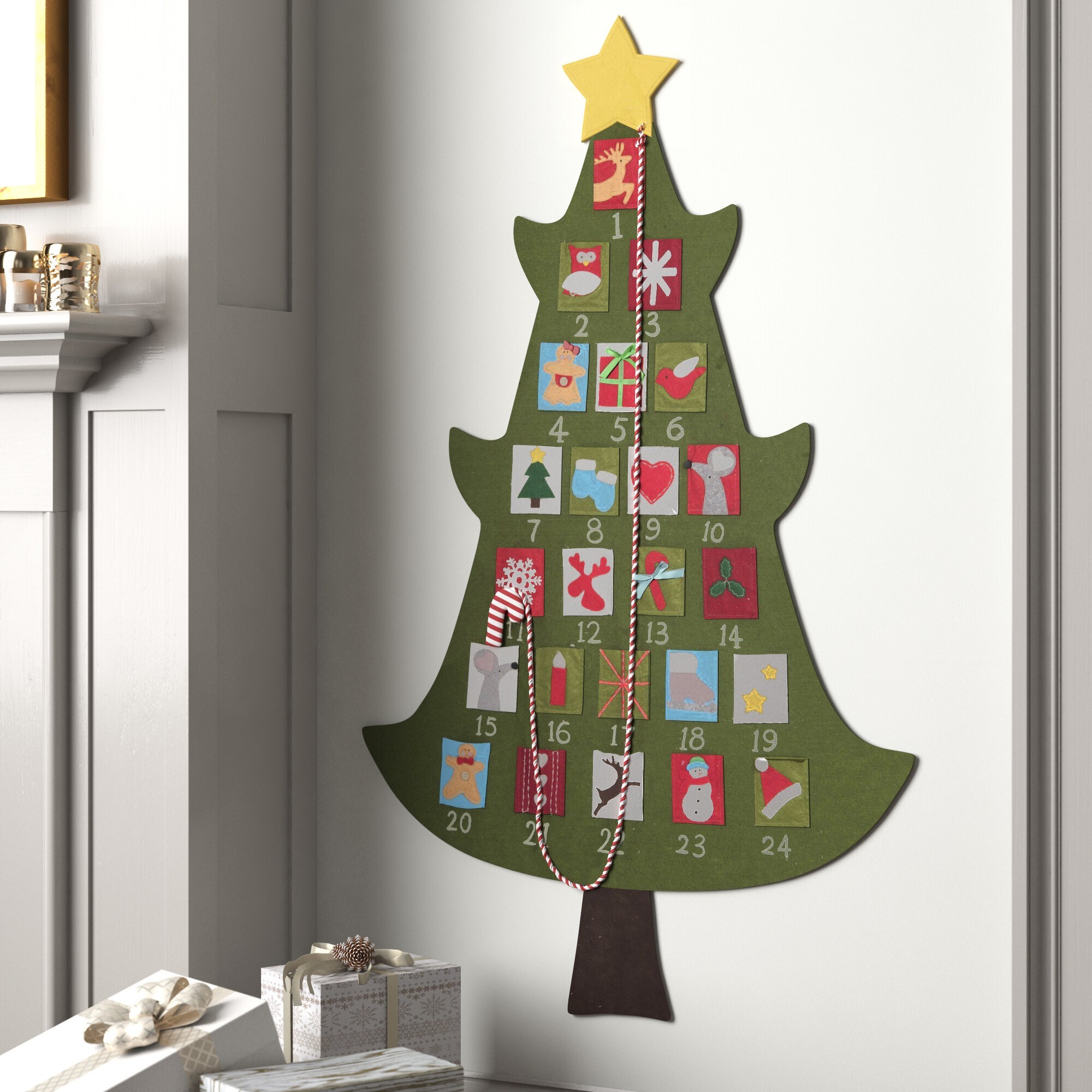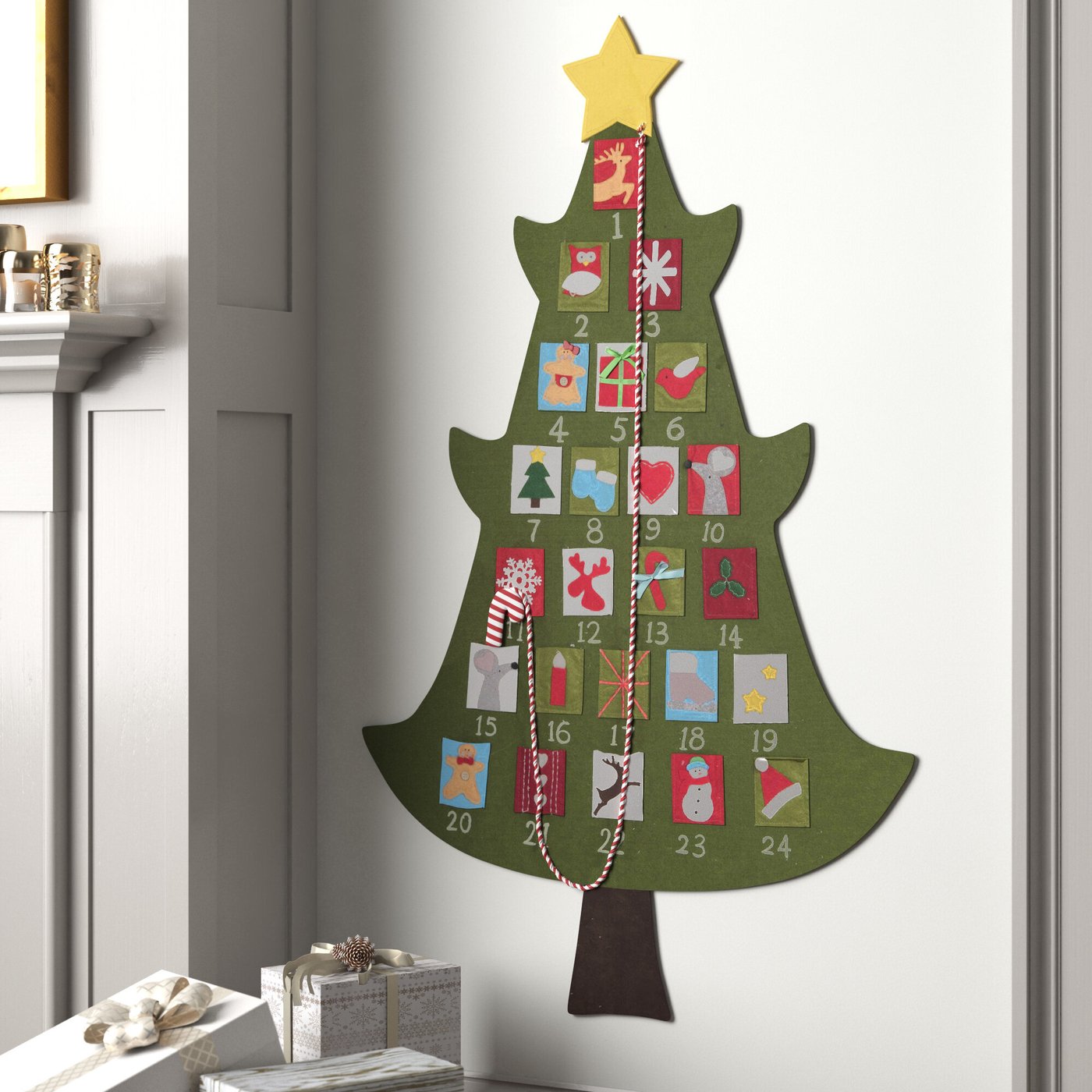 3. Happy Snowman Advent Calendar:
For a more cheerful, more minimalistic advent calendar, let a snowman and his carrot nose help you count down the days! Start by cutting a white circle out of card stock (or taking a paper plate) and writing the numbers 1-24 around the edge. Then, cut out another piece of card stock in the shape of a top hat and decorate as you choose! Writing 'Happy of Advent' or 'Days Until Christmas' on top can make it very clear what your countdown is about. Cut out a carrot nose, color it orange, and affix with Velcro, some thread, or a tiny grommet so it can swivel easily. Each day through the Advent season, move the snowman's nose a little more until it's Christmas Eve!
4. Modern Glam Minimalistic Advent Calendar:
If you're seeking a more 20's glam vibe to your advent calendar, keep it simple. Cut a large shape out of white wood, cardboard, or yardstick. (A circle shape for an ornament or a house shape would be cozy and ideal.) Then, just use gold paint or gold number stickers to divide the piece evenly into twenty-four boxes, then label them with numbers. Hang with a beautiful white ribbon, or just lean it against the wall for an even more casual (yet upscaled) feel.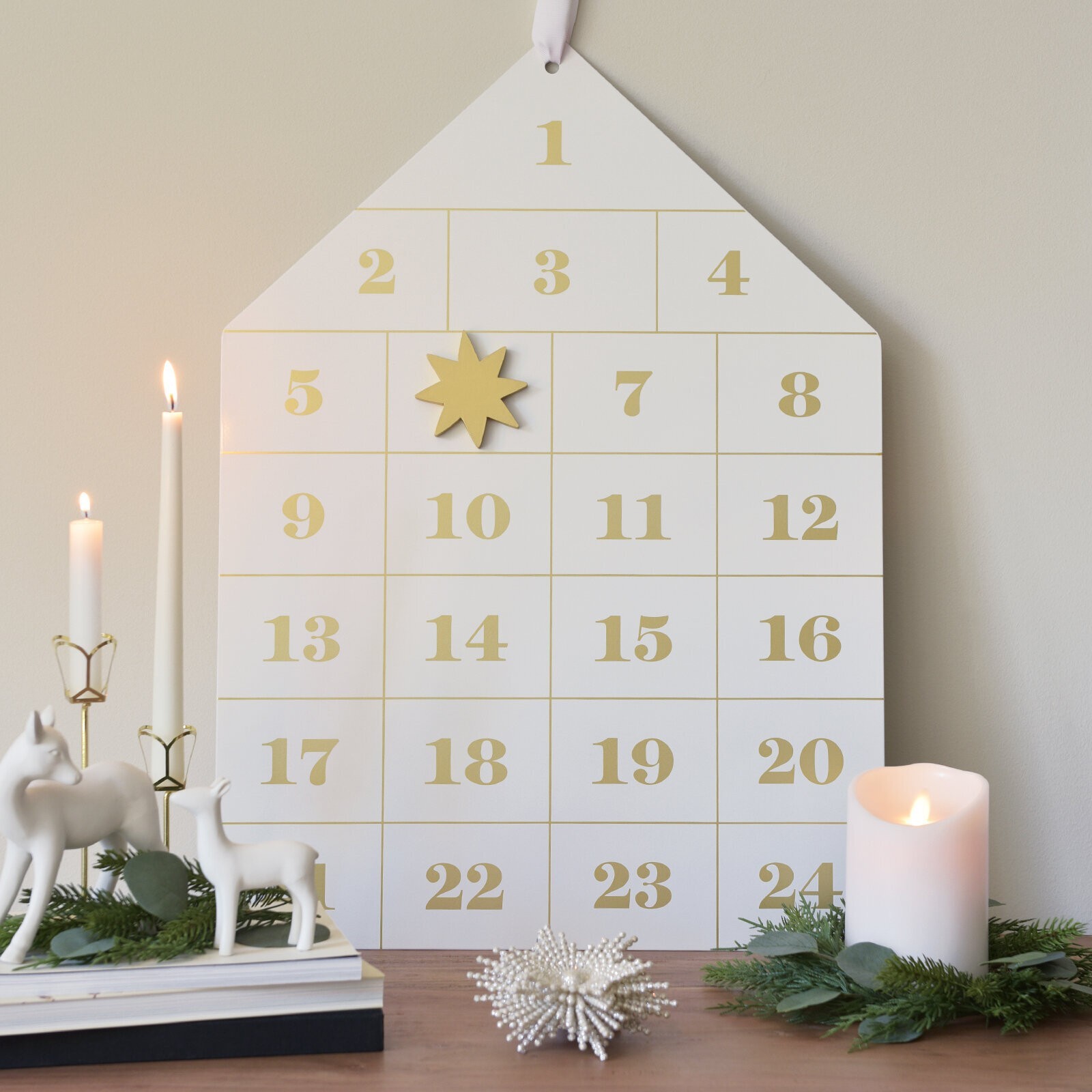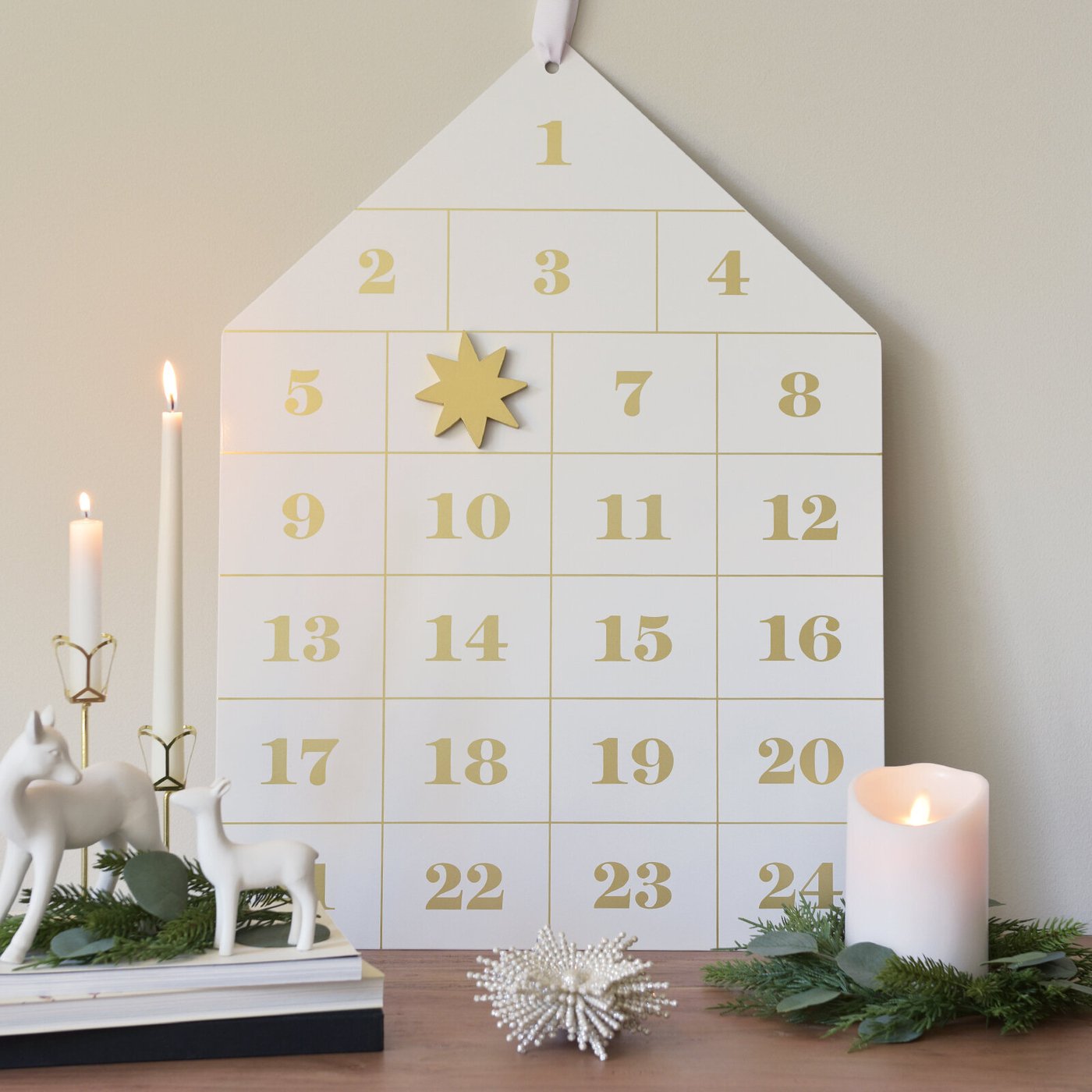 5. Colorblock Reindeer Traditional Calendar:
For a felt wall hanging that feels whimsical and classic at the same time, consider a dowel rod felt hanging calendar with matching pockets and a Christmas-themed decoupage at the top! Take a large rectangle of felt, twenty-four smaller felt pieces in a coordinating color, and a large silhouette of a Christmasy object. A reindeer with large, regal antlers is perfect - but you could also do Santa, a snowflake, a sleigh, or anything else that works in your home! After you assemble, add some personality with colorful pom-poms or confetti to complete the look.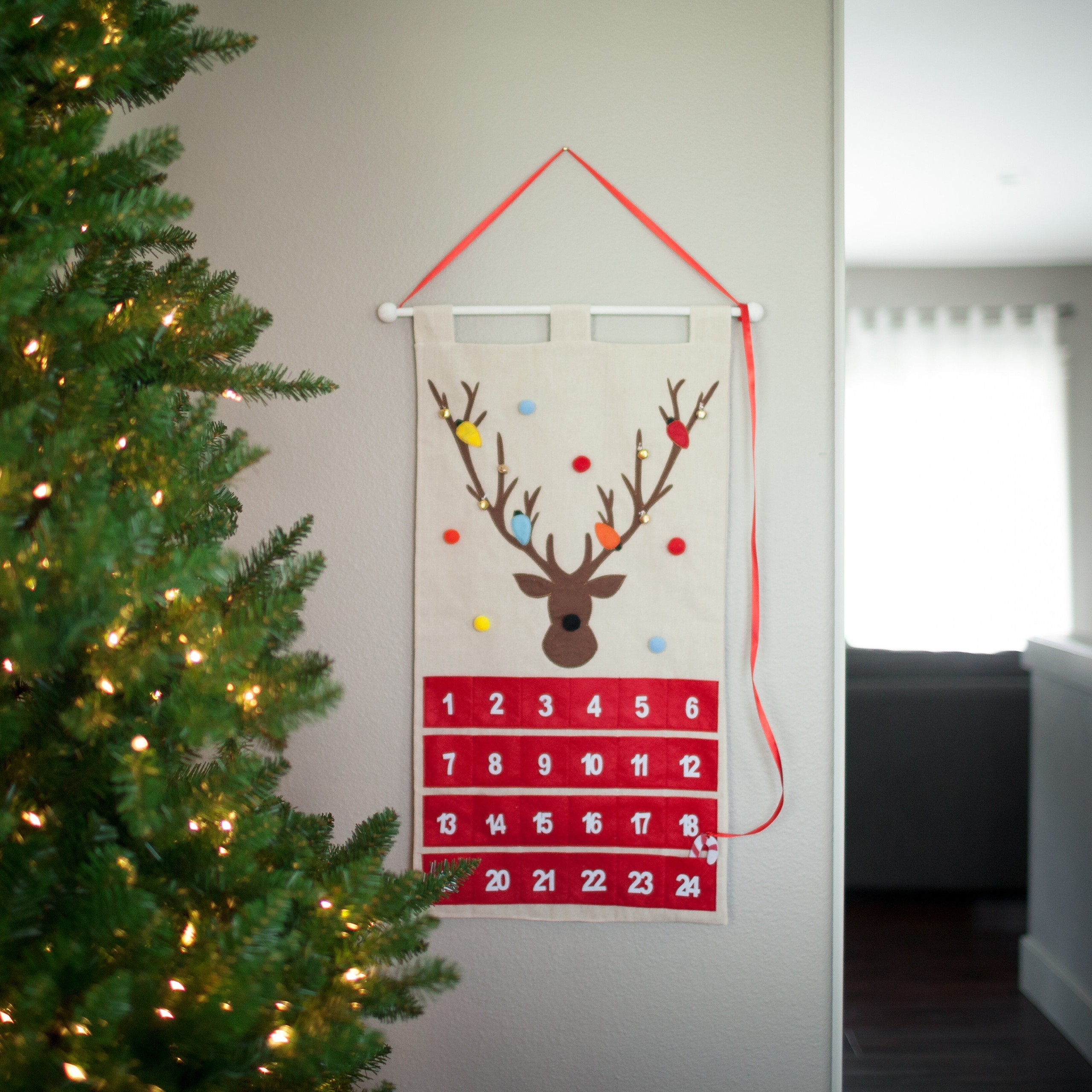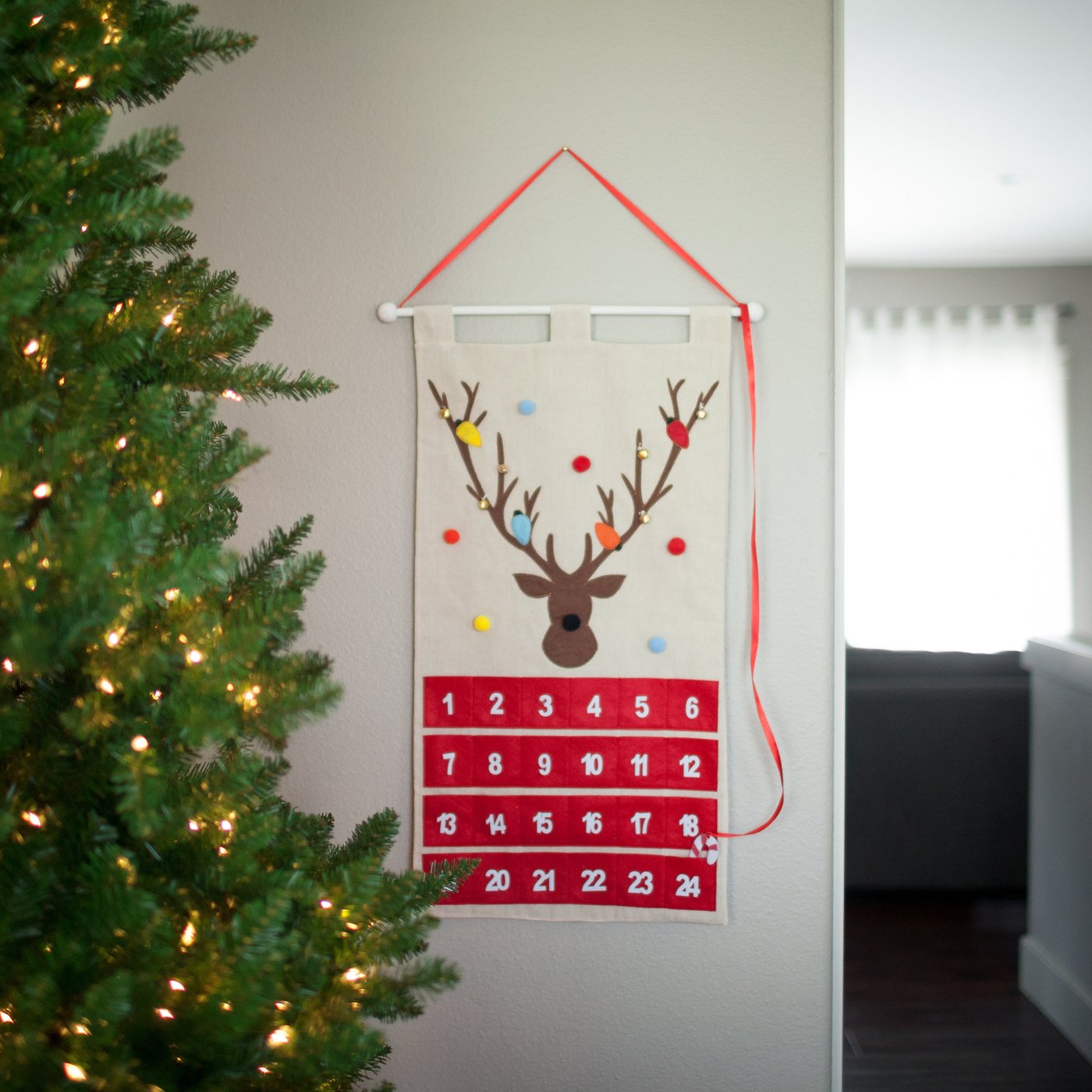 6. Boxed Advent Calendar:
For a pull-out-cubby style advent calendar with lots of room for each day's treat, grab a small cardboard or wood cubby or shelf unit, outfit with coordinating small boxes, and you should be good to go. Make sure to paint or color the face side of each box with a number and a holiday-themed picture to keep up the festive cheer!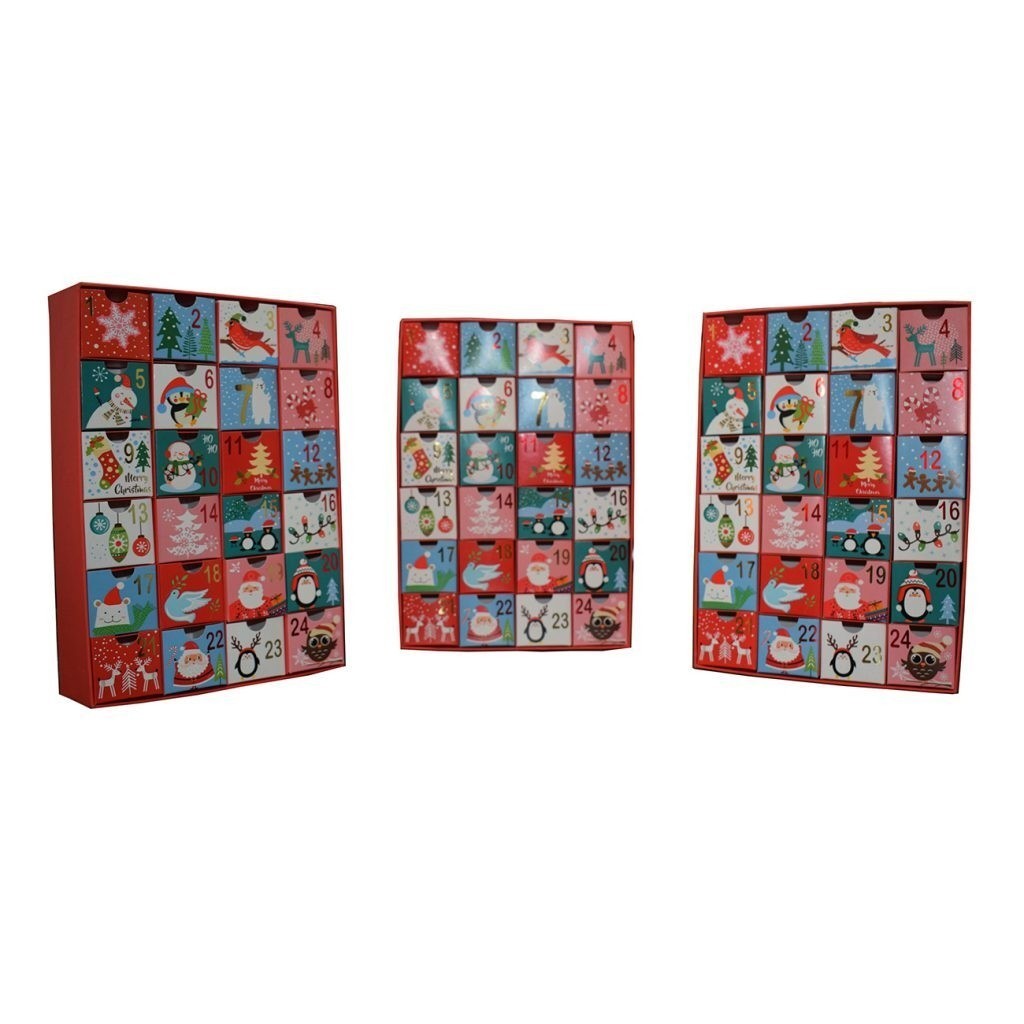 7. Iron Industrial Advent Calendar:
Need something that's a bit more streamlined for your industrial-chic home? Grab a piece of grating or fencing, cut it down so it's a long triangle shape, and top it with a star. Then, grab 24 small metal cups, number them 1-4 with paint or stickers, and affix them to the tree with wire or hot glue! This is perfect for a more restrained interior look, or especially good for outdoor decor, as it'll be much more suited to withstand the elements.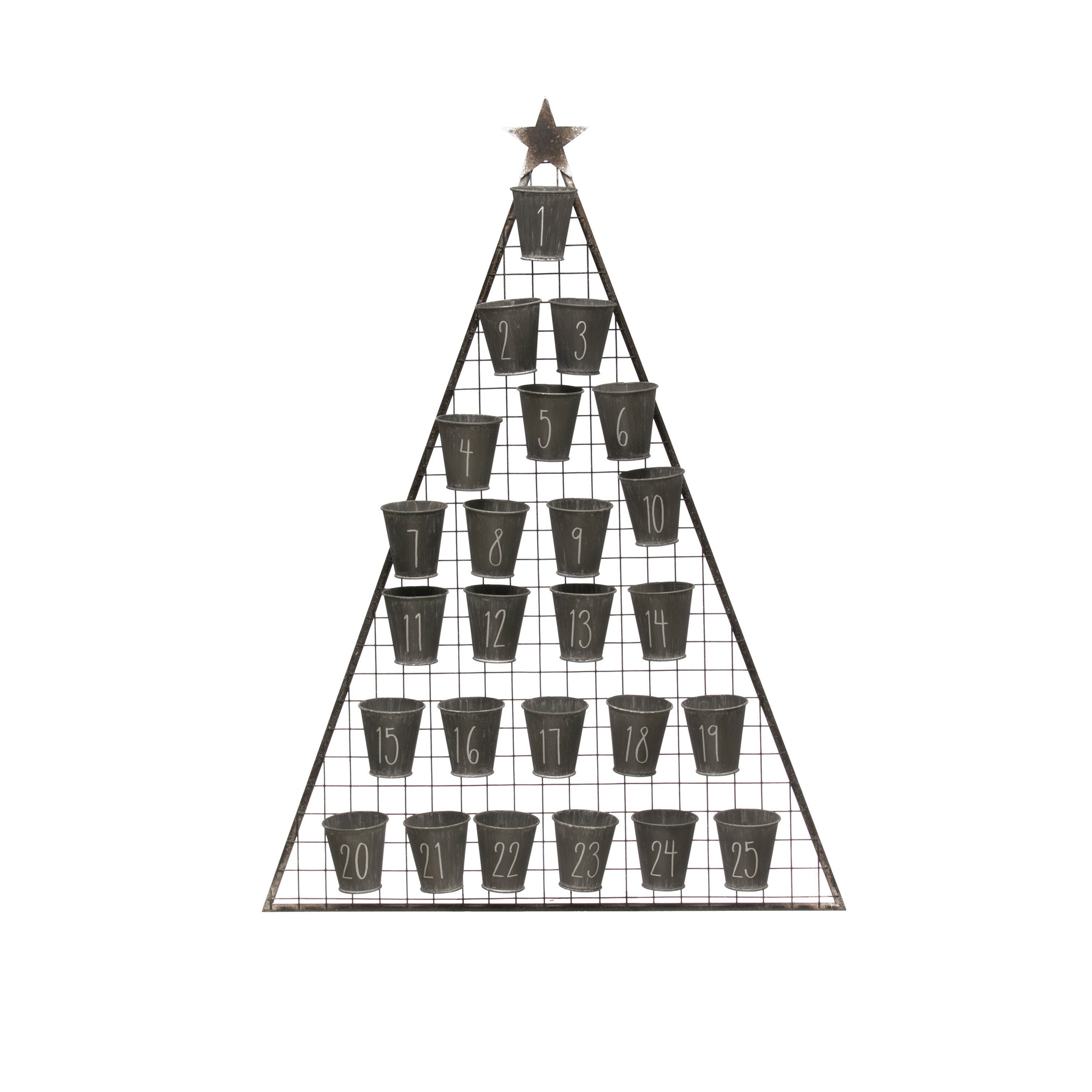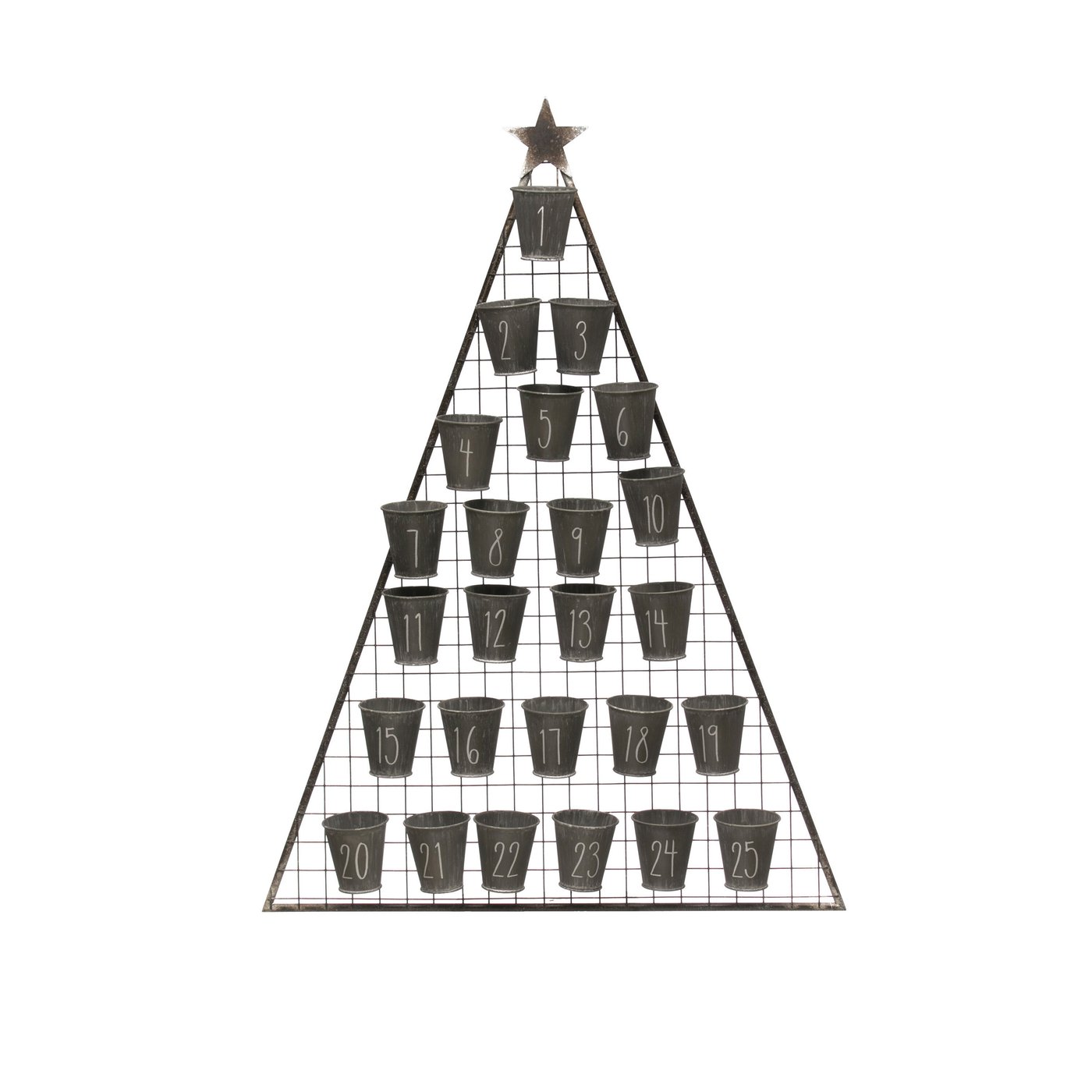 8. Standing or Hanging Kraft Cardboard Tree:
If you're just looking for something colorful and easy to set up, opt for a simple cardboard cutout of a tree! If you cut it out of warm beige cardboard, you don't even have to paint it. Cut 24 star-shaped holes in the body of the tree. Then, simply take 24 small pieces of Christmas-printed paper and fashion individual envelopes, fill them with goodies, number them, and hang them from string or ribbon. To assemble, just set up your tree against a wall, and then hang the little envelopes like ribbon from your tree!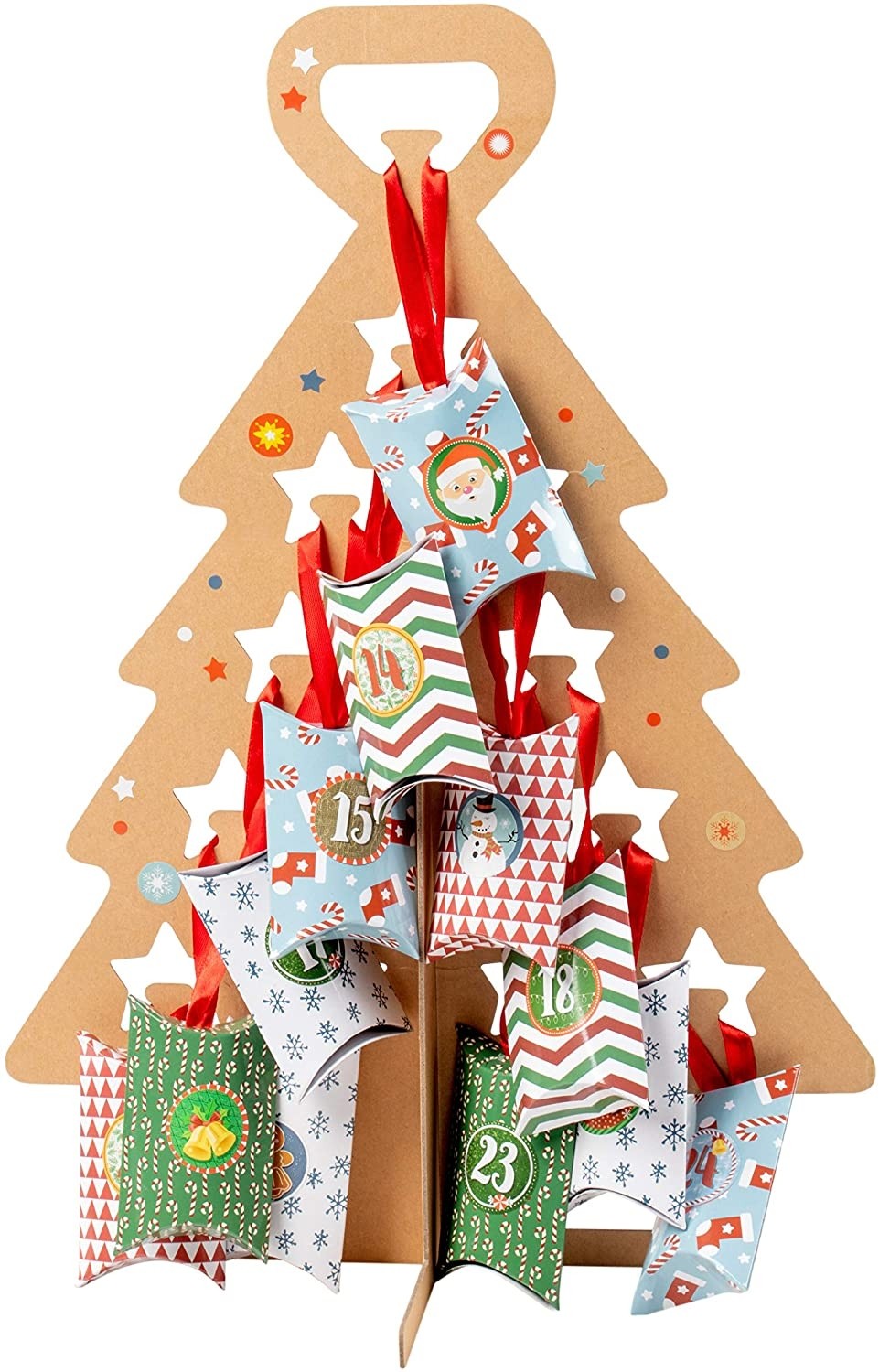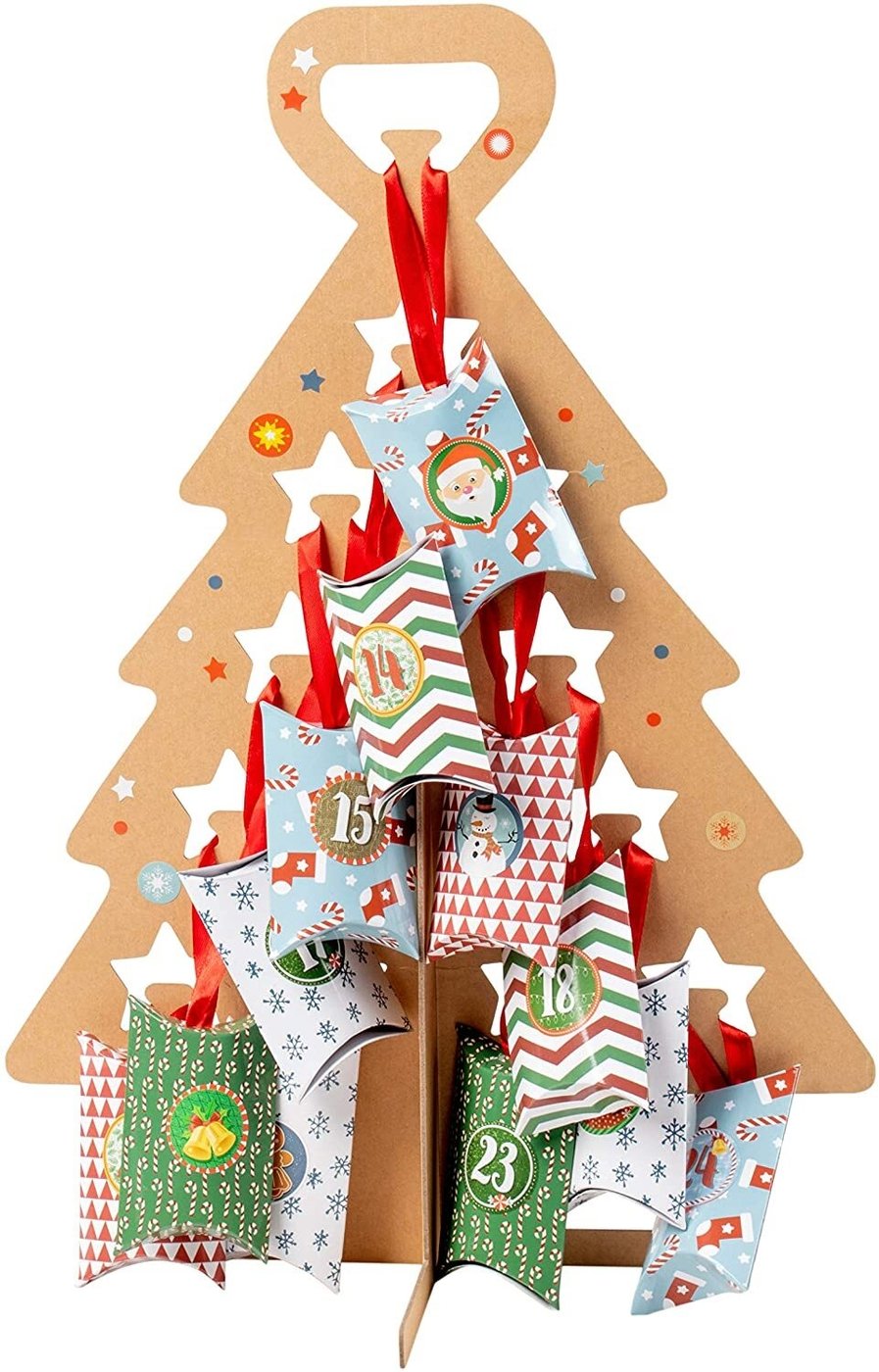 And there you have it - eight gorgeous DIY advent calendars that you can use to while away the weeks leading up to everyone's favorite holiday. Whether you go for a more minimalistic calendar without pockets for presents or decide to go more functional with slide-out drawers for larger handfuls of goodies, these DIY options are all sure to light up your winter and make it clear that there's a reason for the season. Look around your home, get a sense for which one of these festive calendars will strike your fancy, and have fun crafting this essential holiday decor piece with your loved ones this year!