Our Choice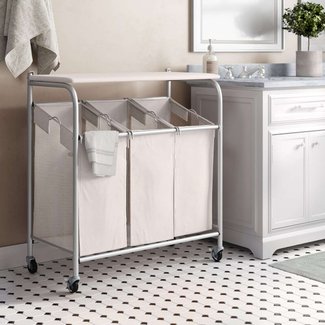 Petrone Combo Laundry Center
This uniquely designed laundry hamper is both fashionable and functional at the same time. The hamper is constructed using several tabular frames and topped with beige fabric liners. The frames come with a sleek silver finish for extra aesthetic value. The unit sits atop four caster wheels for easy mobility anywhere in the house. You will also notice it's relatively large, offering plenty of space for the whole family's laundry.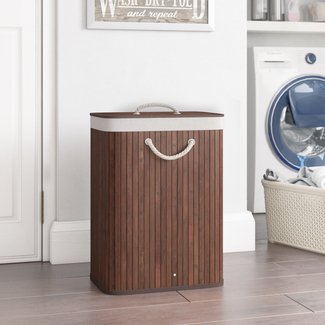 Bamboo Rectangular Laundry Hamper
This nature-inspired bamboo laundry hamper will bring excellent class and functionality into your laundry room. Its durable construction ensures the piece delivers long-lasting service for years. The hamper also comes with strong rope handles on each side for easy movement. There is also a matching lid at the top and a removable liner bag inside to protect it from daily wear and tear. The liner is machine washable so it should be easy to clean and maintain.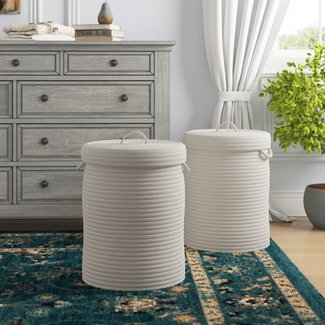 Traditional Laundry Hamper
This laundry hamper is perfectly suited for homeowners looking for a classy and elegant product. The piece is made from high-quality polypropylene in the US. The hampers also feature a charming and incredibly unique braided texture that will improve your laundry room décor. The units all have a lid at the top and handles on either side for easy portability. The fibers used to make the hampers are also mold and water-resistant. They will last for years.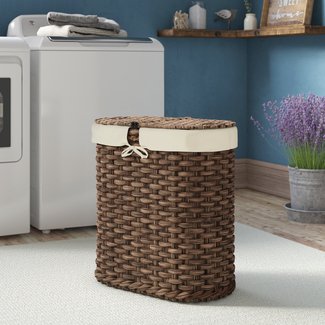 Wicker Oval Double Laundry Hamper
Looking for an efficient way to conceal those soiled linens in your bathroom? Well, look no further because this breathtaking laundry hamper will take care of it. The piece is constructed from a durable rounded steel frame and finished with woven synthetic polyethylene, making it one of the most heavy-duty hampers in the market. It also comes with an incredible vintage appearance that will add a soothing charm to your laundry room. The hamper also has a machine-washable removable canvas bag.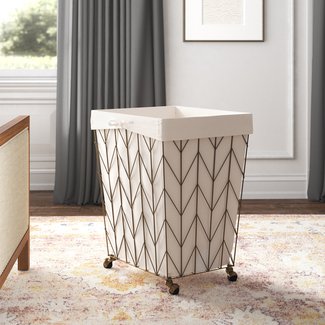 Coastal Decorative Rolling Laundry Hamper
This coastal-inspired laundry hamper is designed to bring a decorative touch of elegant styling into your laundry room. It features an open bronze-finished design with a removable inner lining. The hamper also comes with four caster wheels to help you move it from one place to the next. It is not the most sophisticated hamper out there but its minimalist style and basic functionality are enough for most people.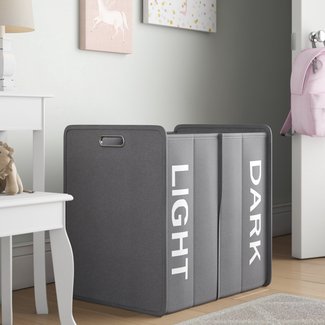 Collapsible Folding Double Bin Laundry Hamper
This collapsible laundry hamper is made from durable and lightweight polyester. It comes with two waterproof laundry compartments that will make it easier for you to sort clothes. Its collapsible design means that it can be put away in storage when not in use, clearing up extra floor space in your laundry room. The minimalist design, with a neutral finish, makes it possible to integrate this hamper into any living area.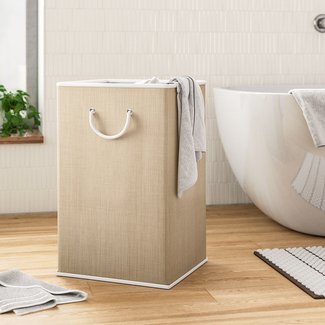 Wayfair Basics Collapsible Laundry Hamper
Made from a combination of durable resin and plastic, this laundry hamper also comes with a collapsible design for easy storage when not in use. The unit features unique linen upholstered finishing for that timeless look. The hamper is ideal for casual spaces but its rectangular silhouette makes it more versatile to fit into many different spaces. You also get durable handles on either side of the hamper for enhanced mobility.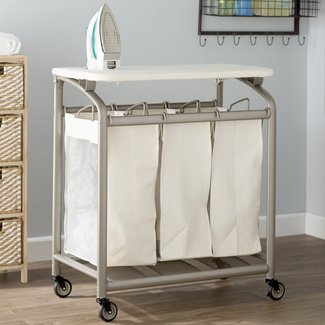 Laundry Sorter Hamper with Folding Table
This minimalist hamper is designed with several compartments that ensure you are easily able to sort between the darks, lights, lines, and delicates before doing your laundry. It features a sturdy metal frame with unique polyester foam padding. There is also a removable cotton liner that is fully machine-washable as well. The unit has an ironing board at the top, a true testament to its perfect blend between style and function.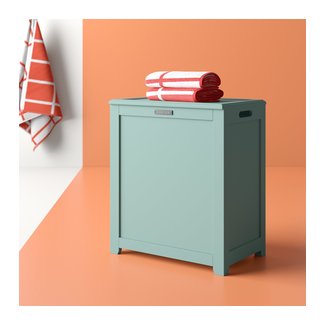 Cabinet Laundry Hamper
This classy laundry hamper is made from manufactured wood and features a unique slate door design and incredible molding at the top and the bottom. With its modern and sleek white finish, the hamper will be an elegant addition to your laundry room ensemble. The unit also comes with breathtaking louvered accents and that unique airy coastal-inspired look that will charm everyone who sees it. The hamper has two compartments, all enclosed behind two beautiful tilt-out doors.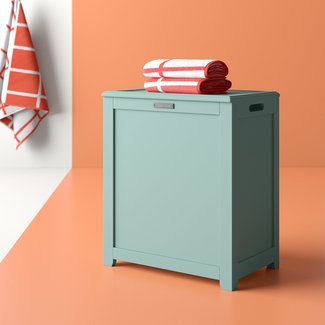 Cabinet Laundry Hamper
This laundry hamper is not only a unique piece of statement furniture but a functional addition to your home that will make laundry days easier. Made from solid wood, the unit comes with a neutral dark finish and beautiful craftsmanship as well. The flat lid top opens seamlessly to reveal enough storage area for all your dirty laundry. The bin also features a 100% cotton liner that can be removed and cleaned up for future use.