Our Choice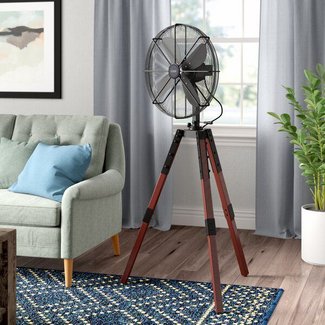 16" Oscillating Floor Fan
Crafted from steel material with hardwood legs, this powerful floor fan showcases a stylish tripod design. Adjustable height permits tweaking to fit into your space, with the adjustable tilts enabling you to direct the fan to where you want to be cooled. Has 0.8 horsepower, which gives out sufficient air even at the lowest speeds. Measures 55.8" in its maximum height. Clean built-up dirt every two or three weeks for an aesthetically pleasing surface and smooth motor running.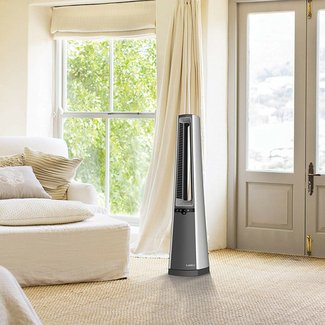 Bladeless 37" Tower Fan
Make your spaces more comfortable with this tower 37" floor fan. It's bladeless, hence, safe to use around children and pets as there's no fear of cutting themselves with it. 8-hour programmable timer lets you set the fan to continue running when asleep on those hot summer nights. Contains optional oscillation for when you need sweeping breeze throughout the room. This portable fan is recommended to be used in commercial spaces.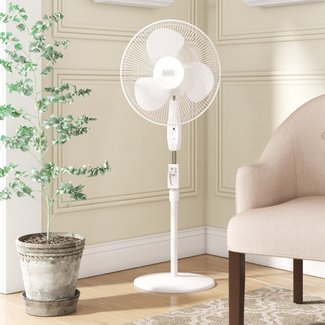 Stand 16" Oscillating Floor Fan
Keep cool in style with this oscillating freestanding floor fan. Non-slip base reduces the probability of fan slipping and falling. Removable fan blades and grills ease cleaning trapped dust, which can stress the motor, while wide-angle oscillation ensures optimum air circulation for better cooling. Remote control allows you to control the fan without leaving the couch/bed. Lower the fan to its minimum height when you need frigid temperatures as cold air settles typically near the floor.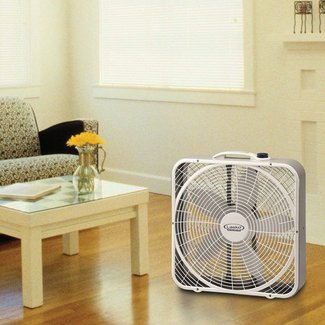 Box Fan
Lower the high A/C bill by using this traditional floor box fan. Conveniently placed easy-to-grip handle allows for effortless moving around, while easy to use controls guarantees efficiency and convenience. Three fan speeds precisely control airflow to your choosing. The five-blade design produces less noisy operation. Made with durable plastic material to last you through decades of everyday use. It's advisable only to use this durable fan in residential homes.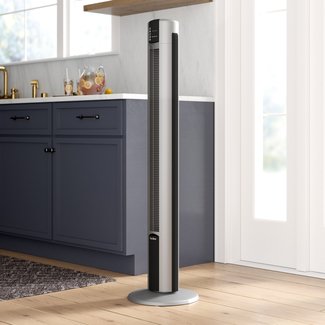 48 Tower Fan with Remote Control
Meet your breezy needs with this 47.5" H tower floor fan. Takes little floor space thanks to its tall and slender silhouette. Can be stationary or oscillation operated to modify fan depending on the room coverage you need. Sturdy circular base reliably supports the entire fan from tumbling, whereas its sleek design introduces some modernity and elegance. Place a bowl of ice water across the fan to accelerate the cooling process.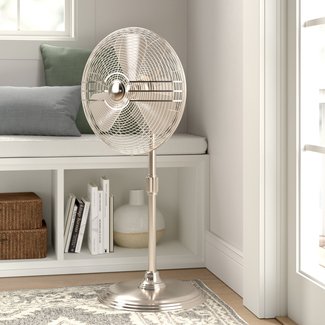 Retro 16" Oscillating Floor Fan
Made from primary aluminum material with an elegant brushed nickel finish, this practical pedestal floor fan showcases a non-slip round base with three 16" high-performance blades. Adjustable tilt enables you point fan to exact area you need cooled. 85° smooth oscillation provides for broader coverage areas, with the quiet settings and 60-decibel noise level ascertaining noiseless operation. Can move an impressive 1532 CFM. Frequently clean by wiping with a dry cloth to prevent excess dirt build-up.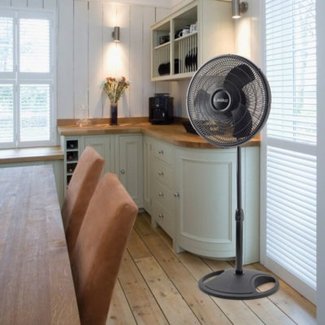 16" Oscillating Standing Fan
Maximize airflow in your space with this 47"H standing floor fan. Weighs 8lb; hence, lightweight for stress-free moving around. The stand is adjustable so you can alter its height and get the airflow to a convenient level. Three variable speed levels of low, medium, and high allow you to set airflow that best suits you. Uses a wall plug-in power source of 120V. Suitable for use at home only and not in commercial spaces.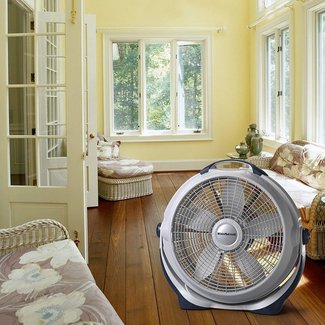 Wind Machine 20" Floor Fan
A huge advantage of this box floor fan is it arrives at your door fully assembled and ready to set up. Pivoting head moves air to the direction you need, while the large convenient handle and its light weight permit seamless transportation. Quiet settings ensure it runs silently, making it suitable for home offices and bedrooms. To remove trapped dirt and lint, it's advisable to use a vacuum with a brush attachment. Do not dismantle it.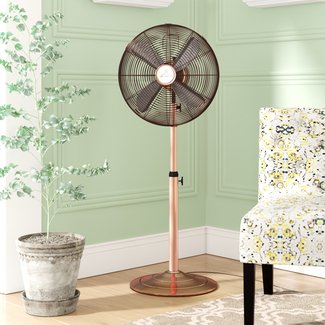 Creager 16" Oscillating Floor Fan
Upgrade your living space with this portable standing floor fan. The adjustable height setting lets you tailor it to suit your own space. Four plastic blades move air softly, creating calming, soothing white noise perfect for when sleeping. Moves a whopping 6,800 CFM at its highest speed, which is sufficient enough to cool your whole room. Uses 45 watts of energy, thus, efficient. Using this fan outdoors is highly discouraged.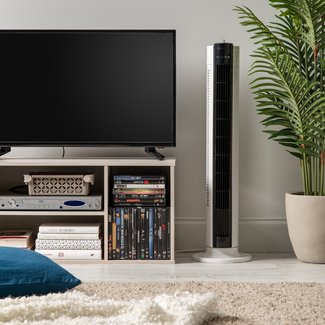 Woozoo 31" Oscillating Tower Fan
Meet all your cooling needs during summer with this tower type floor fan. Three fan speeds allow for controlling airflow to fit your taste, whereas quiet settings ensure your home remains serene and peaceful even when the fan is running. Its tall, sleek silhouette adds a modern and elegant touch to any room. Circular base steadily holds the fan from tripping during use. Can be used in small spaces like college dorms and tiny apartments thanks to its space-savvy design.