Our Choice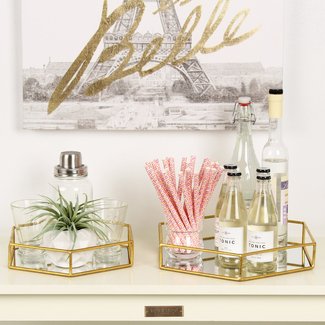 Snyder 2 Piece Serving Tray Set
These two mirrored nesting hexagonal trays are so versatile they can be used anywhere in your home. With multiple trim options, including black, silver, gold, and rose gold, these beautiful trays are an excellent accent piece in your dining room, vanity table, powder room or bar cart. One measures 14" across and the other measures 11" inches enabling them to hold candles, perfumes, bar supplies or a vase of flowers.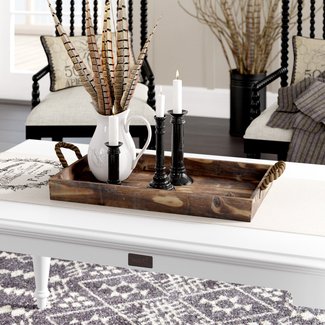 Bishopston Serving Tray
With two rope handles, this handcrafted, rustic 20" x 11.5" wooden tray blends seamlessly with a farmhouse, classic country, rustic, or southwestern aesthetic. Available in natural wood and white finishes, use it on top of a tufted ottoman to hold books, magazines and other accessories or as a stylish breakfast-in-bed tray. Alternatively, place a vase of flowers or candlesticks on it for a dining room table centerpiece.

Beck Coffee Table Tray
Versatile and undeniably chic, this polypropylene tray is inspired by contemporary aesthetics. A 2" x 18" sided square, this tray can function as a coffee table accent or a side table snack tray. It's also perfect for holding guest bathroom towels or soaps. The texture gives off a leather-like vibe, and the contrasting colored handles can easily complement other fixtures in the room, such as lamps. The felt bottom prevents it from sliding around when used as a cocktail tray on a square ottoman.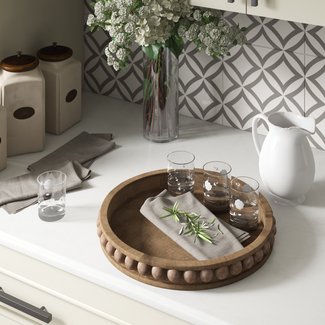 Crofton Round Wood Coffee Table Tray
Place this multifunctional 2" x 16" round wooden tray on your bedside table as a jewelry and technology station, use it in your bathroom as part of an artisanal soap and perfume display, or showcase natural accents in your home, like seashells, pinecones, or sea glass. You can even let it take center stage on your kitchen island as a fruit bowl. This versatile brown wooden bowl is lightly whitewashed for a classic-yet-rustic effect.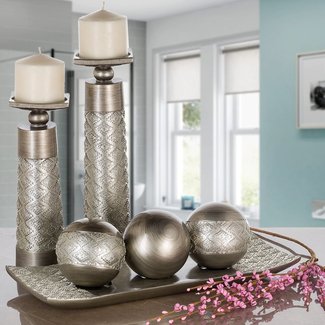 Dublin Silver 4 Piece Coffee Table Tray Set
Three elegant, silver-and-brown finished 4" resin balls are paired with a matching 15.5" x 6.5" tray to help you complete the look of any contemporary room. An eye-catching textured, raised metallic surface with iridescent, geometric patterns makes this tray the focal point of any space. Adorn an entryway table, dress up a vanity, or add some glamor to your dining room table with this on-trend tray and matching orbs.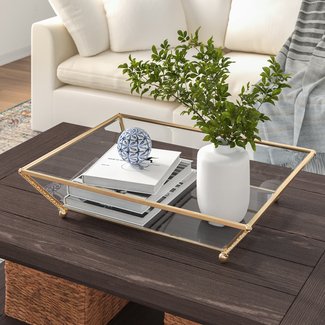 Shelva Mirrored Bottom Glass Keepsake Vanity Tray
Ideal for displaying a collection of jewelry, candles, seashells, or stones, this tray features deep glass sides, a mirrored base, and stunning gold-colored trim. Gold ball feet add a touch of personality. At 8" x 6.6" x 1.5" this elegant tray is small enough to fit on a bedside table or on top of a bathroom vanity and makes a beautiful and thoughtful gift.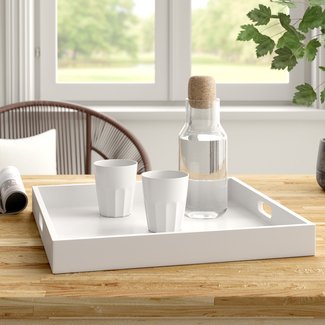 Serving Tray
Bring out this understated serving tray when you're offering guests lemonade, tea, coffee, or snacks. Available in an assortment of colors, this functional tray blends easily with any décor and given its simple design, it looks fantastic with a rustic table. You can also place it on your outdoor furniture to hold potted plants. It's made from medium-density fiberboard with a semi-gloss finish and is easy to clean.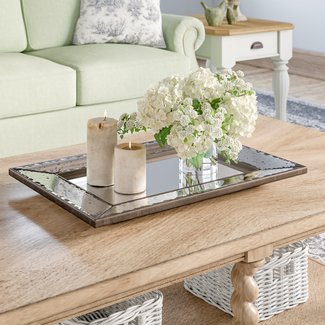 Vanity Tray
With an elegant, antiquated feel, this silver-rimmed mirrored tray strikes the perfect balance between shabby chic and timeless class. Display your hand-picked hydrangea bouquets or a charming arrangement of seashells and candles on your coffee table, on a dresser, or your kitchen island in style on this eye-catching rectangular tray with distressed details. The tray comes with hangers so you can hang it on the wall to add character to your guest bathroom.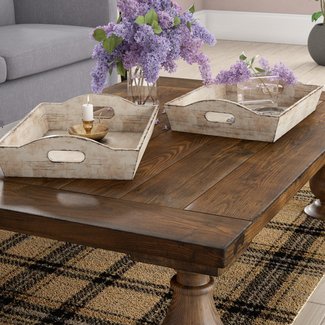 Hargrave 2 Piece Vanity Tray Set
This stunning, two-piece tray set evokes the French countryside with its versatility and its cottage aesthetic. Crafted from solid wood and finished with a whitewash, the first tray is 20" x 12" x 3.5". The smaller tray is 10.5" x 17" x 3". Use one as a serving tray for lemonade and watermelon on the deck and the other to corral items in your kitchen to prevent clutter.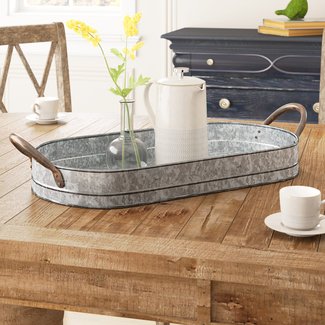 Calion Coffee Table Tray
Use this metal tray to enhance your modern farmhouse aesthetic. Its oval shape, smooth handles, and galvanized zinc finish make it perfect for carrying beverages to guests, presenting appetizers, or displaying potted herbs. Measuring 26¾" x 11⅘" x 4½" this utilitarian tray is a perfect kitchen accessory. It also serves as an excellent storage solution for powder room hand towels or use it on top of a leather ottoman.