Our Choice
Honey Bee Glass Charger with Stand
Chargers were once the epitome of savvy dinner parties. The more unique the color and design, guests were made to feel special. This 16" plate is a fine example of a well-made glass charger with a kaleidoscope of blues that sparkle and swirl. The cobalt blue cut glass is meticulous in form and a prize for anyone to own. Set beside an open window and watch as the changing sun rays move the patterns with the light. Comes with its own display stand for setting at just the right angle.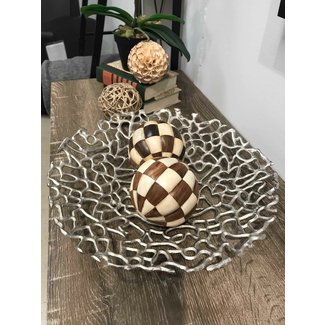 Jaylan Decorative Bowl
This aluminum open weave bowl measures 15.5" in diameter and appears to have been hand made. It resembles the coral found in the sea and is stunning in the silver tone. The texture is smooth and glossy, making an artistic statement on a coffee table of a modern decor. It could also stand alone in a beach side home or a transitional modern or minimalist living room. Categorized as abstract art, this rounded beauty will draw attention from everyone that walks by.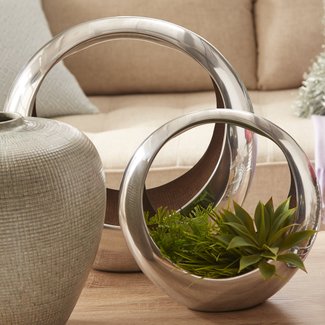 Dangelo Ring Decorative Bowl
A cylinder with open cosmic space will make an interesting addition to your entry way, living room table or bedroom. Hollow in the middle, this aluminum piece weighs 5.35 pounds and is 15.5" in diameter. There is a smaller version that is 11" in diameter for smaller spaces. The interior is lined with rich walnut-like material, making a sharp contrast. With a decor of glass and chrome, this piece will stand alone and also serve as a compartment for keys, change or other odds and ends.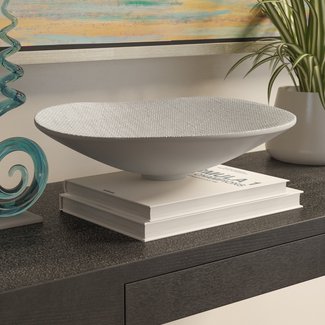 Ceramic Wave Decorative Bowl
The interior pattern of this striking bowl almost looks like fine linen. However, upon closer inspection, it is a magnificent work of ceramics.  The unproportionate lip almost makes this piece seem alive like the ocean waves. The neutral color suggests that nature is its friend and that it deserves a special place in your home. Measuring 3.75'' H x 14.75'' W x 14'' D, fill it with gems or pieces of petrified wood so the enhancement of nature can be realized.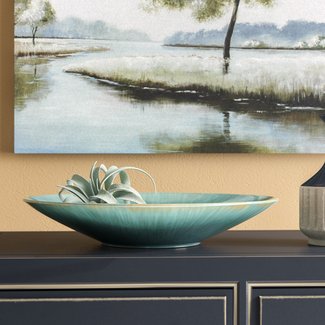 Darryl Mint Decorative Bowl
This Asian ceramic beauty portrays the warm blend of nature and color that are so appreciated in eastern cultures. You can almost feel the history of ancient China when this bowl is near. An energizing mint green with hints of gold edging will put you in a Zen-like mood. Set outside by a fountain for a dynamic flow of energy or place inside where it can be admired by anyone that walks by. 15" in diameter, it will look hauntingly attractive wherever it is placed.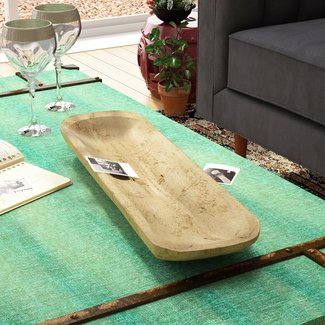 Galento Baguette Dough Decorative Bowl
Freestyle with a touch of primitive living, this handmade shallow bowl can let your imagination run wild. A sculpture of early Indians and their unique abilities or a modern envision of what the West was like? Regardless, the bold and beautiful scooped out appearance of this reverent piece of wood is perfect for holding small objects. Available in a variety of colors, you may want to place around the home as a reminder to empty pockets.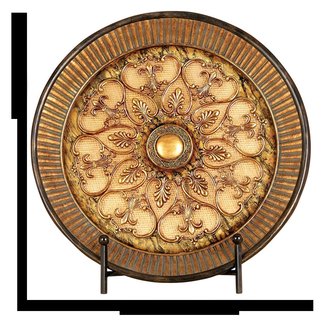 Doliya Polystone Decorative Plate
This majestic decorative plate uses the best of the universe to show you the beauty of it all. A gold centered sun surrounded by inlayed linen fabric and scrolled symbols of the world make an iconic statement of past, present and future. 16"x 16" it will stand proud among artifacts and glass-blown vases. The gold markings around the edge forces your eye to fixate on the delicate designs held within. Use with lace and satin for a stunning background.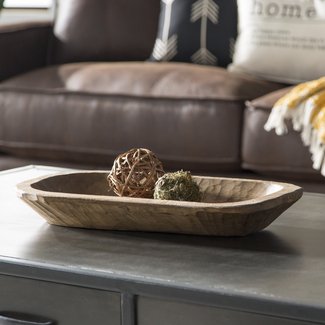 Keysville Old Wood Dough Decorative Bowl
Primitive times have taught us that art began with basic needs. This rustic oblong trough signifies a need while portraying a hand-made aesthetic touch. Its simple design will spark an interest in the beauty of quieter days and make a lovely addition to a weathered table. Chiseled out of solid wood, this piece measures 3" H x 22" W x 12" D and will look handsome on a coffee table or on a home office desk.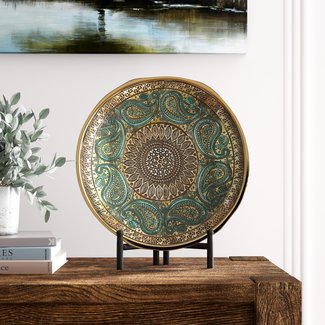 Paisley Round Glass Decorative Bowl
A touch of the Middle East proves charming in traditional or modern spaces. The delicate work of etching on glass is found on this amazing work of art from Turkey. Gold trim outlines the masterful work of peacock blue paisley patterns surround the center. Gold leaves surround a circle of prosperous seeds and bring hope to the land. Use under a fine white china plate or stand upright in a stand. This is a very fitting piece for a formal dining room.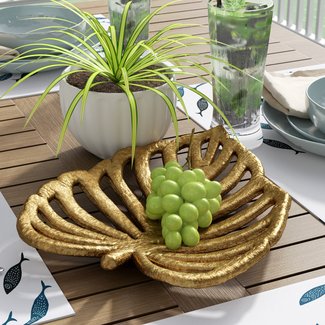 Nakashima Decorative Plate
A lovely twist to cast iron, this open weave leaf represents the beauty of nature in a respected gold plating. There is nowhere that this graceful piece will not catch your attention. Floating above the surface by 1.75", the dimensions are 10'' W x 12.25'' D. Use as a decorative dish in the entryway or living area or as a highlight to an intimate meal on your dining room table. Easy to maintain with a clean damp cloth. Popular with all types of decors.