Our Choice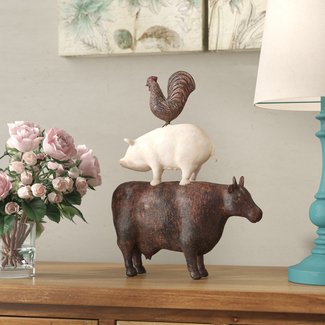 Animal Art Figurine
A graciously sized figurine that invites a 'farmhouse' theme around your house, whether placed on top of your hutch, top shelves or the kitchen table. This animal art figurine easily fits and adorns your space with a whimsical feel and tone by blending fun and classical brown and off-white distressed looks. Chopped from natural stone and finished with resin, the 3-piece artful figurine draws attention to its simple craftsmanship, while adding creative allurement to your empty and dull-looking spaces.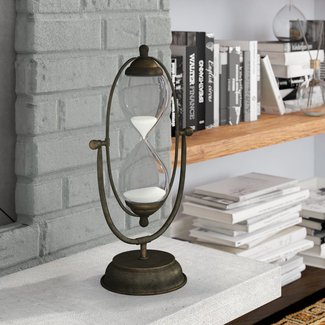 Havana Timeless Hourglass Decor
Use a timeless hourglass decorative piece of art to add aesthetic and practical addition to your antique table arrangement or bookshelf. A 30-minute interval sandglass is your perfect partner to help with counting down and keeping track of time for improved productivity, whether gaming, exercising or meetings. Finished with a rustic metal frame and a grain of sand falling within its curved glass to add character and whimsical charm to your living spaces.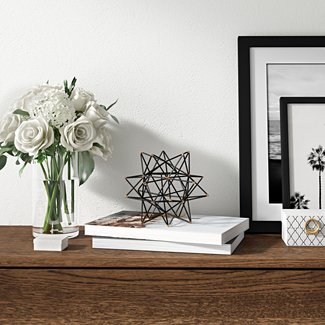 Wire Star Black/Gold Iron Sculpture
Glamify your living room coffee table, console table or coffee desk with a metallic geometric black and gold wire star sculpture that is sure to spark good conversations with friends and strangers alike. This accent decor measures 7-inches and is crafted with intricate weaves of lightweight iron to bring a sophisticated appeal to any room. A sizable artful piece will make a bold decor statement atop a bookcase or place it on an office desk to complement other table decoration elements with a distinct personality. A creative gift idea for your boss too.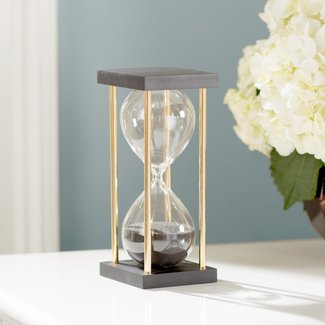 Ophelie Hand-crafted MDF Hourglass in Stand
On top of your mantle office desk, bookshelf or coffee table, this artsy hand-crafted MDF hourglass brings out a fun and sophisticated modern style to your living spaces. A 15-minutes hand-crafted sand clock features a sleek and handcrafted design from metallic hue aluminum frames, a glass hourglass, and a black hue MDF top and base for an elegant touch to your overall style arrangement.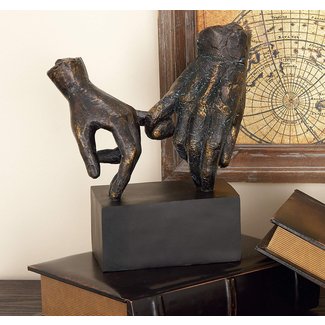 Quigley Polystone Hands on Base Sculpture
Make your space lively and stunning with this distinct, gallery-worthy decor. Inspired by the pinky swear tradition, this hands sculpture adds a playful touch to any space, and its weathered black and brown finish complements any traditional interior design. It's an ideal decoration for your table, desk or bookcase, allowing you to add character and charm to your space.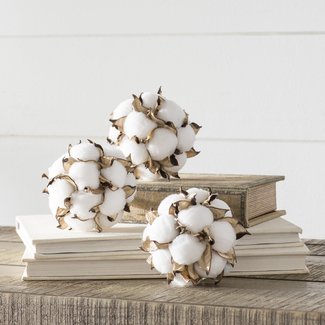 Kingsville Cotton Ball Orbs Vase Filler (Set of 3)
Give your room a fresh look with these classic decorative vase fillers. The white faux cotton material adds a distinctive appeal to your space. Simply put them in a sleek glass bowl and place it on your TV stand, coffee table or bookcase for a timeless feel. Or, place them on your antique vanity for an inspiring yet whimsical charm in your everyday space.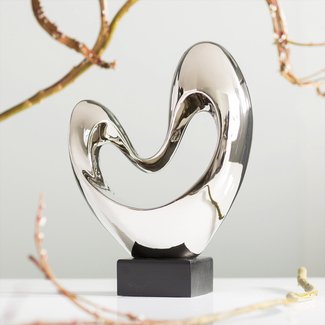 Glossy Heart Abstract Sculpture
Draw attention to your perfectly curated table arrangement with this accent sculpture. Inspired by heart, this sleek and glossy abstract sculpture design adds a layer of visual appeal to any space, whether staged atop a bookcase, TV cabinet, bedside table, writing desk, computer desk or coffee table. Fitted atop a black-finished solid wood base, this abstract heart silhouette complements any corner of the room with a contemporary style.