Our Choice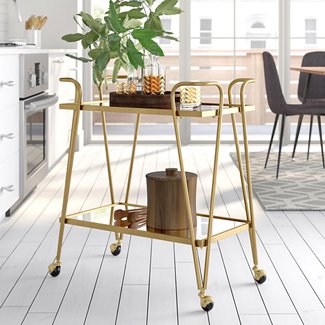 Laurence Mid-Century Bar Cart
This incredibly stylish midcentury bar cart comes with a beautiful eye-catching appeal that should help you fully transform your furniture ensemble. Made from sturdy metal, the unit features an elegant brushed gold finish that seamlessly blends into any color scheme in your home. The cart sits atop four caster wheels for easy mobility and offers two large shelves at the top and the bottom. The piece should be perfect for mixing cocktails and serving drinks during a small gathering or party.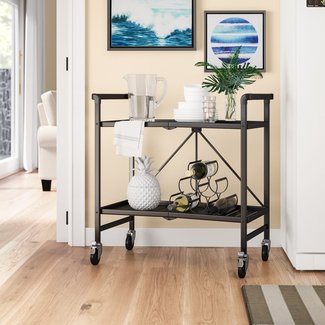 Hull Bar Cart
This versatile bar cart comes with a classic metallic design with a neutral black finish as well. The cart offers excellent storage for both drinks and glassware. It has two large shelves, each with the capacity to hold up to 75 pounds of product. The four caster wheels on this unit are also very versatile and strong enough to be used both indoors and outdoors. No assembly is needed for this unit. Simply buy and start using right away.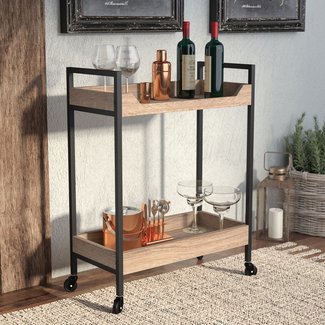 Ermont Bar Cart
Give your guests a royal experience as you serve drinks in this beautiful bar cart. Designed with a classic look to it, this unit would be ideal in serving classic cocktails but would also work for any other types of drinks. The cart is made using a sturdy metal frame and two strong wooden shelves. Its two-tone finish also brings that unique midcentury flair that will give your home that classic appealing vibe you've been looking for.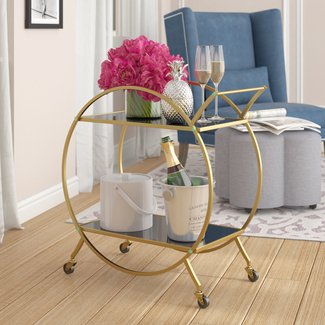 Kiven Bar Cart
Give your home bar a stylish new look thanks to this beautiful bar cart. The piece comes with a circular metal frame and two rectangular shelves for all your drinks. The metal design is finished with a beautiful light gold palette that delivers visible opulence for everyone to see. You will also get four caster wheels at the bottom for easy mobility. You may want to place a small vase at the top of the cart for the best decor value.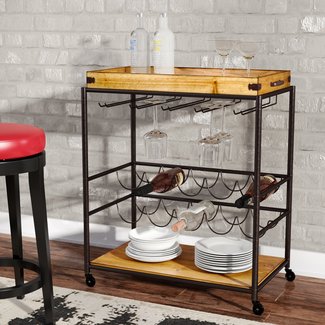 Kahnah Bar Cart
This vintage bar cart is designed to deliver outstanding functionality. First of all, it comes with two shelves, one at the top and the other at the bottom. The middle of the cart is then fitted with two wine racks that can be used to hold up to ten bottles with ease. The cart has a two-tone finish, featuring a back metallic frame and a natural wood grain finish on the shelves. It looks spectacular!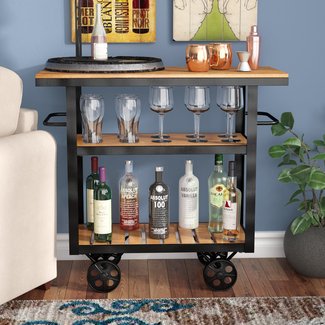 Livingston Bar Cart
Looking to create a vintage vibe into your home? Well, this high-quality bar cart will achieve exactly that. The piece features a breathtaking industrial look thanks to its thick metal frame and large wheels. The cart also comes with two shelves and a tabletop, all made from sturdy wood. The piece has a lot of textured detailing that adds to its beauty. Its compact design makes it a great pick for small spaces or apartments.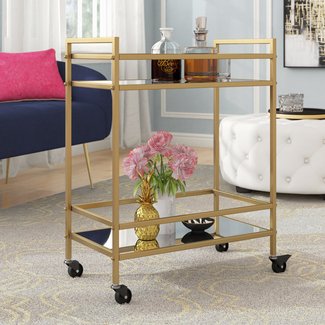 Chicago Bar Cart
Featuring an amazing gold-tone finish and an incredibly functional minimalist design, this state-of-the-art bar cart offers excellent height and enough shelves for drinks and glassware. The cart will not only be a great way to serve your guests but it can also be used as a display platform for all your vintage wines and other specialized drinks. The mirrored glass shelves also go a long way in adding to the elegant class already showcased by this piece.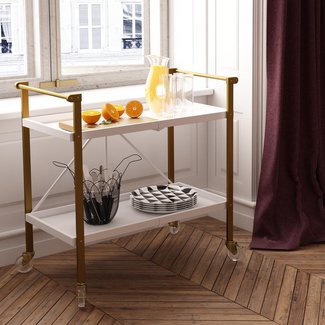 Trevia Folding Bar Cart
This clean-lined bar cart is the ideal glamorous blend of function and design. The unit is also very durable thanks to its steel frame and steel shelves. You will love the fact that it's an easy to clean low maintenance piece that will last for a very long time. The cart can be used both indoors and outdoors to great effect. Each shelf can support up to 75 pounds in weight too.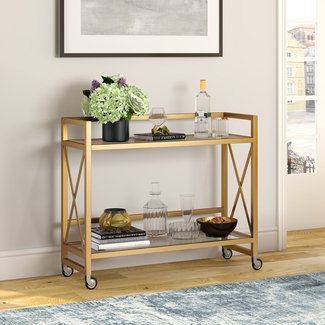 Creola Bar Cart
Bring a dose of modern and contemporary styling into your home with this high-quality bar cart. Made from a sturdy steel frame, the cart comes with two large shelves each with the ability to hold up to 40 pounds in weight. Its black metallic finish will lend an industrial-inspired look into your kitchen, den, or anywhere else you decide to put the piece. The cart can also be repurposed and used as a nightstand or kitchen accessory.
Calvin Wooden Bar Cart
Featuring a beautiful and modern design, this quality bar cart is constructed from a sturdy iron frame for longevity and long-lasting service. The piece also comes with two solid wood shelves, each finished up with a breathtaking espresso finish that combines perfectly with the metal industrial black on the frame. There are two handles on either side of the cart and four caster wheels to make mobility easier both indoors and outdoors.