When you're beginning to plan out your holiday decor and hospitality setup, you're probably budgeting out food items, thinking about your Christmas tree, and other seasonal to-do list items. For decor, it's easy to take a less-is-more approach: Instead of decking all of the halls with holly and ivy, consider creating a gorgeous focal point in your home with a Christmas table centerpiece.
Who wouldn't want to make the perfect backdrop for an incredible Christmas feast with a perfectly-put-together centerpiece? These centerpieces don't have to be difficult to put together; instead, with just a few carefully chosen items, you can make your Christmas table a sight to behold.
A centerpiece is usually a few carefully-curated items (or just one larger item) that you set in the middle of your table to anchor your plates, candles, and dishes of food to create a purposeful and pretty tableau. You'll want to make sure it doesn't distract from the food or get in the way; and staying away from particularly fragrant centerpieces is usually a good idea, as you'll want the aroma of your food to shine.
Fortunately, we've done the heavy lifting for you. Below, find ten stunning ideas for Christmas table centerpieces.
Winter Greenery and Pinecone Arrangements
A surefire way to appreciate the natural beauty of the season is to capitalize on incredible centerpiece ideas from the great outdoors. With cleaned pinecones, leaves from succulents and firs, and anything else that you might find outside all tucked into a stunning rustic vase, you'll be able to put together an easy but beautiful centerpiece. This farmhouse chic look will go well with natural decor well!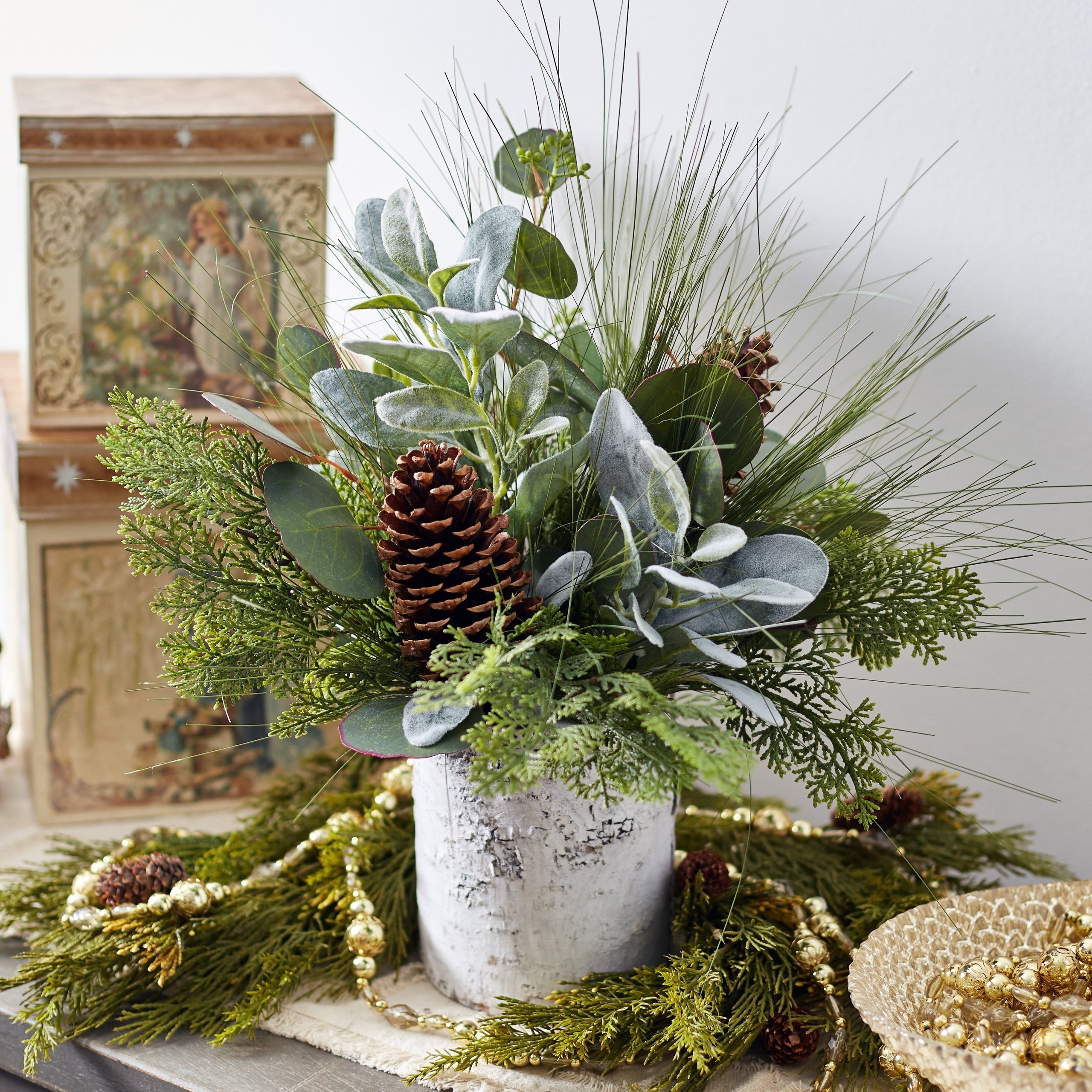 Poinsettia and Fir Centerpiece
Instead of embracing a centerpiece filled with strictly neutral colors, decide to luxuriate in this season's more vibrant natural offerings - such as, for example, poinsettia. With a gorgeous bright red color, this idea for a centerpiece can truly provide a pop of life amongst your decor ideas. This type of centerpiece would go well with very traditional, classic types of decorating - and might look particularly good on a dark wood table.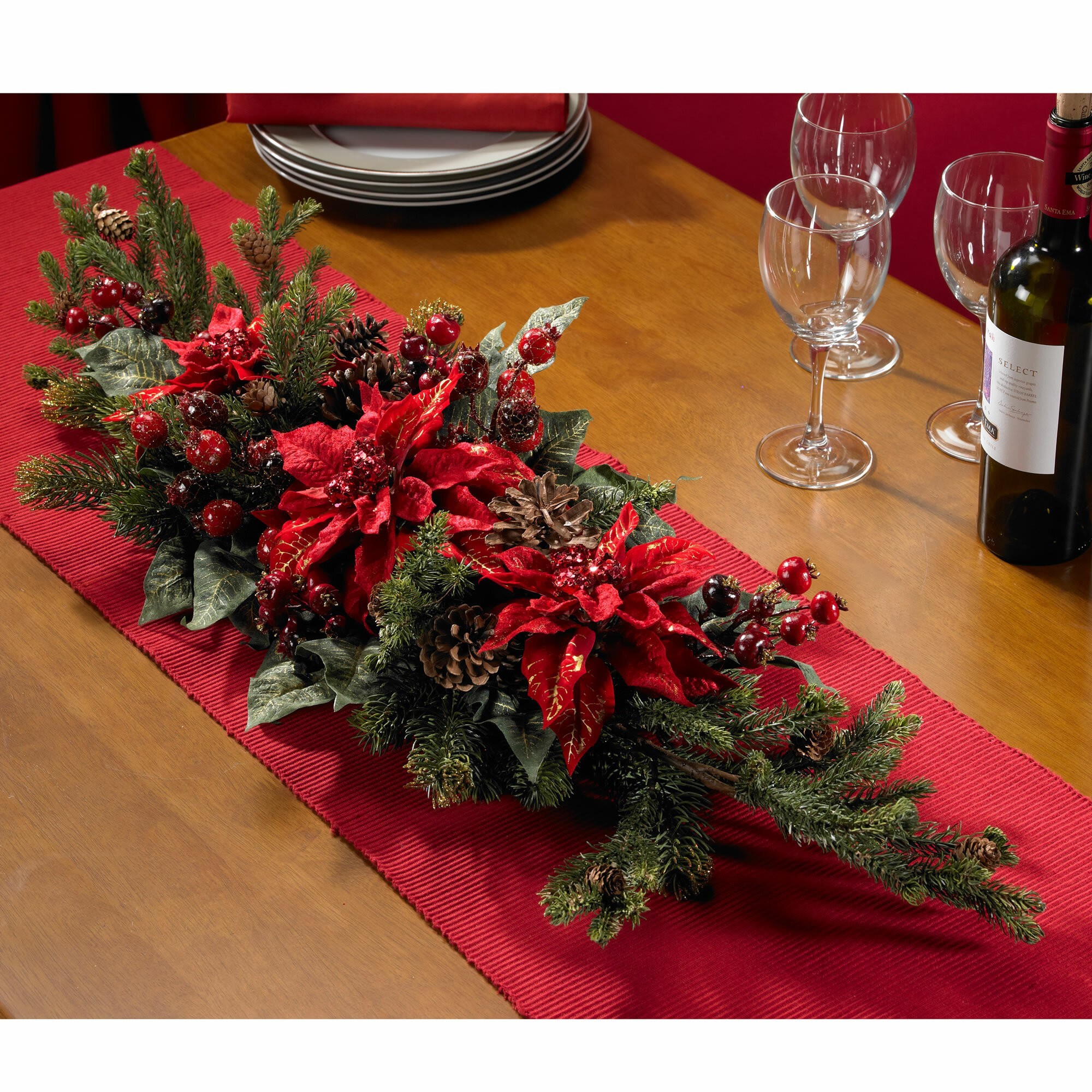 Frosty White, Glittery Nature Centerpiece
If you're looking to celebrate the best of both worlds - natural, neutral, and sparklingly festive - this type of centerpiece might be just what you need. With striking white, cream, silver, and glittery fronds of fir all bundled together with snow-tipped pinecones and champagne-colored ribbons, this centerpiece is one that will last you through Christmas and into the New Year. Pair this centerpiece with minimalistic decor for a modern take on a Christmas table.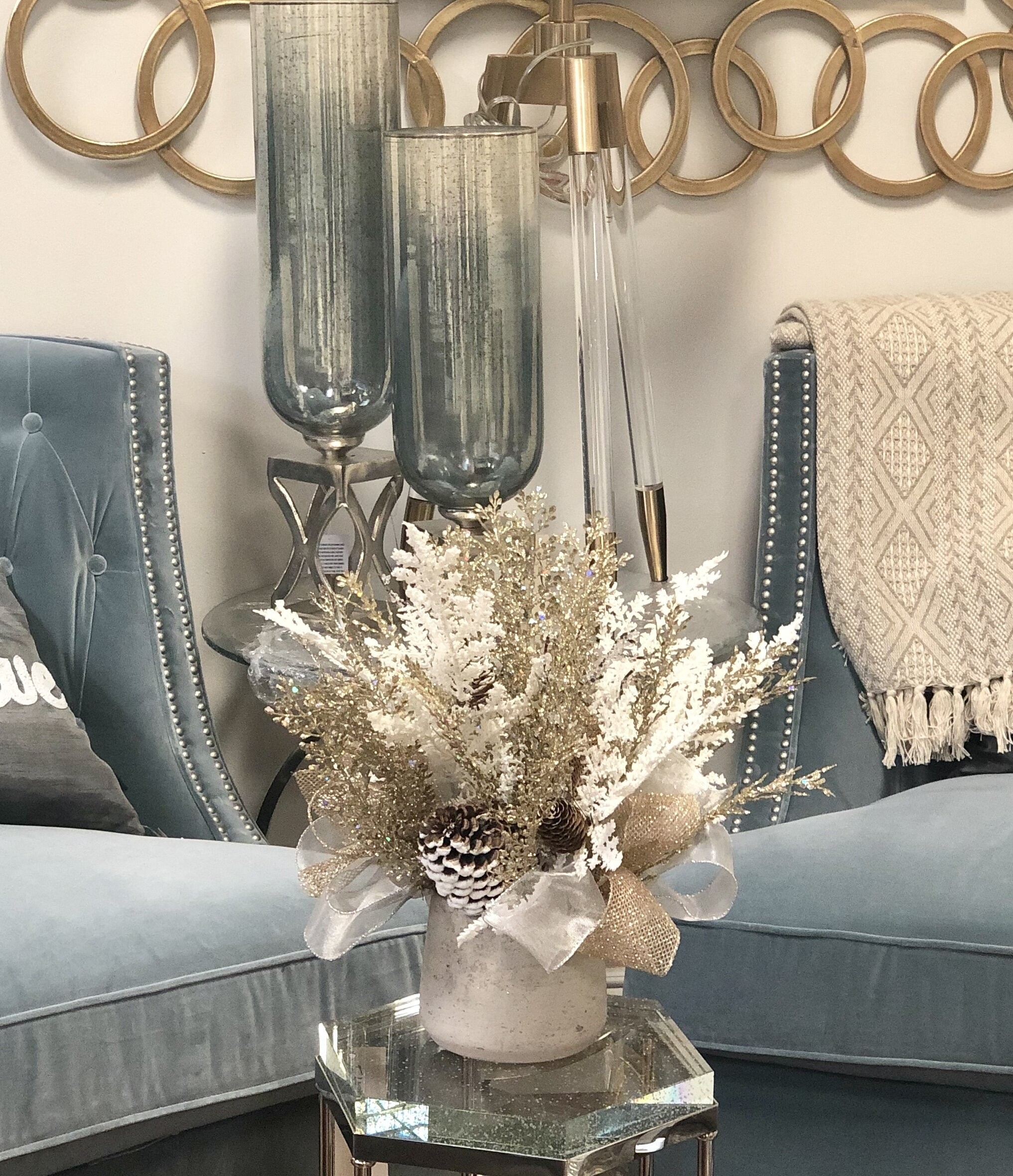 Wheatgrass Mini Christmas Tree
Sometimes, you might just not have enough room for a full-sized Christmas tree. Perhaps you live in a smaller apartment - or perhaps your dining room is far away from your Christmas tree! In that case, invite a smaller tree to your table with this soft grass option. It's an excellent decor piece for a home with lots of stark lines - so, for example, an industrial or minimalistic space.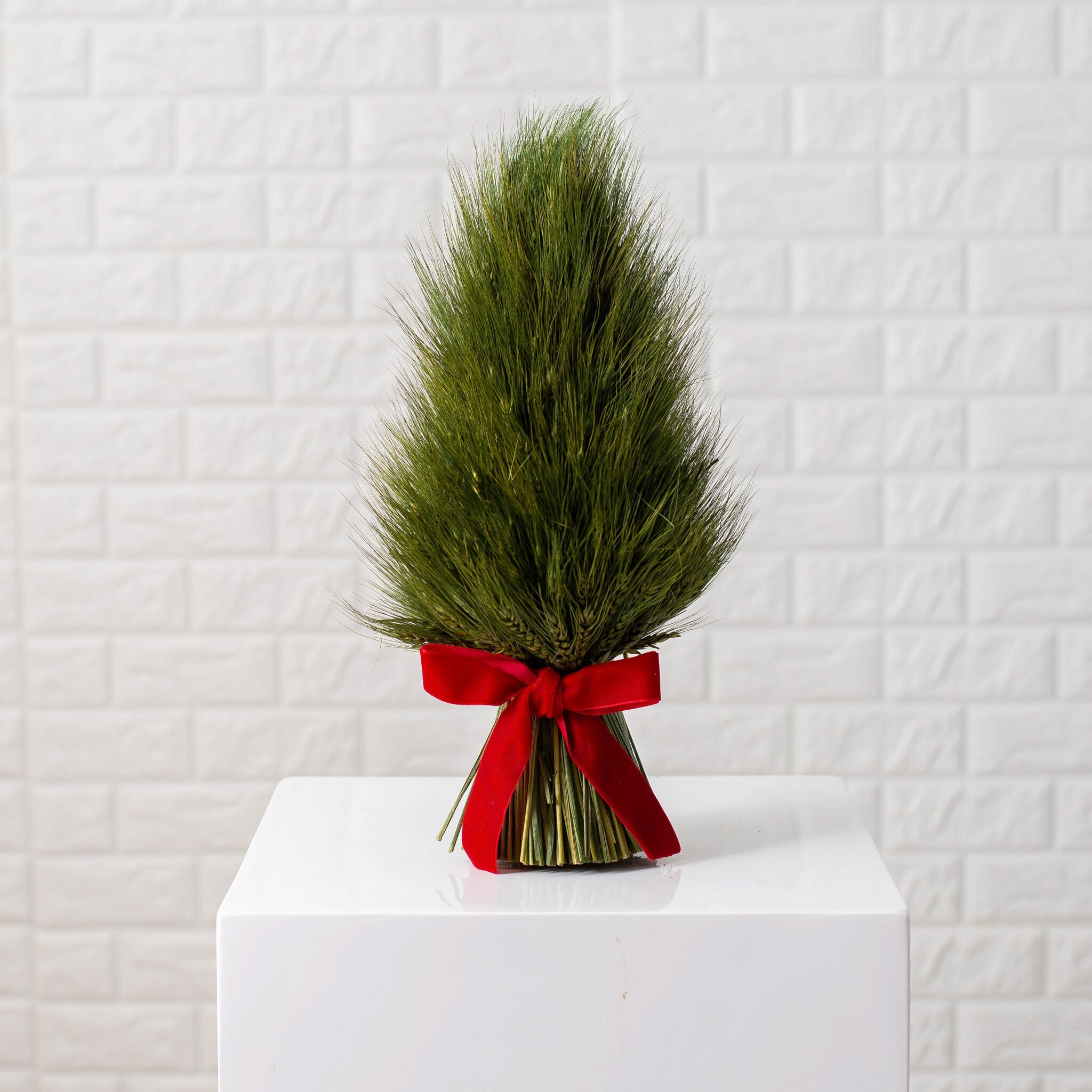 Gunmetal Pine and Magnolia Christmas Centerpiece
Ready to go all out this year? With the subtly shiny vase acting as a great counterpoint for this splashy, maximalist gathering of wintry plants, this centerpiece will definitely make a statement in your home. Its bright colors will stand out - particularly if you pair it with more natural, farm-house chic decor; but it would be just as at home in a colorful, busy space.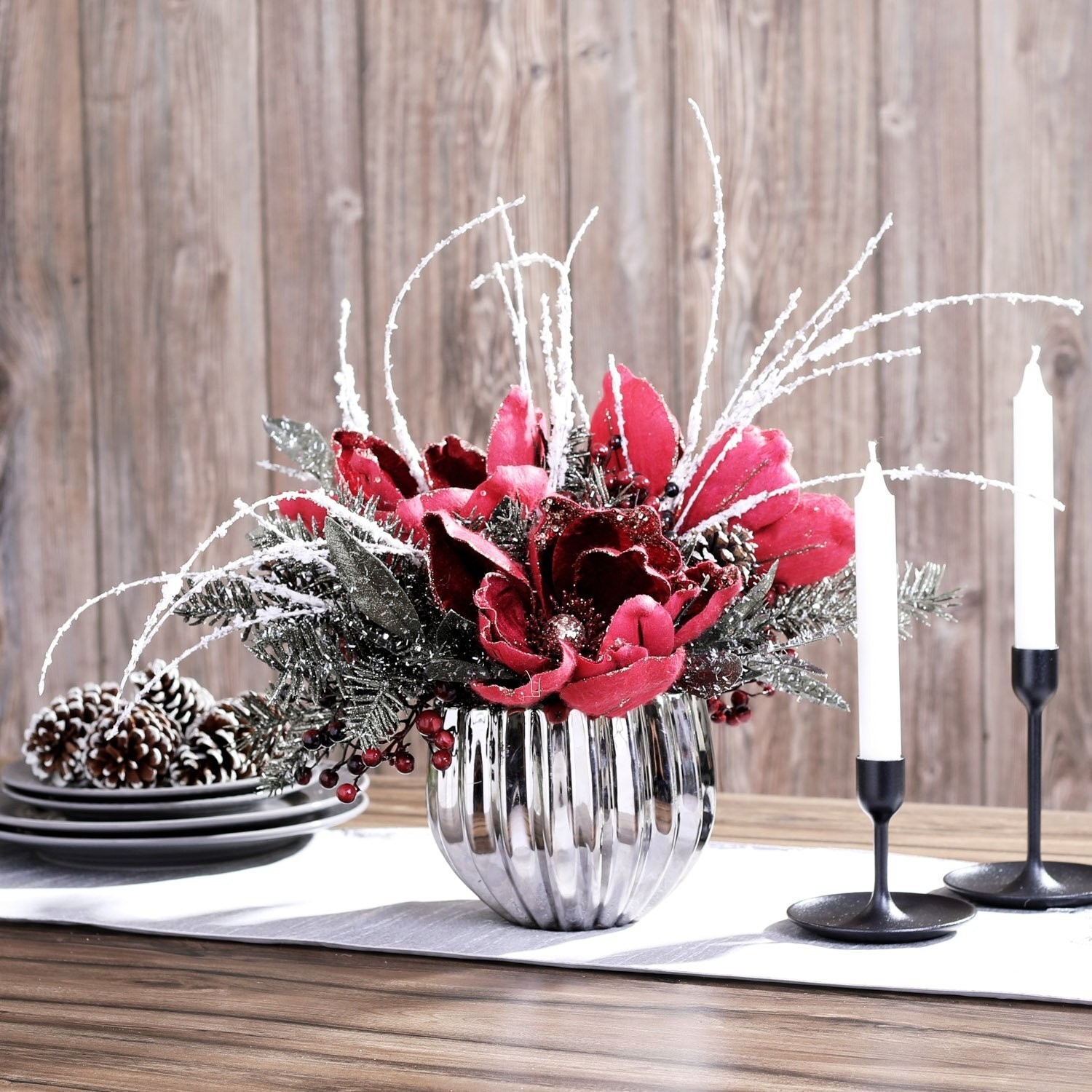 Christmas Peony and Poinsettia Floral Arrangement
Perhaps the loud red-and-green color palette that traditional Christmas centerpieces offer is a little too much for you! If you're a fan of pastels, check out a wedding-bouquet-inspired softer floral arrangement, instead. Using natural greenery to drape around the base increases the natural feel! This is a great option for more minimal Christmas decorating; for example, if you're looking for something to use a little longer than just the holiday season.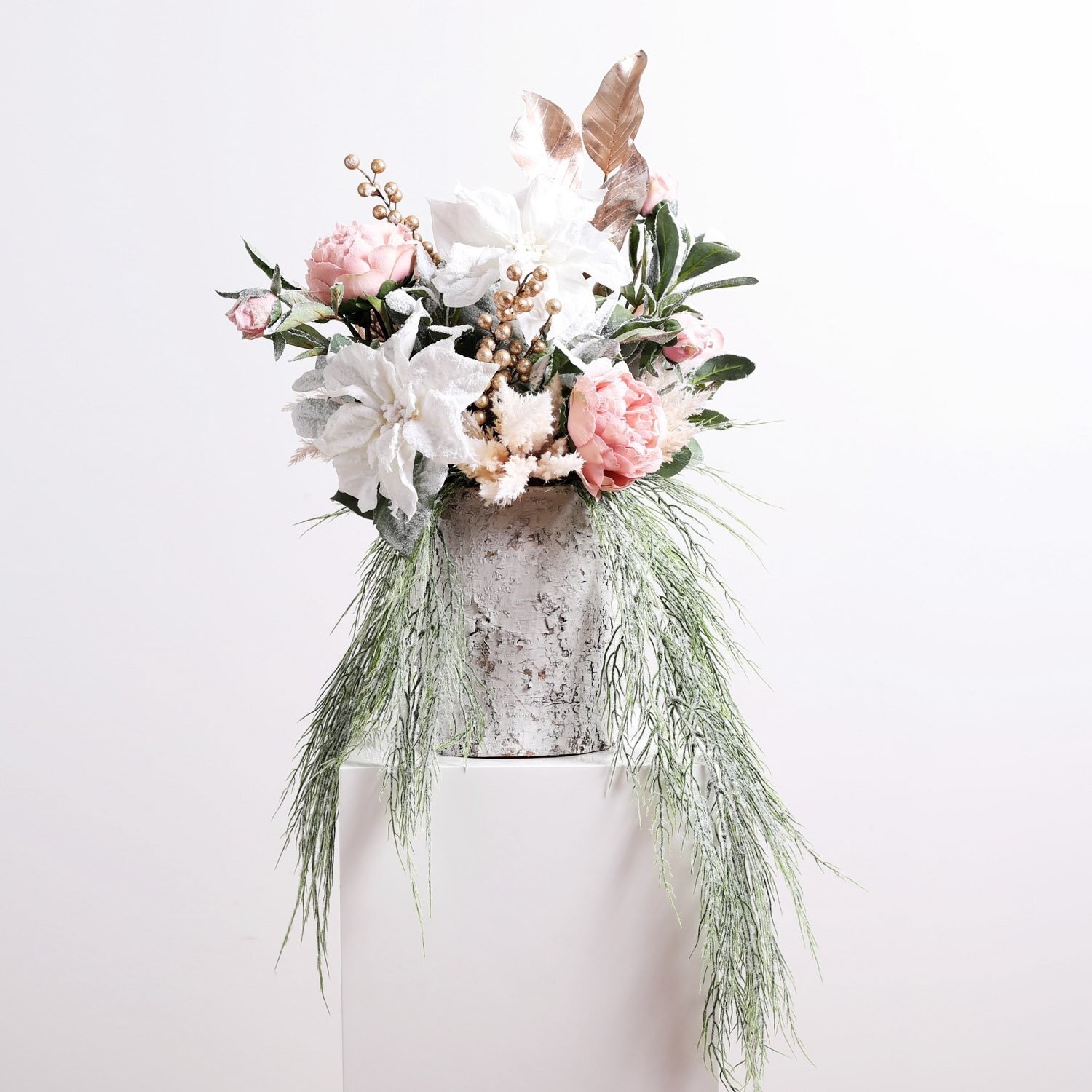 Christmas Pine Mixed Floral Arrangement
With notes from different wintry mixes, including berries, cedar, poinsettia and more, this floral arrangement epitomizes the reason for the season! The casualness of the pot in which this arrangement sits gives it a thrown-together feel that is quirky and fun. Choose this if you're looking for the decor piece that no one else has!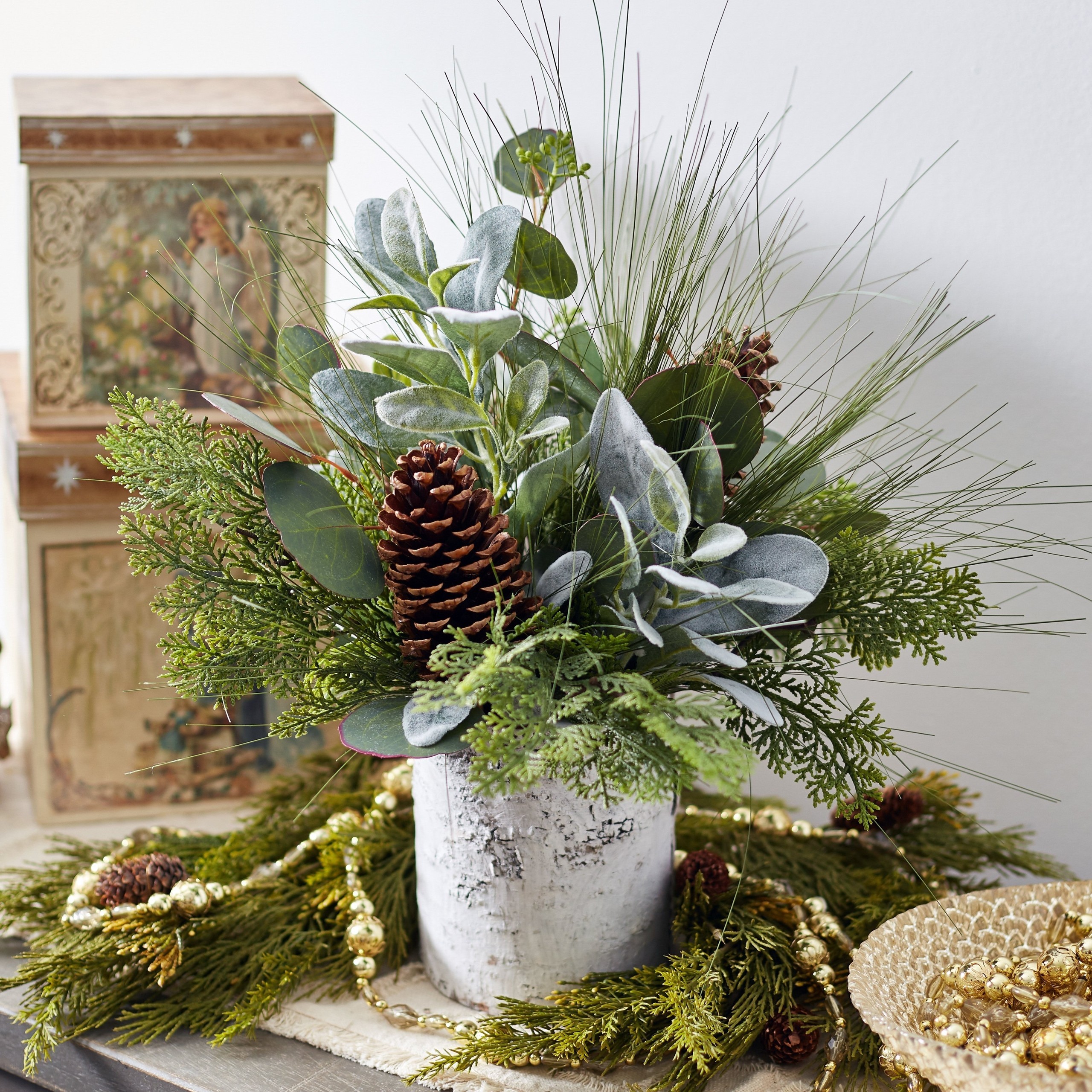 Winter Berry Candelabrum
Looking to add a little bit of that soft candlelit glow to your home? With this draped candelabra, you can do precisely that. With overflowing berries and greenery, this candelabra will add elegance to any table. Since it is an oblong centerpiece, however, you should note that it's best to reserve for rectangular tables, just to make sure it doesn't get in anyone's way!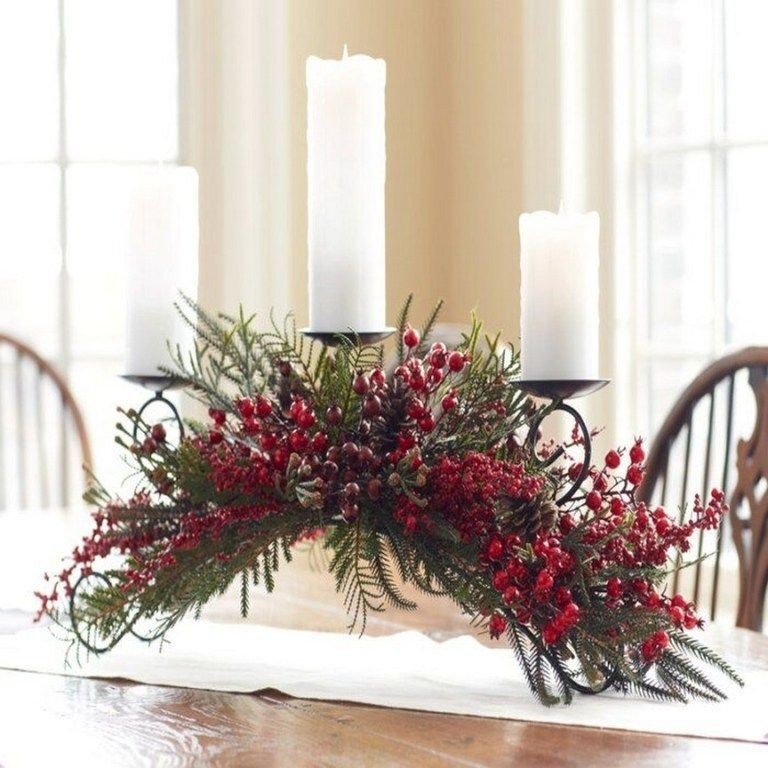 Holly Christmas Cedar and Berry Arrangement
Interested in a minimalistic, nature-inspired look? The pale cedar vase that this gorgeous arrangement sits in creates an ultra-naturalistic vibe in your home! The pinecones, greenery, and festive holiday berries that are included in this arrangement are lovely. Pair this with black-and-white decor for a subtle, modern holiday look.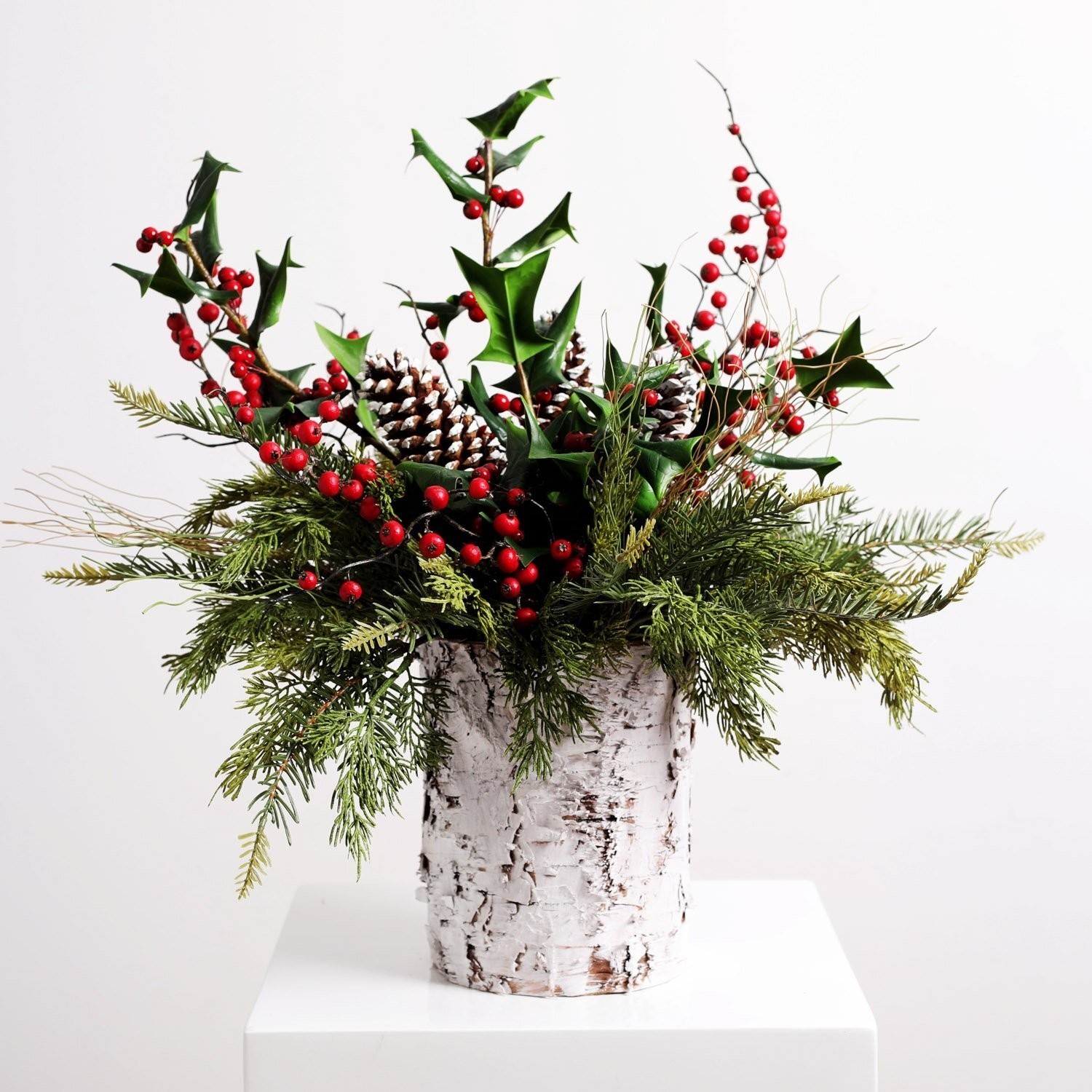 Gold Vase with Holiday Berries
Finally, for a gilded look that's totally swoon-worthy, check out this gilded vase that's overflowing with winter fruit. Ever wanted to feel like your decor was straight out of a Renaissance painting? This is your chance. Even the leaves are gold! This piece of decor is perfect for maximalist, Art Deco, or mid-century-modern aesthetic tastes.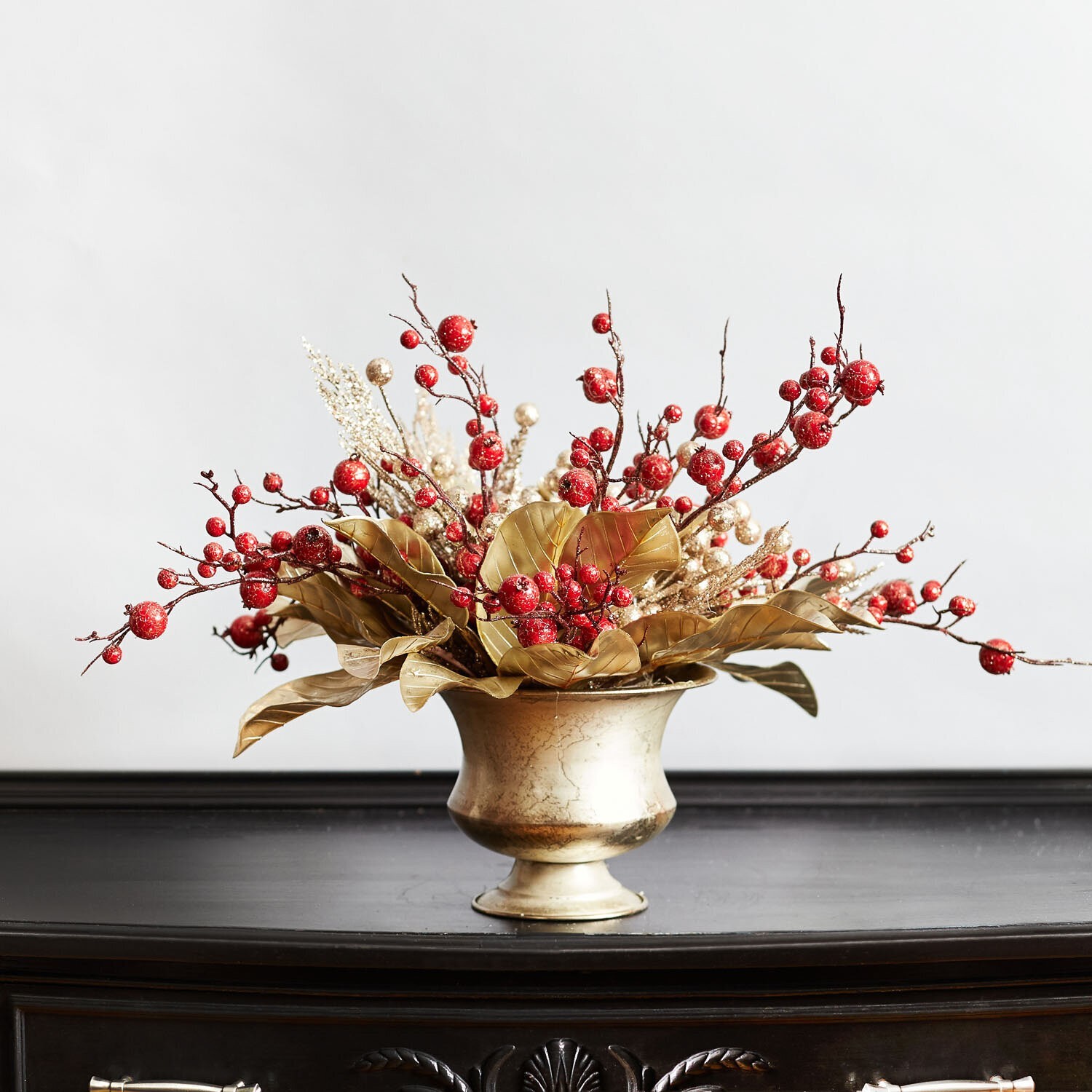 Aren't these ideas gorgeous? When it comes to Christmas table centerpieces, you simply can't go wrong! Which one of these is your favorite?