Our Choice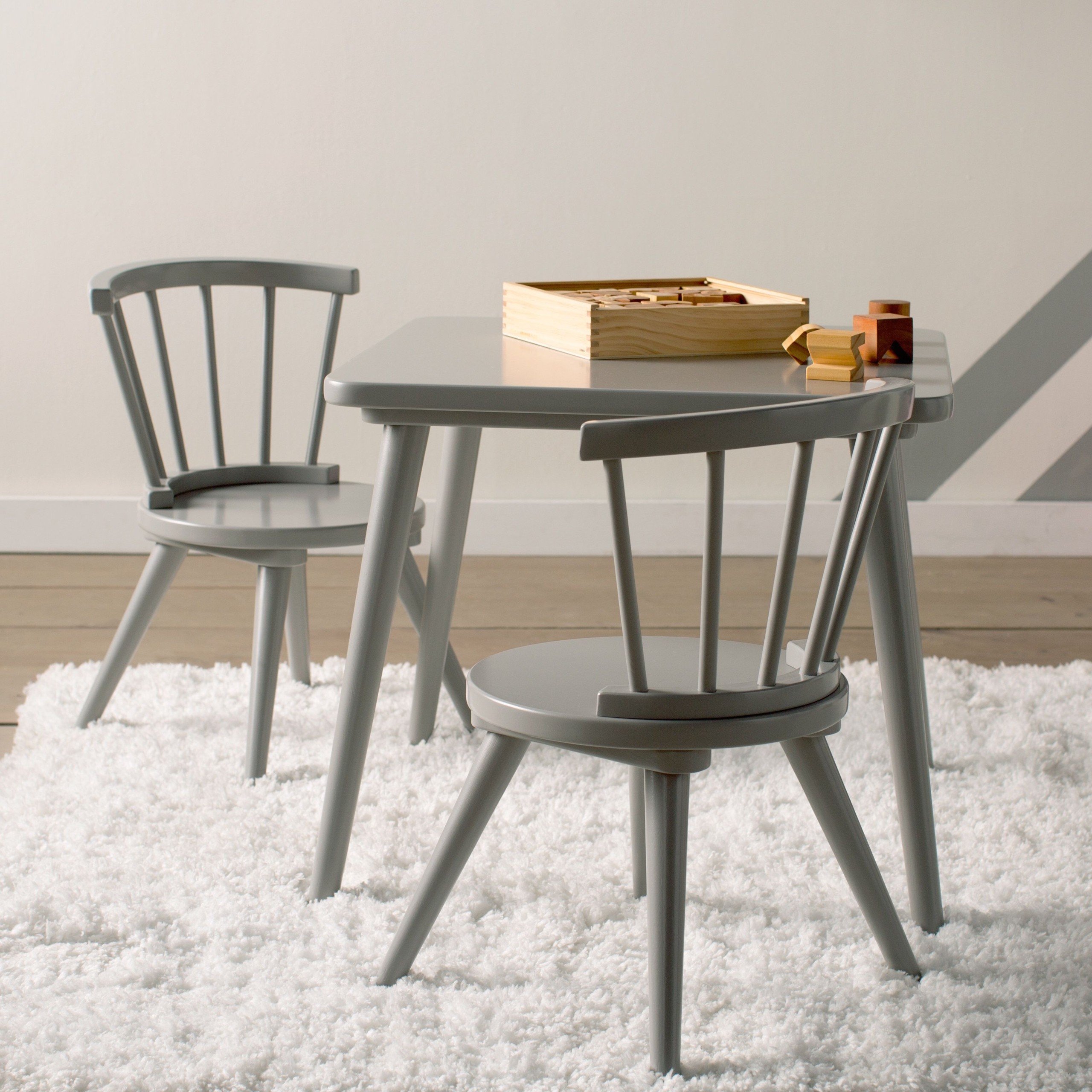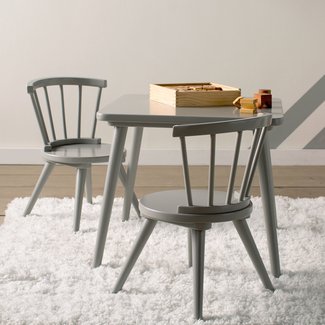 Nicklas Kids 3 Piece Windsor Writing Table and Chair Set
A chic addition to your child bedroom or playroom, this table and chairs set features splayed legs and a high back to provide stability and support for correct posture. The 24-inch table surface offers plenty of space to play while still keeping all their toys within easy reach. The neutral color palette means it complements a variety of décor. Pair with a bold patterned easy-wash rug in case of craft-time accidents or add bright set cushions for added comfort.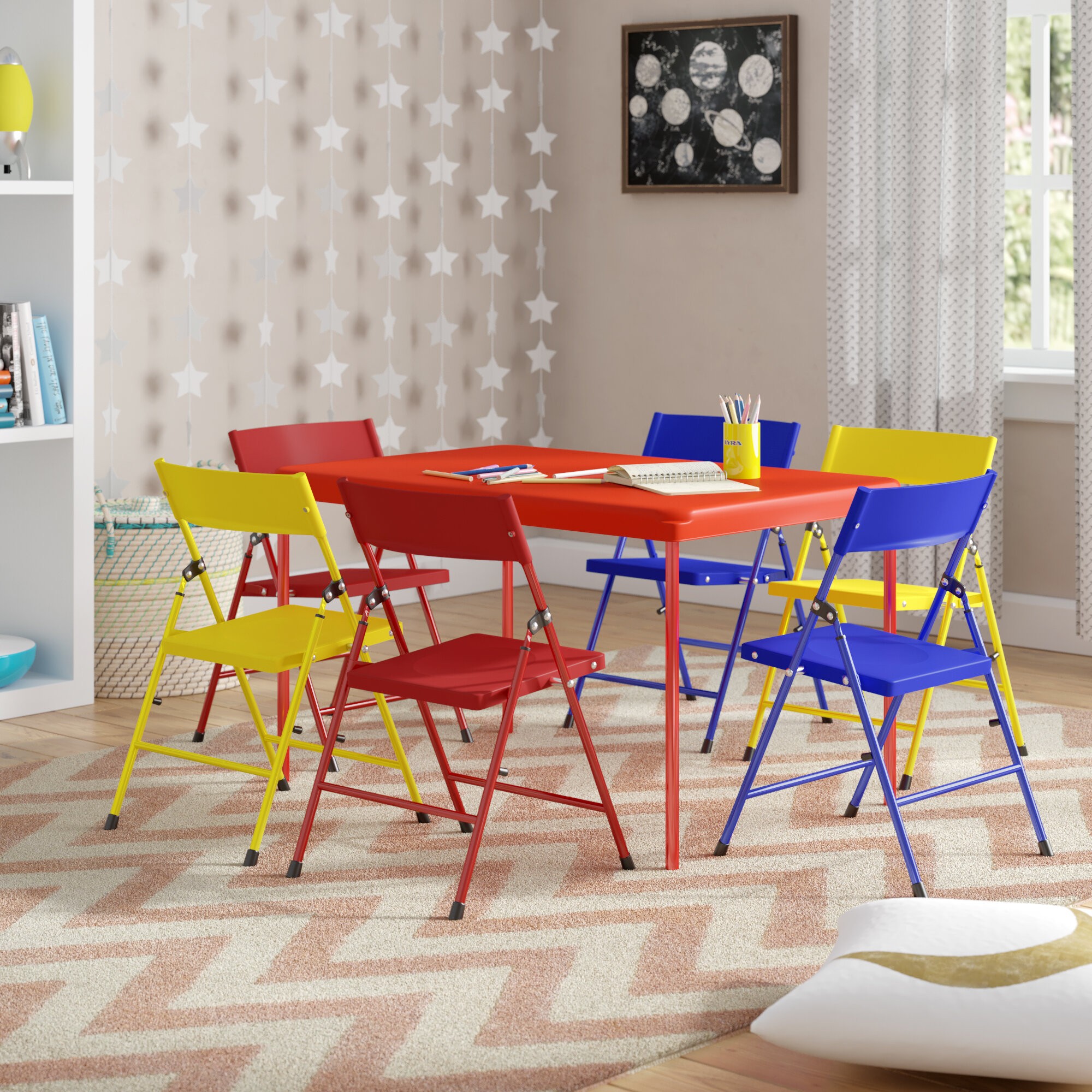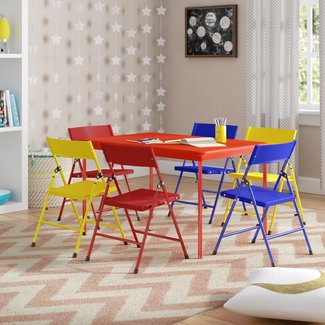 Adrian Kids 7 Piece Play Table and Chair Set
Bright and bold, this versatile table and chair set is the perfect option for your classroom or outdoor entertainment area. Created with a sturdy powder-coated metal frame with polypropylene bases, the lightweight chairs and table can easily fold flat for storage. The set comfortably seats six preschool to school-aged kids so you will always have plenty of space when friends come to play.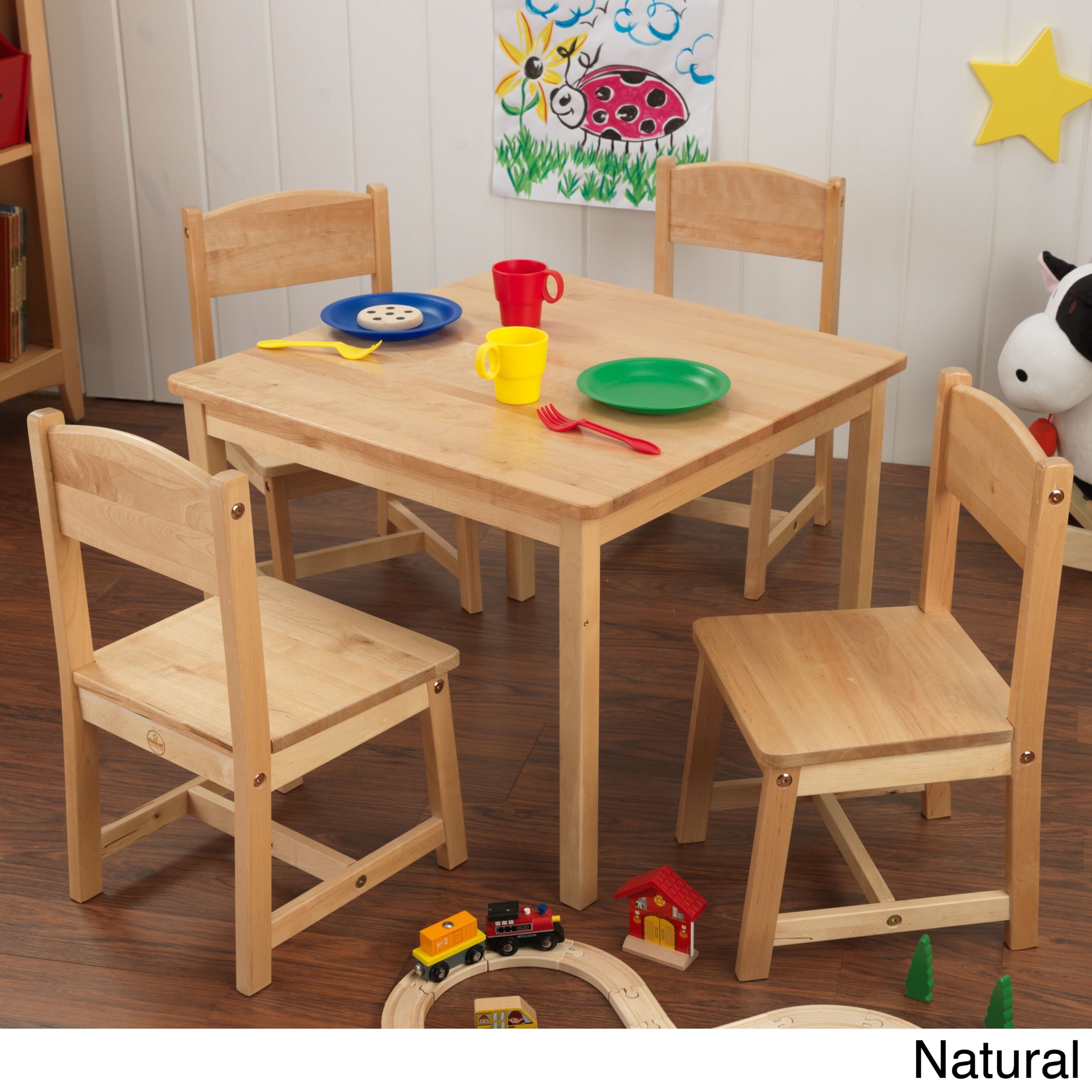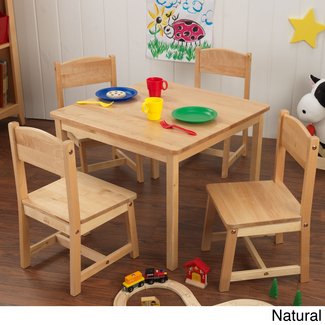 Farmhouse Kids 5 Piece Writing Table and Chair Set
Clean lines with a little country charm, this sturdy farmhouse-style set is crafted from solid birch and built to last giving your toddler, preschooler or young child hours of fun. The set includes a square table with four matching chairs that are designed for comfort and stability. Each chair supports up to 81 lbs. Choose from four different non-toxic finishes, with easy-to-clean surfaces.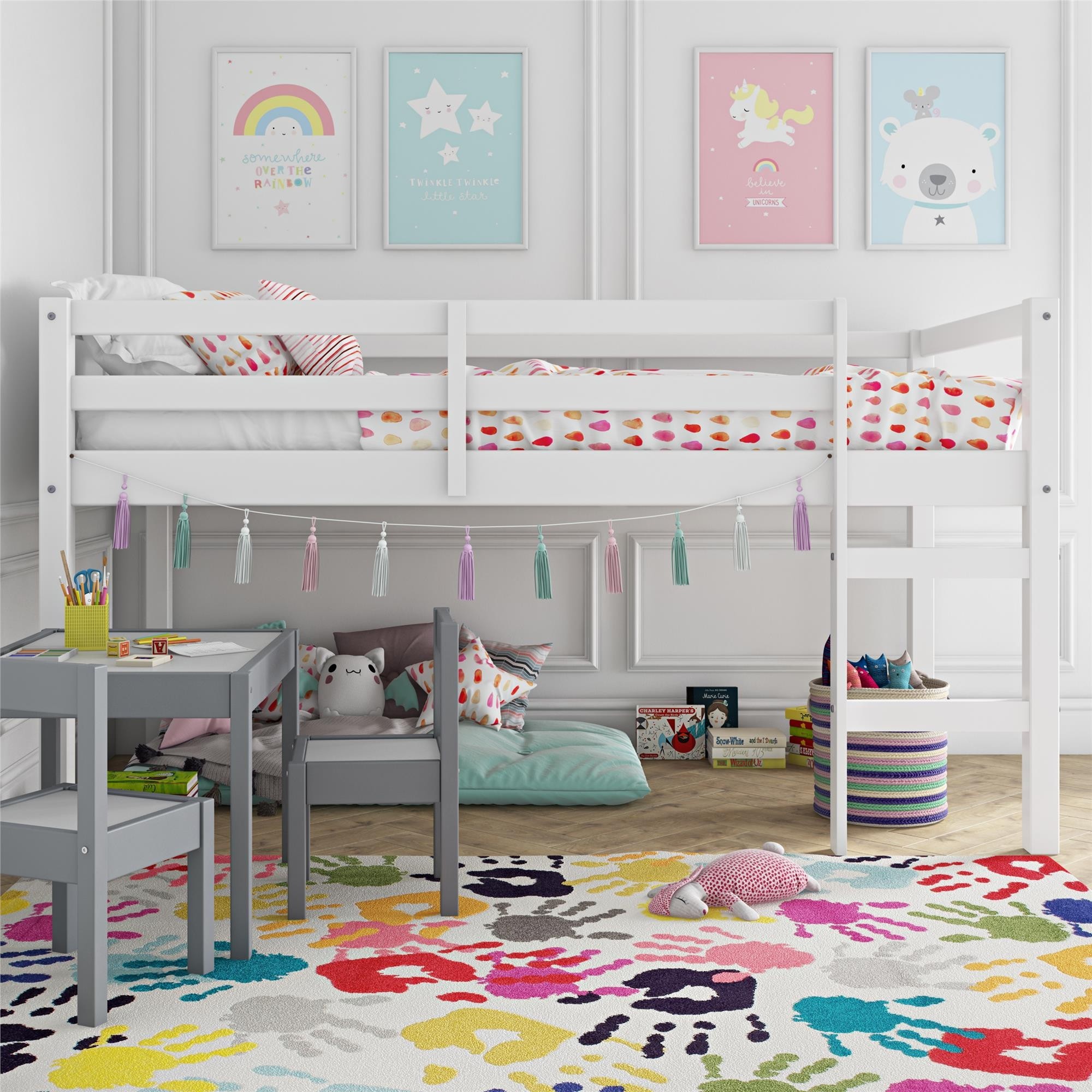 Ramona Kids 3 Piece Play Table and Chair Set
This modern and minimal 3-piece table and chair set is made for crafting. With a manufactured wood tabletop and chair seats that are scratch-resistant and wipe clean, you never need to worry about markers and paint ruining the finish. The tabletop features a lipped edge that will stop crayons and pencils from rolling off. The block legs offer sturdy support for hours of imaginative play.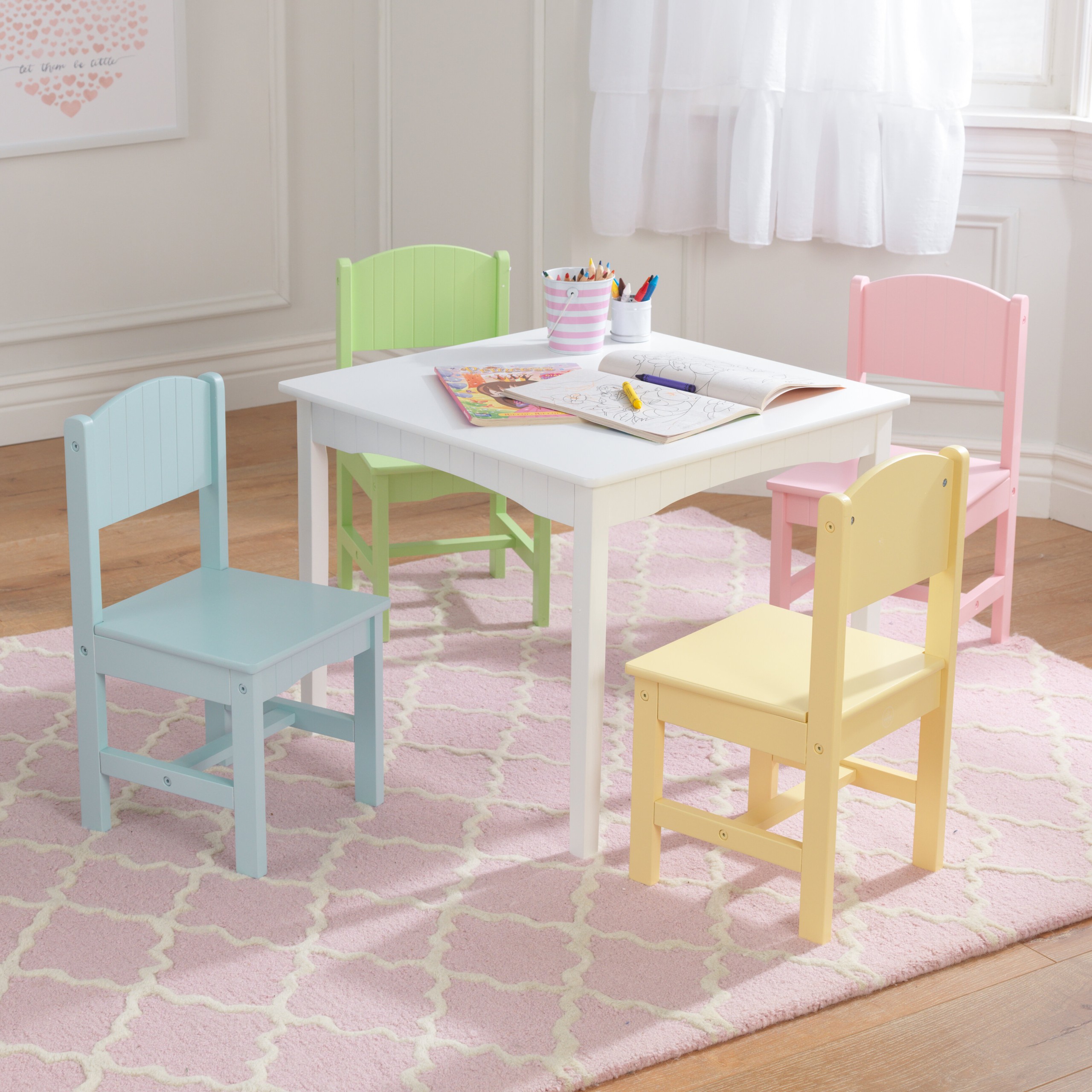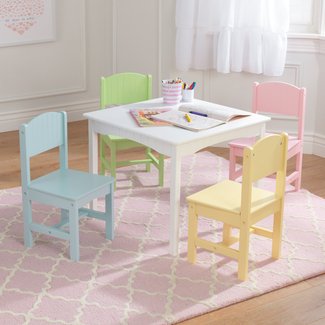 Nantucket Kids 5 Piece Writing Table & Chair Set
Designed in elegant New England-style detailed with curved features and wainscotting, this adorable table and chair set makes the perfect addition to a bedroom or playroom. The spacious 23-inch tabletop provides ample space for the fanciest of tea parties, while the sturdy solid wood chairs can support children up to 81 lbs. All edges have been smoothed to soft curves to keep your child safe as they play.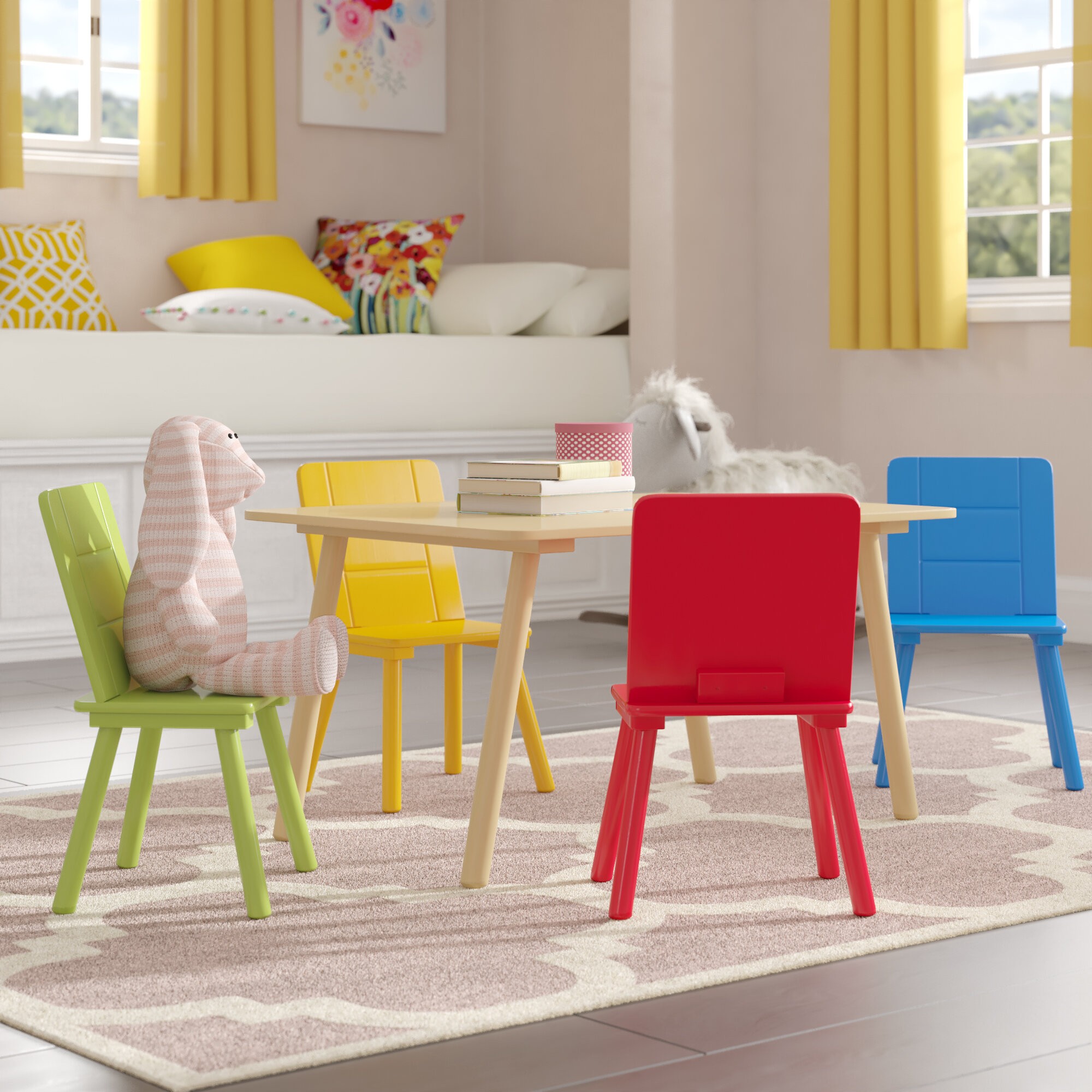 Cureton Kids 5 Piece Writing Table and Chair Set
Simple to put together, yet offering outstanding durable construction, this table and chair set can easily seat four kids while allowing each child ample space to play. The chair backs sit at a slight angle to encourage a natural sitting position and can hold children up to 50 lbs. The rectangular table is made from solid pine with a high gloss finish that makes for a quick clean up.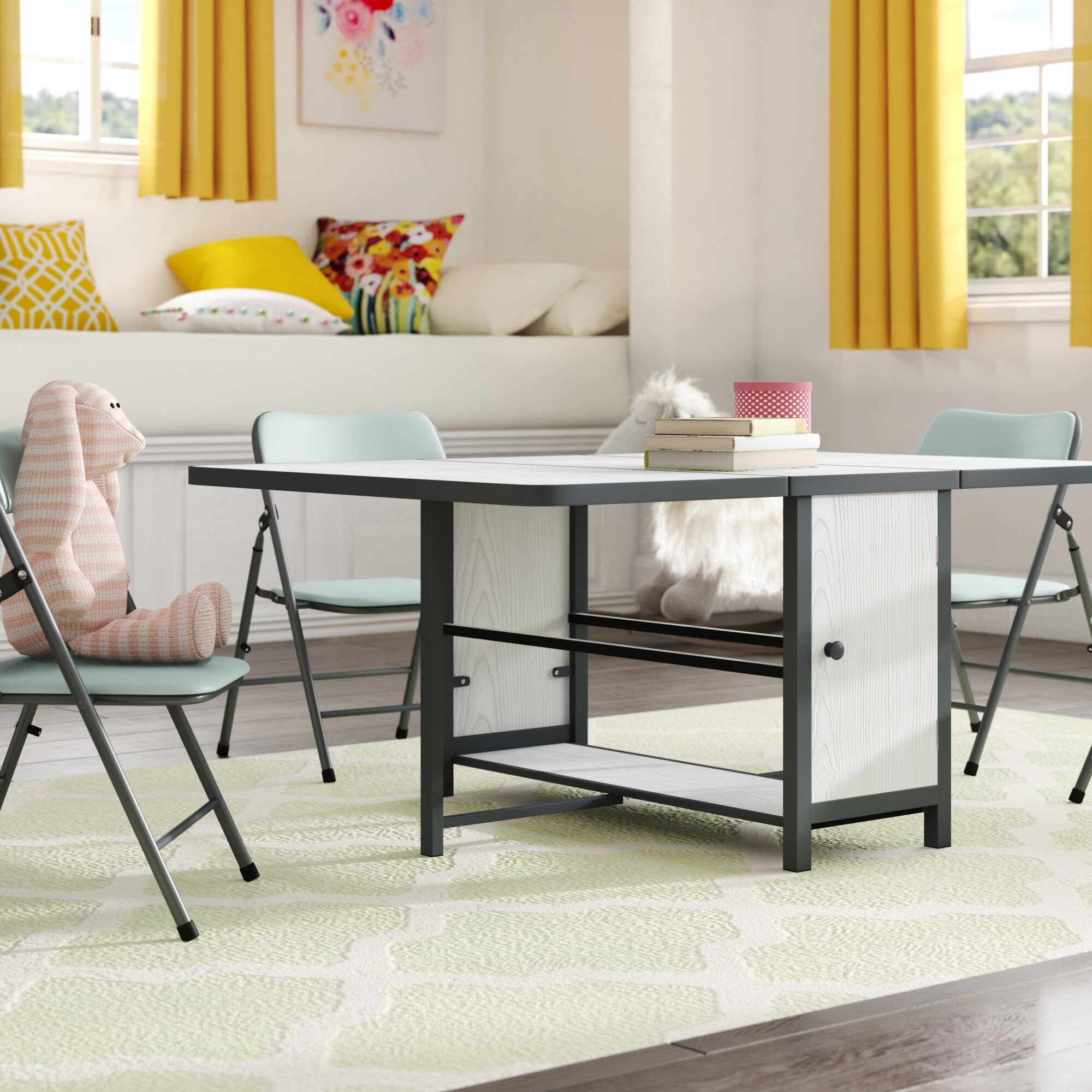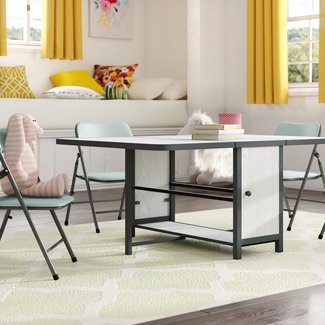 Eola Kids 5 Piece Rectangular Table and Chair Set
For play areas that are short on space, this table and chair offer the perfect space-saving solution. The drop leaf table allows you to expand the tabletop to accommodate guests, and then the set can be easily folded and stored behind a door or under the sofa when the playdate is done. This desk would make the ideal addition to a daycare or preschool to free up space for free play, and the metal and PVC construction is designed to stand up to years of use.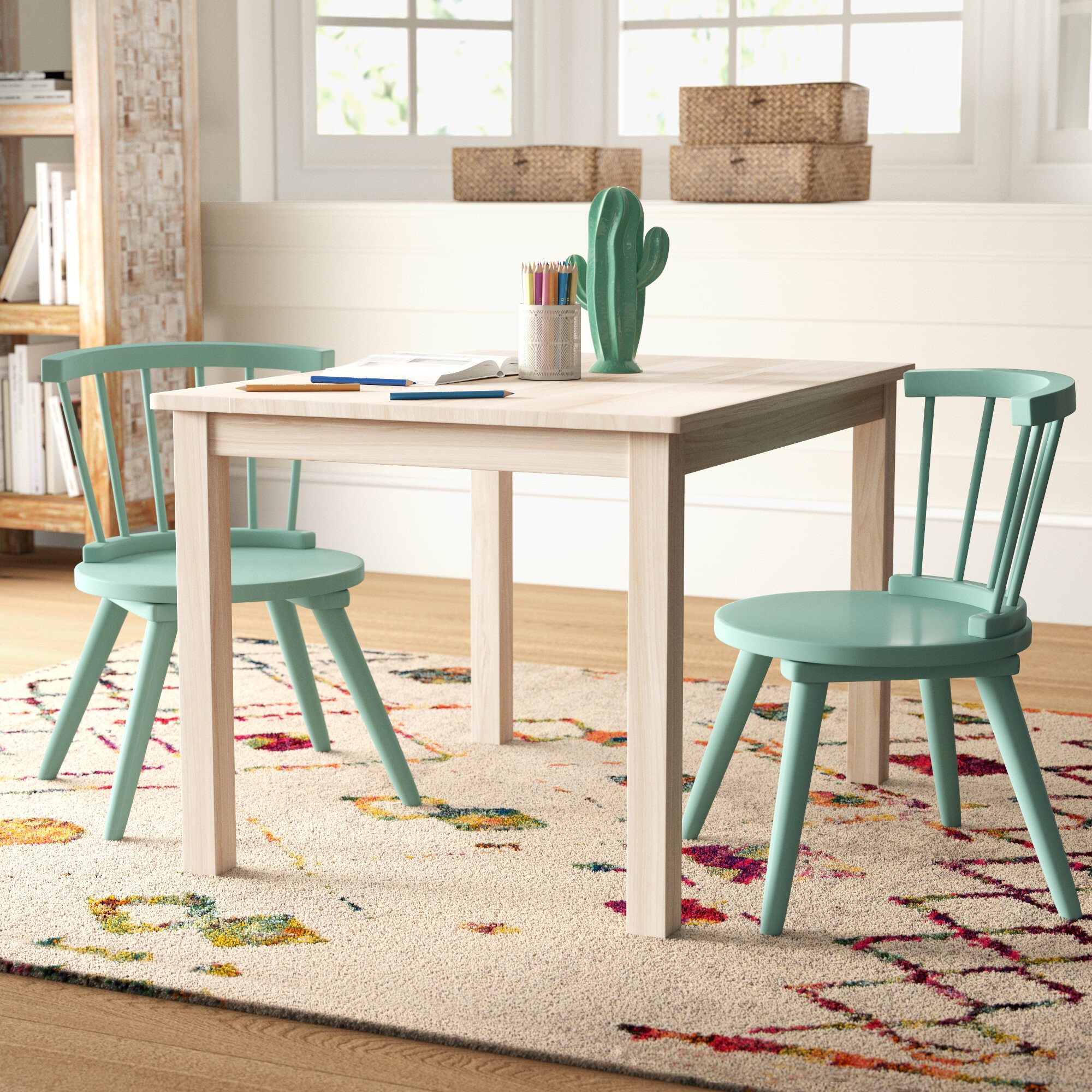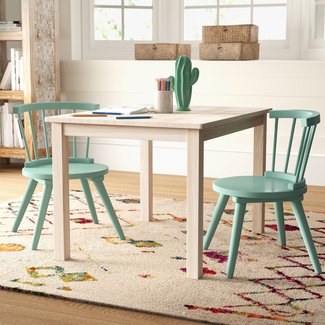 Severus Wood Kids' Writing Table
Customize your child's play area with a classic square table. The table is made from unfinished wood ready for you to apply a coat of paint and make it your own. Or unleash your child's creativity and let them paint a design before you seal it. The 24-inch tabletop can fit two children with ample space for play. Pair with contemporary chairs in delicate pastel colors to build a set that can be enjoyed by your children for years to come.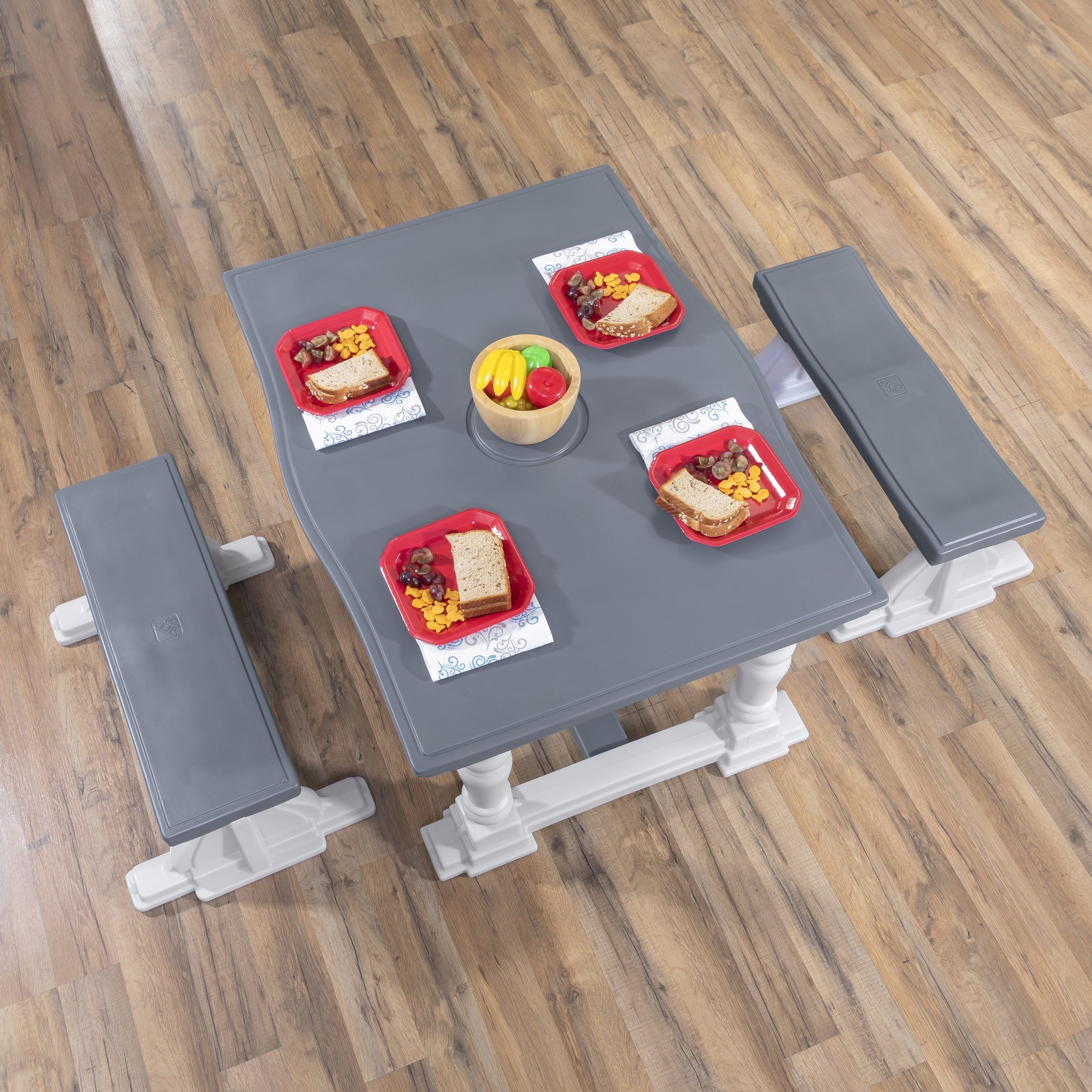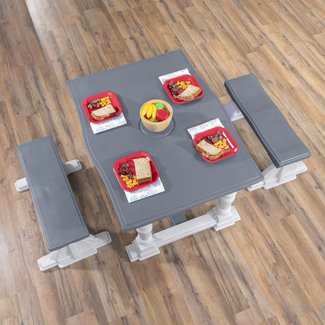 Farmhouse Kids Table and Chair Set, 3-Piece, Bench Set
Whether your kids love coloring, blocks, or snacking outdoors, this 3-piece farmhouse bench set is a dreamy addition to your home. Constructed from hard-wearing plastic, this durable set features two benches that comfortably fit two children each and a 37-inch rectangular table with ornate faux-wood worked legs. With a neutral gray and white color scheme, this set easily blends into any space. Add bench seat cushions for comfort or place a sun umbrella in the prefabricated umbrella stand to protect your little ones from the sun.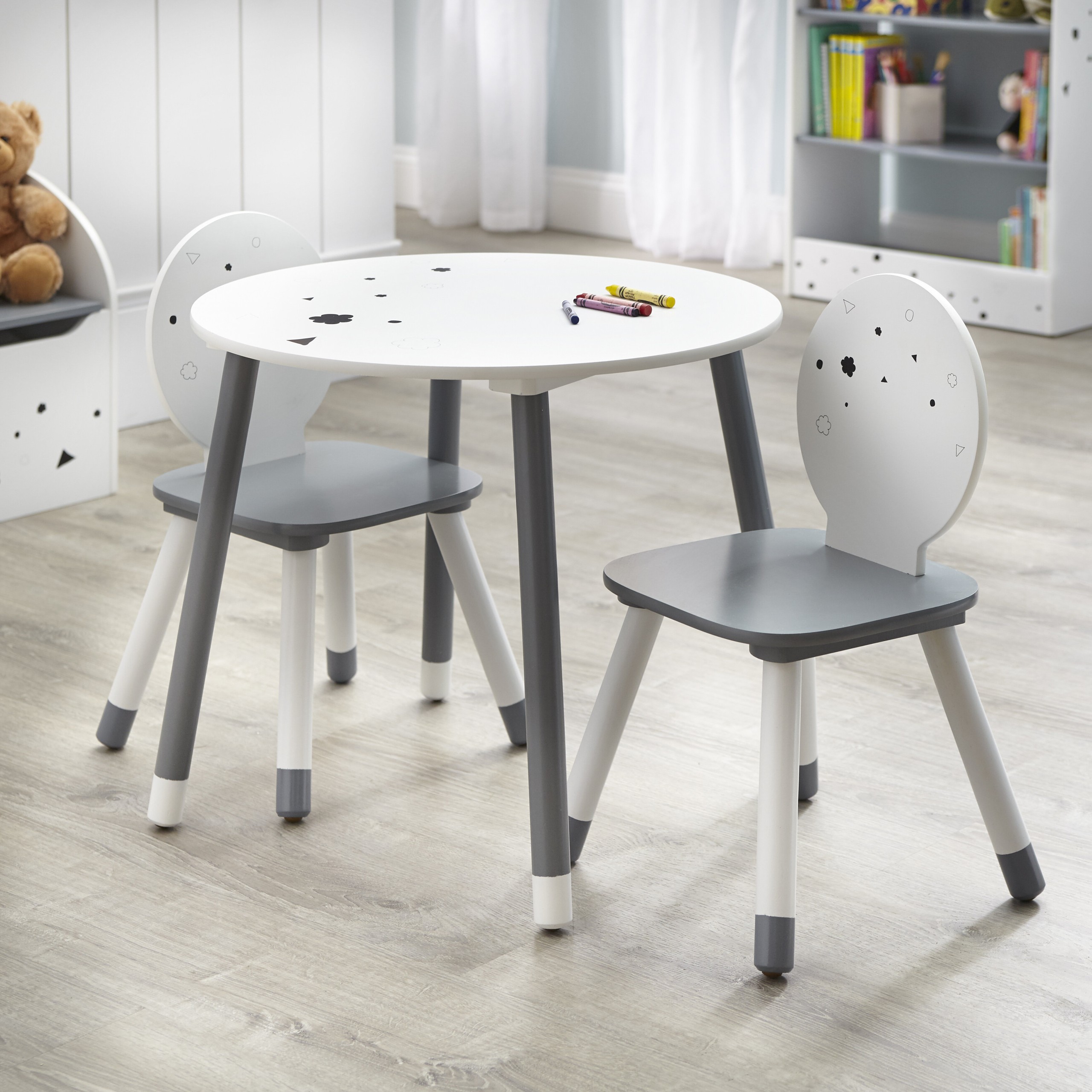 Camborne Kids 3 Piece Writing Table and Chair Set
Modern and sophisticated, this set is constructed from heavy-duty MDF with chairs that can support up to 250 lbs. so you can join your kids around the table for playtime. Rounded table and chair legs protect your floors from scratches, and a circle tabletop and curved edge chair seat keep kids safe while they play. The neutral color scheme features a decorative geometric print, ideal for contemporary nurseries and playrooms.