Our Choice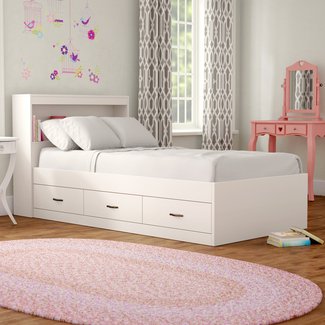 Keira Platform Bed with Drawers and Bookcase
This space-saving bed with built-in drawers is perfect for your little one's bedroom. The bed's headboard is a bookshelf for your child to store their favorite books, teddy or doll collection, or a spot for a night light. This bed's clean, contemporary lines conceal three drawers with metal pulls to stash blankets, extra pillows, toys, or clothing. You will not need a box spring or bunkie board as the bed has a series of slats above the drawers to support a mattress.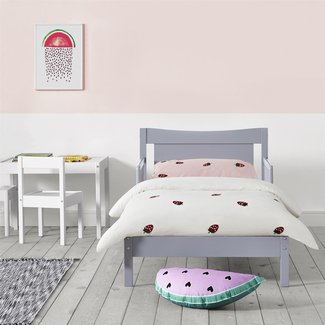 Schiavo Toddler Platform Bed
This toddler bed helps transition your child from a crib to the coveted big kid's bed. Its low-slung design lets your child get in and out of bed without a hitch. The partial guard rails on either side provide security as well as an unobstructed view of your child when they are sleeping. The bed's scaled-down sophistication and classic lines adapt it easily into any room décor as your child transitions from babyhood to childhood.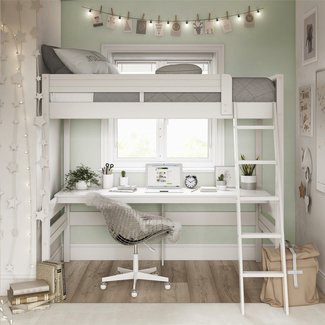 Alfred Twin Loft Bed
This space-saver is attractive and functional. Kids will love sleeping in the loft and parents will appreciate the convenience of the homework desk beneath the top bunk. A slat system negates the need for a box spring; this piece's warm wooden espresso-colored finish is ideal for any tween's bedroom. With guard rails and a removable ladder, kids have a blast sleeping in the beloved top bunk and parents rest easy knowing their kids are secure.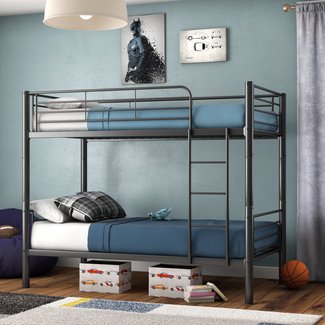 Koffler Twin over Twin Bunk Bed
This contemporary bunk bed saves space with tubular rod headboards, footboards, and detachable guard rails. A built-in ladder makes climbing to the top bunk a cinch for kids and parents will be assured that the construction is safe and sturdy. The sleek design of this bunk bed works well with modern décor or as an attractive subtle addition to kids' rooms. There's also enough space under the bottom bunk to store sports equipment, toys or seasonal clothing.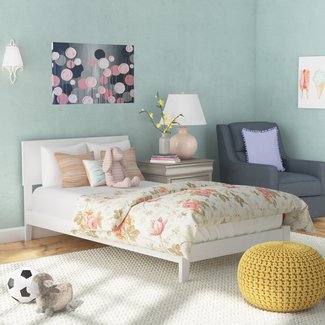 Wasilewski Panel Bed
This bed unit can be dressed up or down, depending on your wishes for your child's bedroom. Its solid wood frame and clean lines give it a classic appearance, and the slightly flared legs are sophisticated design details. The height of the bed is adjustable, from 6.5 to 11.5 inches, for under-bed storage or installing an extra trundle. It is made from plantation-farmed, sustainable hardwood so you can feel good about your choice of furniture.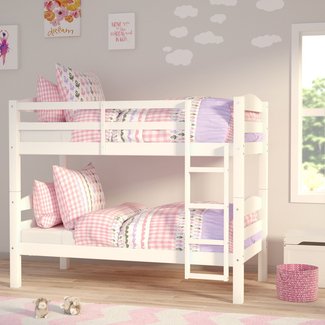 Abby Twin over Twin Bunk Bed
Clean lines, subtle finishes, and an assortment of bed frame hues ensure this bunk bed fits in any child's bedroom's color scheme. You know your child is safe and secure with the bunk bed's built-in ladder and guard rails, but you also have the option of converting the bunk bed into two single beds. The bed requires full assembly, and a slat system makes box springs obsolete. It's an excellent choice for kids who are sharing space or who love to have friends over to spend the night.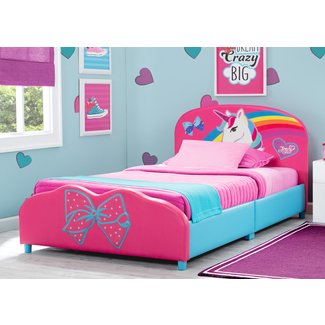 JoJo Siwa Upholstered Twin Platform Bed
If your kid loves Jojo Siwa, then they'll go nuts for this vibrant twin bed. Done up in bright pink with a unicorn and a rainbow on the headboard and bows at the baseboard, this bed will make any Jojo fan giddy. Hot pink faux leather is stretched over a sturdy wooden bed frame to complete this special sleeping nook. A heart-shaped Jojo Siwa logo adorns the headboard for the final touch on this whimsical, magical bed that sits low to the ground, so it is safe for toddlers.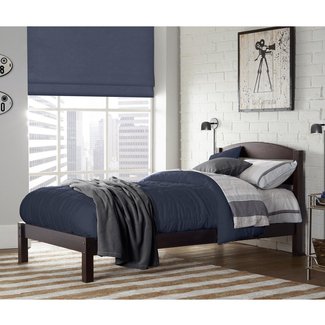 Maddox Twin Platform Bed
This simple to assemble contemporary twin bed is ideal for growing kids. It's modern lines, and durable exterior will last from preschool through high school. Its blocky legs and curved Shaker-style headboard make it ideal for children transitioning from a toddler bed and because it supports up to 300 lbs. parents can still snuggle while reading a bedtime story. It also sports a foot of space underneath for storage.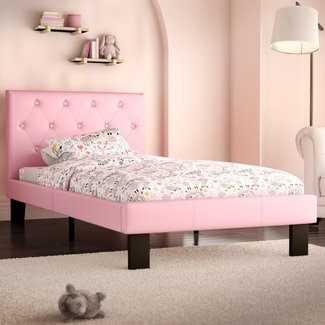 Gilbertson Twin Platform Bed
This bargain-priced showstopper of a twin bed blends modern with whimsical, especially in the pink finish. Made of faux leather, its foam-filled headboard adorned button tufting is a perfect place for your young one to curl up. Its sturdy platform legs create storage space underneath this twin, and it comes in a few different color choices so that it fits in with any décor and any age.