Our Choice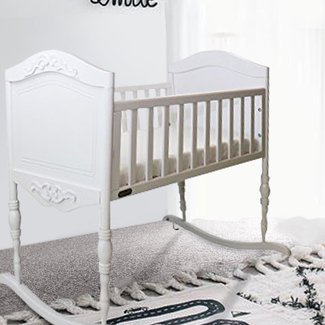 Eberle Rocking Cradle with Mattress
Made of light New Zealand pine with ornate moldings, this rocking cradle is an elegant first bed for your little one. The cradle rocks softly to lull your baby to sleep in minutes but includes motion locking features if you'd prefer it not to rock. This beautiful cradle is also perfect for displaying antique dolls. The maker also plants a tree for every cradle they sell, so you'll feel great about your choice of purchase.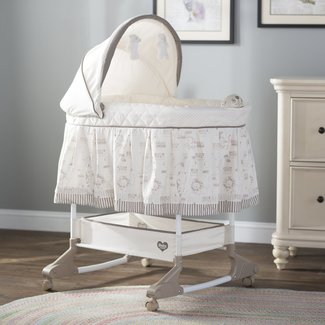 Rosthern Rocking Bassinet with Bedding
Adorned with a beige-and-gray color scheme, this bassinet has everything to keep your baby rested and happy. There's a removable, adjustable canopy to keep the sun off your infant and wheels to move the bassinet to a quieter spot if need be. An attached noise machine plays classical music with a vibrate option. A shelf just below the animal-and-ballooned themed skirt is excellent for storage. Easy to assemble and regal-looking, this bassinet is a classic.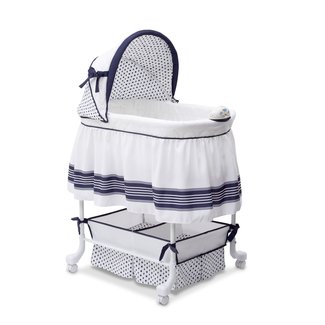 Smooth Glide Bassinet
This bassinet, adorned in an adorable blue-and-white nautical theme, is perfect for your new little one. The bassinet stands out with its cute coastal details. It includes smooth glide technology for easy rocking, a detachable canopy, locking casters for safety, a night light, and a music module with lullabies. A large storage basket underneath the crisp navy-and-white skirt is perfect for storage. Classically chic and easy to set-up, this bassinet is gorgeous as well as functional.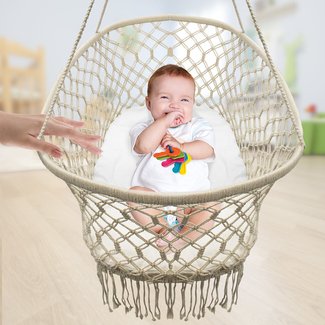 Dakoda Baby Rocking Cradle with Mattress
Made of woven cotton in a macramé style, this basket hangs from the ceiling from four durable ropes and can support up to 22 lbs. Excellent for a nursery or a resting station, this basket comes with a mattress. The open weave design lets you keep an eye on your child from anywhere in the room, and the soft, muted color matches all décors, from modern to classic.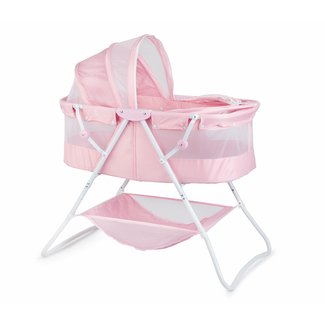 Emma Portable Newborn Bassinet
This Grandma-approved bassinet is sturdy yet easy to move and set up. It's portable so you can bring with it you for out-of-town visits with smooth folding and locking mechanisms to make set-up and take-down a cinch. A detachable canopy makes this an excellent choice for outdoors. With a weight capacity of 15 lbs. this lightweight bassinet weighs in at 12 lbs. but has a sturdy steel frame, so you know your child is safe.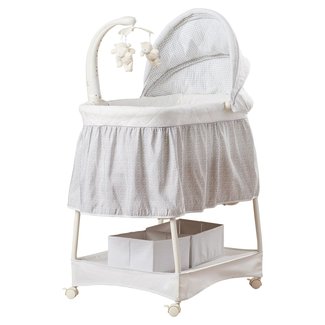 Smooth Glide Linings Bassinet with Bedding
This practical, sweet bassinet is perfect for a baby's first bed. It comes with a fully-loaded music mobile to fascinate your child and lighting to make midnight check-ins a cinch. A storage shelf with a basket helps to keep everything you need within arm's reach. This adorable bassinet uses a gliding motion to help lull an infant to sleep and has locking casters for safety. It's JPMA certified so that it meets or exceeds CPSC and ASTM safety standards.
Degeorge Oval Rocking Bassinet with Bedding
This classic bassinet in a range of muted colors looks as if it came out of a fairy tale. With a floor-length pleated skirt accented with a ribbon, this bassinet is a wonderful choice for your infant's first months. The adjustable canopy is trimmed with eyelets for added charm. It turns into a rocking cradle by flipping the caster wheels – no tools necessary! The skirt hides a storage basket, and all the bedding can be zipped off for cleaning.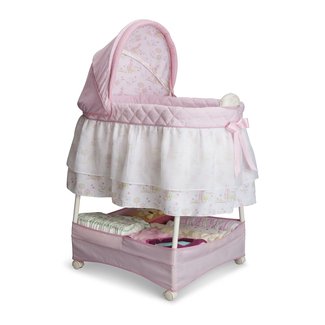 Disney Princess Gliding Bassinet with Bedding
This perfectly pink bassinet has a gliding motion to rock newborns to sleep with ease. With a Disney princess theme that will fit many babies' nurseries, this simple yet classic bassinet has a wide, two-section storage area underneath its double skirt to store diapers and extra bedding. Built-in lighting makes middle-of-the-night visits to the nursery a breeze, and locking casters provide safety and stability.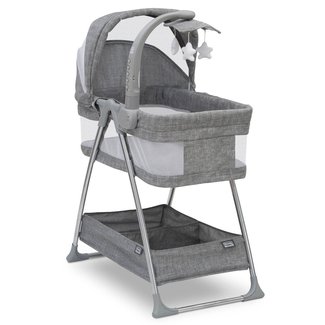 City Sleeper Bassinet
This bassinet's contemporary lines and sophisticated details make it an excellent choice for a minimalist modern décor. A star-adorned mobile, night light, and twinkle lights will entertain your baby, and you'll enjoy the bassinet's safety features and large storage area for extra bedding and diapers. Done up in gray heather tweed, this sophisticated bassinet is made of breathable mesh to optimize airflow, and a detachable canopy helps keep the sun off your infant during daytime naps.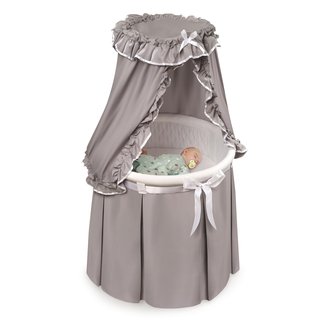 Deford Round Baby Bassinet with Bedding
This beautiful bassinet is an elegant choice that will dress up any nursery. It comes in classic gray or sweet pink so your baby will sleep soundly and in style. Ribbon accents set off its ruffled canopy that flows down from the canopy halo up top for a stylish silhouette. A floor-length skirt hides the storage area beneath the round sleeping area. It can be made with or without the stunning canopy, and this bassinet includes locking casters for safety.