Our Choice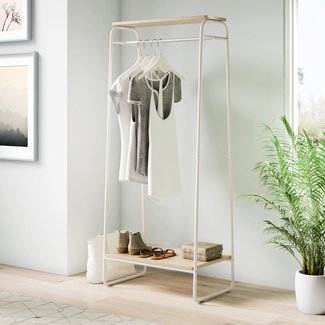 Diggs 25.2 Garment Rack
Brought to you in neutral colors and a streamlined design, this garment rack will enable you to declutter your room while also providing an extra element of style to it as well.
Featuring rods and particleboard, this rack possesses a total weight capacity of 33lbs and an angled frame which will prevent your clothes from coming in contact with the wall.
Add to a contemporary or minimalist setting where its spare elegant design will enable it to blend right in.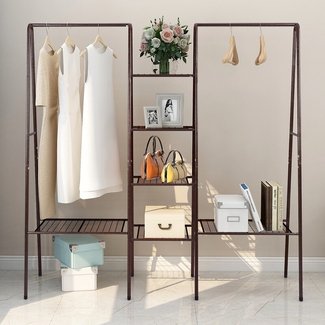 Bowden 60" W Clothes Rack
A multipurpose design featuring a doubled clothes rack, shelves for shoes and central platforms for decorative or practical objects, lends this item an impressive versatility.
Manufactured from metal rods and eucalyptus, this clothes rack also comes with stoppers to provide additional stability.
Take advantage of its eclectic design to keep your favorite formal and casual outfits and footwear within reach, while adding accent pieces to provide an enlivening touch to your room.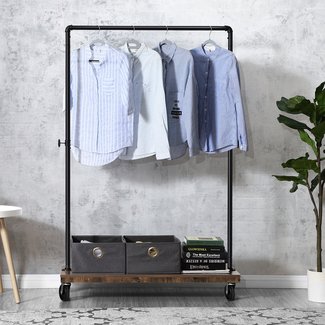 Trejo 40.7" W Clothes Rack
Simplistic and functional, this clothes rack in spare metallic black and a dark wooden finish, will perfectly complement an industrial or a Scandinavian design theme.
Possessing a combined weight capacity of 253lbs, this rack which has been designed with a robust rod and an equally durable shelf, is suitable for both domestic and commercial use.
Take advantage of its dark, neutral tones to add a hint of color to paler palettes while also keeping your preferred pieces close by.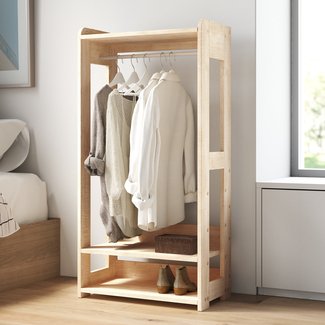 Diego 12.6" W Garment Rack
Smooth natural lines and a simple, yet graceful design combine to provide this clothes rack with an understated elegance.
Designed to provide maximum versatility, this item which comes with a hanging rack and two shelves, can be used to store your clothes, shoes and accessories.
Place in a rustic, transitional or Scandinavian setting decorated in lighter tones where it will provide an especially harmonious balance.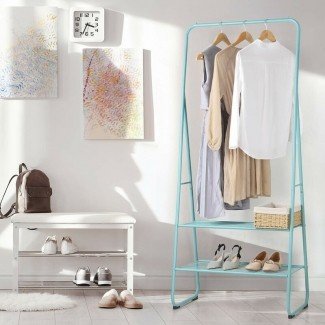 Oxbow 24.8" Nex Garment Rack
Double shelves and A-shaped sides make this clothes rack the perfect solution to a cluttered wardrobe.
Manufactured from rust-resistant steel and designed to be especially stable, this organizer is capable of providing impressive functionality and durability.
It is also especially versatile and may be used in your hallway, bedroom or any room of your choosing.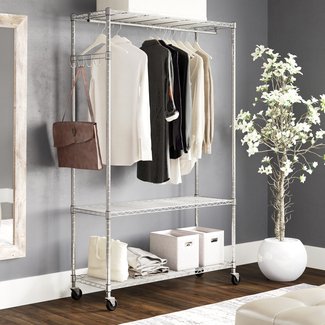 Bevill 48" W 3 Tier Rolling Garment Rack
Manufactured from steel with a chrome finish, this clothes organizer is especially durable. The presence of two shelves, a garment rod and hooks means that it will be capable of meeting your storage needs efficiently.
Place in a traditional or rustic-themed room decorated in darker background colors with lighter accent pieces to create an inviting ambience filled with classical elegance.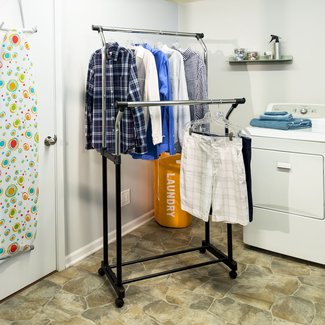 32.8" W Double Hanging Garment Rack
An asymmetrical outline in gleaming chrome and deep black grants this clothes rack an ultra modern appeal which makes it ideal for minimalist, industrial or Scandinavian decorative themes.
Designed to be especially robust and space-efficient, this clothes organizer comes with adjustable height bars, making it suitable for garments of varying lengths.
There is also its extra-flared design to keep your clothes apart as well as wheels and casters to enable you to move the rack and lock it in place as well.
Place in a room decorated in a blend of light and dark grays to enable its black and chrome detail to stand out in striking contrast.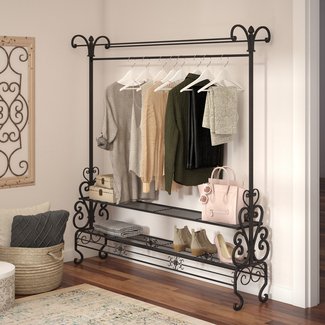 40.25" W Mouron Garment Rack
Intricate swirling detail, cabriole legs and shelves with slender bars, grant this garment rack an ornate, classical allure.
The dark brown metal clothes organizer which features a clothes rod for your garments as well as two shelves for accessories and footwear, is ideal for commercial and domestic use.
Its depth of color and highly decorative detail will make it an excellent addition to a room with a traditional design theme in lighter tones.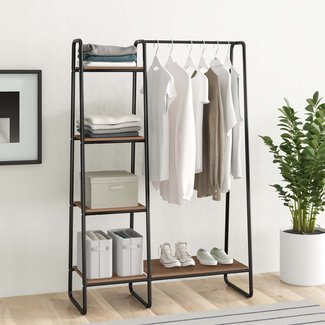 Dillon 39.8" W Garment Rack
Rods and natural wooden shelves in black and dark brown, form an open, spacious, uncluttered design which is reminiscent of contemporary themes.
This garment rack consists of four shelves, a clothes rack as well as a separate footwear section. It also features an angled frame to prevent clothes from coming in contact with the wall as well as a sturdy base to provide enhanced stability.
Place a small potted plant or accent piece on its middle or top shelf to enhance its practical appeal with a decorative touch.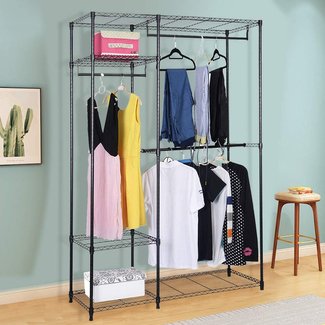 Weigand 47" W Portable Wardrobe
Delicate, finely wrought shelves and an asymmetrical arrangement, ensure this garment rack will be able to instantly complement a variety of design themes.
The rack which consists of three shelves, three garment storage areas and a section for footwear, is especially durable in addition to also being corrosion resistant.
Make use of colorful storage boxes to add a burst of color to your surroundings while decluttering your space at the same time.