Our Choice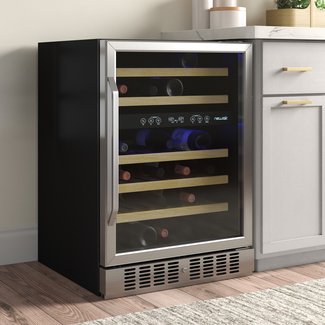 46 Bottle Dual Zone Freestanding/Built-In Wine Refrigerator
Quiet and with two independent temperature zones, this wine refrigerator is sleek, sophisticated, and checks all of your wine storage boxes.
With dimensions of 33" H x 23.5" W x 24" D, it fits underneath most kitchen or home bar counters easily, and the reversible hinged door allows you to install the unit to suit your layout.
Available in two attractive finishes--black and stainless steel--it boasts subtle lighting and five beautiful wooden shelves. The wine shelves slide out with a smooth, clean action to avoid jostling your collection.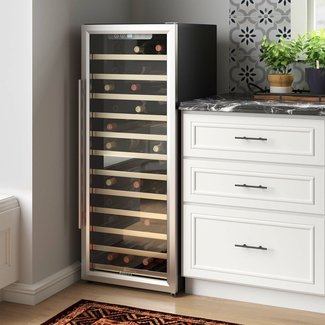 80 Bottle Single Zone Freestanding Wine Refrigerator
A beautiful statement piece for any kitchen or entertainment area, this 50¼" tall wine refrigerator can hold up to 80 bottles of your favorite vintage. Sturdy and simple to use, it features an intuitive control panel and long, cylindrical steel handle for easy opening.
Its adjustable wooden racks help you make the most of your wine storage space. With a minimum storage temperature of 40℉ and a maximum of 66℉, you can help your wine age to perfection.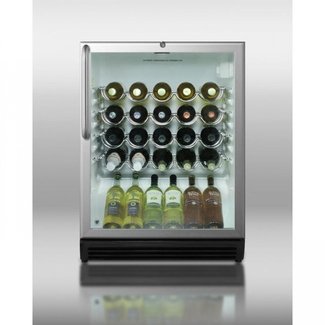 36 Bottle Single Zone Built-In Wine Refrigerator
Set to become a beloved home staple, this under-counter wine refrigerator features a door lock for extra safety and a single-zone, 36-bottle capacity.
Three scalloped shelves create a contemporary, high-tech look while the adjustable thermostat and environmentally friendly design help you minimize energy expenditure.
Unlike the other three shelves, the fourth and bottom shelf holds the wine bottles at an angle suitable for displaying labels. With overall dimensions of 33.5" H x 24" D x 23.63" W, it helps you make the most of tight spaces.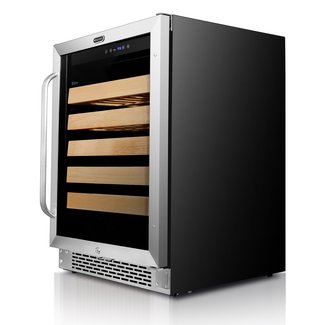 54 Bottle Single Zone Built-In Wine Refrigerator
A stunning, sophisticated control panel is coupled with five beautiful, wooden shelves that are ready to accommodate up to 54 standard Bordeaux-sized bottles of wine. This single-zone refrigerator fits wonderfully beneath your at-home bar counter.
Its reliable control system helps you keep your wine at a steady temperature, all while running so quietly you might not even notice it's there. For your convenience, it arrives fully assembled and comes with a 1-year limited warranty.
28 Bottle Single Zone Freestanding Wine Refrigerator
This freestanding wine refrigerator is ideal for small spaces, such as compact apartments, game rooms, or tight kitchens.
Its 28-bottle capacity is coupled with an automatic frost-free system, a beautiful black exterior, and a tempered safety glass door. It holds its temperature exceptionally well due to the double-pane door and features a touchscreen temperature display.
Beautiful, budget-friendly, and easy to install; it makes an excellent gift for budding wine connoisseurs or newlyweds.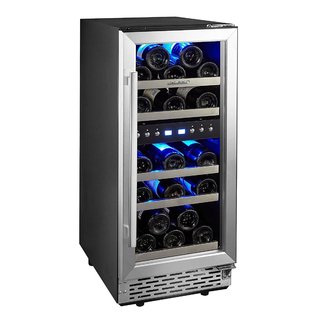 29 Bottle Dual Zone Freestanding Wine Refrigerator
Backlit with blue LED lights and boasting a digital display, this 29-bottle dual zone wine refrigerator pairs modern good looks with extremely quiet operation. This powerful refrigerator reaches the set temperature within just a few hours of installation.
Adjustable, stainless steel racks complement the long-lasting, easy to clean stainless steel exterior. A fan-powered automatic defrosting system helps to keep your fridge running smoothly.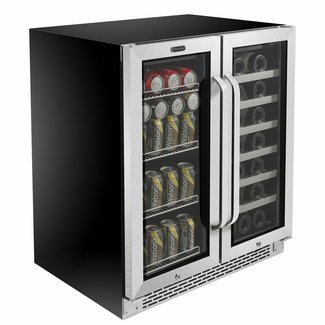 33 Bottle and 88 Can Dual Zone Built-In Wine Refrigerator
Store both your wine bottles and favorite canned beverages at their ideal serving temperature with this dual-zone refrigerator that offers a minimum of 33℉ and a maximum of 66℉.
A door open alarm, dual pane doors, and UV protective glass helps to maintain a consistent internal temperature and reduce your energy consumption.
Perfect as a built-in, under-counter beverage cooler in your home bar, the refrigerator also features a door lock to keep young children away from alcoholic drinks. Removable wire shelves make for easy cleaning.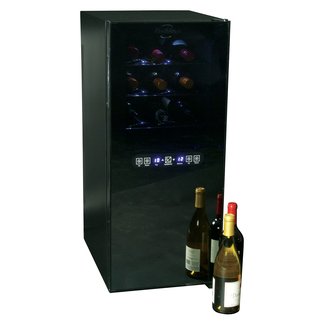 24 Bottle Freestanding Wine Refrigerator
Unlike many other wine refrigerators that feature glass doors, this one boasts an all-black exterior, making it a modern, striking addition to any at-home sports bar.
Its dual-zone design and total of six shelves enable you to store both wine and canned beverages, while the whisper-quiet thermoelectric cooling technology reduces temperature fluctuations.
A flush back makes it easy to fit into almost any space. The refrigerator comes with a 90-day warranty to ensure customer satisfaction.
6 Bottle Single Zone Freestanding Wine Refrigerator
Compact and affordable, this six-bottle wine refrigerator boasts a freestanding design and a beautiful black exterior. With quiet operation, it's perfect for a den or bar cart.
An intuitive, soft-touch control panel is paired with an LED display for user-friendly design, while glass doors and an integrated handle make this a sleek addition to your space.
The thermoelectric cooling system helps to minimize vibration and maximize energy efficiency.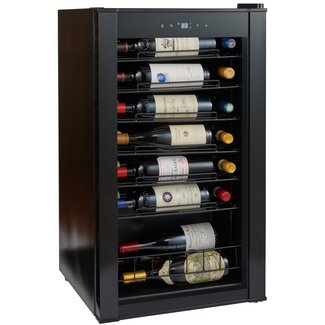 36 Bottle VinoView Single Zone Freestanding Wine Refrigerator
This single zone 36-bottle wine refrigerator boasts a minimalistic design and matte black exterior. Perfect either as a freestanding wine cooler or underneath the countertop of your new entertainment area, your friends will compliment its sleek, understated appearance.
The rack-style shelves provide efficient storage and allow you to store your favorite bottle with the label facing outward for easy identification. The shelves are also removable, making for easy cleaning and greater overall longevity.