Our Choice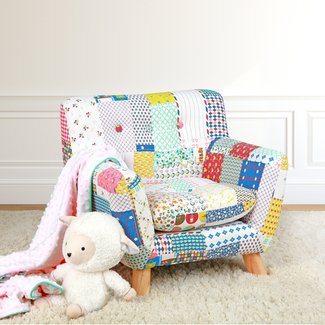 Jacey Patchwork Kids Chair
This children's chair absolutely screams happy, happy, happy! The upholstery is a riot of color and a fun mix of patterns stitched together in a patchwork style. The fabric is gender-neutral and perfect for any little girl or little boy's bedroom or playroom. The chair has natural wood legs for sturdiness and the chair safely holds a child of 50 pounds or less. This darling chair could be the centerpiece of a cozy reading corner.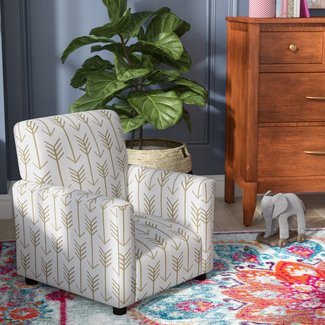 Baffin Kids Cotton Club Chair
This little armchair is a sophisticated choice for a young child. It is styled exactly like a traditional adult-sized armchair, but it has been scaled down to pint-sized proportions. The cotton upholstery is available in a palette of neutrals including several shades of gray and blush. The patterns on the fabric are very subtle. This little armchair would work well in any living room right beside the bigger furniture giving a child a custom spot for watching television with family.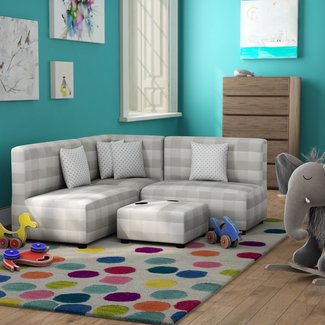 Lake Alfred Kids Sofa with Cup Holder
This tiny sectional takes hanging out on a play date to a whole new level! It comes with two loveseats, a corner seat, four accent pillows and an ottoman with cup holders to keep those sippy cups of juice within reach. The pieces are not permanently attached to each other and can be moved around freely on legs with built-in glides. Dress this sectional up with a pair of side tables stacked high with books to encourage children to stop and relax for a while.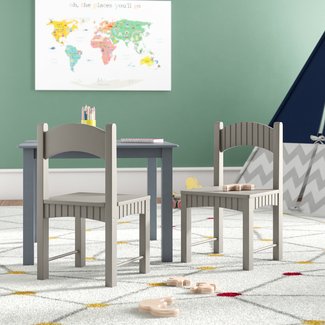 Yvette Kids Chair (Set of 2)
This armchair is a solid choice for both style and comfort. This chair is built on a strong wood frame and is covered in a durable and stain-resistant microsuede in colors ranging from pastels to brights to neutrals. The personalization across the headrest is customizable by font type and thread color. This armchair is designed to hold one child 75 pounds or less.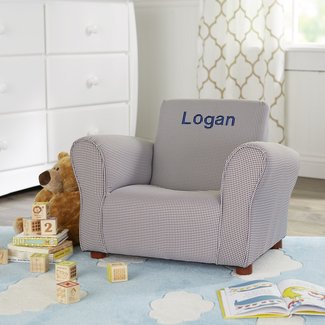 Little-Furniture Personalized Kids Club Chair
Gingham and a personalized monogram? Could a chair be cuter? This club chair is designed for toddlers and preschoolers and can hold one child up to 75 pounds. The gingham fabric choices range from pretty pastels to nursery neutrals. The customized monogram comes in script or block font with a choice of thread colors. Place this chair in a child's room and there is a bonus benefit – they will begin to recognize their own name when they see it.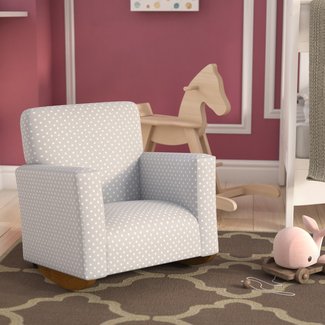 Cairo Kids Cotton Chair
Who doesn't love to be soothed by the motion of a rocking chair? This chair lets the little ones rock themselves. The rocking rails are made of wood. And the upholstery choices are subtle in color but have whimsical designs including giraffes, alpacas, unicorns and cactus. This rocker holds a child weighing up to 60 pounds. Place it in a quiet spot to encourage a little one to rock their cares away.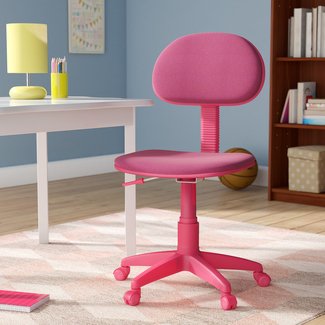 Jaleel Mid-Back Kids Chair
This desk chair adds a pop of colorful industrial chic to any child's room. The back and the seat are upholstered in nylon fabric over foam padding and for bonus fun the seat actually swivels! The ergonomic design is comfortable on a child's back and the entire chair can hold a child weighing up to 150 pounds. This is the perfect piece to pair with a child's first desk to teach good homework habits in a stylish space.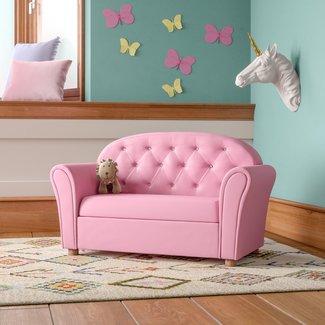 Ruggeri Kids Sofa with Storage Compartment
Any little girl can entertain in style if she has this sophisticated sofa in her bedroom. It has a glamorous tufted back with sparkly crystal accents. There is extra storage inside the arms and room enough for two to sit side-by-side or for one tired little girl to catch a quick nap. The sweet pink upholstery color is the perfect complement for princess, unicorn and Parisian glamour bedroom themes.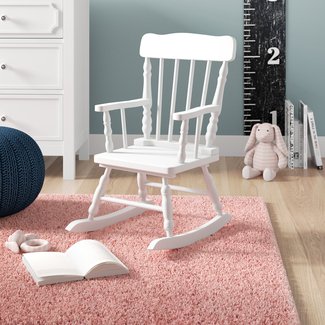 Winter Victoria Kids Rocking Chair
This is the quintessential nursery rocking chair style – your mother may have rocked you in one! The difference is this one is toddler-sized. This classic design is made out of solid wood with turned legs and as well as turned arm and back supports. It features the traditional slat back. It's designed for use by children 3 years or older weighing less than 50 pounds who will now be able to rock their favorite stuffed toys and dolls to sleep.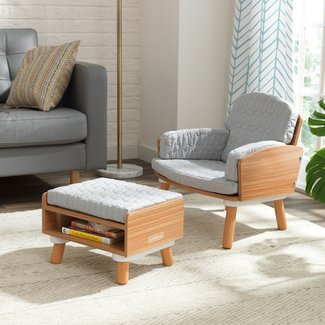 Mid-Century Kids Chair and Ottoman with Storage Compartment
Their feet will definitely touch the floor when they take a seat in these kid-approved side chairs. The seat is located just 10 inches off of the ground. The design of the chairs is clean and crisp and the arched back and seat detailing are both reminiscent of beadboard. Pair a set of these chairs with a kid-sized table and create a comfortable space for meals or snacks or coloring projects.