Our Choice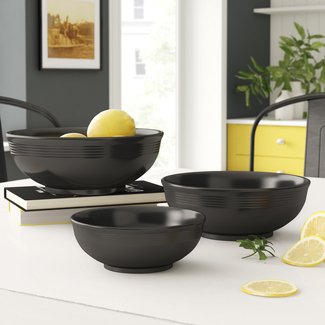 Oak Park 3 Piece Serving Bowl Set
Would you like to serve up your favorite snacks and sides in a contemporary style? Then this serving bowl set will do the trick. Available in a solid color and the high-gloss finish, this serving bowl is made from chip-resistant ceramic. It is also microwave and dishwasher safe for added convenience. The bowls are available in a set of three different sizes, which are small, medium, and large size. Use this set as snack bowls for any occasion.
Romford Square Serving Bowl
Serve up the simplest of dishes in style with this elegant square serving bowl. Made from Porcelain China, this serving bowl in a solid white hue will make even a salad look like a luxurious dish. With two metallic candles on either side, moving any dish from one place to the next is effortless. The porcelain construction makes it food-safe, and it's also dishwasher safe for convenient cleaning.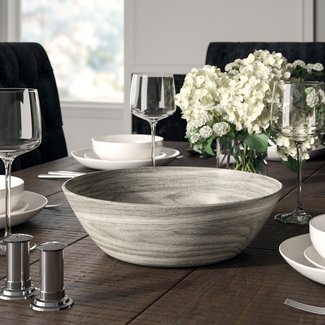 Kato French Oak Melamine 142 fl oz. Serving Bowl
If you've always wanted to serve your favorite dishes up in modern simplicity, there is no better way to do it than with this circular serving bowl. Thanks to the fact that it is food and dishwasher safe, it's built for convenience while the stylish design will complement any tablescape and impress your guests. The 100% melamine construction is also durable and shatterproof, making it a bold and opulence serving tool.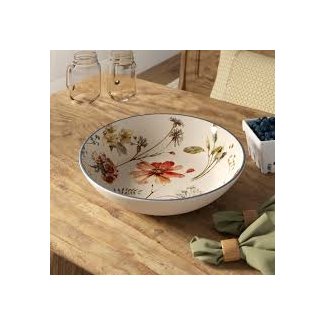 Fullen Serving Bowl
This round serving bowl with a floral design is the epitome of fancy bowls. The food-safe dish with flowers painted in beige, gray, and pink is a colorful addition to any tablescape. The ceramic material is durable, while the fact that it is dishwasher safe makes cleaning up an absolute pleasure. Use it to serve up sides, snacks, salads, or even the most luxurious of dishes for any occasion.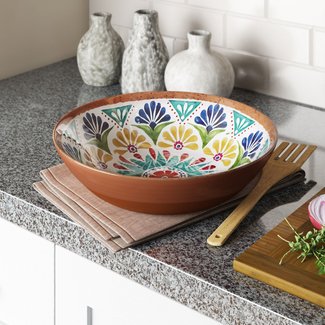 Adah Melamine 32 fl oz. Serving Bowl
If you feel it's time to give your bowls and platters a facelift, then start with this colorful and charming serving bowl. With hints of terracotta pottery, the brightly painted motif on the interior of this bowl will give your tables a burst of color. While it features the look and feel of ceramic, it's made from robust melamine, which is more rugged and will last longer. The dishwasher safe serving bowl is easy to clean and can be used as a multipurpose serving bowl for any function.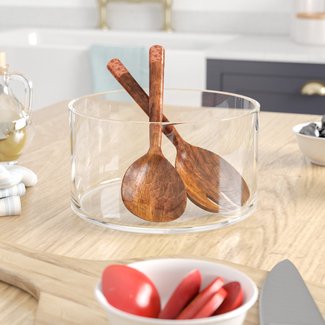 Marcela 136 fl oz. Salad Bowl
If you thought that serving bowls had to be drab and boring looking, then think again. Serving up salads can be done in understated style with this cylindrical serving bowl. The hand-made design is crafted from glass and has a simple and clean construction. Holding approximately 136 ounces of your favorite fruits and veggies, it is also dishwasher safe to make cleaning up an absolute joy. It comes with an included gift box that makes gifting it to family members and friends even easier.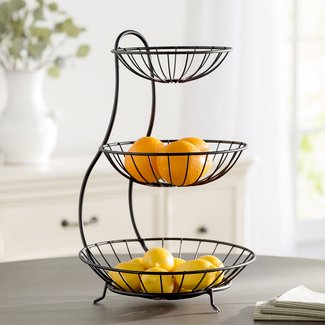 Taounate Fruit Bowl
Keep your favorite fruit within arms reach with this stunning fruit bowl. Perch it on your kitchen island or countertop for easy access to a healthy snack whenever you need it. The three-tiered stand features openwork bowls in different sizes and plenty of room to store and separate your different fruit items. The black finish is neutral and blends in with your kitchen decor, and the gripped feet protect your delicate countertops and kitchen tables.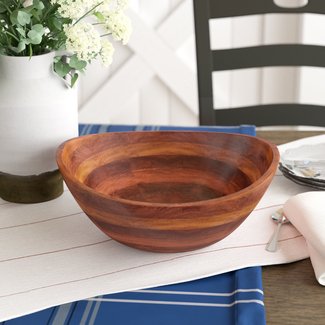 Appalachia 290 fl oz. Salad Bowl
Add this eccentric and streamlined wooden serving bowl to your kitchenware collection. Crafted from Beachwood, it is food-safe and has a warm and natural-looking stained finish. Thanks to the wavy rims, the bowl has a more art-like appearance and is also low-maintenance when it comes to keeping it clean. Irrespective of whether your table is complemented with modern or traditional dinnerware, this art-piece of a bowl will fit in or stand out perfectly.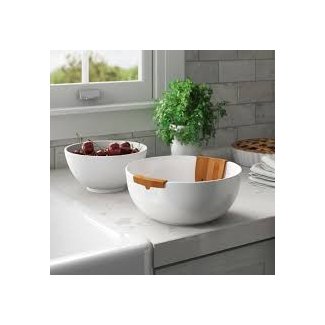 Leandro 3 Piece Salad Bowl Set
Made from bamboo and ceramic, this charming bowl set will blend in with your existing software effortlessly. The sleek and modern design ais contemporary yet charismatic. Thanks to the white porcelain and bamboo integration, the set of three salad bowls create a beautiful contrast between contemporary and traditional. It is also dishwasher safe and suitable for many occasions. Use it to serve your guests the most delicious eateries.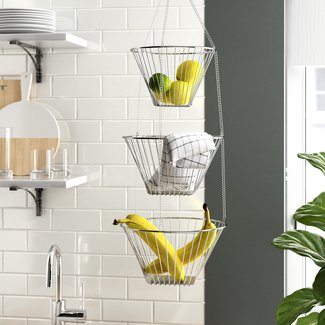 Clive Hanging Fruit Basket
A beautiful, hanging basket is the ultimate touch in a modern and contemporary kitchen. Not only does the hanging feature save you s space, but the three tiers design is also a bonus. Thanks to the chrome finish, it will blend in quite nicely with many types of interior decor. Feel free to also use it to organize crafts and supplies to prevent clutter and prevent things lying around the house. So not only is it a beautiful piece of decor hanging from the kitchen ceiling a functional kitchen tool.