Our Choice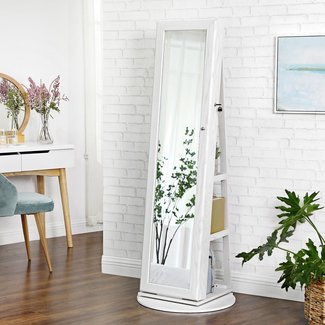 Quakertown 360° Rotatable Freestanding Jewelry Armoire with Mirror
If you love your jewelry, this large cabinet is especially designed for you. It is a big spacious cabinet taller than traditional armoires by 13.8 inches. It can safely accommodate more than 200 pieces of jewelry, watches, perfumes, nail polishes, glasses, and other small items in its five compartments and two shelves. At its base is an additional space where you can stow away your handbags, plants, books and much more.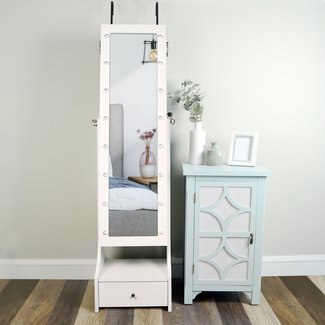 Seidman Free Standing Jewelry Armoire with Mirror
This freestanding jewelry armoire with a mirror storage cabinet provides a practical way to organize and store your jewelry in a beautiful and stylish way. The convenient jewelry organizer comes with a full-length mirrored locking door, interior shelves, marquee lighting, and soft velvet interior. The interior mirror has a light-up makeup station that can accommodate 10 makeup tools. It has 16 LED lights, 2 interior storage compartments, 4 shelves, 2 exterior scarf hooks, and one exterior pull-out drawer.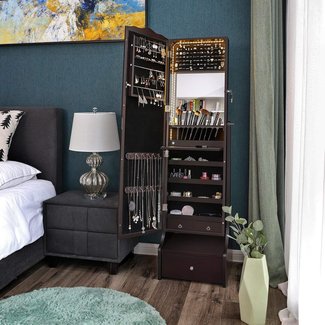 Trinh LED Light Free standing Jewelry Armoire with Mirror
Available in sleek natural brown color, this freestanding jewelry mirror is an elegant storage option for your precious trinkets and other essential daily items. It comes with a large drawer with plenty of room for large items such as your blow dryer, hair clips, and straightener. The armoire is made of MDF material with velvet, sponge, and a built-in glass mirror. It has a 39.4-inch strip of LED lights around the mirror, 24 bracelet and necklace hooks, and 98 earring or ring slots.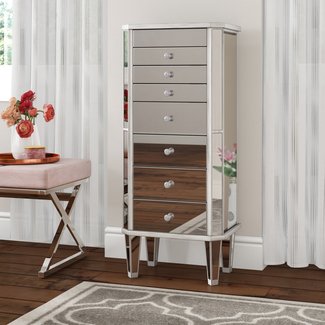 Luann Free Standing Jewelry Armoire with Mirror
Are you looking for a beautifully decorated freestanding jewelry armoire with a flip-top mirror? Look no further than this chic jewelry armoire designed with beauty and elegance in mind. It features a glossy hand-rubbed gold finish, tapered mirror-inlaid legs, and sleek brushed steel ring pulls. With its flip-top clear mirror, this chic jewelry armoire is a perfect addition of opulence to your bedroom, walk-in closet, or dressing room. The drawers and necklace hanging area have a gold finish and fawn brown felt lining.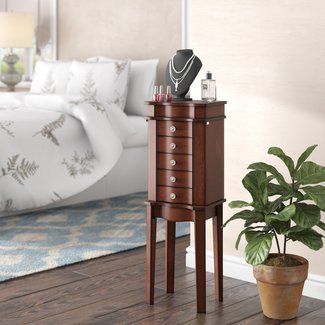 Dario Meg Free Standing Jewelry Armoire with Mirror
Your precious jewelry deserves a luxurious form of storage, which is what you get in this elegant and beautifully designed jewelry armoire. It is a formal and pretty piece of furniture designed to complement the style of your bedroom or dressing room. It comes with 5 drawers, mirrored glass knobs, drawer dividers, and two side panels. Its interior is perfectly lined to protect your precious trinkets from scratches and damage. It has specialized compartments to hold your rings, necklaces, and bracelets.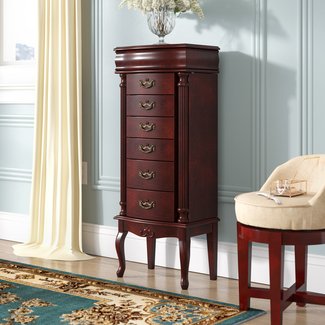 Cottrell Jewelry Armoire with Mirror
If you want jewelry armoire with a traditional look to keep your jewelry organized and enhance the style of your interior design, here is a perfect option for you. The jewelry armoire is made of manufactured wood with a neutral finish. It features ornate drawer pulls on each of its six drawers. The armoire's two swing-out doors come with 8 interior hooks to hang your necklaces. You'll also love its felt-lined cabinets, 9 divided storages areas, and sleek mahogany finish.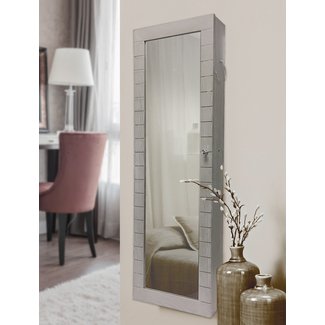 Brazelton Over The Door Jewelry Armoire with Mirror
This freestanding mirrored jewelry armoire comes with a front mirror and more than enough space to store and organize your precious pendants and accessories. It even features extra compartments and an exterior mirror. Its velvet-lined interior gives you ample storage space complete with 122 earring and ring holders and 24 bracelet and necklace hooks. The armoire is quite versatile and can be wall-mounted or used over the floor. Its tilting mirror can be adjusted to your preferred angle.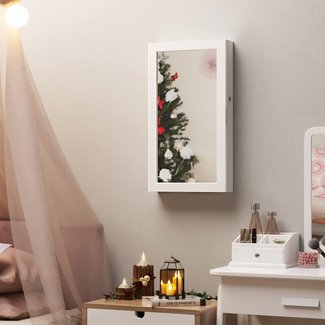 Karmakar Wall Mounted Jewelry Armoire with Mirror
If you want an elegant piece of jewelry furniture to help you accomplish your makeup tasks while keeping your trinkets and pendants well organized, then this wall-mounted jewelry armoire is for you. It has a stylish and practical compact design that doesn't take up too much space. It can easily be mounted on your hallway, bathroom, bedroom, or anywhere in your home. Its mirrored door opens to reveal clearly portioned spacious compartments to store your jewels and gems.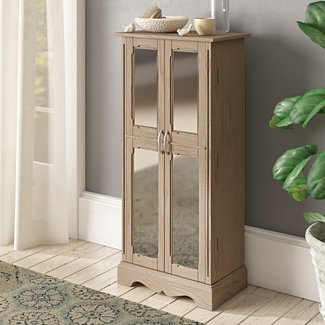 Altenburg Chelsea Free Standing Jewelry Armoire with Mirror
This freestanding jewelry armoire provides a perfect way to use your walk-in closet or master suite by keeping your precious jewelry and accessories well organized. It is designed to conveniently store your necklaces, rings, bracelets, and other pendants. The stylish and compact armoire has 19 dividers, 16 bracelet and necklace hooks and 16 earring and ring slots. It also features drawer dividers as well as drawer stops and gliders. The armoire is made of solid wood with a sleek finish.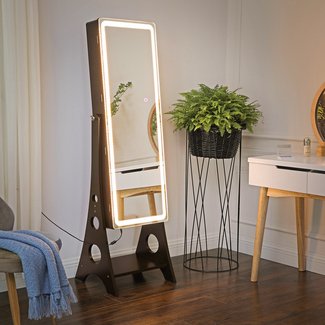 Glynell Free Standing Jewelry Armoire with Mirror
Here is another free-standing jewelry armoire with a large illuminated mirror to help you check your outfit after you jump into your dress and high heels. The mirror comes with a convenient switch that you can use to change or dim the light ribbon while you check your makeup and outfit. It features 20 bracelet and necklace hooks and 78 earring and ring slots. It has a perfectly organized interior to ensure that jewelry pieces are neatly lined behind the door.