Our Choice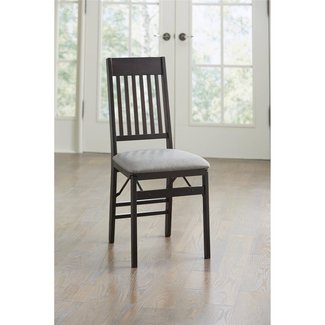 Mission Fabric Padded Folding Chair (Set of 2)
For extra seating without the look of a folding chair, this padded folding chair set is the ideal solution to accommodate unexpected guests. This set of two chairs is crafted from solid wood and features a strong locking mechanism to prevent the seat from collapsing. The contemporary espresso wood finish and soft padded seat give you a refined, versatile piece that pairs well with any dark wood table.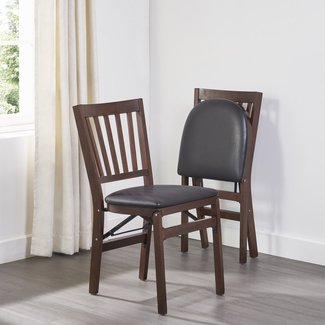 Esita Vinyl Padded Folding Chair (Set of 2)
Combining modern and traditional styles with classic mission design elements makes this folding chair set the perfect addition to your transitional style home. The chair set features a unique folding mechanism that allows the chairs to fold in a more compact way for easier storage. Curved top and bottom railings on the seatback offer lumbar support for enhanced comfort, and the padded seat is upholstered in vinyl for easy maintenance.
Busse Vinyl Padded Folding Chair (Set of 2)
Quality craftsmanship and durable materials give you storable chairs that offer the look and quality of permanent furniture. This two-chair set has neat, clean lines that match well with a variety of contemporary and modern décor styles. The high-strength locking mechanism and unique mortise and tenon joinery can support up to 250 lbs. per chair despite the lightweight design. With both a padded seat and backrest, this chair offers exceptional comfort without compromising on style.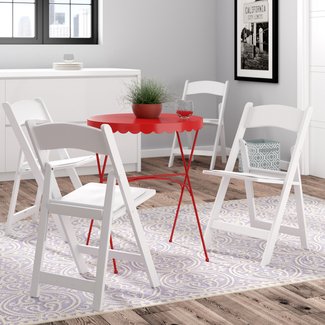 Laduke Capacity Vinyl Padded Folding Chair (Set of 2)
Whether you are hosting a family get-together or getting away for the weekend, this folding chair set is the ideal way to make sure everyone has a seat. Constructed with a durable resin frame that is weather-resistant and tough aluminum hardware, these chairs are suitable for both indoor and outdoor use. With a thin, padded vinyl seat that is easy to clean, these chairs can fold completely flat for easy storage and transport.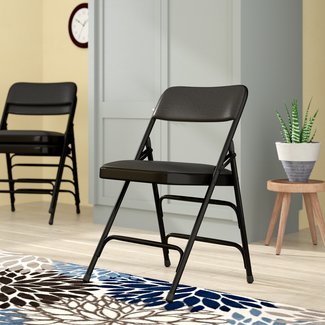 Laduke Vinyl Padded Folding Chair (Set of 2)
For large group gatherings, churches, banquets, or classrooms, versatile portable seating is a must, and these chairs offer the ideal blend of function and style. These padded vinyl-covered folding chairs are constructed from durable 18-gauge steel with a triple curved frame for added strength and stability. The padded seat is filled with flame-retardant foam to comply with safety regulations for non-residential use, and the legs feature rubber caps to prevent damage to floors.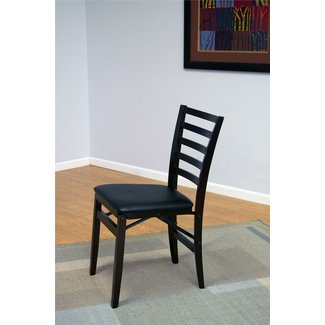 Contoured Back Wood Padded Folding Chair (Set of 2)
Sleek and minimal, this folding chair set offers a beautiful portable seating option to coordinate with a range of different décor from modern-urban to transitional. Curved to fit the contours of your back and padded with thick vinyl-covered foam, this chair set is so comfortable you will never want to leave the table. The solid wood frame is finished in dark espresso for a stylish folding chair that looks like part of your dining set.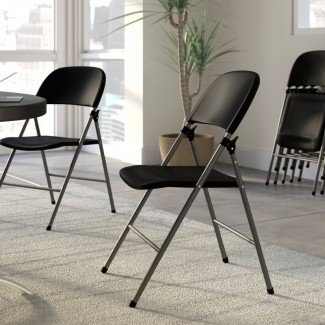 Laduke Plastic Folding Chair (Set of 6)
Perfect for craft rooms, classrooms, or conferences, this set of six low maintenance plastic folding chairs is the budget-friendly seating solution you need for group gatherings. With a sturdy metal frame and plastic seat and backrest, this chair is both lightweight yet durable enough to support up to 330 lbs. The seat features slight contours for maximum comfort while sitting; then you can simply lift the front of the seat for quick folding and storage.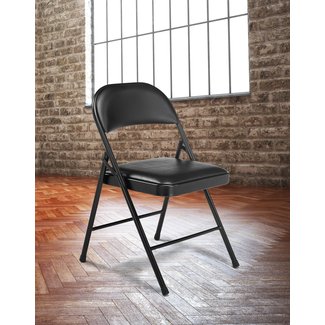 Headley Vinyl Padded Folding Chair (Set of 4)
Simplicity at its best. These chairs are created to be practical and comfortable with supportive features and durable design. A single hinge mechanism allows for quick folding, while the two tack double leg braces add stability to support a maximum weight of 250 lbs. Available in three neutral colors, this chair set is the perfect addition to your den or game room when seating is limited.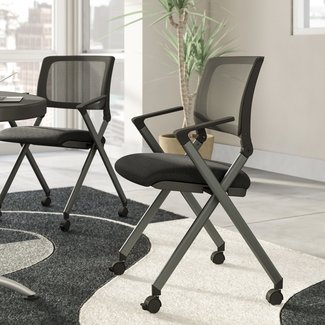 Hathcock Folding Chair (Set of 2)
Add extra seating to your office space with this set of two foldable rolling chairs that combine sleek urban design with ergonomic comfort. The folding chair set features a modular design with clips on the side for grouping. Lockable rolling casters on the legs offer easy mobility, and the padded seat and mesh backrest help you to keep your cool during meetings and collaborative work. With a quick open and closing mechanism, these chairs fold completely flat for compact storage when not in use.

Fabric Padded Folding Chair (Set of 5)
For a wedding, christening or graduation, when you need additional seating for your special occasion, this folding chair set is the perfect solution. The all-steel frame can be manually folded and locked for faster, more efficient storage, while the legs are reinforced with horizontal rails for stability and feature rubber caps to protect floors, carpets and lawns. The padded backrest and seat offer fantastic comfort and feature a charming curved design.