Our Choice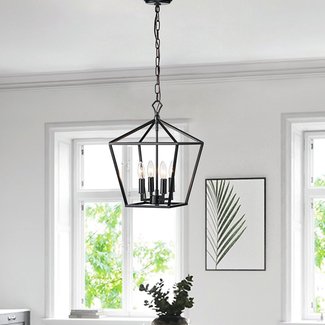 Waldwick 4 - Light Lantern Geometric Pendant
Dress up your entry way or kitchen with this beautiful geometric lamp that resembles an old-fashioned coach lantern. The frame is matt black metal, and comes equipped with four candelabra style sockets, but no bulbs. Recommended bulbs are LED dimmable or Edison decorative bulbs for that extra touch. Lamp package also includes the ceiling fixture and 40 inches of adjustable chain for hanging. Protection plan is available as an addon.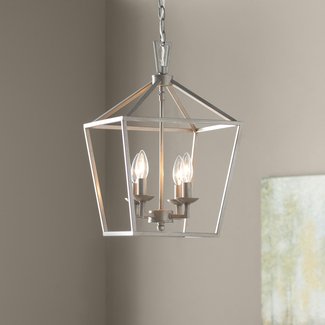 Carmen 4 - Light Lantern Geometric Pendant
Geometric brushed bronze frame brings a touch of old-world elegance to your kitchen or entry hall. The shape houses four candelabra style light fixtures, geared to accommodate LED bulbs or decorative Edison bulbs. Included in the kit are the lamp, the ceiling fixture, and 96 inches of adjustable chain for hanging. Bulbs are not included. It is dimmable with the right switch and bulb type. The lamp is not recommended for wet areas.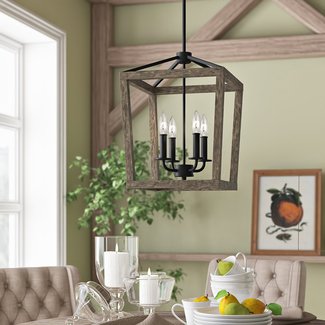 Natarsha 4 - Light Lantern Geometric Pendant
A geometric lantern in weathered oak and iron brings to mind frontier days. The open sides and candelabra style light fixtures allow the user a choice of bulbs, but dimmable LEDs might be a first choice, followed up by vintage style Edison bulbs. This charming lamp is ideal for entry ways, kitchen or even dining room areas. It is not recommended for wet locations such as outside porches or bathrooms.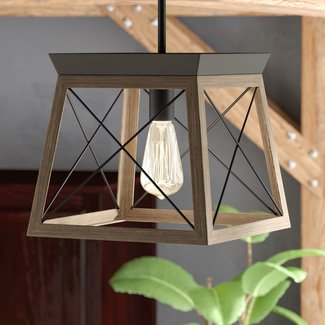 Delon 1 - Light Lantern Geometric Chandelier
Geometric chandelier with a single bulb. The frame is available in graphite or antique bronze metal, both painted to look like wood texturing. Adjustable downrod and fixture are included. It will accommodate any standard light bulb up to 100 watts, but bulbs must be purchased separately. It is compatible with both standard and sloped ceilings. Usable in dry areas only, not set up to handle damp. Charming with faux vintage light bulbs.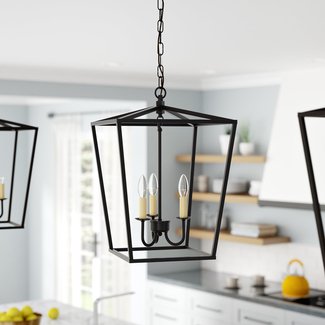 Finnick 3 - Light Lantern Square / Rectangle Pendant
Narrow frames make this geometric lamp a little different from the ordinary, creating a stark symmetry. Designed for 40-watt candelabra bulbs, the fixture holds three. Bulbs are not included, and must be purchased separately. A one-year manufacturer warranty comes with the purchase. Install in dry areas only, not recommended for wet. The lamp is dimmable with the right bulb and switch. It comes with one-year limited warranty and with manufacturer's warranty.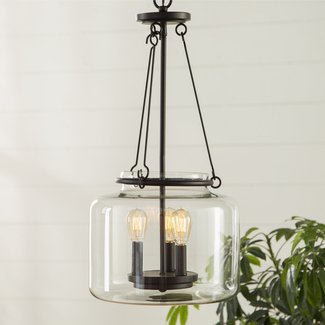 Jean-Baptiste 3 - Light Jar Pendant
Reminiscent of old-fashioned candle-in-a-jar lanterns, this modern version accommodates a three-bulb candelabra. The maximum recommended wattage for each bulb is 60. Suspended with iron collar and fixtures, the clear jar allows the bulbs to easily be seen. This means that vintage-style decorative bulbs make a charming statement in this lamp. Use only in dry areas; the lamp is not set up for wet. It is intended to be hardwired for residential use.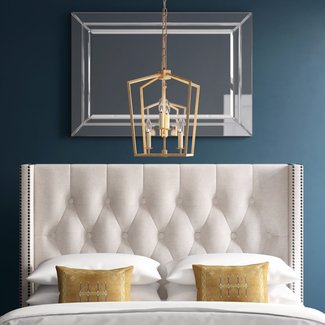 Tiana 4-Light Lantern Geometric Pendant
Switch up your expectations of geometric lamps with the rich gold of the frame for this lamp. The chain is a square, open, box shape, and gold colored as well. This one is definitely a dining room light, or perhaps even illumination for the bedroom. The two-tiered candelabra style fixtures are set up to accept four 40-watt bulbs. Bulbs must be purchased separately. Use in dry locations, only, not intended for areas where dampness is involved.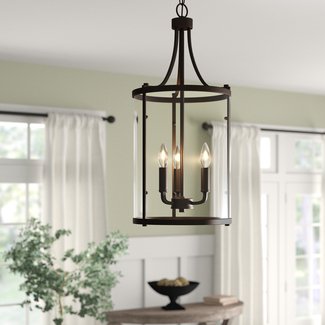 Northport 3 - Light Lantern Geometric Pendant
Have the look of an old-fashioned lantern without the panes of glass to clean. This three-bulb lantern creates an attractive accent for nearly any room in the house, but especially for the dining room or entry way. The bulbs are positioned inside a frame that resembles an old-time candle lantern. It is set up for sixty-watt bulbs which can give you the opportunity to experiment with different styles, including perhaps stylized bulbs such as Nostalgia.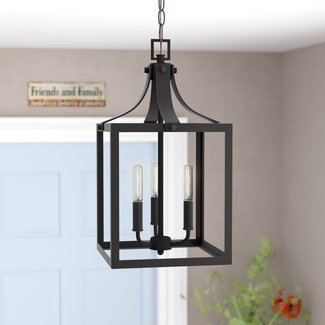 Sherri-Ann 3 - Light Lantern Geometric Chandelier
This lantern can be used to good effect almost anywhere, but will withstand areas where conditions might be slightly damp, such as entryways. The recommended bulb shape is candle, code B10. The fixture holds three bulbs, which are not included. It hangs from a chain, but will not work well with a sloped ceiling. It is set up to enable use with a dimmer switch. It is Energy Star compliant and can be used in a residential situation or commercial.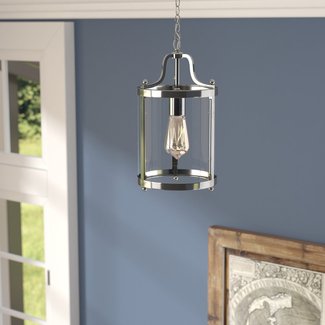 Aarav 1-Light Lantern Cylinder Pendant
Designed similarly to an elegant coach light, this single bulb, cylindrical light can make a lovely statement in your front hall, dining room, or just about anywhere else. It doesn't tolerate wet conditions, however, and needs to be placed in an interior room. It will accommodate a 100-watt bulb (not included) which means that you have a wide range of bulb choices. It looks great with a vintage Edison design or bulb with a similarly retro appearance.