Our Choice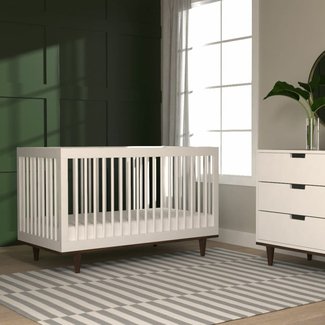 Marley 3-in-1 Convertible Crib
This 3-in-1 convertible crib has taken everything into consideration. A clean white style that will always be popular, a non-toxic finish and the ability to progress from crib to toddler bed to day bed. Solid New Zealand pinewood has been used in the construction and striking walnut or natural trim delivers a beautiful contrast. There are 4 different rail heights and this unit exceeds ASTM International and U.S. CPSC safety standards.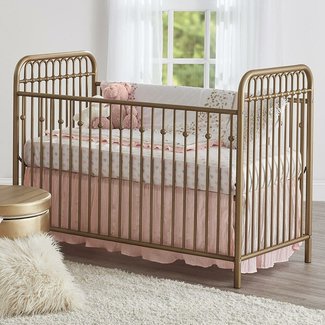 Monarch Hill Ivy Crib
Metal has never appeared as warm and inviting as it does on this creative crib. Designed after the influence of today's wrought iron fence, the decorative features work well with the overall crib design. Soft rolling edges prevent harm while keeping a lasting scratch resistant surface for years of use. Safety guidelines have been met while giving you a grand distinction between wood and metal as a natural harmonic environment for your child.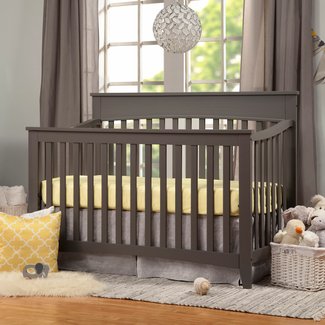 Grove 4-in-1 Convertible Crib
Buy for your child's future with this 4-in-1 convertible crib that will take you clear up to a full-sized bed when the time comes. Quality New Zealand pine wood makes longevity possible with safety first and foremost. In addition, non-toxic finish takes the worry out of allergies and illness from petroleum products. This is a traditional classic with defined rails and curved feet. Available in Chestnut, Espresso, Slate and White for any color scheme.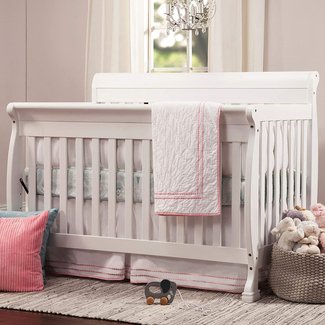 Kalani 4-In-1 Convertible Crib
Graceful curves taken from the popular sleigh bed bring distinction and beauty to this 4-in-1 convertible crib. From crib to a full sized bed, no worries of future purchases as your child grows. The range of colors lets you select the type of room your infant will have. Make it soft and delicate in white with plenty of wicker baskets and posh toys or go with a natural chestnut and have an animal kingdom theme. Exceeds ASTM International and U.S. CPSC safety standards.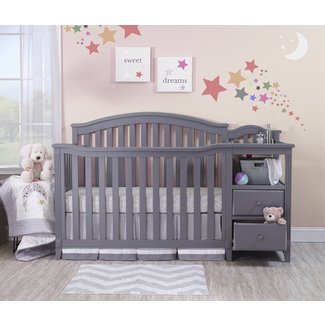 Berkley 4-in-1 Convertible Crib and Changer
Space is no longer a challenge with the 4-in-1 convertible crib and attached changing station. The crib measures 55" W x 30" D x 46" H and has an attached changing station on one end. Sweeping lines present a traditional look and storage drawers have been added in a balanced way. Great for small rooms or shared space. Add a whimsical touch with wall decals instead of adding more furniture. Everything you need is conveniently packed into one central area.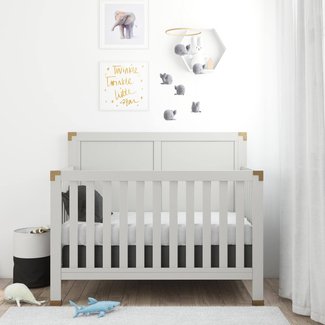 Benbrook 5-in-1 Convertible Crib
Today's modern look moves into the nursery with this sharp clean-edged convertible crib. Graphite blue with metal-plated corner accents deliver an urban industrial look with style. The crib has 4 adjustable mattress positions to grow with your child and deliver 5 different platforms. Crib, toddler bed, day bed, twin/full bed with footboard, or without, will keep your child familiar with their comfortable surroundings. Complete with lead free finish and manufacturer's warranty.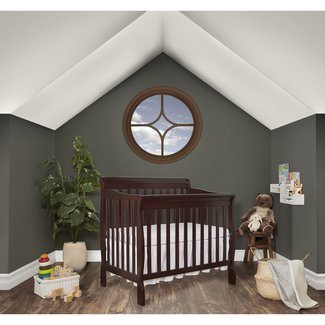 Clearfield 4-in-1 Mini Convertible Crib
Compact, yet filled with style and options, this 4-in-1 mini convertible crib will fit perfectly into that corner designated as a nursery. Measuring 36'' H x 23'' W x 39'' D, there is ample room for baby to have a comfortable sleep. Clean open rails give the appearance of a larger unit. Limit the wall decor and create a nature inspired corner with greenery and a box filled with wooden toys. Later on this unit can easily be turned into a twin sized bed or day bed.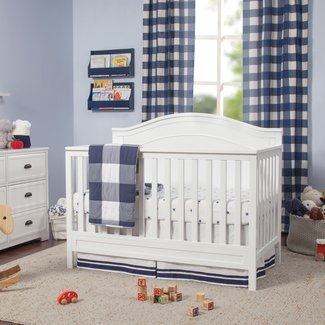 Charlie 4-in-1 Convertible Crib
This is a grand crib for providing security and warmth. Available in 4 neutral colors, this 4-1 convertible crib has the graceful lines and panels of a classic traditional decor. Overall measurements are 43.75'' H x 30.5'' W x 54.75'' D and there are 4 separate mattress height settings. Perfect for either sex, choose a paneled dresser to match and hang contemporary frames pictures. Wood is coated with non-toxic finish.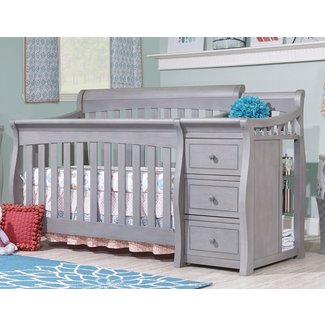 Princeton Elite 4-in-1 Convertible Crib and Changer
This standard sized crib has so much to offer. An attached changing station presents itself as a chest of drawers while the railed top is a safe place for changing. Open shelves behind are convenient for setting powders and lotions. The crib is unique in design with a mixture of waves and straight lines for using in different decors. This convertible crib and changer will appear even cozier when surrounded by soft window treatments and plenty of colorful throws.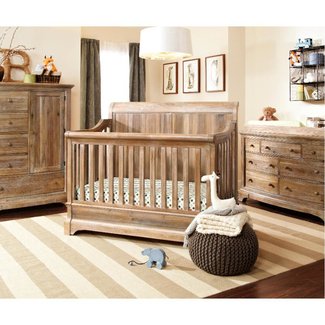 Pembrooke 5-in-1 Convertible Crib
A country inspired look will make you ready to take baby outdoors with this 5-in-1 convertible crib. Graceful rails and a solid backing delivers the freshness of natural wood without feeling stuffy. Easy maneuverability from crib to bed, the rustic aspect will be with your child for a long time. Use plenty of natural light and a bamboo area rug to reduce allergens. Place a wicker pouf close by for holding fabric toys and throws.