Our Choice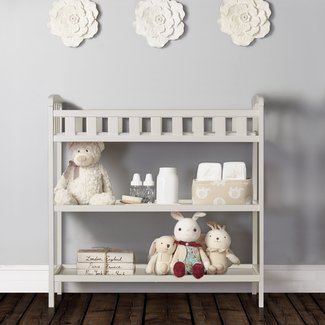 Emily Changing Table with Pad
Crafted from solid pine wood and available in six different finishes, this traditionally inspired changing table will blend seamlessly with both classic and contemporary styles. Two spacious storage shelves beneath the changing table help you keep extra outfits, diapers, and wipes close at hand.
The changing table comes with both a restraining rail and a one-inch changing pad to keep your baby safe and comfortable. Easy to assemble, this sturdy, stylish item will complete your nursery ensemble.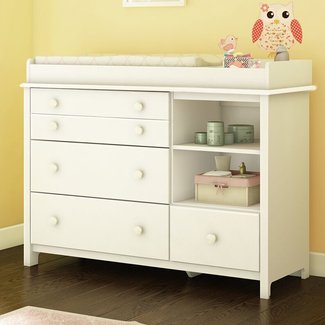 Little Smileys Changing Table Dresser
A perfect solution for small nursery spaces, this changing table doubles as a dresser. Sweet rounded knob handles make for easy one-handed drawer access when changing a wiggly baby, and two receding shelves are perfect for displaying your favorite stuffed animals or baby's first pictures.
With five drawers, you certainly won't lack storage space. The top of the changing table features a safety railing and a soft, plush topper that helps to keep your baby in one place. A wall-mounted tip-over restraint is included to keep siblings safe from toppling furniture.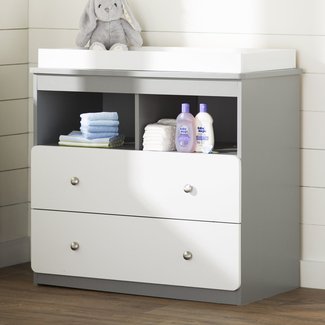 Amandari Changing Table Dresser
Sleek and minimalistic in understated white and gray, this functional changing table won't interrupt your living room's sophisticated aesthetic.
Two large drawers are paired with two medium-sized receding shelves for easy-access storage and feature rounded corners to protect your little one from accidents. The topper and safety railing helps you keep your space clean and your baby safe, and once your baby is toilet trained, the topper can be removed to convert the table to a stylish dresser.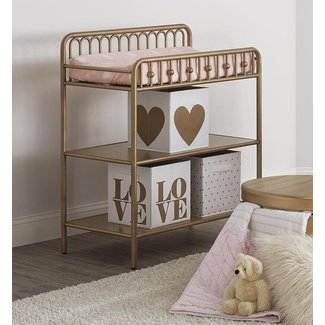 Monarch Hill Ivy Changing Table
Inspired by the classic lines of wrought-iron furniture, this traditional-style changing table is an elegant piece fit for royalty.
Available in white, gold, pink, gray, and bronze finishes, this changing table can coordinate with a range of décor and room colors. Two large shelves accommodate all your diaper changing essentials, and you can pair with a changing pad in your favorite color for a comfortable diapering experience for your little one.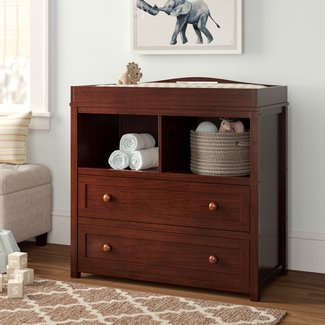 Bearcreek 2 Drawer Changing Table Dresser
Inspired by the clean, natural lines of the Prairie Style school, this changing table is straightforward to assemble and add a sophisticated aesthetic to any nursery.
Constructed from solid pine and MDF wood, this durable, long-lasting beauty is available in four lustrous finishes. Two spacious drawers are paired with two large shelves so you can store toys, diapers, and changes of clothes within reach.
A removable mattress top is machine washable while the changing-table surface can be cleaned with a damp cloth.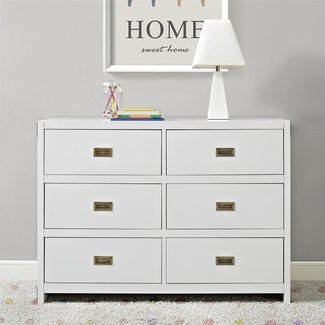 Wilmslow Changing Dresser
Change diapers in style with this minimal, modern changing table. Reminiscent of mid-century modern style, your little one will fit perfectly on the removable mattress topper.
Six drawers on ball-bearing slides grant the busy parent plenty of storage while vintage, brass-finished metal hardware adds a level of sophisticated functionality. As a bonus, fast shipping means you won't have to wait long to receive your new nursery staple.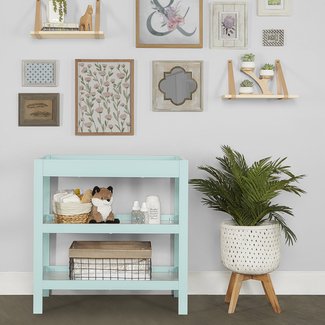 Morita Changing Table
The minimal lines of this universal changing table offer maximum functionality. Suitable for any nursey style from coastal to Scandi to modern eclectic, this table is available in seven different fun finishes. It is constructed from solid New Zealand pine wood to serve your family for years.
This table arrives partially assembled, so even expectant mothers can put it together without assistance. A tip-over restraint is included, so your older toddler won't knock this table over.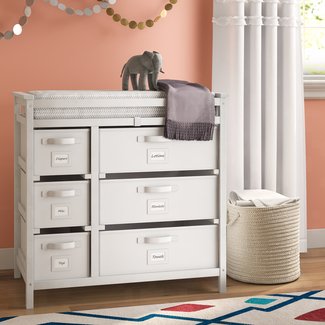 Heid Modern Changing Table with Pad and 6 Baskets
For extra storage and practicality, you can't beat this stylish modern changing table. The table features six basket drawers, a high safety railing, and a machine washable, removable topper for a low-maintenance design perfect for new parents. The sturdy basket drawers are easily detached from the table for effortless re-organizing and cleaning.
At 34.35" x 20.75" ample storage space is balanced with a compact design. Contemporary lines and sturdy wooden construction make this a changing table that is compatible with any style of nursery.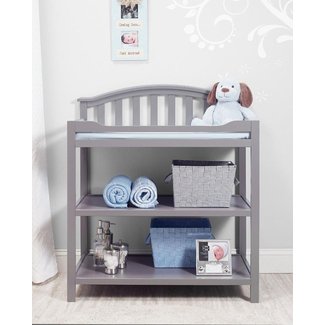 Berkley Changing Table
A nursery classic in the making, this changing table blends perfectly with traditional décor. The included removable changing pad comes equipped with elevated sides and a safety belt to keep your baby secure.
Sturdy and big enough to accommodate a growing baby, this durable table is crafted from high-quality wood and offers easy installation.
Two wide shelves make for easily accessible storage that doubles as an artful display of nursery essentials. Pair your stack of diapers with stuffed animals and fairy tale collections for a touch of whimsy.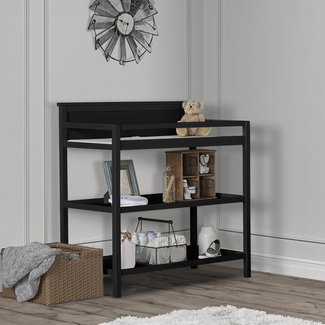 Dossett Changing Table with Pad
With a minimal and practical design, this changing table is the right choice for fuss-free diapering. Two open, spacious shelves are paired with a changing platform that comes equipped with restraining railings on all sides.
At 40" tall, this changing table is great for preventing back pain from a poor standing position while changing your little one. Available in ten colors, you'll be able to pair this table with any design palette. Add wire baskets to store your essentials for a modern, industrial look. Or add colorful bunting to complement the sleek paintwork.