Our Choice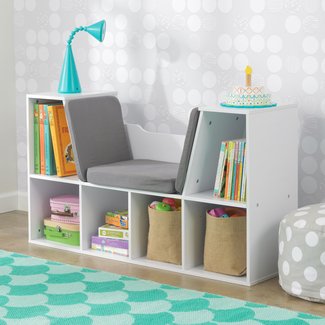 22.5" Bookcase/Reading Nook
Featuring an open shelve design, this playful organizer will help your kids get neat instantly. It comes with four large open shelves at the bottom for books and toys and two extra shelves at the top for extra storage. There is an extra seating area in between the top shelves that is padded with foam for comfort as well. This unit also has a neutral finish and is constructed from solid wood for durability.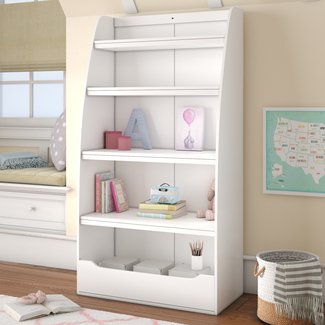 Besse Kids 4 Shelf 60" Bookcase
Designed specifically for teenagers, this vintage style storage unit features an open and minimalist shelf design from the bottom to the top. There is also one large bottom bin for toys and shoes. The unit is extremely stylish and its incredible natural walnut finish will add a touch of elegance to any room. The curved side panels also have a certain modern appeal. The bookcase is relatively tall though but kids the ages of four and above can still use it.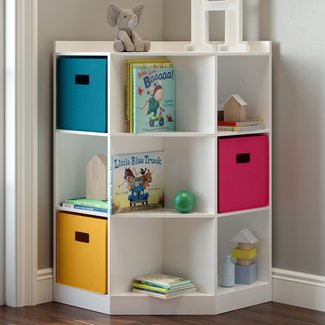 RiverRidge 6-Cubby, 3-Shelf Toy Organizer
This unit has a modern white finish and its innovative design will help organize any children's playroom. The unit has unique corner open cabinets, perfectly suited for toys. The unique shape also means that it can be placed in a corner and take very little space in the room. To better unlock its full value, we recommend that you pair it up with colorful storage bins to help conceal small items and to also accentuate the plain white finish.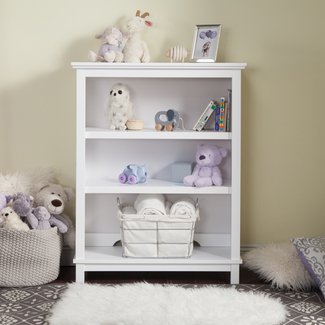 Autumn 43" Bookcase
This compact 43-inch bookcase features large open shelving that can be used to store a wide variety of things. From spare blankets and linens to displaying ornaments and other forms of arts, the unit has enough space to do the job. Its modern styling coupled with a minimalist design makes it the right pick for any type of décor. The shelves are adjustable too, giving you extra flexibility in storage.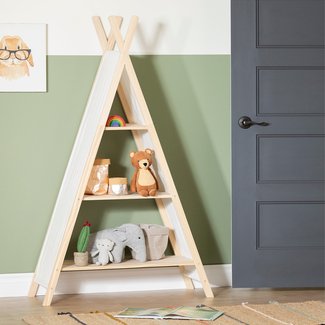 Sweedi Teepee 59.25" Book Display
This irresistible and fun organizer is the perfect definition of simplicity meets function. The unit comes with a triangular design and two dividers in between to create three differently sized triangular storage units. Although the product is marketed as a storage unit or an organizer, it's more of a display cabinet. Its natural wood grain finish and rustic farmhouse-inspired design make it a great choice for most rooms. It is perfect for children aged three years and above.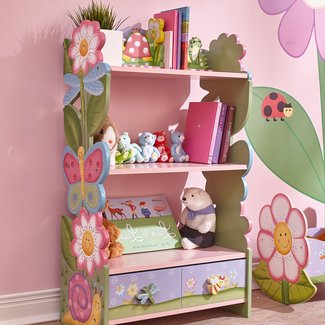 Magic Garden 38" Bookshelf
Invigorate your child's room with this colorful and decorative storage organizer unit. Its breathtaking multicolored finish is simply adorable. There is plenty of storage in there too including two large open shelves and two relatively smaller drawers at the bottom. The entire unit is finished with intricate artwork and kid-inspired images that will put a smile on everyone's face. It is constructed from sturdy manufactured wood for excellent durability.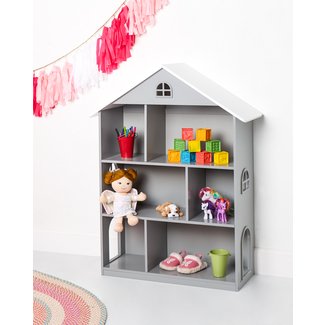 Dollhouse 42" Bookcase
This dollhouse inspired organizer is designed to seamlessly fit into any décor. Featuring a plain white finish and an open shelving design, it is perfect for all kinds of storage needs. There is an assortment of shelves, each with a different size for various storage needs. The shelves are also adjustable but what makes it tick is the wall-mounted design. This means you get an extra storage without using any floor space, which is very helpful for people pressed for space.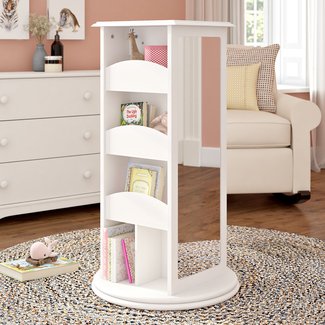 Syed Rotating Storage
This innovatively designed rotating storage tower is probably one of the most creative ways for your kids to get organized. The unit features several different open shelves and a full dress-up mirror on the side. The rotating mechanism makes it easier to access various shelves. It has a very small footprint and would be a great catch for smaller and copier places. The unit can be used to store costumes, toys, shoes, action figures, and other small items.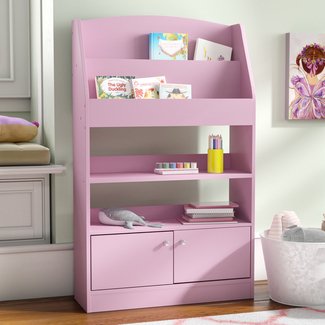 Gainseville 42" Book Display
Add new touches of colorful delights into your children's room with this pink storage unit. The product comes with two closed-door cabinets at the bottom to store toys and other smaller items. There are two large open shelves just above the drawers and two extra book racks at the very top. The unit is constructed from nontoxic particleboard and laminate, a sturdy and durable material that will last for years.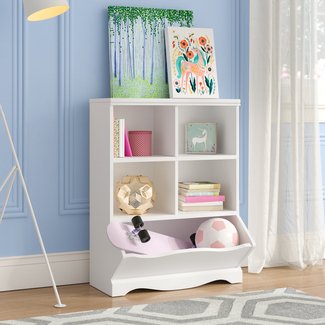 Wym 34.63" Cube Unit
Maintain a clutter-free environment in your kid's nursery using this compact bookcase. The unit is constructed from durable manufactured wood and comes with incredibly beautiful moldings and plenty of storage. The clean white glass finish gives it an aura of sophistication, making it the perfect choice for a modern or contemporary décor. The case has a total of four cubbies that can be used for framed photos, picture books, and even smaller toys.