Our Choice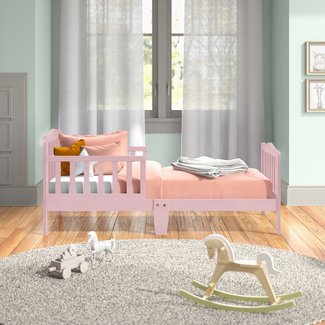 Rucker Toddler Bed
For a bed that grows with your child, try this solid pine toddler bed with added rail guards to prevent little ones from toppling out during the night. This sturdy bed is suitable for kids 18 months and older and comes in 12 colors from traditional natural wood grain to sweet pastels and bold primary tones. The slatted base negates the need for a box spring. The bed can be easily installed because it arrives partially assembled.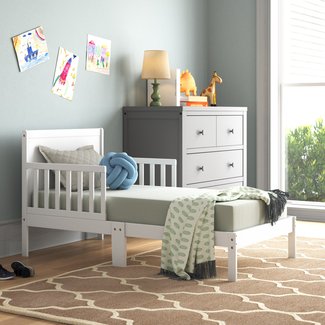 Robidoux Toddler Bed
When it comes to safety and comfort, this minimal-style toddler bed has the features your child needs to get a good night's rest. Each side of the bed has a high guard rail to protect from falls, while the frame sits low to the ground with reinforced center legs to allow your child to get easily in and out of bed. The frame is constructed from solid wood with a melamine headboard that is scratch-resistant.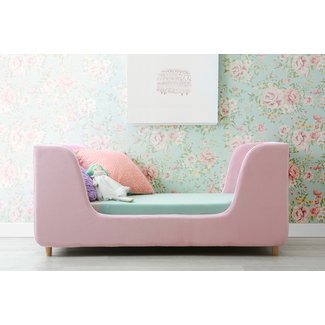 Bodhi Toddler Bed
Modern and chic with an eye-catching design, this fabric covered toddler bed is sure to ignite your little one's imagination. Available in a range of neutral tones, this bed pairs well with bold colored throw pillows and geometric printed bedding. Low to the ground with curved corners, this bed is a safe option for your toddler's room and comes with a slat system that can accommodate a standard size crib mattress.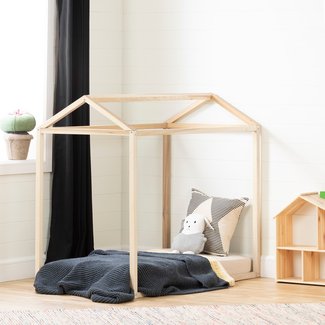 Sweedi Toddler Bed
Create a magical hideaway for your child with this Montessori-inspired toddler bed. The frame sits directly on the floor and is fully adaptable to your child's crib mattress. It is constructed from solid pine for a safe and sturdy addition to your child's room. With clean lines and natural wood grain, this bed will suit a variety of décor styles from minimal to Scandinavian to boho. Decorate the roof frame with pom-pom garlands or drape with colorful silks to build a comforting place for your child to sleep.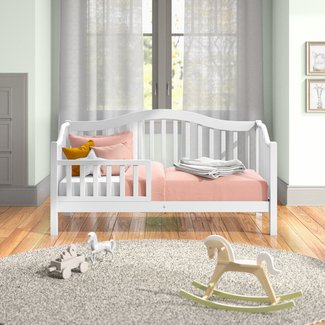 Dunkelberger Toddler Bed
Elegant and contemporary, this toddler bed is ideal for classically designed toddler rooms with a beautifully carved headboard and suitable to children aged 18 months - 5 years. With a removable guard rail, this bed can transition easily from a toddler bed to a stylish day bed for a piece that grows with your family. Customize your child's bed and pair with character-themed bedding and wall art. Or, create a chic space in your guest room with neutral linens, textured throw pillows, and metallic accessories.
Toddler Bed
Race off to sleep with this colorful Lightning McQueen bed, which is sure to be the highlight of your child's bedroom. A bright, bold red and blue frame feature decals of their favorite Cars characters and sits at the perfect height to allow busy toddlers to get in and out safely. Constructed from metal and durable plastic, it features two removable guard rails attached to the headboard and central legs for added stability. Pair with Lightning McQueen bedding and racing flag bunting for a bedroom to delight any budding speedster.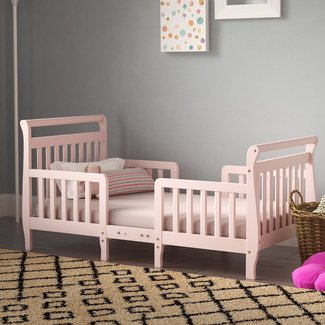 Rubin Convertible Toddler Bed
Transitions can be tricky for little ones. Help your child feel safe and secure with this gorgeous traditional sleigh toddler bed. Made from solid pine with four removable guard rails, this bed will support your child as they sleep. Once your child outgrows the bed, it converts to two stylish armchairs with a side table for a chic addition to your living area or guest room. Style with a whimsical patterned quilt and plenty of teddies for your little one to cuddle as they dream the night away.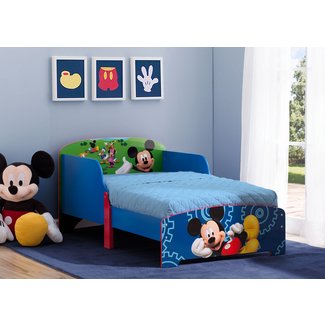 Disney Mickey Wood Toddler Platform Bed
Welcome to the House of Mouse! This playful Mickey Mouse-themed toddler bed is sure to deliver fun-filled dreams to your children. Made from a sturdy solid wood frame, with Mickey decorations on both the head and footboard, this bed sits at the perfect height to allow your little one to hop in and out of bed on their own. A simple slatted base makes for quick installation and can fit a standard-sized crib mattress for an easy transition from crib to toddler bed.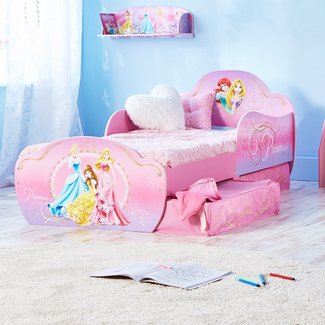 Princess Toddler Bed
Let your toddler feel like royalty with this ornate four-poster bed. A durable wooden frame sits low to the floor and supports four crown-topped posts and carved head and footboards. A slatted base holds a standard crib mattress, which you can style with neutral bedding to let the bed design shine. Finished in delicate pink with gold details, this bed is fit for a princess.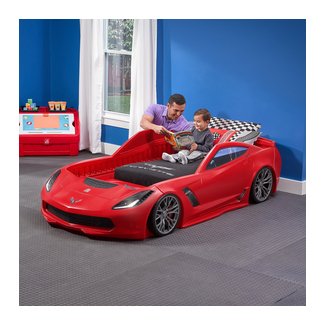 Corvette Car Toddler Bed
Rev your engines and cruise to dreamland in this fun Corvette-inspired toddler bed. Your toddler is in for hours of fun with a built-in racetrack and tap on lights, which can also function as a night light when it's time for bed. The tough plastic frame and wooden base support a full-size toddler mattress or a crib mattress to meet your child's needs.