Our Choice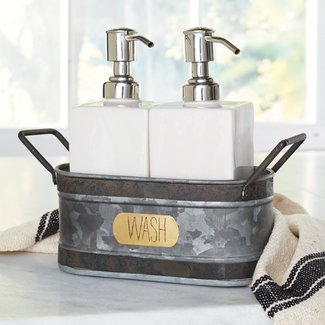 Farmhouse 3 Piece Soap Dispenser Set
If you are looking for a soap dispenser set to enhance the farmhouse style of your bathroom, this 3-piece set is your best option. It is a galvanized tin caddy with a rustic elegant look. The set comes with side handles, two ceramic soap dispensers, and brass-finished "wash" tag. The dispenser set is made of ceramic. It is a perfect choice for bathrooms with a farmhouse, Victorian, or Industrial décor style.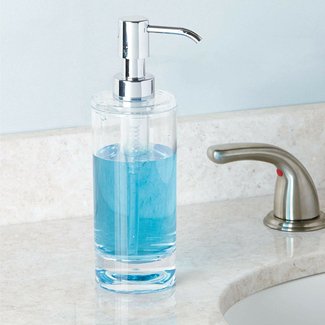 Cameo Pump Soap Dispenser
One of the handiest things to have in your bathroom is a soap dispenser. It not only makes it easier and more convenient to apply soap on your hands or bathtub but also gives your décor the upgrade it deserves. This pump soap dispenser is made of lightweight plastic and can hold up to 10 oz of liquid soap. It has a slender design that fits perfectly on small shelves. It is easier to fill and works just perfectly.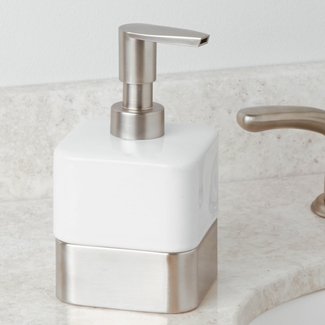 Blocton Soap Dispenser
This soap dispenser has a modern stylish look that will enhance the elegant and practical style of your kitchen or bathroom sink. It opens wide for easy refills and can hold up to 14 oz. Its container is made of ceramic material while the pump is constructed from high-grade plastic. If you are searching for a sleek soap dispenser to complement your vanity, this dispenser is a perfect choice, especially for bathrooms with brushed nickel fixtures.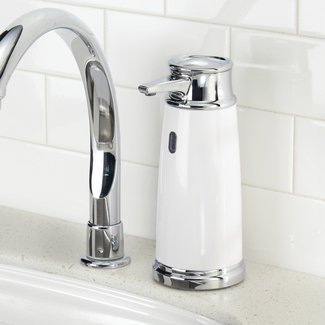 Gurganus Hands Free Soap Dispenser
Here is a hands-free soap dispenser is a perfect addition to your sink. It comes with a motion detector that senses your hands with a single pass to dispense just the right amount of liquid soap to your hands automatically. The hands-free soap dispenser is a perfect item to have in your kitchen and bathroom. Get rid of germs with this motion sensor soap dispenser. You can use it without touching the pump, especially when you have dirty hands.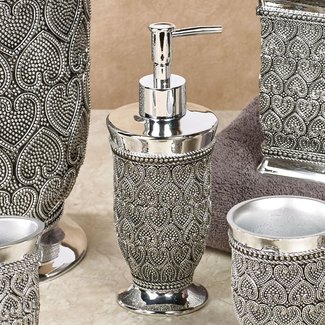 Rymer Beaded Heart Soap & Lotion Dispenser
This is an innovatively designed soap and lotion dispenser for your elegant kitchen and bathrooms. It has an easy soap pumping process, extremely practical, durable, and best of all does not easily rust. It is lightweight, compact, and super-easy to fill up. It is made of resin material, comes with a beaded heart, and can hold up to 10 oz of liquid soap or lotion. It is refillable and reusable too.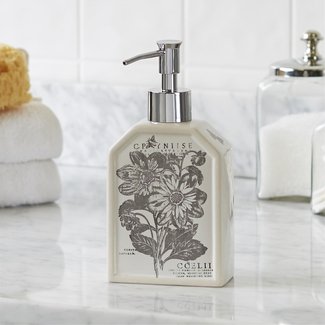 Adoxa Etching Lotion Dispenser
Looking for a sleek, clean, and easy to use lotion dispenser? Look no further than this cute ceramic soap and lotion dispenser for your bathrooms. It is the perfect bathroom accessory that adds a touch of class to your bathroom style. It is durably designed for everyday use. The soap dispenser is made of ceramic with a natural white finish. It also looks lovely on your bathroom counter or any tan or black granite counter.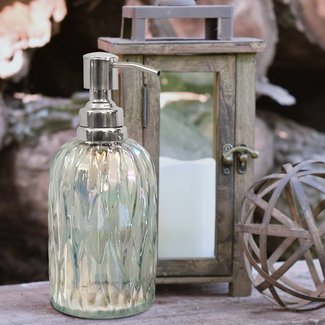 Sayers Lotion Pump Soap Dispenser
Here is a practical, easy pressing, and durable lotion pump and soap dispenser. It has a compact, lightweight design. It is also extremely easy to refill. The lotion and soap dispenser just need a gentle press to control the amount of soap you need without spilling and wasting your precious soap or lotion. It can be used to dispense lotion, soap, dish soap, and even a bubble bath. The soap dispenser is made of quality and durable glass.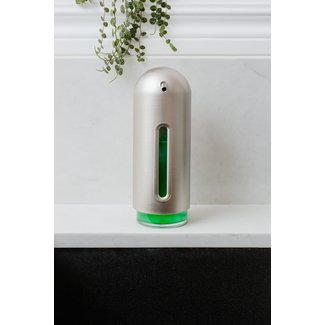 Penguin Soap Dispenser
If you've been using regular soap dispensers then you understand how messy or annoying they can be at times. If they don't topple and spill easily, they'll get clogged and make it hard to dispense soap. This soap dispenser eliminates those problems with a soft-touch coating and a large surface area for stability. It has a clear plastic base that shows you when soap levels run low. It is a perfect choice for a modern home.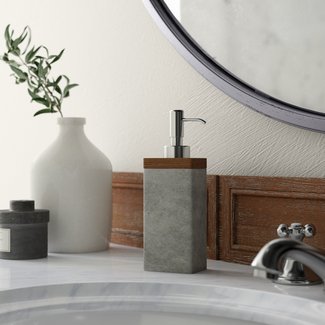 Stonington Concrete Stone/Wooden Soap & Lotion Dispenser
This soap and lotion dispenser comes in an easy to use, practical, and durable design. It does not rust easily and is small, light, and durable for everyday use. It is quite easy to refill. The soap dispenser just requires a gentle press to get the right amount of soap without spills. It is made of quality concrete stone and wooden materials. It is a reusable, eco-friendly, and extremely durable soap dispenser for your kitchen and bathrooms.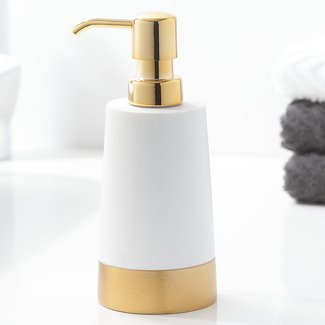 Everett Countertop Soap and Lotion Dispenser
This soap dispenser is designed with modern and contemporary bathrooms in mind. It is a high quality free-stand soap dispenser made of white acrylic plastic material. It comes with a chromed ABS pump and gold medium tone that matches perfectly with shiny surfaces and antique brass bathroom fixtures. It features a brushed nickel finished bottom and has a height of around 7 inches, which is sufficient to hold enough soap for your needs.