Our Choice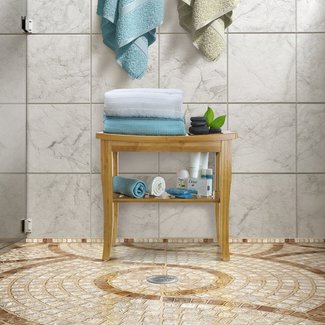 19" W Bamboo Shower Bench
Neutral, natural tones and a fresh, clean outline ensure that this shower bench will blend in wonderfully with a wide range of color palettes and decorative themes.
Capable of bearing up to 220lbs, the bamboo seat may be used in bathrooms, mudrooms and even patios.
Take advantage of its design to provide a natural rustic touch to your favorite room and declutter it by placing magazines, towels and toiletries on its shelf.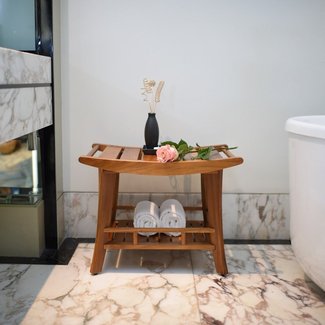 Knudsen 24" W Teak Shower Bench
A glossy smooth finish and a natural golden brown hue mean this shower bench will instantly bestow a touch of refinement and natural warmth on your bathroom.
The single-shelf seat which features slatted detail and has been manufactured from teak, is especially resistant to decay. Its feet are also slip resistant and will add an extra element of safety during your grooming sessions.
Place against a tiled background in pristine white, aqua or beige with tropical indoor plants to create that luxurious spa-like ambience.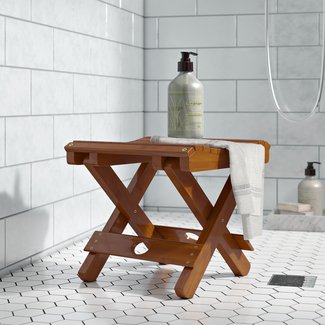 Cherina 11" W Bamboo Shower Bench
Manufactured from bamboo, this shower bench with a foldable design provides a fresh outdoor look which is enhanced by its slatted detail.
The ideal foot rest, this piece also comes with a protective finish in addition to having been specially designed to drain water off.
Use as a multipurpose piece for storing your favorite toiletries and as a means of support during grooming sessions.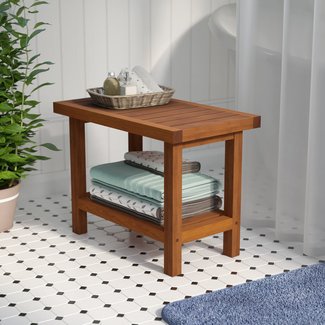 Blough 24" W Teak Shower Bench
Especially designed for damp environments, this shower bench features a slatted design to facilitate drainage.
The single-shelf piece which has been crafted from teak is also resistant to water and mildew due to the oil stain used in its manufacture.
Take advantage of its natural tones to add a hint of warmth to bathrooms or mud rooms decorated in lighter colors such as mint or pale blue, and add your favorite scented candles in filigree holders for an extra special touch.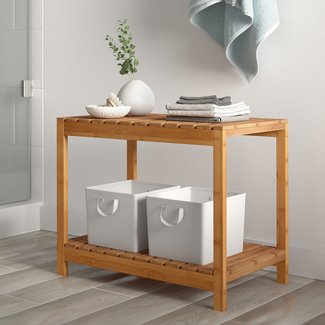 Chet 24" W Bamboo Shower Bench
A high storage shelf, a natural finish and a slatted top and base, lend this bathroom shelf an understated appeal which makes it ideal for the minimalist or urban modern bathroom.
The spa-inspired piece has been created using solid bamboo wood. Its two-tiered design also means it is suitable for serving as seating and storage, simultaneously.
Place waterproof storage boxes in accent colors on its single shelf to make the most of its versatility and beautify your surroundings at the same time.
Boulanger 17.5" W Teak Shower Bench
The first aspect of this shower bench which is immediately noticeable is its understated, spare silhouette which lends it a unique charm.
The teak and the natural oil used in its manufacture have also provided it with a heartwarming rich brown hue as well as resistance to mildew and water.
Decorate with a darker toned wicker basket which can be used to store towels, flannels or hygiene products.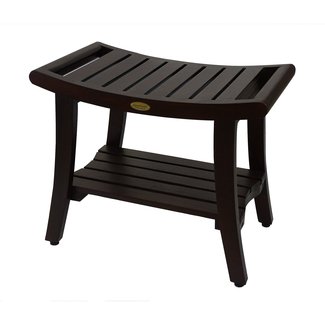 Harmony Teak Shower Bench
Brought to you in a rich dark chocolate hue and a matte finish, this shower bench with a slightly curved seat is ideal for providing an anchoring effect in an ambience based on a bright palette.
The two-tier piece has been crafted from teak and is especially durable, resistant to decay and water.
Its alluring dark tones may be used to create a striking contrast with pristine white linens and ceramic containers while bronze or gold accents may be used for a truly luxuriant effect.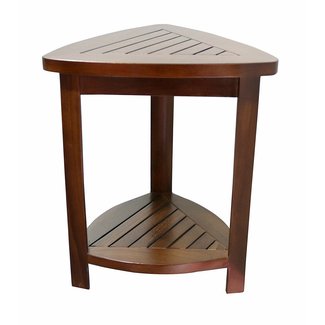 Weimar 16" W Teak Shower Bench
Triangular shelves lend this shower bench a unique prism-like form while its rustic warm brown finish ensures it will complement both neutral and bright colors.
Owing to the extra thick grade A quality teak used in its manufacture, this seat is especially durable. It is also particularly resistant to water and mildew due to its teak oil finish.
Make use of its unique design to declutter your bathroom and to also provide an additional splash of color and fragrance with scented oil vials in accent hues.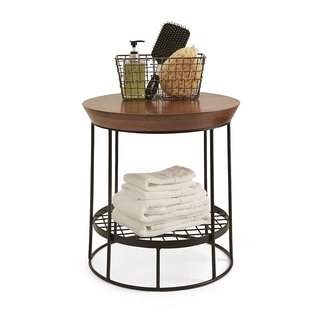 Lonestar 16" W Mango Wood Shower Bench
This two-tier shower bench comes with exquisitely contrasting round shelves in dark polished wood and metal.
Its upper shelf is especially water-resistant due to the mango wood used in its manufacture. The bench's iron legs and lower shelf are also especially durable and scratch-resistant.
Place in a modern or industrial-style bathroom and decorate with indoor ferns which will suffuse your grooming sessions with natural magic.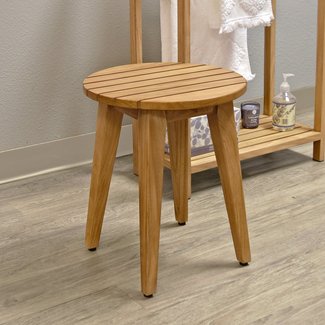 Applebaum 15.4" W Teak Shower Bench
An understated natural form and a golden brown hue mean this shower bench will blend in with coastal, rustic, farmhouse and Scandinavian themes.
The single-shelf piece has been made from sustainably harvested teak and is particularly durable and capable of resisting damage by mildew, mould or water. It also comes with splayed legs fitted with levelers for added stability and a slatted seat to prevent water from pooling.
Create a welcoming ambience by placing your favorite literature on the bench and complementing it with a small floral plant and a colorful rug.