Forget about hitting your head against an open cupboard door for the umpteenth time!
An open shelving kitchen is a practical and creative choice, especially for people who like to think outside the box. That's you, isn't it?
The decorative possibilities offered by these open storage solutions are nothing short of exciting. Plus, they can be an incentive to keep your kitchen tidy: we've all been guilty of chucking random items next to an already unstable pile just because it was hidden behind a cupboard.
On top of that, an open shelving kitchen makes it even easier to find exactly what you're looking for and always have a quick overview of all your crockery and equipment at hand.
Don't forget that these kitchens are available in lots of different sizes and styles. For example, you can choose to only have open shelves, a balanced mixture of open storage and closed cupboards, or even just introduce some smaller shelves if space is a bit of a pickle.
Since there are so many different ways of creating an open shelving kitchen, let's look at 15 tips to truly make it your own.
1.

Display items that reinforce your palette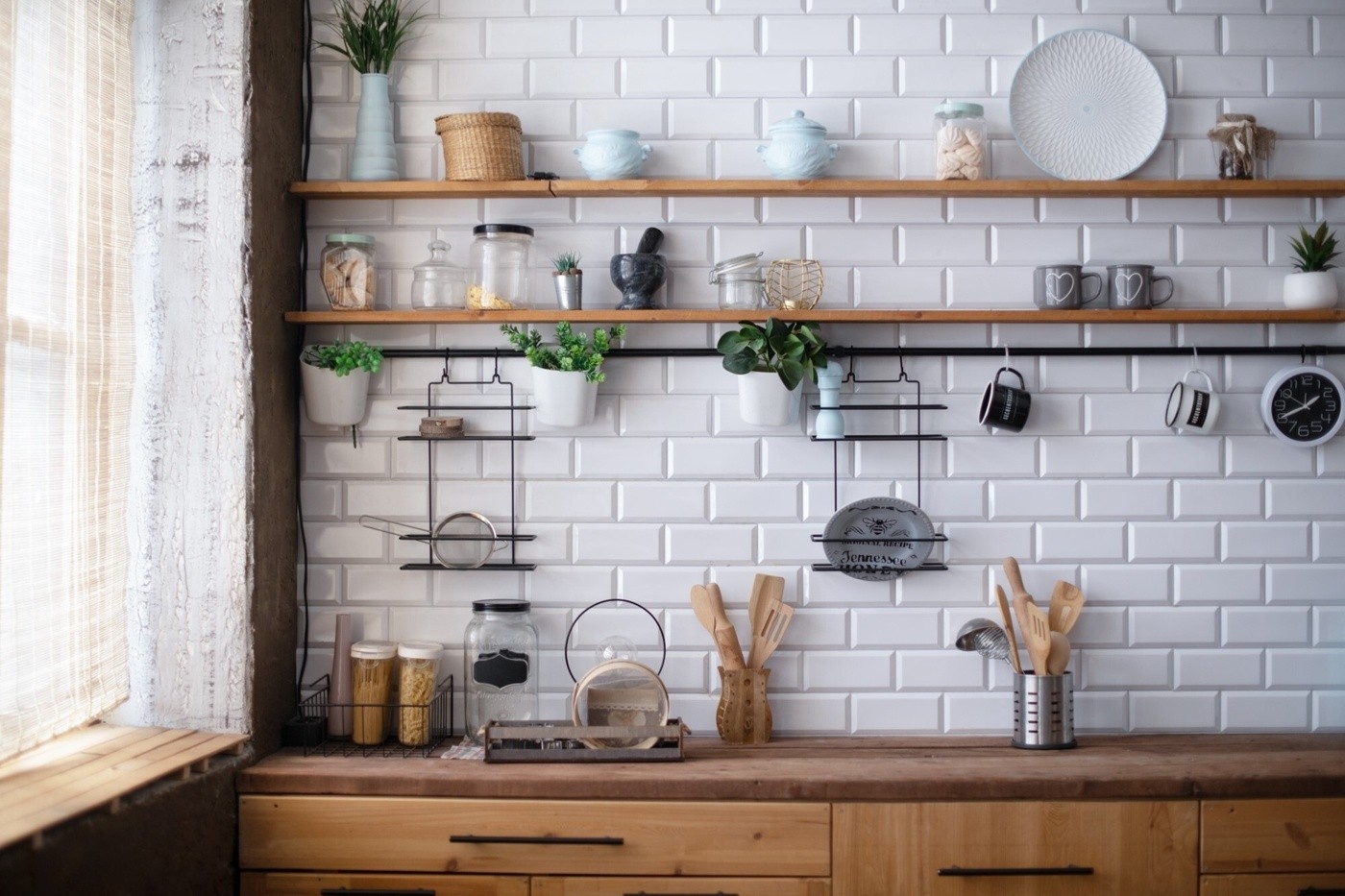 One of the easiest ways to create a consistent (and, let's be honest, instagrammable) kitchen is to strive for a cohesive palette.
Of course, larger elements like your walls and units play a strong role, but, when you have an open shelving kitchen, your crockery can become a conscious accent.
For example, you could choose to only display monochrome pieces in the color of your cupboards.
Or, if you want your crockery to stand out, consider picking an accent color that contrasts against your wall or kitchen backsplash.
2.

Emphasize your elegant finishes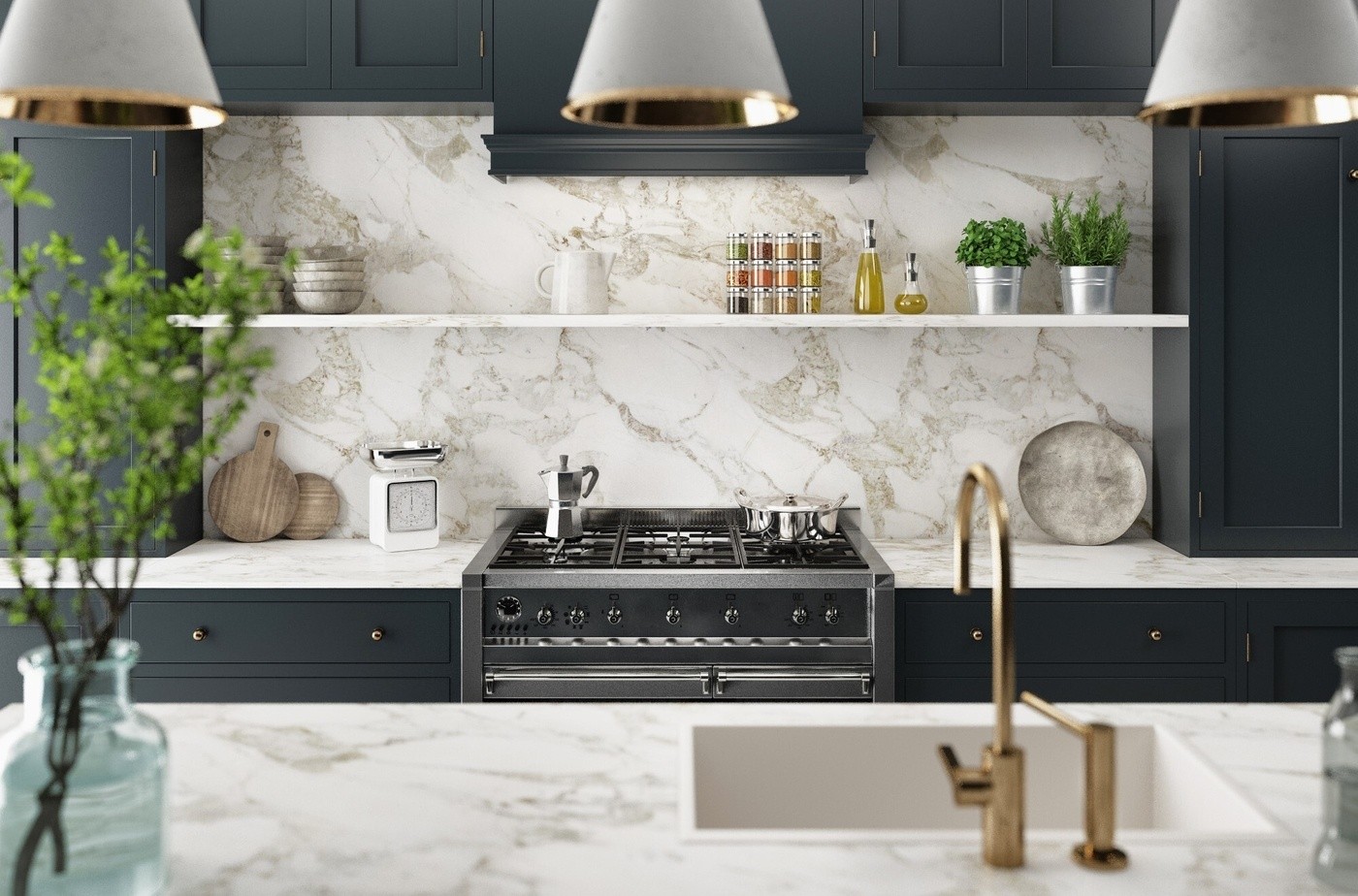 If you're planning on making a luxurious statement by incorporating a wide and sophisticated backsplash, an open shelving kitchen is a great way of showcasing it.
You could do something similar to how this kitchen matches the marble surface of the island's countertop with a backsplash in the same finish. By only including a limited selection of items and spacing them carefully on the shelves, you can let it be the star of the show instead of hiding it inadvertently.
3.

Make your open shelves decorative as well as functional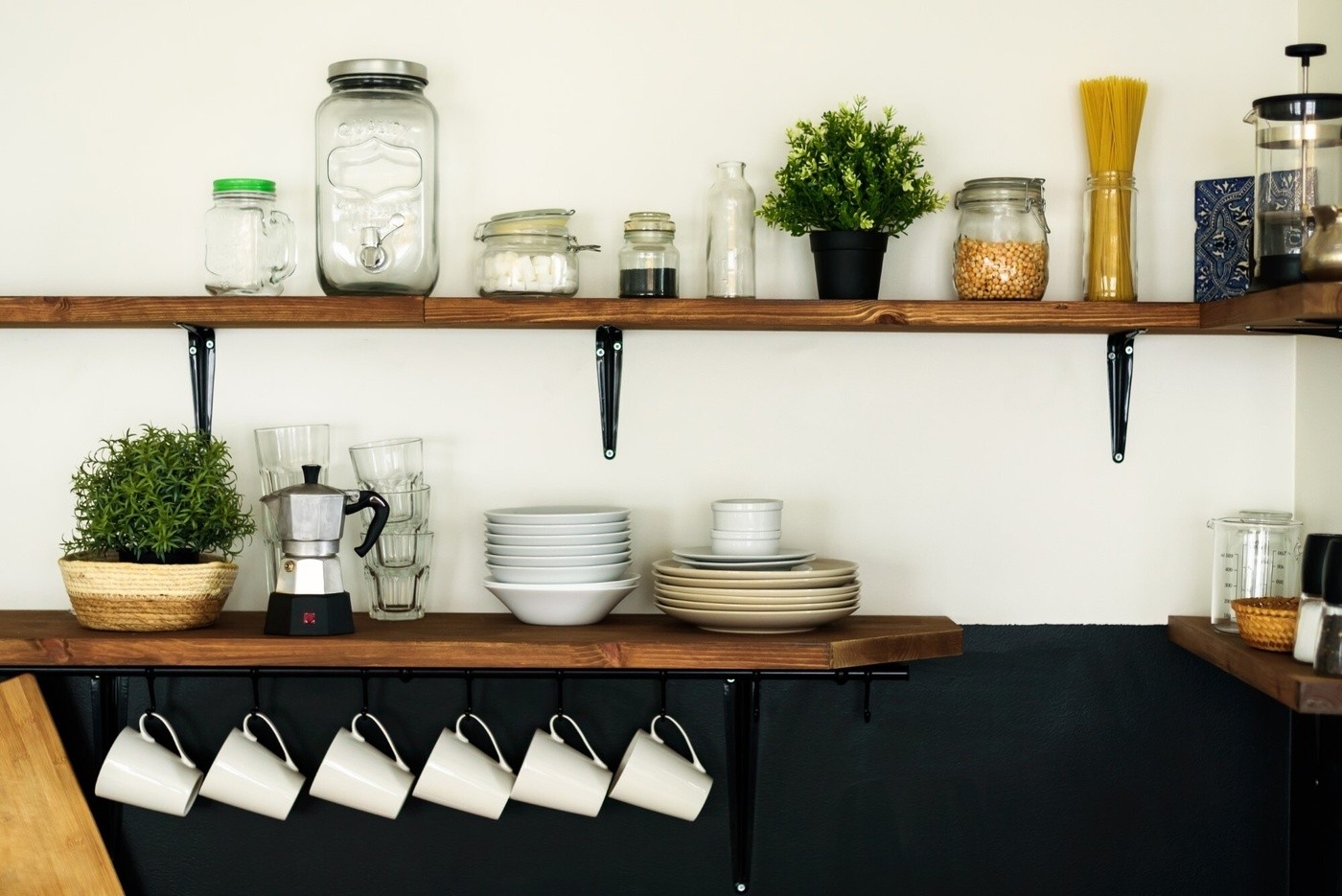 We assume you wouldn't place frames and ornaments behind your cupboards, but here's where the perks of an open shelving kitchen come into play.
Adding a few ornaments next to your equipment and more functional pieces will allow you to actually make it your own, injecting some personality into your interior style and matching your most ambitious decorative vision.
Focus on what matters the most to you: how about some recipe books and houseplants, too?
4.

Experiment with creative shelves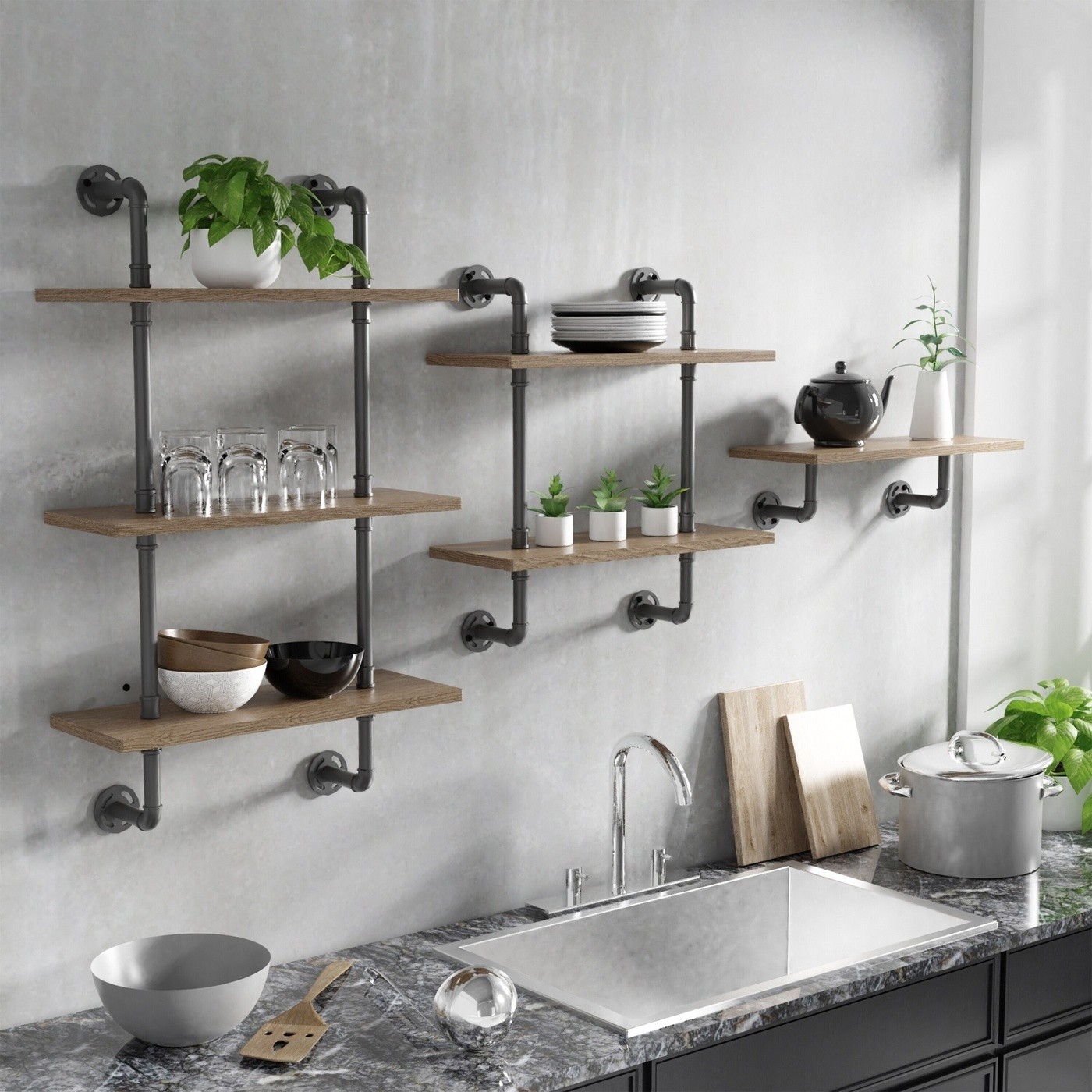 Who says that an open shelving kitchen must always mean 'two long shelves in the exact same shape and size'?
Depending on your available space, you can find them in less predictable styles, too.
For example, this set of industrial shelves in three different sizes is ideal to break the most traditional symmetry in a conscious and effective way.
5.

Keep it rustic with wood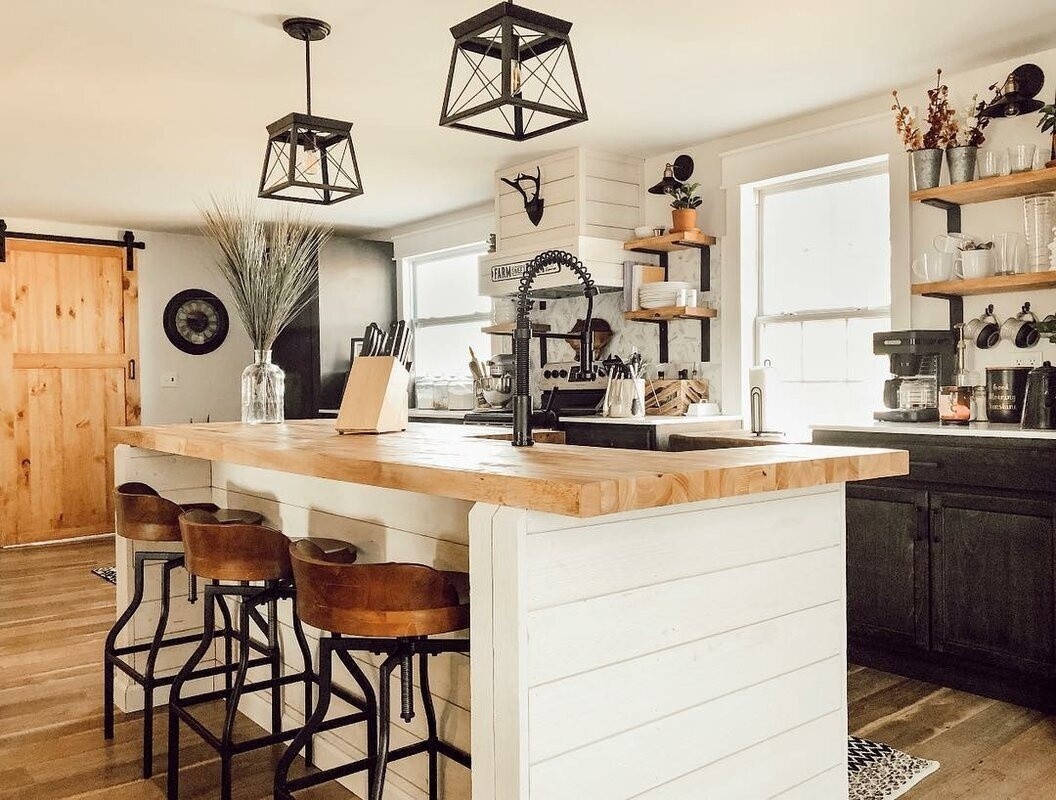 You can find open shelving kitchens in all kinds of colors and materials.
However, good old wood is still the best option if you were hoping to introduce a natural element or inspire a cozy feel with your Scandinavian or Farmhouse interiors.
Open shelves that showcase this material's unique veins will immediately reinforce it and add a rustic touch to your kitchen.
Don't forget to emphasize it with a few traditional recipe books, too.
6.

Add a few practical hooks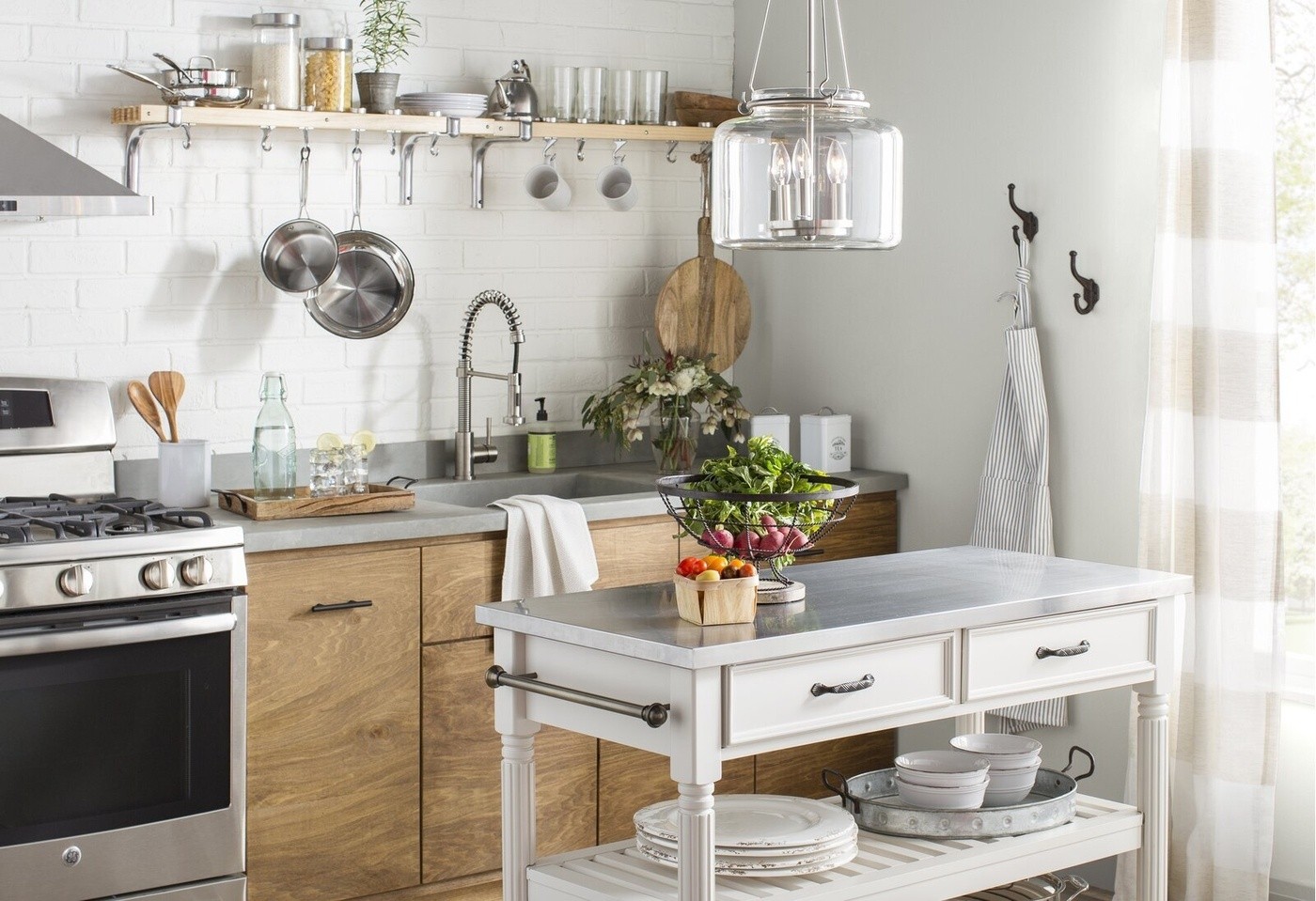 Why not make the most of the space below your shelves, too?
If two shelves would end up feeling a bit crowded in your kitchen, get two surfaces for the wall real estate of one by choosing an open shelving solution with hooks at the bottom.
That way, you'll get to hang items that you use on a daily basis (such as pots, pans, and mugs), adding a touch of practicality as well as a welcoming rustic vibe.
7.

Create a hanging bar area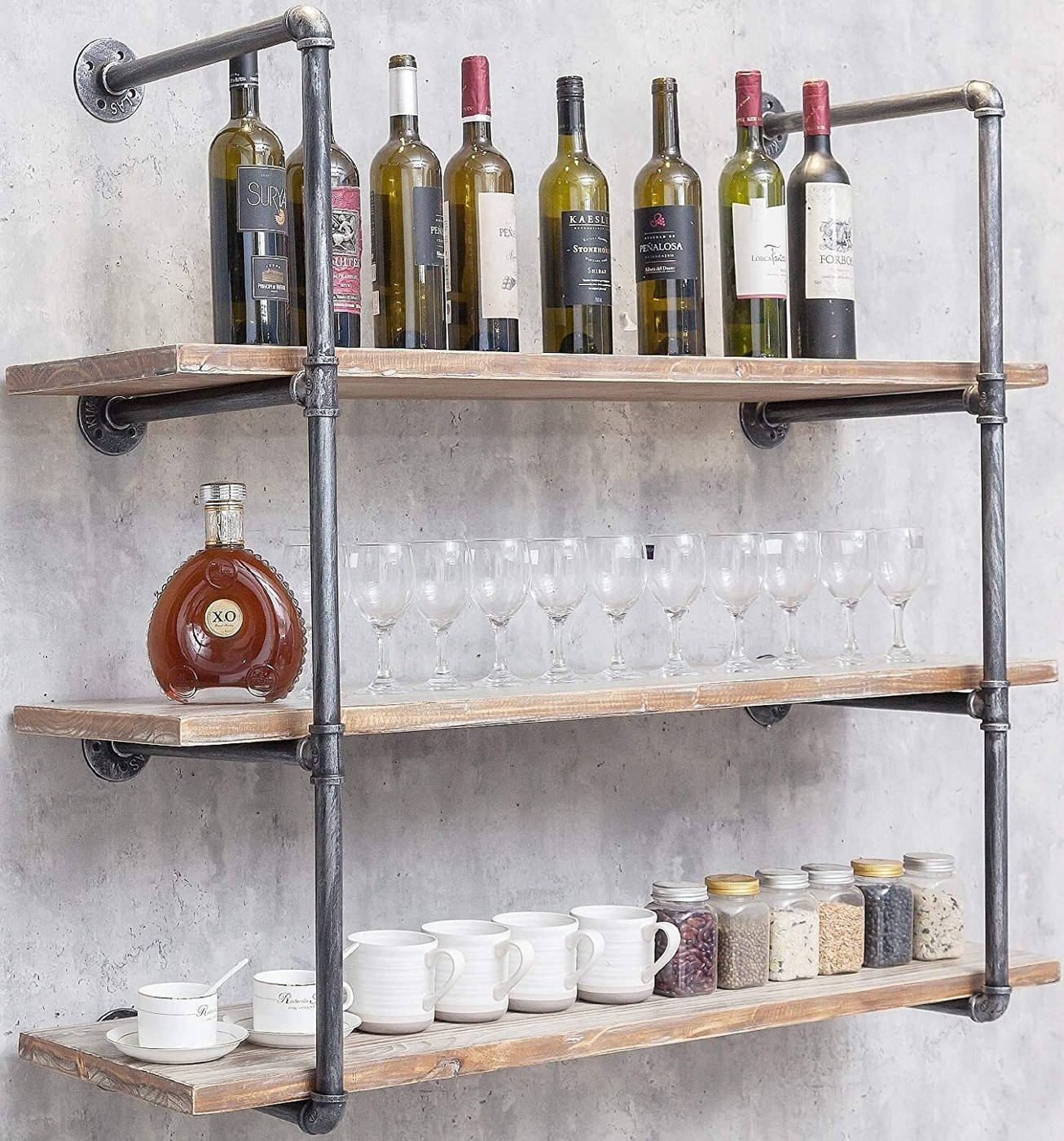 If your cookware and crockery are already stored behind closed cupboards, your open shelving kitchen could be used for a specific type of items or a theme. For example, how about a fancy bar area?
A narrower unit consisting of two or three shelves is perfect to keep all of your spirits and barware in one place: the top shelf for wine and liqueurs, the others for different types of glasses.
And why not add a few relevant ornaments and cocktail books, too?
8.

Make your kitchen look even bigger with a light wood finish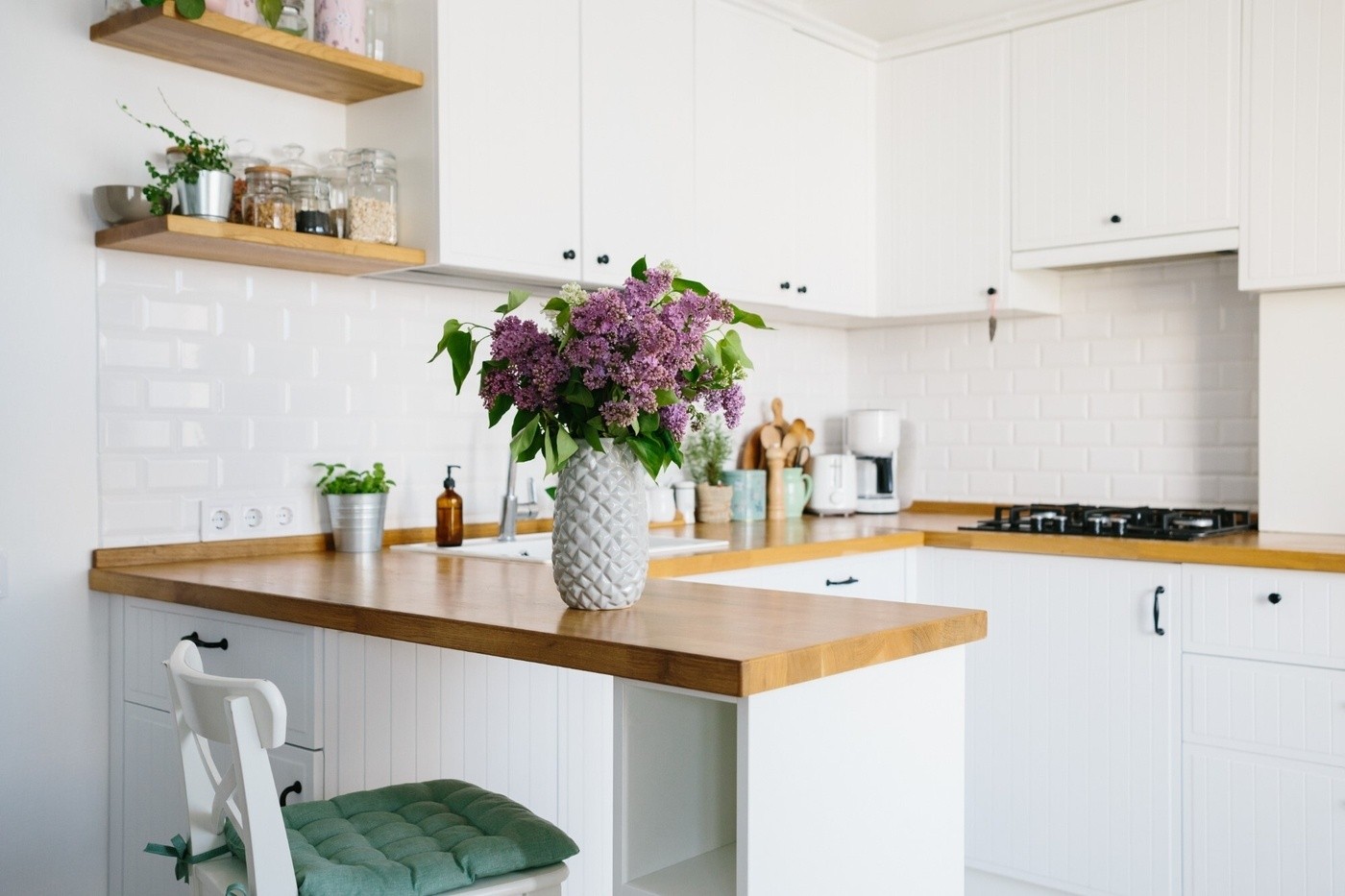 Whether you're only looking to add a couple of shelves or buying a new kitchen altogether, keep in mind that colors make a massive difference, especially in smaller rooms.
If space isn't a luxury, consider choosing a light wood finish rather than darker and heavier ones like mahogany. This will make your kitchen look airier and, consequently, bigger than it actually is.
Psst. To take this trick to the next level, you can also combine a white finish with light wood shelves.
9.

Mix shelves in different sizes to create separate sections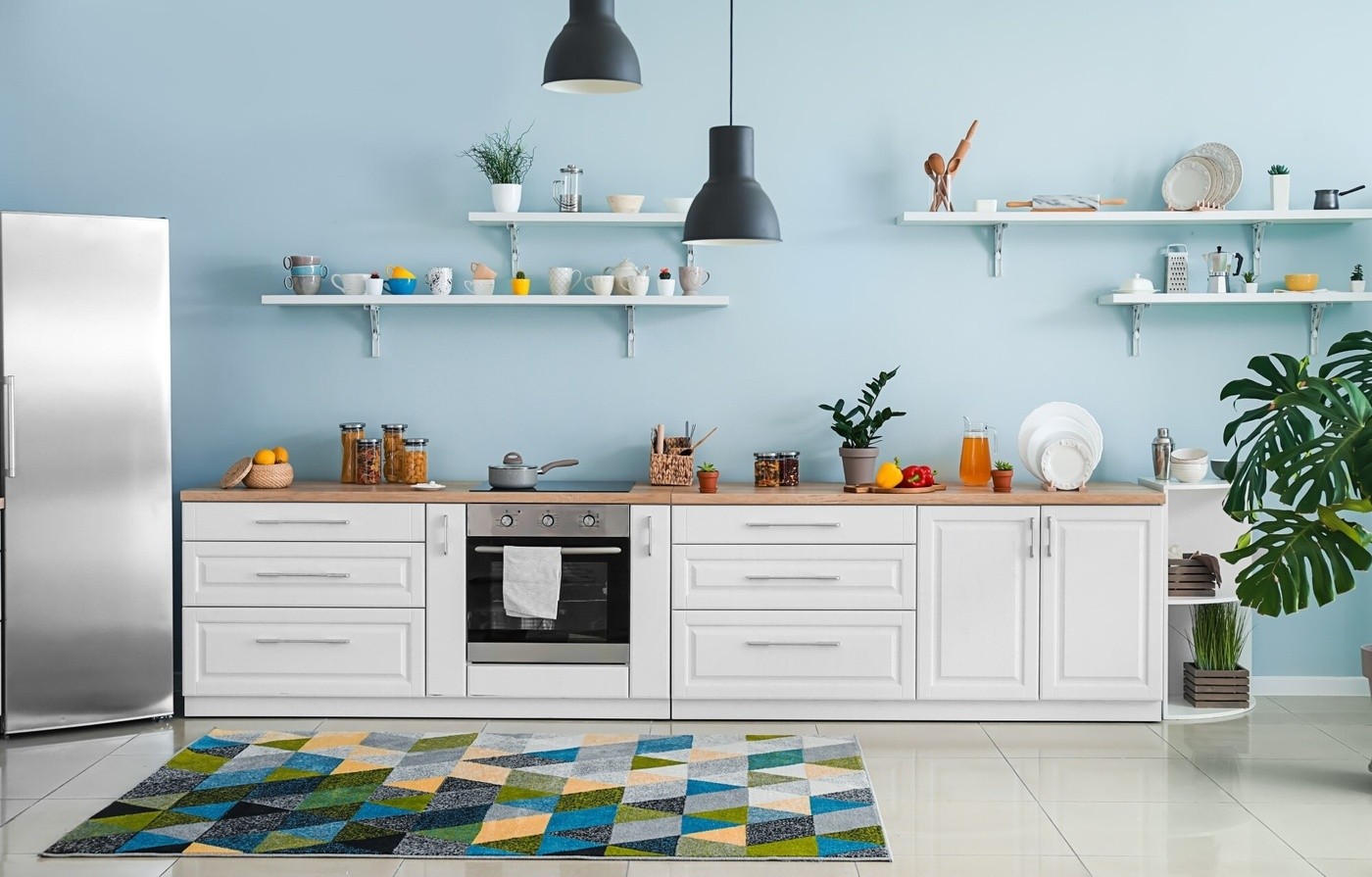 Another creative alternative to the two traditional long shelves is to experiment with many more of them but staying on the small side.
This idea is a lifesaver in kitchens that haven't got a wide wall area, perhaps because it's interrupted by elements like windows, cupboards, or a cooker hood.
Not only will it allow you to make the most of smaller portions of your wall, but it will also translate into a few separate areas, perfect to store a certain type of equipment neatly and all in one place.
10.

Enjoy the practicality of an open pantry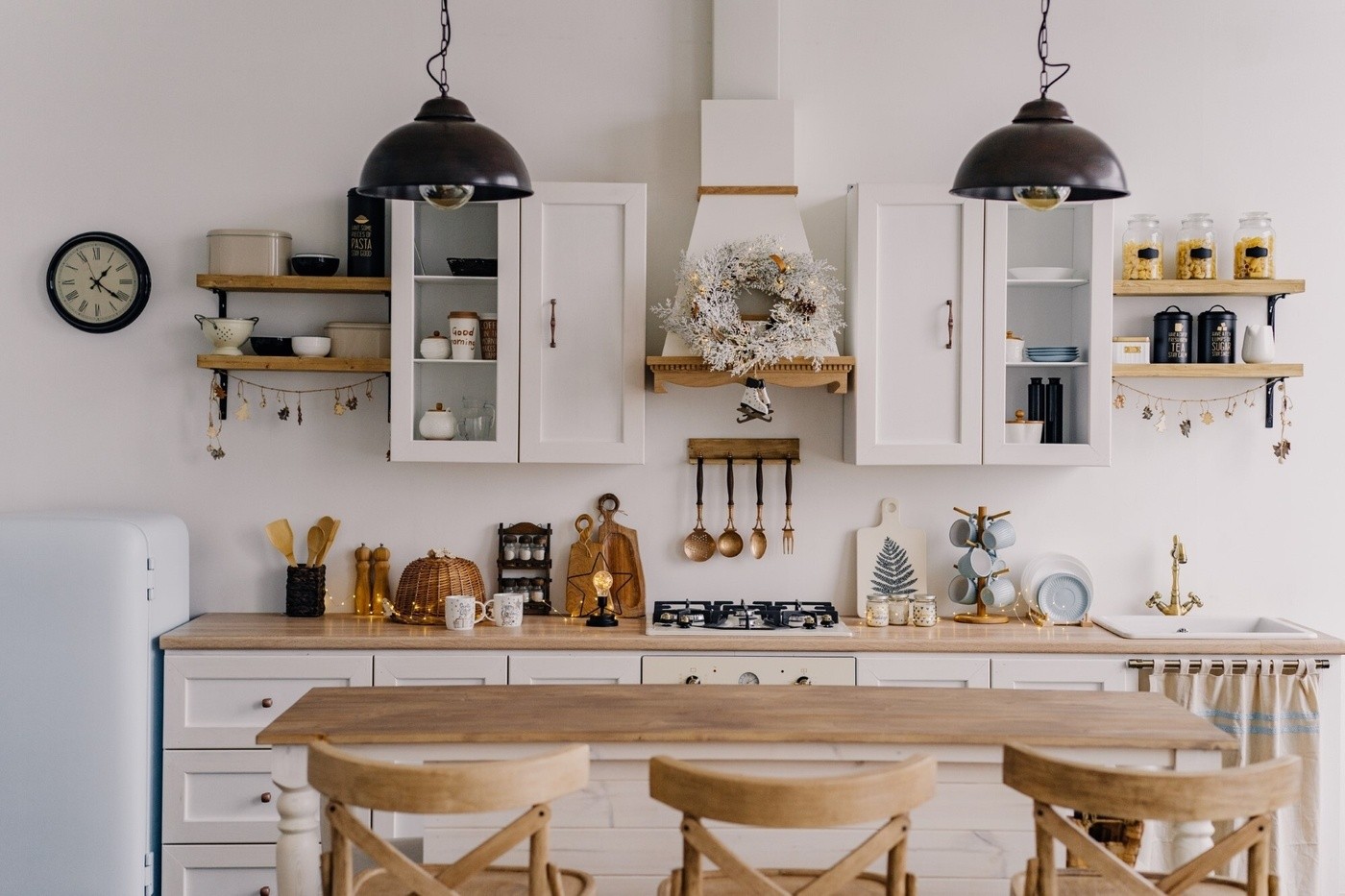 An open shelving kitchen isn't only handy for crockery and cookware: you can use it to create a beautiful pantry, too.
We're not talking about tins and canned food, of course, but carefully chosen containers like jars, canisters, and cohesive sets.
From pasta to baking ingredients and dried goods, it'll be even easier to keep track of what you're about to run out of.
11.

Remember that your shelves don't necessarily have to be big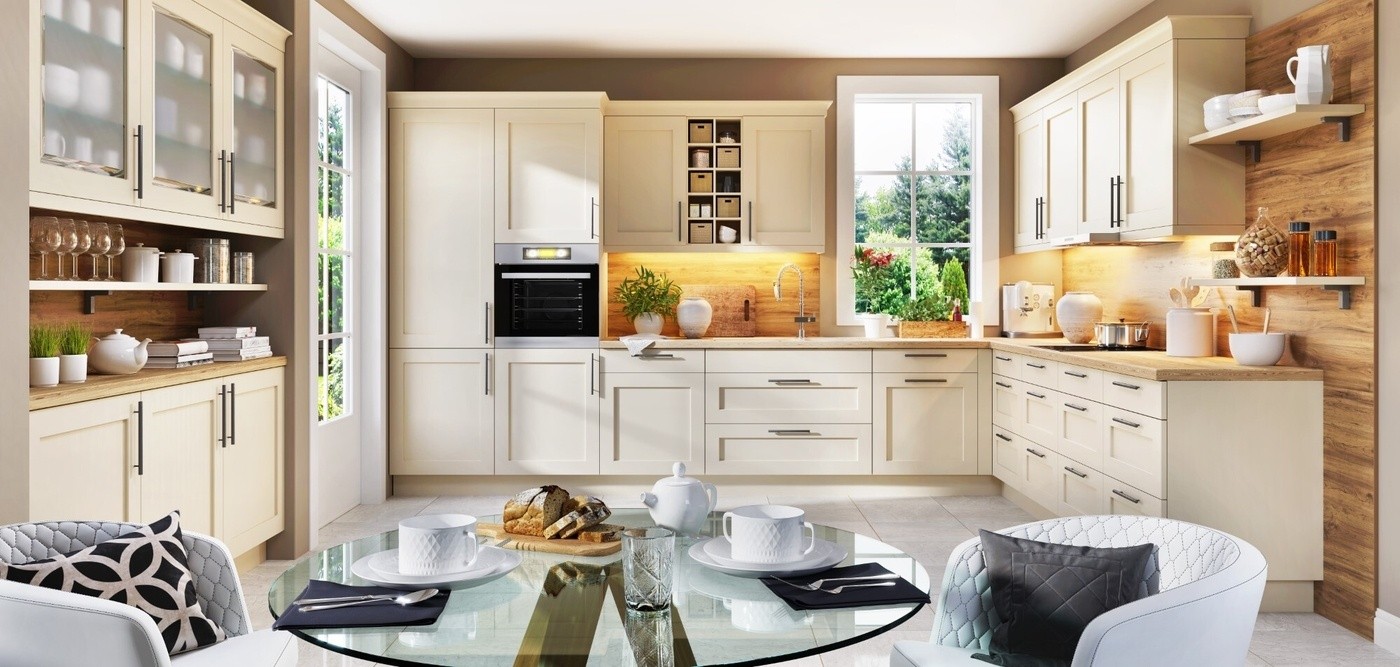 If you are head-over-heels in love with the idea of having an open shelving kitchen but seeing these wide arrangements got you worried about your small setting, relax.
Open shelves don't need to be too long. In fact, you can choose to have them as a stylish accent next to your existing cupboards.
12.

Add a touch of green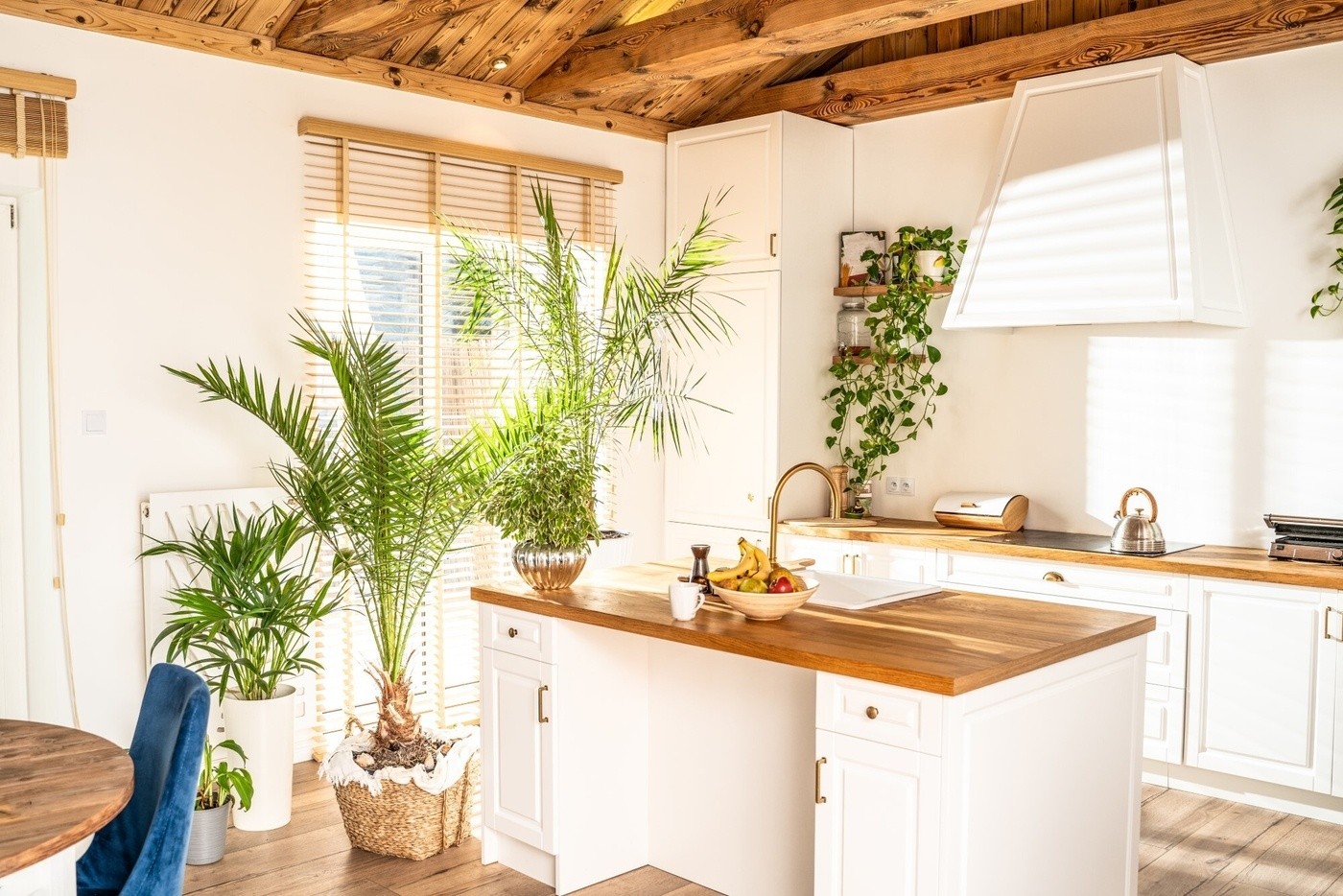 Another timeless way of bringing your kitchen to life is to introduce some plants or flowers (or both!). Obviously, what better spot than your open shelves?
You could place pots and vases on the side next to some more functional pieces, pair up some flowers with another decorative item (like a frame), or even dedicate your entire shelves to an indoor herb garden.
Whenever you're cooking, the last idea will certainly trump everything else when it comes to practicality and freshness!
13.

Not enough room on your walls? Consider an open shelving unit…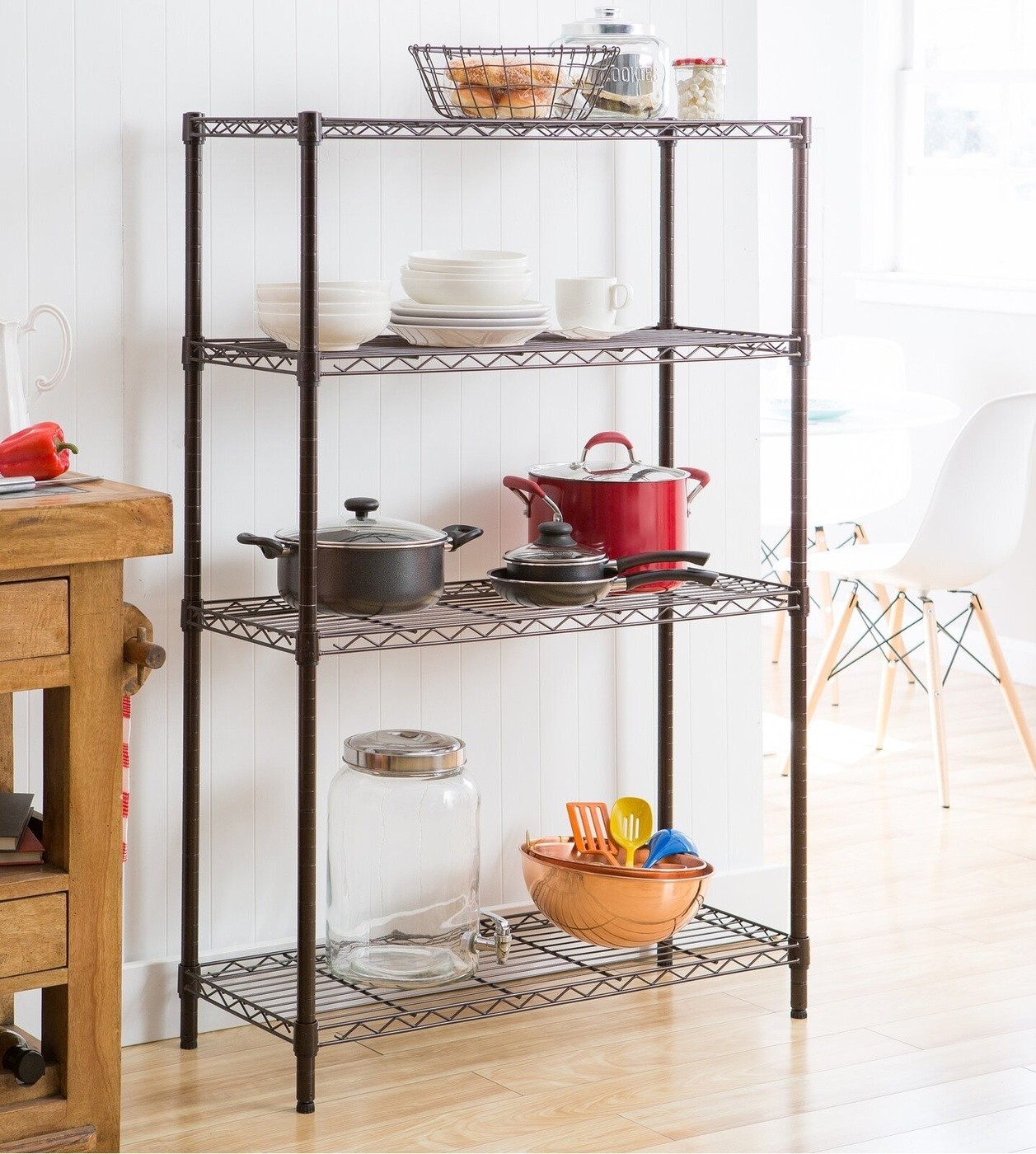 Traditionally, an open shelving kitchen relies on a few wall shelves.
However, if you haven't got much wall room left or you're currently renting and aren't allowed to make such big changes, shelving units are another practical and less permanent solution.
Whether that's next to your door or an empty corner, it'll be even easier to find a suitable spot in your kitchen, and you can always move them around if needed.
14.

…Or how about some suspended shelves?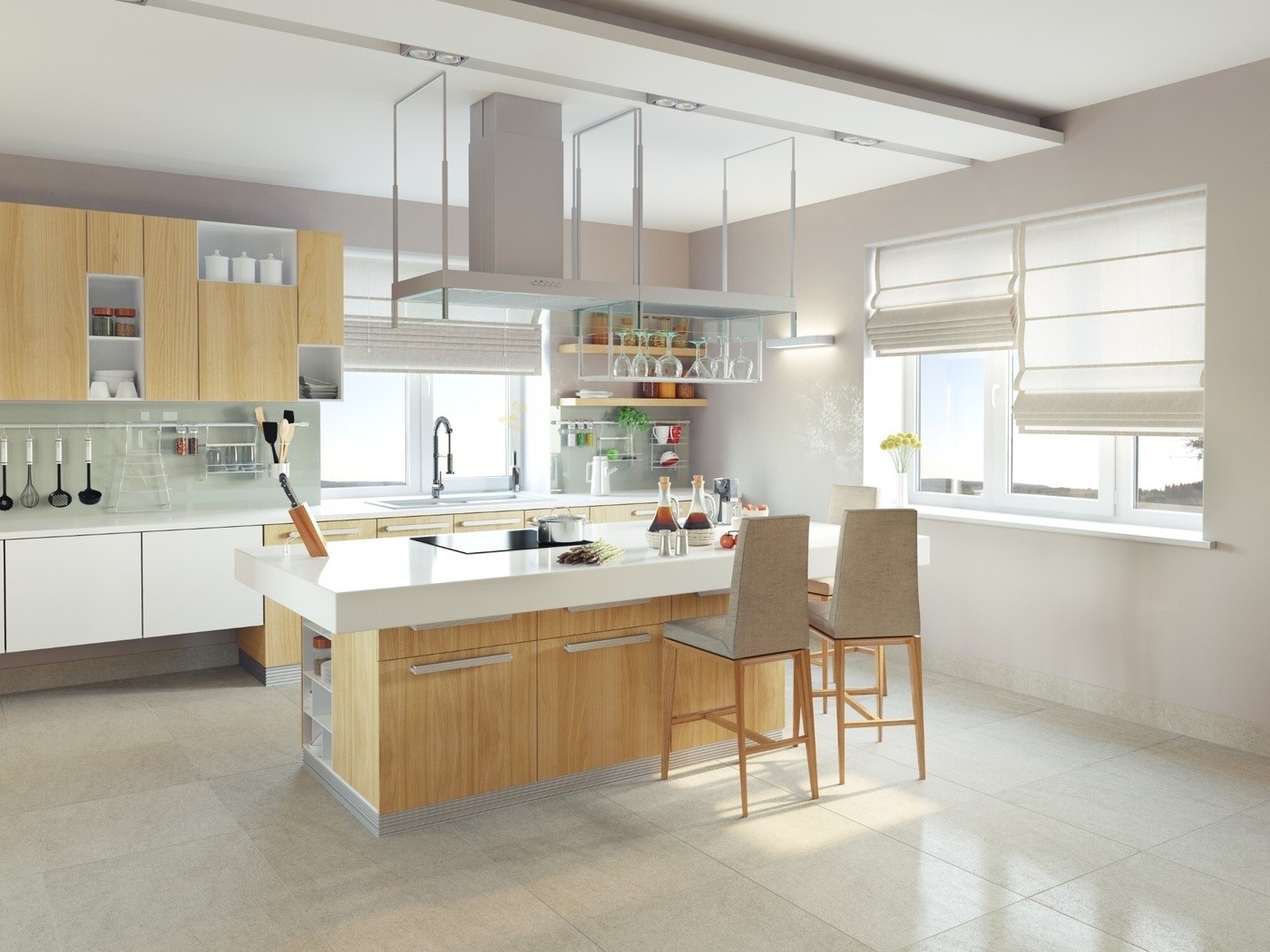 Another solution to the not-enough-wall-space pickle is to have your shelves fall (not literally) from the ceiling.
While, as you can see, it can work above your main countertop too, we particularly recommend this option if you have a large kitchen island in the middle of the room.
As long as you get used to placing a few selected items on them carefully (there won't be any vertical surface stopping them from falling on the other side, of course), it'll be both practical and stylish.
15.

Whatever you do with your open shelving kitchen, avoid clutter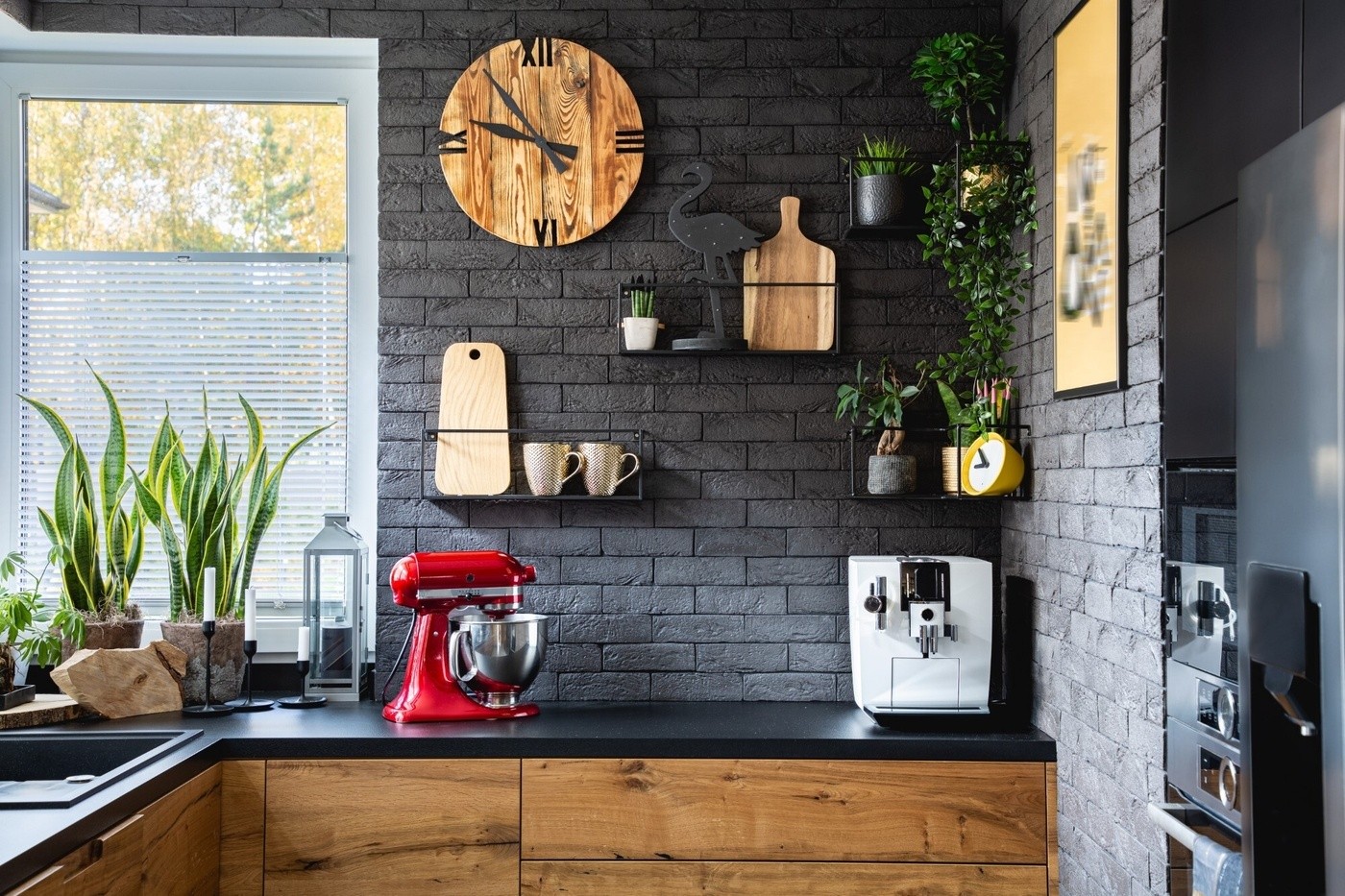 This is perhaps the most important tip to keep in mind if you're ready to introduce some open shelving in your kitchen: don't go overboard with items and equipment to store on them!
If you have quite a lot of pieces, it's better to keep most of them in your cupboard (tidily, though!) and only showcase a few selected items that look particularly cohesive or that you find yourself using more frequently.