Kitchen Rugs
Kitchen rugs are always a great addition to any kitchen. These decorative pieces add an understated touch of style to your existing kitchen décor. They will also give you a comfy place to stand on as you prepare meals for you and your family. This cushioned support ensures that you can stand for long without feeling fatigued. Kitchen rugs and their colorful splendor can also bring outstanding vibrancy in dull spaces. But in case you prefer something with a neutral tone, there's a great collection of rugs in that category for you. These rugs are available in a reasonable price range to cater to people on a budget.
Our choice Best Kitchen Rugs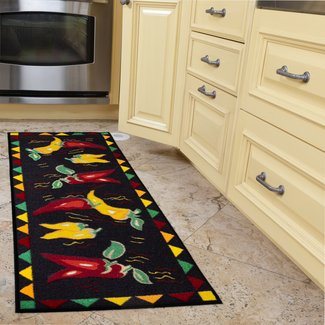 Troutt Kitchen Mat
Stylized peppers in bold hues set against a black background with a border in matching colors, ensure this runner rug will bestow a splash of color upon a traditional or bohemian kitchen.
The floor covering which has been woven from synthetic fiber also features anti-slip backing and is stain resistant.
Place in front of your kitchen island to prevent spills from staining your marble or wooden floors.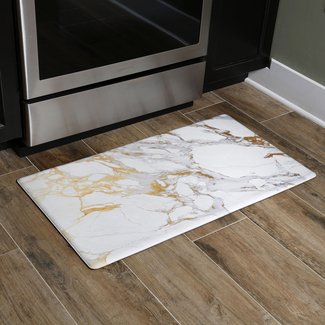 Cook N Comfort Marbled Anti-Fatigue Mat
Its glossy facade of white marble accentuated by black and white striations mean this floor mat will add a touch of opulence to any room it is placed in.
The floor covering which has been manufactured from rubber is also water and stain-resistant.
It is also especially durable and easy to clean in addition to being particularly versatile.
Place in a modern kitchen decorated in dark woods and chrome to provide its ambience with a subtle hint of glamour.
Chilton Oversized Eat Laugh Live Kitchen Mat
With its chalky print, art and scrollwork, set against a facade reminiscent of weathered wood, this mat perfectly captures the inviting nostalgia of traditional bistros.
The kitchen mat which has been manufactured from PVC, comes with a synthetic base. It is also easy to clean ensuring you will be able to keep it in a pristine state with minimal effort.
Place in an eclectic or shabby chic styled kitchen to further enhance its quaint charm.
Corrine 3 Piece Fruit Crate Kitchen Mat Set
Inspired by vendors' hand painted fruit signs, this mat set is ideal for a traditional or rustic kitchen.
The three-piece ensemble which has been manufactured from nylon and latex, is not only machine washable, but is also low-profile for additional safety.
Place at points with heavy traffic and activity in your kitchen to protect your flooring from stains and spills.
Ghugas Kitchen Mat
Brought to you in a shimmering metallic pale blue, this large kitchen mat is an ideal choice for bestowing an alluring accent color on an urban modern or contemporary kitchen.
The low-pile covering which has been printed on fine Jacquard weave and manufactured with heavy cotton backing, is ideal for heavy traffic areas.
It is also easy to clean and suitable for vacuuming.
Use to prevent spills close to your sink to reduce the risk of slipping while you prep your meals.
Saez Premium Comfort Standing Kitchen Mat
Designed to ensure anti-fatigue and prevent slipping, this neutral toned kitchen mat will fit right in with your kitchen's color scheme.
Manufactured from polyurethane foam, the floor covering has been designed to be especially shock absorbent and durable.
In addition to being eco-friendly, it is also odorless and non-toxic making it a safe option for an environment in which food is prepared.
Ayaana Pizza Menu Anti-Fatigue Mat
Inspired by outdoor pizzeria menus, this kitchen mat will enable you to suffuse your home with inspiration from your favorite restaurants.
Manufactured from 100% PVC, this floor covering is not only stain and water-resistant, but is also anti-fatigue and comes with anti-slip backing.
Place in an industrial or contemporary-themed kitchen to balance out its metallic and natural wooden surfaces with its subtle color combination.
Bouck Comfort Kitchen Mat
Featuring a traditional carpet texture in a bold red, this kitchen rug is ideal for contemporary, traditional and minimalist themes.
Manufactured from PVC, this floor covering is also easy to wash and comes with a low-pile to prevent tripping.
Take advantage of its rich hue to elevate the color palette of a kitchen in gleaming steel and pale natural surfaces.
Rishel I Love My and Utensils Kitchen Mat
A quaint, hand drawn design, featuring checkered detail, in gently blended colors, lends this mat a playful, yet stylish quality.
Manufactured with anti-slip backing, this kitchen mat is also stain and water-resistant. It is also easy to clean and is suitable for vacuuming and spot cleaning.
Make use of its whimsical appeal to add depth to a kitchen decorated in pastel tones.
Easterbrooks Lemons Kitchen Mat
This citrus-themed kitchen mat in bright yellows and dark greens is the perfect choice for adding a lively, summery allure to your surroundings.
The floor covering which has been manufactured with PVC foam and non-skid embossed backing is also fatigue and stain-resistant.
Take advantage of its multipurpose efficiency to enhance the functionality of your kitchen, dining room or sun room while imbuing it with an enlivening touch.