This fall and winter, there's no need to hibernate inside and wait for spring to enjoy the fresh air. Make the most of your patio space year-round by investing in one of these unique and cozy options to warm your outdoor living area.
There are various ideas for heating your patio on Foter.com to inspire you to spend more time outdoors this season.
Fire Pit
Outdoor fire pits are becoming a hot trend in North America, and this fall season is the perfect time to try one out for yourself. With many varieties available, you're sure to find an appliance that fits your needs.
The fire pit table is a modern take on the classic campfire and makes an elegant addition to your patio. These designs consist of a basin containing the fire built out of steel, polyresin, or stone, and the fire burns in the middle of it. This means that it is portable and can be moved to different locations around the patio, and you can purchase models that are safe for use on wooden decks.
While it is possible to purchase wood-burning fire-pits, most on the market are propane or natural gas. It's essential to check the fire codes in your county to see if you require a permit to burn an open wood fire. In most cases, propane or natural gas is a safer and simpler option for individuals living in urban or suburban areas.
The fire pit is a perfect way to stay cozy in the cold while enjoying the patio space. You can huddle around it with friends, enjoy hot chocolate, and sit out under the stars. Many of these fire pits also come with a table edging so you can eat around the fire while socializing.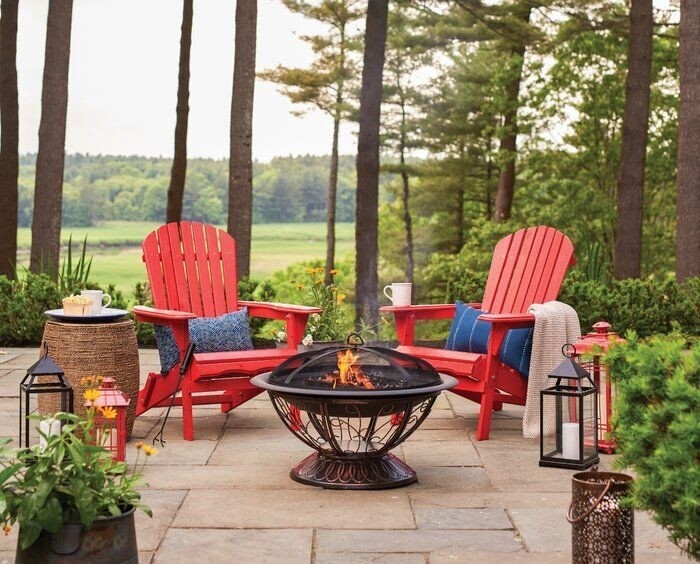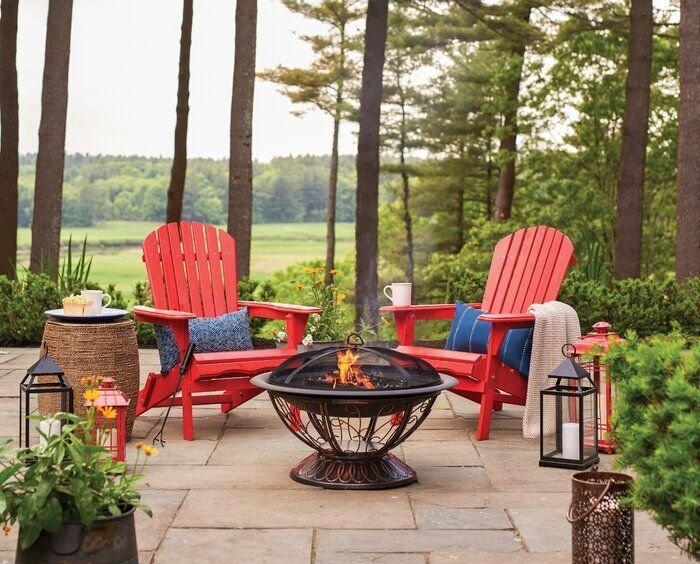 Portable Electric Fireplace
An outdoor electric fireplace for the patio is fantastic to stay warm and add some charm to your outdoor living space. There are many styles available, ranging from a 23" portable flame and log sets to a traditional black stove with 3D LED artificial flames.
Electric fireplaces are perfect for your patio as an energy-efficient and safe way to heat the area. They also have a long lifespan because they're not as likely to rust or experience corrosion. Many of these products also have an automatic shut off feature for your peace of mind.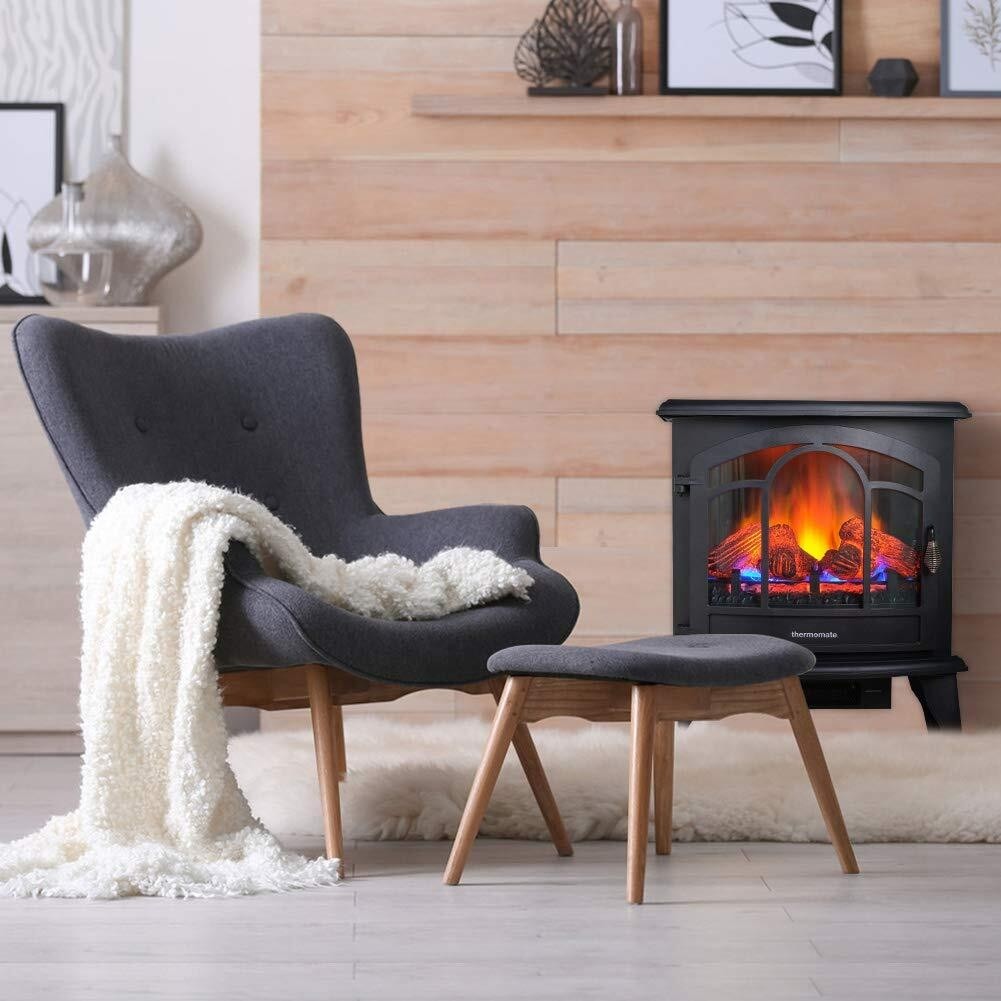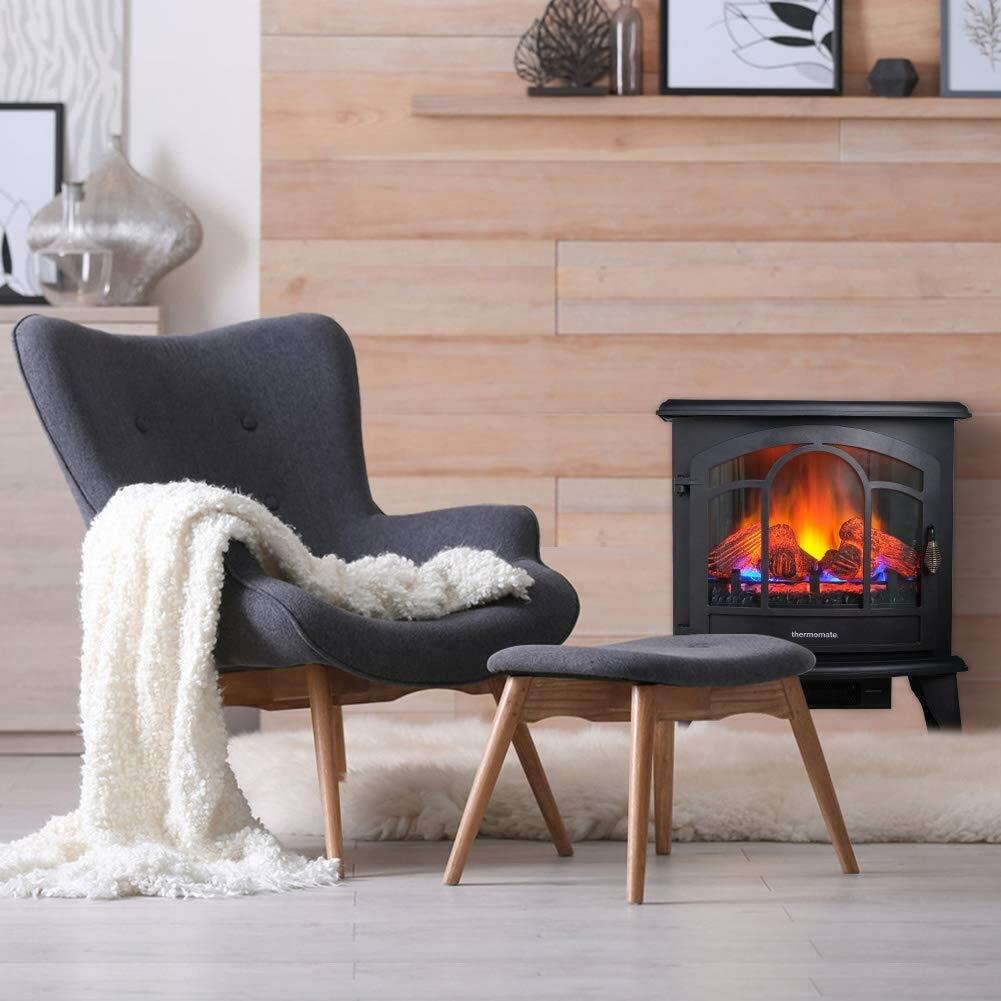 Custom-Built Fireplaces
Custom fireplaces are an attractive feature for your yard and enhance your outdoor entertaining in the fall and winter months. The advantage of this option is that you can choose a size and shape that complements your patio area and optimizes the layout for entertaining your guests.
You can add fun features to these customizable fireplaces like a pizza oven or a grill. Custom fireplaces are an expensive investment, so make it worth your while by creating a space you want to entertain in all year round.
An outdoor fireplace with a custom-built chimney will take your patio to a whole new level. This charming aesthetic not only keeps you toasty warm in the winter, but it is also a dramatic statement piece. Getting an outdoor fireplace that will stay with the house can increase your property value long-term and make your home more intriguing to potential buyers.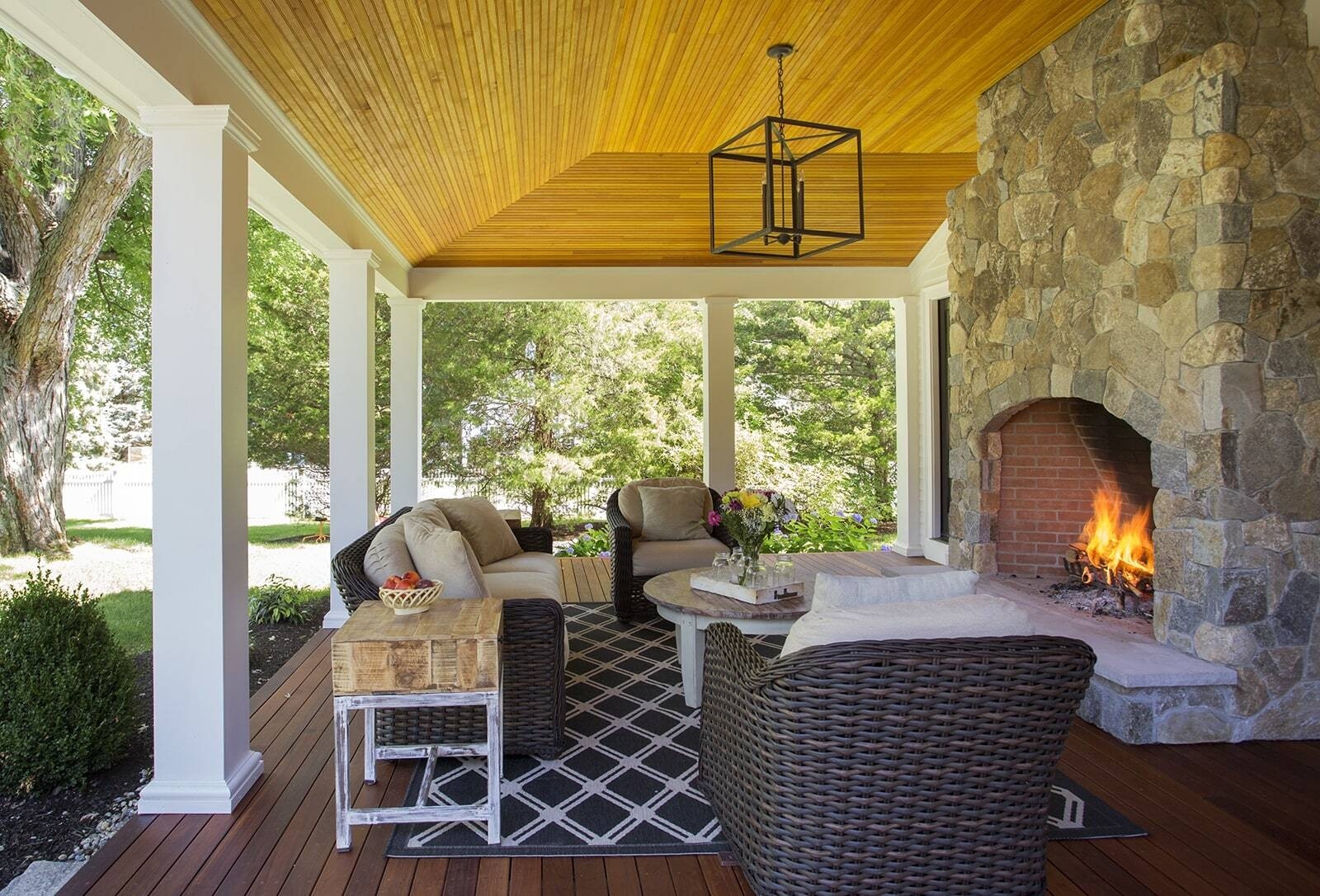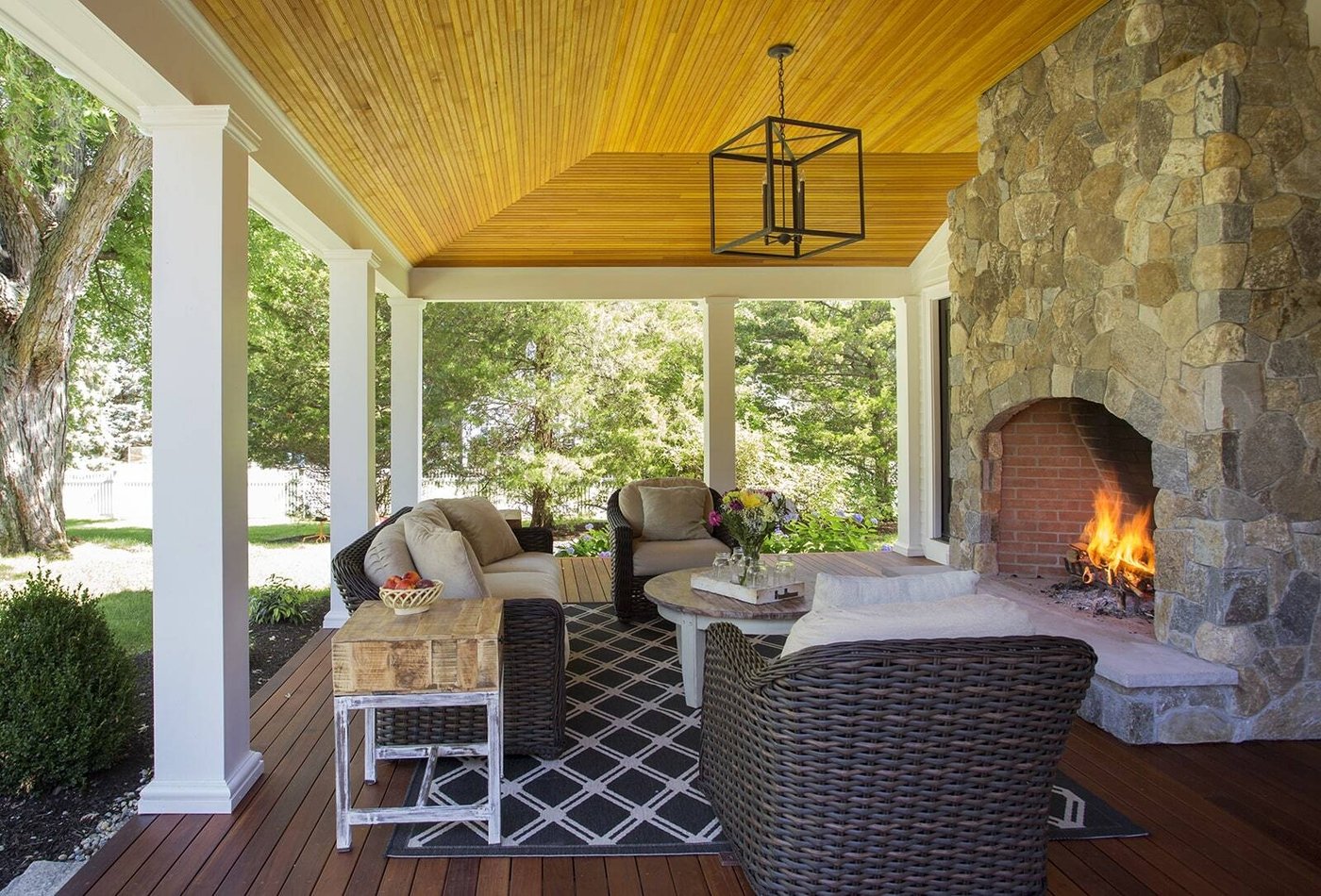 Outdoor Chimineas
Chimineas are freestanding, front-loading fireplaces with bulbous bodies and vertical chimneys for smoke release. These decorative and portable outdoor fireplaces are great for heating and cooking in outdoor spaces.
Cast iron is the most common material for these outdoor heat sources, but they are traditionally made of clay, which offers efficient heat retention. Affordable, easy to use, and charming with its rustic look, a chiminea can be the perfect way to stay warm outdoors for the winter and decorate your space.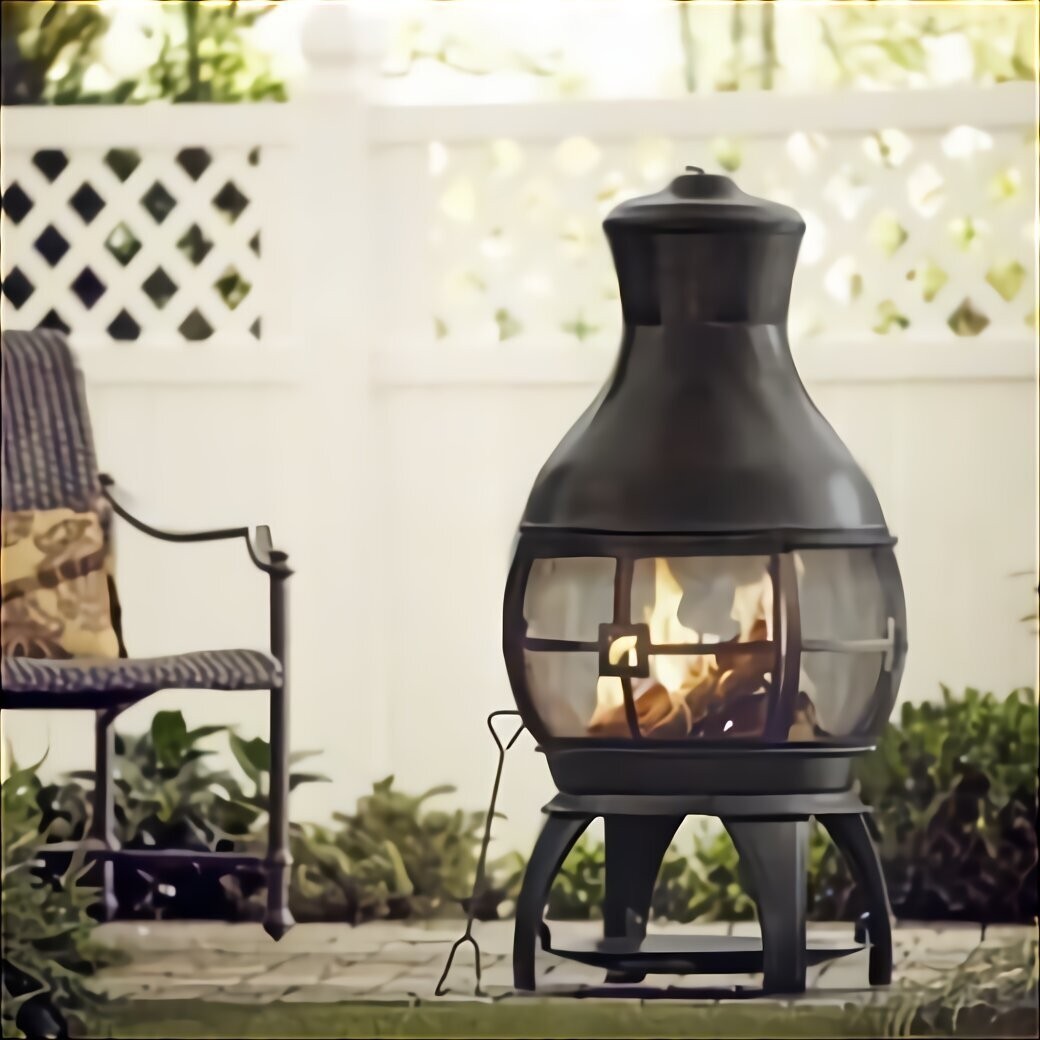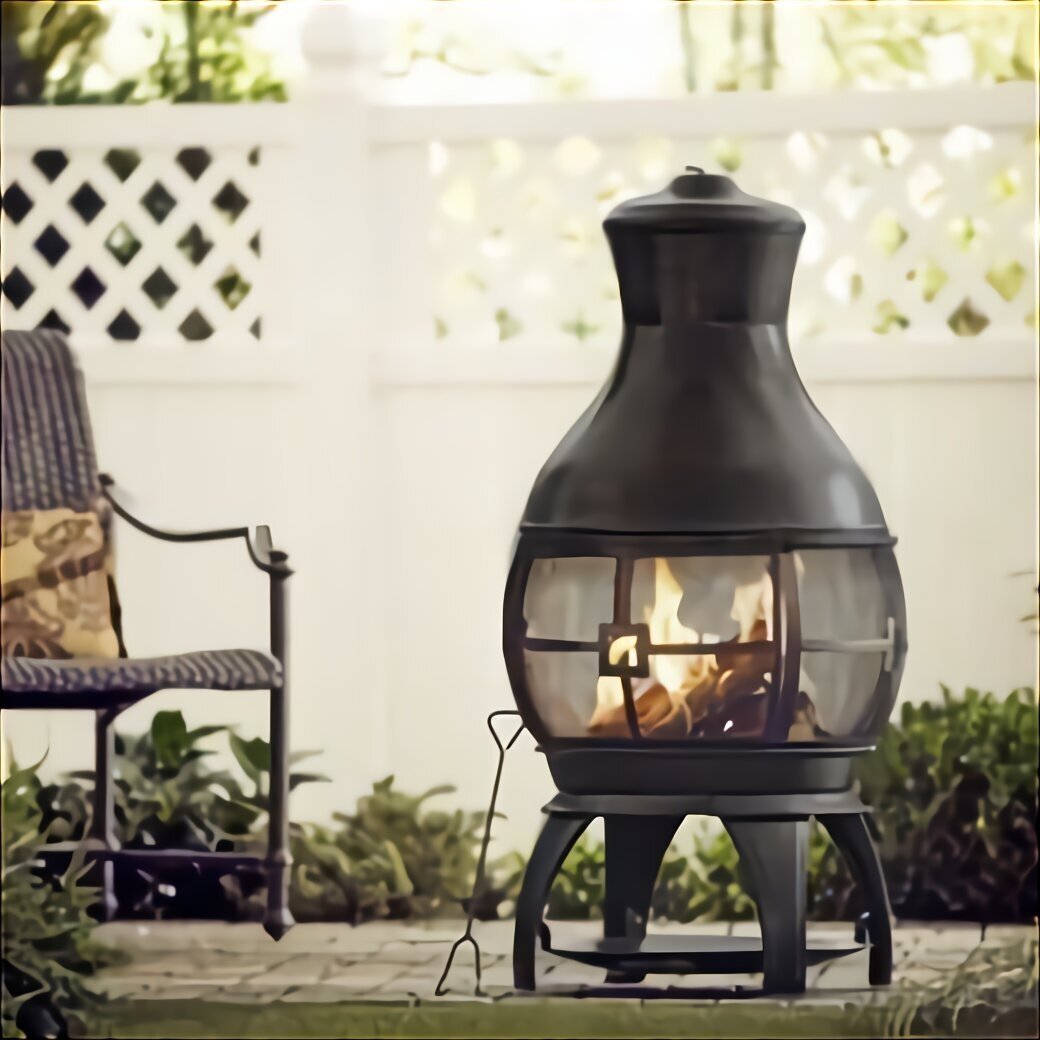 Heat Lamps
Electric heat lamps are a perfect budget option for warming your patio through the cold months. Outdoor heat lamps come in all shapes and sizes, so you'll find the ideal fit for whatever your patio space allows.
Heat lamps are available in standing, mounted, and hanging varieties. You can choose a tall stand for standing lamps that emanates heat from above or a smaller light that sits on the patio and heats at ground level, keeping your legs and toes warm while you're sitting outside. You can find many products with an automatic safety shut off so they won't overheat if you accidentally leave them on when you've had a busy evening entertaining.
Mounted heat lamps can be fitted to the side of your house to heat the patio from above and provide a cozy infrared glow at the same time. These lamps generate electric heat, but you can also find heat lamps powered by propane.
Hanging Heaters
Outdoor hanging heaters are an attractive option for warming patios in the fall and winter. They can be decorative and functional, so you can coordinate the heater's style with your patio furniture to create a cohesive aesthetic.
Using an infrared electric heater is far cheaper than heating your patio with propane, and it's also a more environmentally friendly option because it doesn't produce carbon emissions. Clean and odorless, infrared electric heaters are safe for use with your family and friends.
These hanging heaters are great for patios with a gazebo to create a warm room where you can entertain outdoors comfortably.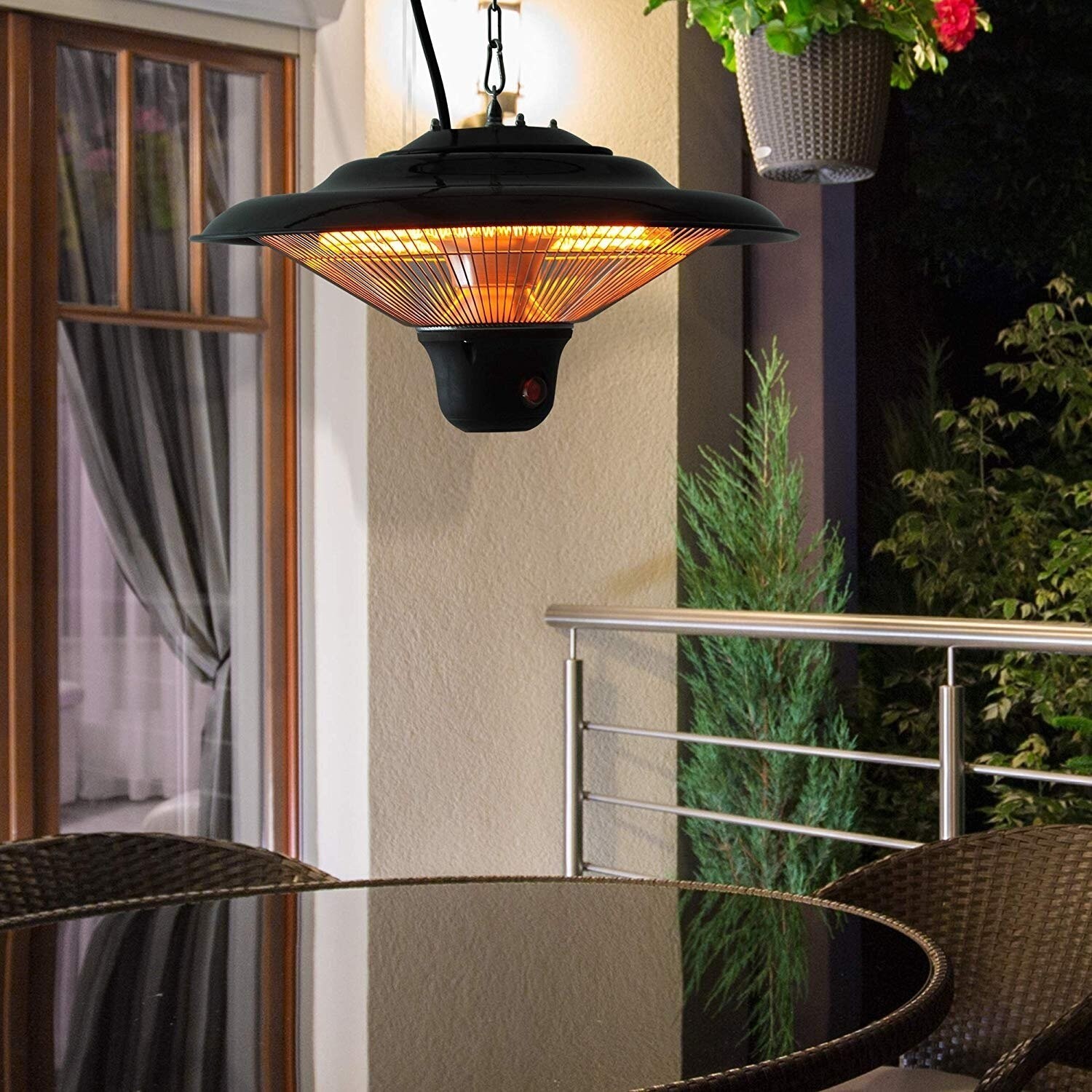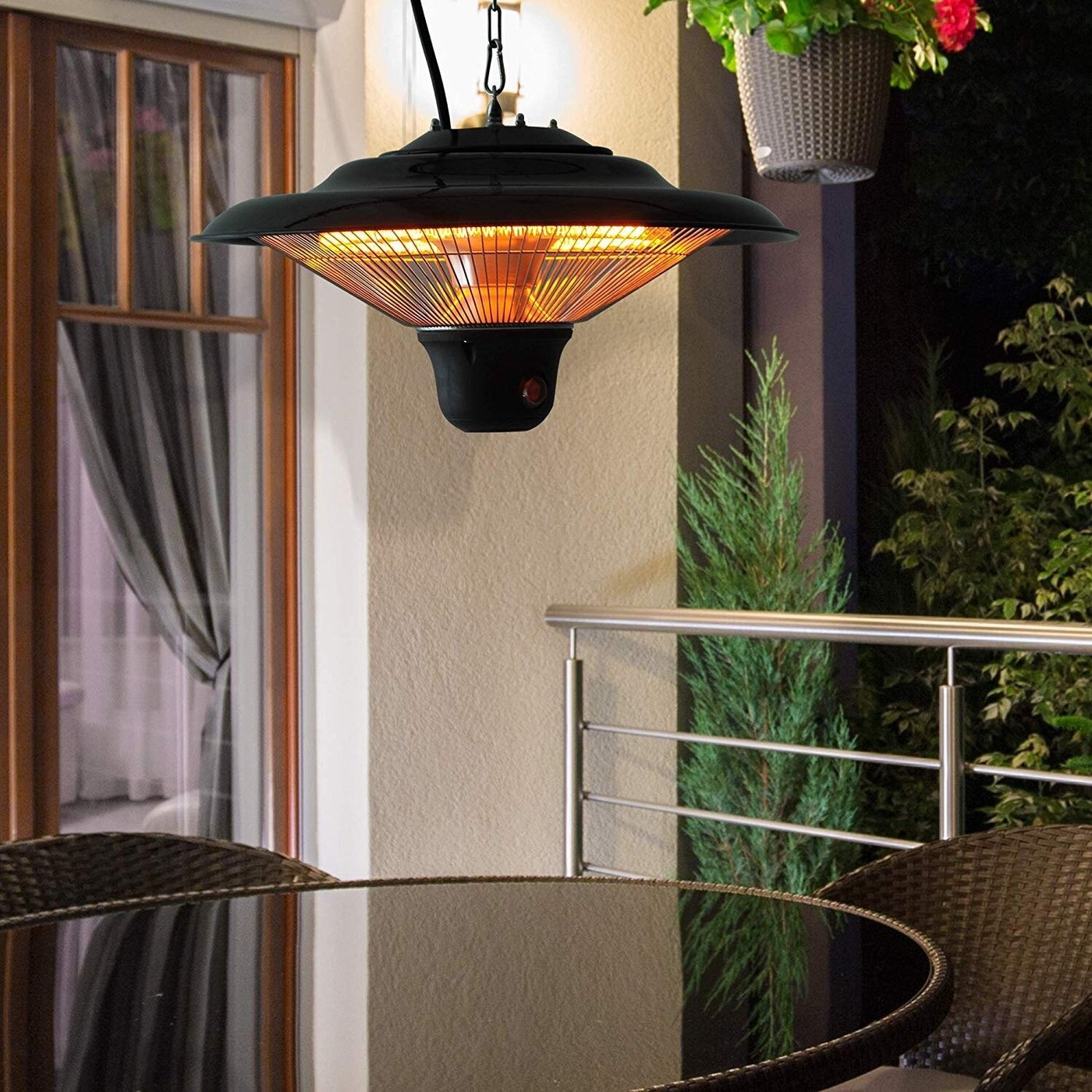 Table Style Outdoor Heater
Electric patio heater tables keep patio season going all through November and December in the northern hemisphere. These ingenious heaters are built into a free-standing table's base leg to warm your legs while you sit or stand around the table.
A popular model is a bar-style tall, round table for standing at and socializing with an infrared radiant heater in the base.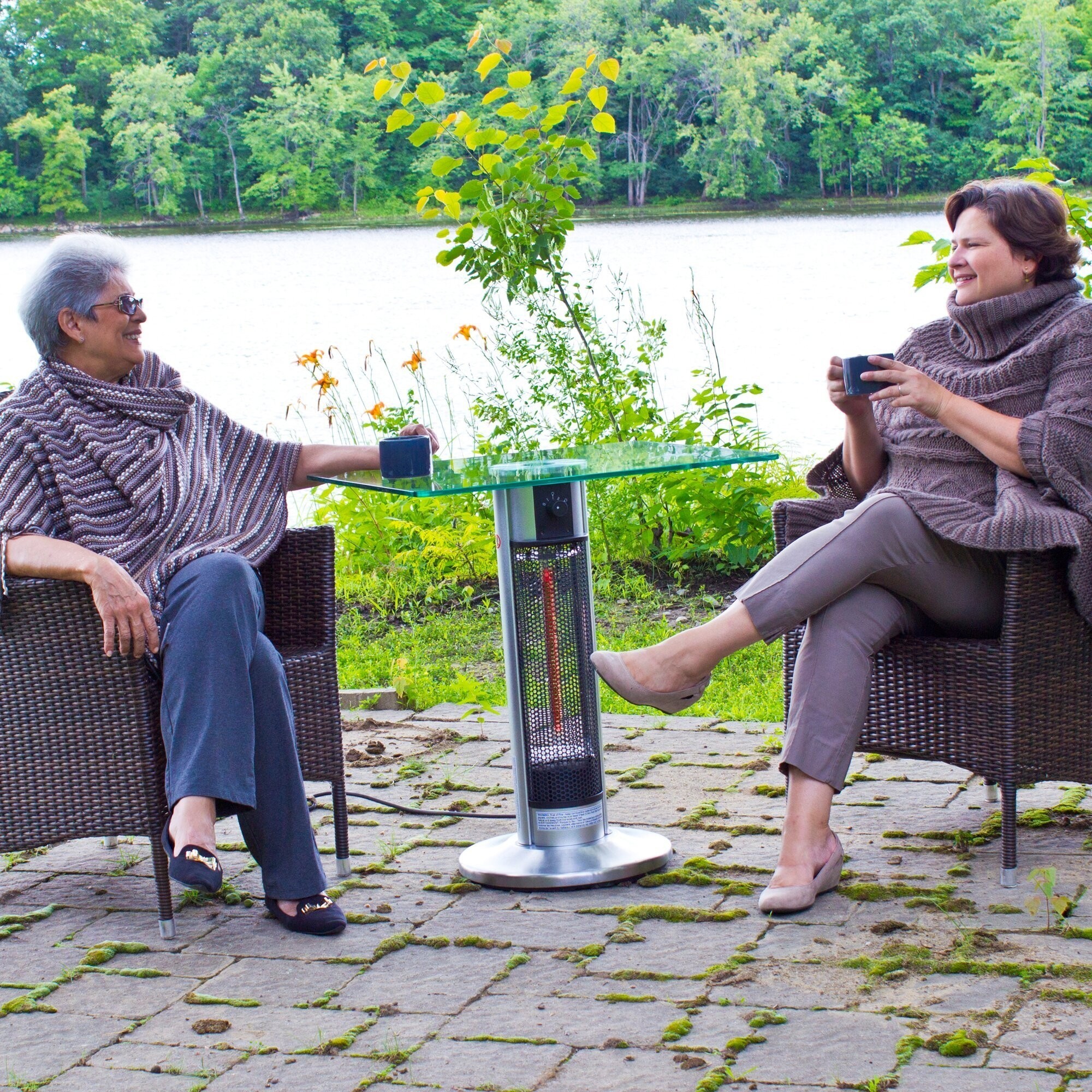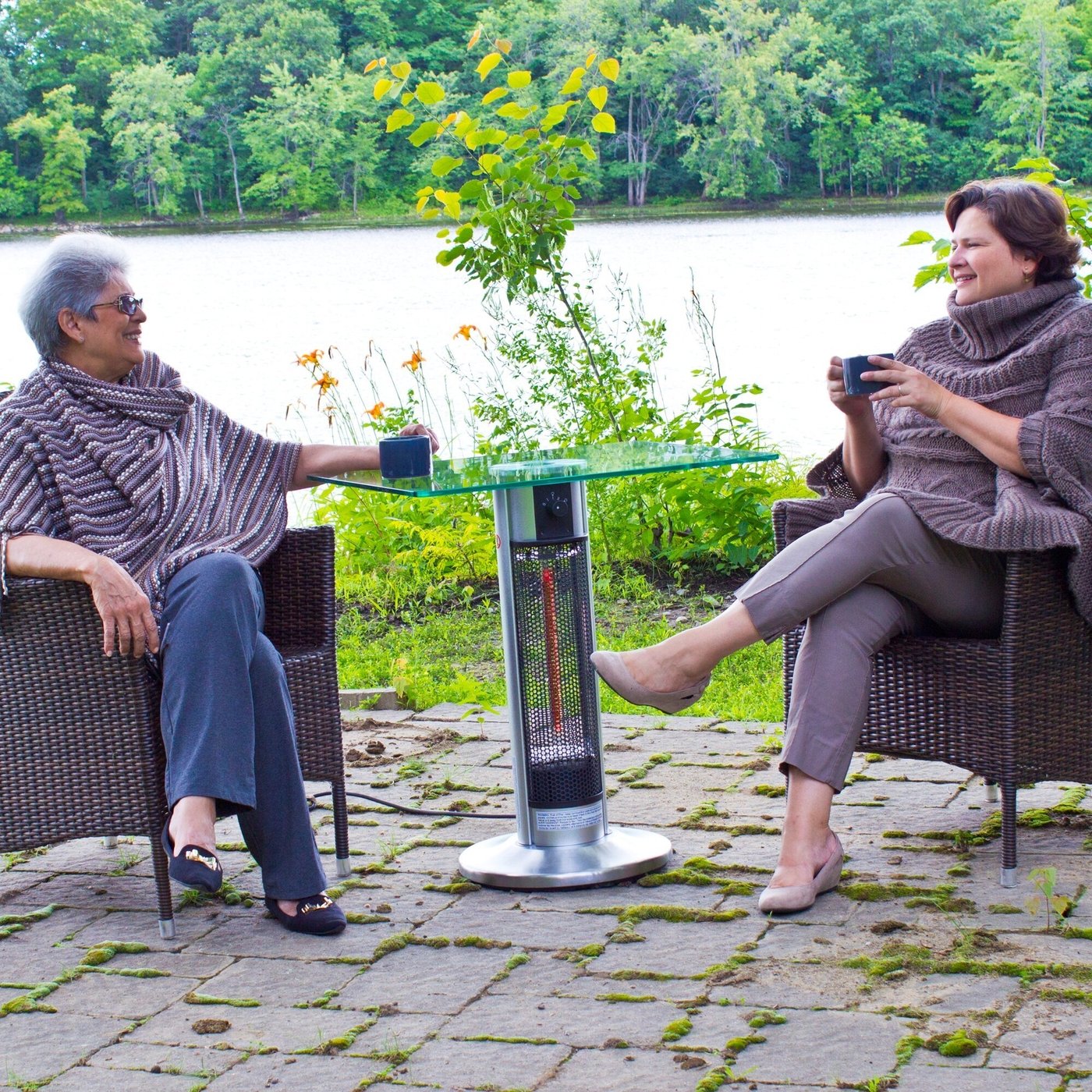 The Right Heater For Your Space
The right choice for you depends on several factors, mainly the patio's size and shape you are trying to heat. For a smaller space, consider something portable, so you're not permanently losing precious patio area.
If you're on a budget, then heat lamps and hanging lamps are fantastic choices. If you're planning to make this your primary entertaining space year-round, then investing in an outdoor electric fireplace or a chiminea will pay off long-term and increase the value of your home.