Our Choice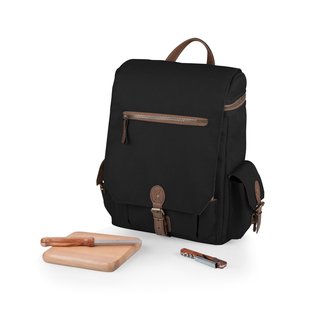 4 Piece Mickey Mouse Moreno Bottle Wine and Cheese Tote Set
Chic with a vintage charm, this wine tote is the perfect choice for picnics and get-togethers. Featuring a compact wine cooler and adjustable dividers to store your wine and food, you no longer need to carry around multiple bags during your outings.
It can hold up to three bottles and already comes with picnic necessities: a hardwood cutting board, a sturdy cheese knife, and a waiter's corkscrew. Convert into a messenger bag or backpack using the adjustable strap.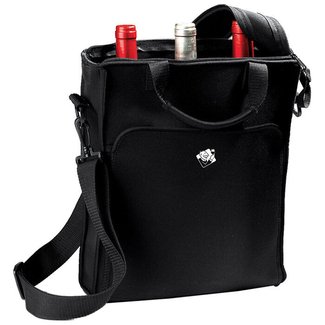 3 Bottle Neoprene Wine Tote Carrier
Spacious enough to carry 3 bottles of wine yet compact in size, this wine tote is versatile and multifunctional, making it a great option and gift for wine lovers.
Made of neoprene with a black finish, this sophisticated wine tote is lightweight, ensuring easy portability, and features a large exterior pocket and 2 gel packs to keep your wine cool. You can use the adjustable strap to carry it as a messenger bag or detach it and use the padded carrying handles instead.
Two Bottle Carrier in Blue
Forget about wine totes whose straps easily snap. This wine carrier offers a sturdy and adjustable shoulder strap that can carry up to three bottles of wine while keeping them secure and at the proper temperature during your picnics and excursions.
It's both functional and stylish, featuring a thermal shield insulation, a durable canvas structure, and an antique-inspired design that's sure to receive compliments. Place your corkscrew in the interior strap at the top for easy access.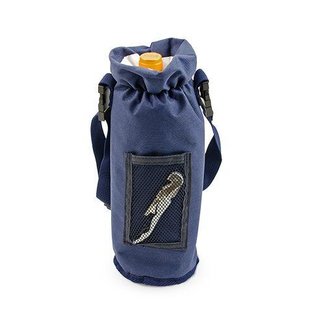 Grab and Go Insulated Bottle Carrier
Easy to grab and carry around outdoors, this wine bottle carrier offers a practical and easy solution to keep your wine or champagne bottle safe and sound while on the go. It can keep your beverage cool all day, guaranteeing a refreshing drink during outdoor festivities.
Made of polyester, this wine tote has an insulated waterproof design that fits a standard bottle and features a corkscrew compartment and removable strap.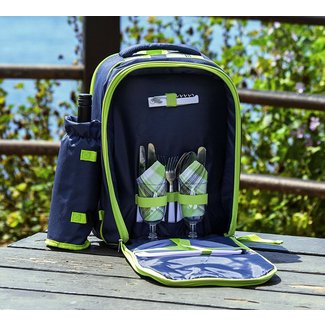 Picnic Backpack Cooler Tote with 2 Place Setting
Perfect for outdoor activities and trips, this roomy picnic backpack and wine tote can hold your bottles, food, and picnic essentials all in one place. The backpack is equipped with melamine plates, stainless steel forks, spoons, knives, acrylic wine glasses, and plaid napkins for two along with a bonus cheese knife and corkscrew.
It features a poly-canvas construction that's water-resistant, insulated, durable, and includes a cooler section and a spacious insulated compartment to keep your beverage and food cool.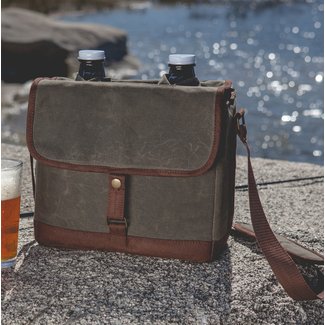 Double Growler Tote
The versatile waxed canvas design with vintage-inspired accents make this growler tote the right choice for tasteful adventurers and campers.
Featuring an insulated and padded interior, it perfectly fits two 64oz bottles while keeping them secure and cool, and can get even more spacious when the interior divider is removed. Its adjustable shoulder strap offers an easy way to carry the bag during your outings. Don't worry if your bottles are tall, simply use the peek-through openings to accommodate them.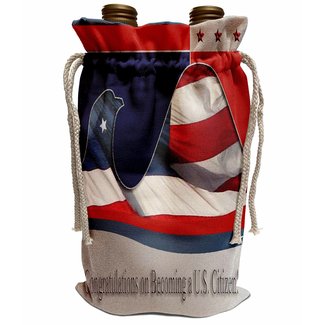 Congratulations on Becoming a U.S. Citizen, Flag Eagle Wine Bag Carrier
This wine carrier is the perfect gift for your friend or loved one who happens to be both a wine-lover and new U.S citizen. Congratulate them on their new milestone by giving them this eco-friendly reusable wine bag that can also be used to store other items.
Made of a durable canvas fabric printed with the U.S flag and colors on one side, this wine bag can hold up to two bottles and features drawstrings for easy portability.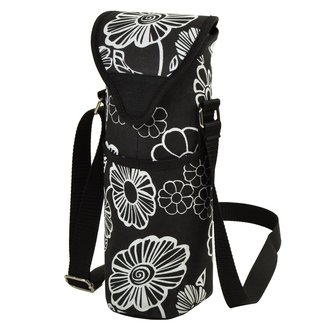 Night Bloom Wine/Water Bottle Tote Bag
Keep your beverage safe and at the right temperature with this chic wine tote bag. It features an adjustable shoulder strap, offering easy carrying during picnics and other outdoor events, and an insulated and waterproof interior.
This single bottle bag is lightweight and compact in size, includes a front pocket for smaller essentials such as money, and a hook-and-loop fastener for easy access. Use this bag to hold your water bottle instead if you don't drink wine.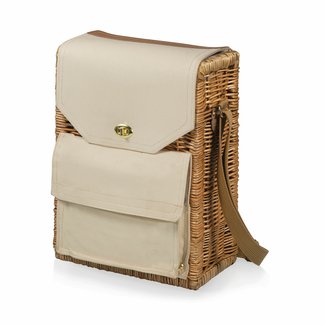 Corsica Wine & Cheese Picnic Basket
Featuring a stylish design and complete functionality, this wine and cheese basket is the perfect addition for those wanting a unique and sophisticated accessory for their outings. Its woven wicker and polyester canvas body with leather accents create an eye-catching ensemble, perfect for romantic picnics and adventures in nature.
This basket has an adjustable shoulder strap, can hold two bottles of wine, and comes with a waiter's corkscrew, cutting board, and cheese knife each in their designated compartment.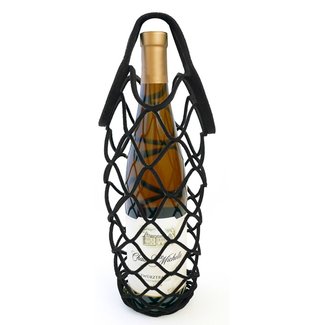 Net Single Bottle Carrier
Elegantly flaunt your fancy wine in this net bottle carrier. It features an elaborately cut pattern in black that showcases the bottle's details and colors.
This tote bag is reusable, multipurpose, and sophisticated in design. You can use it to carry all kinds of beverages, impress your hosts during fancy dinners, and use it as a coaster to protect and add a unique touch to your table.