Our Choice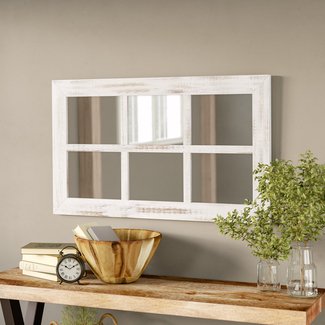 Harr Rustic Windowpane Farmhouse Distressed Accent Mirror
Add a touch of farmhouse charm and elegance to your home décor with this distressed accent mirror. It's made of solid wood with a weathered and perfectly whitewashed finish. Its thick windowpane frame creates a rustic appeal and its mirror panes leave a brilliant reflection to expand our living spaces. The framed mirror comes ready to hang out of the box complete with hanging hooks included. You can hang it either in portrait or landscape orientation.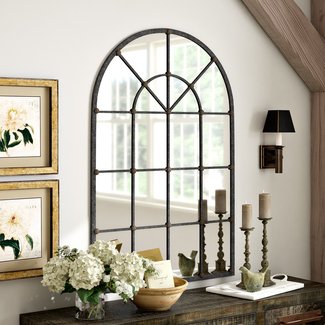 Romain Cottage Accent Mirror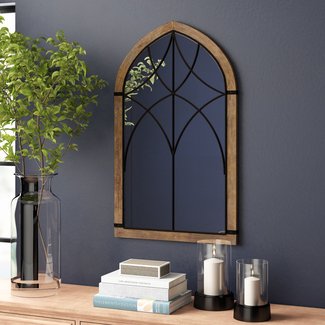 Chadron Cathedral Cottage Accent Mirror
This is a cottage accent window mirror that can add a classic appeal top your entryway, living room, and even your bedroom. It's made from wood and metal materials and features a handcrafted stained wood frame with unique bronze metal details. The framed window mirror also features an elegantly crowned top with a classic traditional feel. It has two attached keyholes at the top to help you mount it quite easily.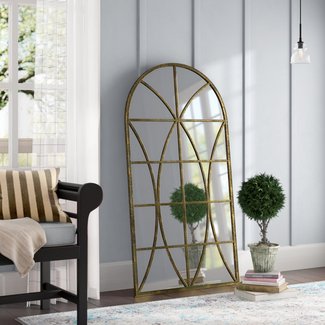 Wall Mirror
This is a perfect accent mirror designed to enhance the look and style of your walls. It also provides a handy reflection that you can use to check yourself before you leave the house. It's an aesthetically pleasing mirror that adds a decorative touch to your living room, entryway, or bedroom. The wall mirror is made from metal and features a crown top with a sleek gold-black finish.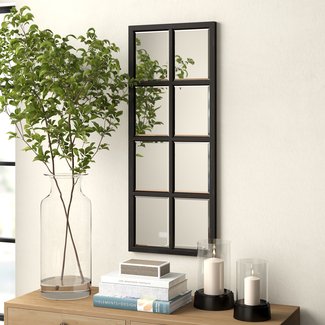 Swanley Modern & Contemporary Beveled Accent Mirror
You can count on this beveled accent window mirror to reflect more light into your interior spaces and enhance your interior décor. It's designed to create the impression of more space in small areas. The framed wall mirror also comes with 8 beveled panes and hanging hardware that allows you to hang the mirror either horizontally or vertically. It's made from lightweight plastic with an antique finish to create a traditional farmhouse style in your home.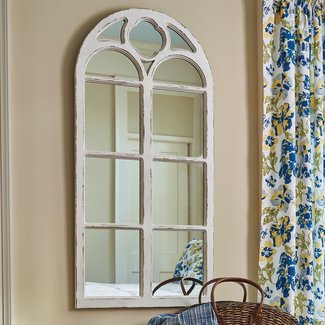 Newport Window Wall Mirror
If you are looking for a beautifully crafted mirror to enhance the look and style of your interior spaces, then this wall mirror is your perfect choice. It has an arched top, a distressed white finish, and perfect bevel trimming on each glass pane. The framed mirror creates an antique window style in your room and comes ready to hang. Its frame is made of wood with a painted distressed finish.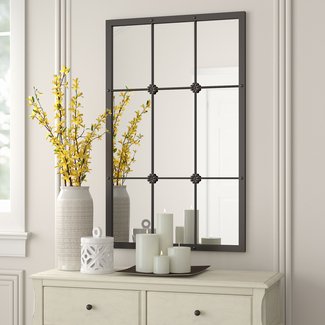 Kristofer Window Pane Wall Mirror
This windowpane wall mirror is a perfect choice for those who want to open up the small space in their homes or simply add a decorative touch to their walls. It has a windowpane design and features a sleek iron frame with a dark brown finish. It's a perfect item to add a classic touch to your home. The rectangular mirror comes with wall mounting hooks for either horizontal or vertical hanging.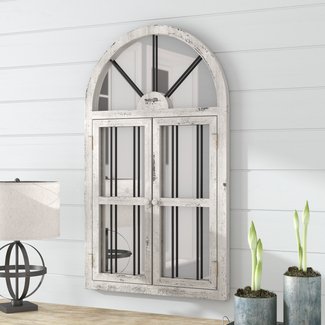 Faux Window Wood Wall Mirror
This wooden window mirror provides a perfect combination of style and function. It provides you with a handy reflection to check yourself before you leave home while creating an attractive focal point in your living room, bedroom, or hallway. It has an arched window-style design and is made of wood and metal. It comes with two hanging hooks on the back for easy mounting. The wall mirror will definitely brighten up your bare walls.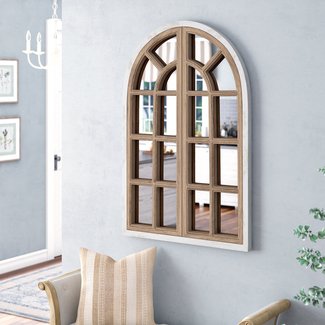 Veltri Farmhouse Arch Wall Mirror
Create the perfect traditional farmhouse design to your home with this arch wall mirror. It's made from manufactured and solid wood with a weathered white finish. The mirror's windowpane has a rustic chestnut finish and latticework overlay. It has a charming arch shape, creates brilliant reflections of light in your interior spaces, and is extremely easy to hang. The classic window mirror is delivered fully assembled and ready to hang out of the box.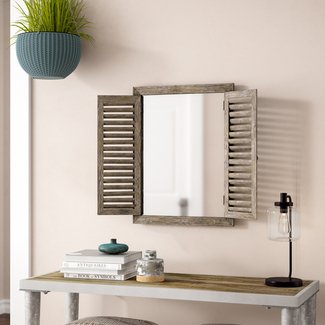 Candee Rustic Shuttered Accent Mirror
This wall-mounted accent mirror provides a perfect way to create the rustic country cottage or modern farmhouse appeal in our interior design. It is a stylish mirror that goes well with every type of interior décor. It is made from solid wood further enhanced by a natural wood finish and features open and close shutters. It creates an attention-grabbing focal point in both classic and contemporary interior design styles.