Our Choice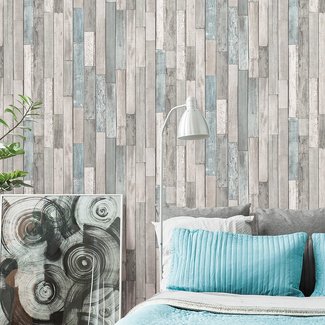 Bennet 33' x 20.5" Semi-Gloss Wallpaper Roll
Produced from nonwoven material, this wallpaper is breathable and mildew resistant in addition to being an environmentally friendly decorative option. It is also easy to set up and will only require the application of an adhesive. And once it is installed, it will also be easy to clean due to being washable. Consisting of a pattern of worn wooden planks, this wall decoration is an ideal choice for creating a feature wall and will be particularly suitable for an industrial or Scandinavian design setting.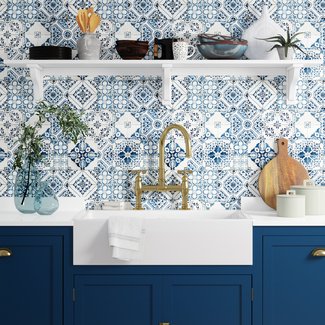 Sudarshanam 16.5' L x 20.5" W Peel and Stick Wallpaper Roll
Consisting of an intricate blue and white pattern reminiscent of tiles, this vinyl wall paper is an excellent choice for imbuing a room with a hint of eclectic or shabby chic glamour. The decorative feature is also self-adhesive making it easy to apply and even to remove and reapply elsewhere. It is also resistant to staining and can even be wiped down ensuring you will get to keep it in a pristine state. Place in your kitchen or bathroom with a matching color scheme to create a truly luxuriant effect.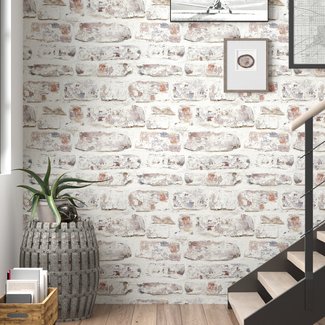 Alvara 34.45' x 20.87" Brick Wallpaper Roll
It is brand new but will provide that aged appeal required to add effortless character and refinement to your surroundings. This non-pasted, straight match wallpaper simply requires the application of an adhesive to put it up. Because it is also paper, its pattern and color will stand out in especially vivid detail.  Apply along a staircase or corridor, to provide a charming rustic feel which is the hallmark of a chalet design theme.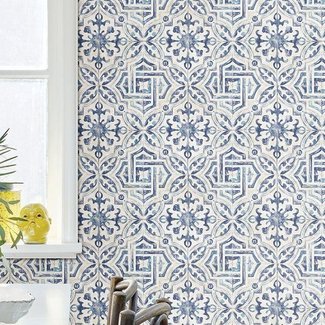 Jovanny Spanish Tile 33' L x 20.5" W Geometric Wallpaper Roll
Made from paper and featuring a detailed geometric theme, this wallpaper with a semi-gloss finish is especially convenient to put up due to being prepasted. The straight match wall decoration also comes with the added benefit of being strippable, easy to remove and washable, ensuring you will also be able to eliminate any troublesome stains with a damp cloth. Its neutral tones mean it can be used to provide the perfect complement to lighter furnishings such as wicker chairs, stools and baskets to provide an eclectic design effect.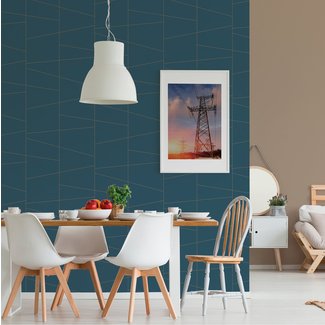 Delaney Fracture 33' L x 20.5" W Wallpaper Roll
Bold forms, run through with lighter colored veins grant this semi gloss, drop match wallpaper available in navy, a contemporary appeal. The vinyl product which is washable and non-pasted, is also nonwoven. As a result, it will not only prevent the growth of mildew and mould on walls, but will also be capable of being removed without being damaged or causing any damage to the underlying wall. Place as the ideal background in a passageway with lighter furniture featuring clean, elegant lines to create a stunning contrasting effect.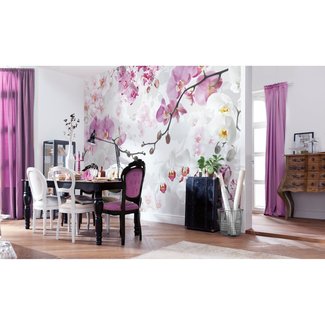 Wilhelm Serafina 12'1" x 99.6" Wall Mural
Golden and dreamlike, this majestic vinyl mural with a larger than life floral centerpiece will suffuse its surroundings with the beauty of nature while also providing an added layer of depth due to being textured. The semi gloss wallpaper which is prepasted and peelable will also require a simple application of water before being placed on your walls and will also be removable with a minimum of fuss. To create a harmonious symphony of color, apply in a retro or shabby chic inspired lounge or bedroom against plastic or highly polished furniture with a similar color scheme.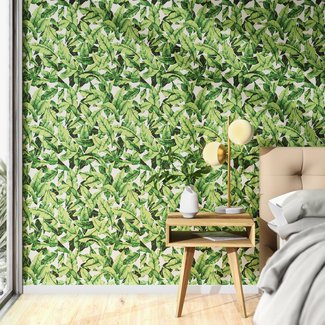 Oden Palm Leaf 16.5' L x 20.5" W Floral and Botanical Peel and Stick Wallpaper Roll
Brought to you in a matte finish, this self-adhesive vinyl wallpaper is not only water resistant, but is also phthalate and lead-free. It is also suitable for an extensive range of surfaces and can be used on walls, furniture and even trays to create a bold splash of color. Its design which is vibrant and verdant embodies the freshness of nature and is ideal for infusing your kitchen or dining room with the brightness of summer and spring. Use to create an accent wall or matching window seats all with an eclectic theme touched with natural magic in your home.
Corrado Linen 33' L x 20.5" W Wallpaper Roll
Grey tones have the effect of instantly bestowing a cool ambience on any setting they are placed in. And with this vinyl wallpaper in a semi gloss finish, you will be able to instantly transform your lounge, study or bedroom into a haven of tranquility. Nonwoven and eco friendly, the feature comes with the added advantage of being able to maintain its size when applied without any shrinkage. Because it is textured, it will not only add depth to the overall decor but also conceal any minute defects in your walls. Apply in your study with motivational picture frames over a rustic-style desk to create a haven for working on essential tasks throughout the day.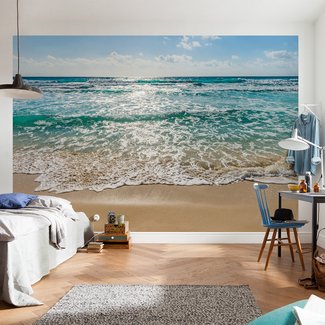 Wolfeboro Seaside Wall Mural
Bring the beach to your favorite room in your home with this eight-panel mural which will imbue your surroundings with the beauty of the ocean. Ideal for enlivening a contemporary or modern design theme, this wallpaper can be paired with functional, symmetrical seats and tables which are characteristic of a transitional style. You will also be able to look forward to vivid, bold colors thanks to the fact that this semi gloss product has been manufactured from high quality, vinyl-coated paper. The fact that it is also non-pasted means that you will be able to benefit from especially durable results.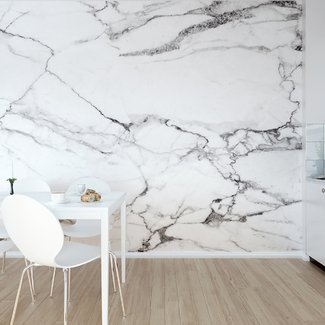 Kirksey Marble 9'10" L x 94" W 6-Panel Wall Mural
Like several high quality murals, this product is not only easy to clean and maintain but will also be convenient to remove without causing any damage to the underlying wall. Ideal for any room in the house, its bold neutral tones mean it will perfectly complement the color scheme used for your furniture while lending an edgy spark to the entire theme. Apply against a bare wall in your kitchen with a dining set featuring light colors and smooth, flowing lines to create an eclectic minimalist scene.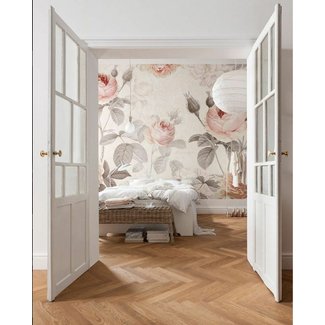 Rheba Wall Mural
Reminiscent of a larger than life chintz fabric, this mural invokes the heartwarming feel which is emblematic of country style and traditional settings. To create an atmosphere of perfectly balanced harmony, place in a room with exquisitely carved furniture in light colored, neutral tones which will serve to highlight its delicate floral beauty in pink and white. The nonwoven, semi gloss wallpaper is also non-pasted and will not only maintain its form when applied, but will also prove to be especially durable.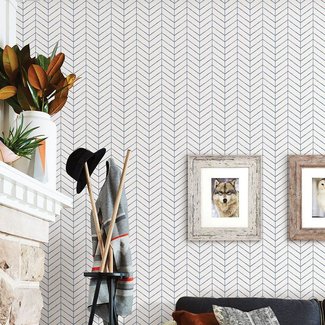 Brayton 33' L x 20.5" W Texture Wallpaper Roll
Nonwoven and prepasted, this wallpaper can be put up in the shortest possible time thanks to the adhesive already provided. The straight match decorative feature which displays a chevron design in off-white with faint grey patterns, is also strippable and washable. Its muted geometric design makes it the ideal background for a set of picture frames placed above a polished cabinet with a light or dark finish for a nautical-inspired effect.