Our Choice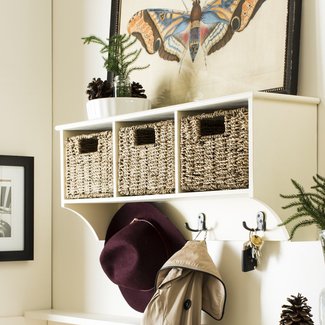 Sprague Hanging Wall Hook
This hanging wall hook has a pinewood frame and sea-grass woven baskets. It's a fashionable wall storage unit that is crafted from high-materials built for longevity. The three draws provide storage space to keep your accessories, trinkets, keys, and most frequently used items. It also has three hangers for holding up your coats, hats, and scarves in style. The neutral tone options make the storage wall unit blend in beautifully with any type of decor, be it traditional or contemporary. Feel free to hang it up in the living room or entryway.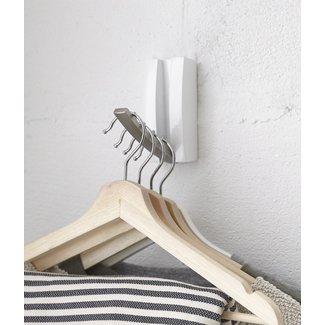 Flip Valet Wall Hook
Finding storage space to keep your clothing organized and easy to access in a hurry can prove to be a challenge. This wall hook is compact, and you'll be impressed at how much of a difference it can make to the organization of your clothing. With a 20 pound capacity, it gives you the opportunity to display lots of outfits or even add additional clothing to your storage space. So to recap, it is versatile and compact and also designed for small living spaces.
Mahala Square Wall Hook (Set of 3)
These square wall hooks are decorative, but they are all also extremely practical. The three-piece wall set has a hint of rustic appeal combined with industrial and modern farmhouse charm. The square shape of each hook is complemented with aged bronze and vintage-inspired looks that are perfect for mounting in the living room, entryway, bathroom or kitchen. Installation is easy, and hooks are lightweight.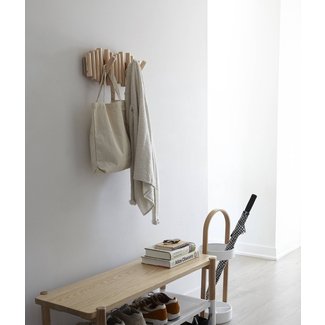 Picket Rail Wall Hook
Like they say, you can never have too much storage. These pickets are the answer to most of your storage problems. The beautifully shaped pinewood dowels may fool you into thinking that these pieces are purely decorative; however, they serve an essential purpose. When you hang two or more pickets side-by-side, they create an eye-catching piece of decor as well as additional storage for your hanging needs. They are modern, casual, and functional for any home environment. It is also built to last since it is made from real wood and can be mounted on your wall.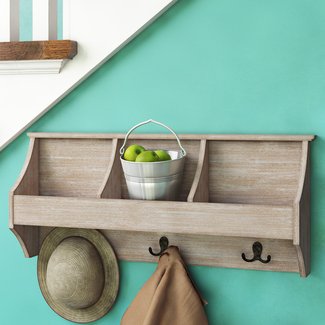 Beckemeyer Wall Hook
If you are looking to clean up the mess in your entryway, then this hanging wall hook will come to the rescue. Made from both solid and manufactured wood, it features a clean silhouette and a solid neutral finish that's able to blend in with your existing decor. The three compartments are perfect for holding your favorite accessories and trinkets and displaying potted plants. There are six hooks which you can use to hang your hat's, coats, and other necessities. The simple design is perfect for an entryway.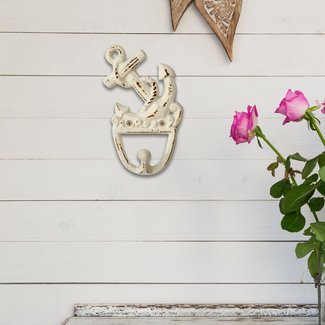 Cato Wall Hook
This cast iron anchor wall hook will bring some coastal flair into your home. The worn-out white painted finish on this antique-inspired design oozes vintage style and charisma. It's perfect for your bathroom, hallway, bedroom, or kitchen, and basically anywhere else in the home where you need extra hanging space. Make some heavy-duty cast iron; it's ideal for holding up coats, clothes, handbags, backpacks, and hats. The neutral painted finish allows it to blend seamlessly with the rest of your decor.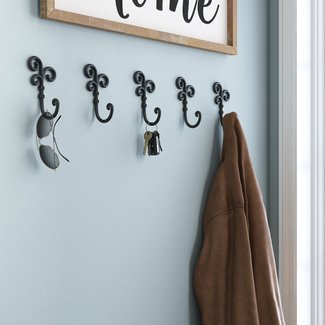 Traub Wall Hook (Set of 5)
This set of 5 metal hooks takes traditional clothes storage a step further due to its whimsical design elements. The flat black finish brings a decorative flair to entryways, kitchens, and living rooms or basically anywhere that storage space is needed. Holding an optimal weight off 35 pounds when mounted to solid wood and studs, it's ideal for your coats, jackets, and backpacks. Keep your floors clean while you use these hooks to hold up and organize your living space.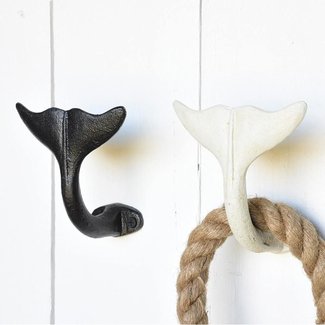 Anjali Wall Hook (Set of 2)
Create a wonderful ocean-inspired theme inside your home when you use this beautifully crafted wall hook. Designed to look like a whale tail, it is a beautiful work of art but functional at the same time. The cast iron construction makes it strong and sturdy, while the antique white finish allows it to seamlessly blend in with your existing decor and accessories. Cleaning and maintenance is also a breeze as you can just wipe clean with a dry cloth.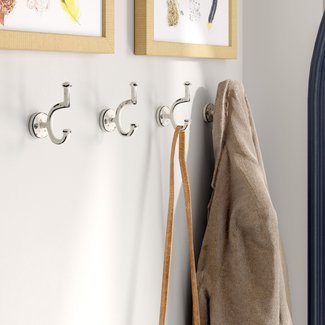 Hollifield Wall Hook (Set of 4)
This set of four wall hooks is crafted from cast iron, giving them a rustic look but also making them durable enough to last for years to come. The distressed finish simply adds to the antique charm while the double hook design accommodates everything from rain slickers to jackets, hats, and scarves. For easy installation, the circular backplate has two screw-holes, and each of these hooks can be installed in a row or mounted in different rooms inside the home.