Our Choice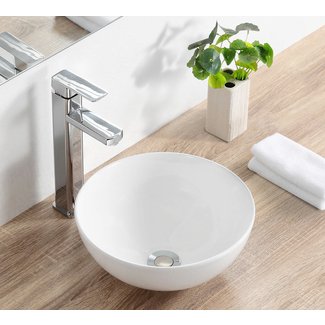 Ceramic Circular Vessel Bathroom Sink
This white circular bathroom sink is the epitome of minimalistic elegance. Ideal for home and commercial use, the ceramic sink is guaranteed to bring some sophistication and elegance into any environment. The high-quality construction is also scratch and stain-resistant and will not fade with use. The bottom of the vessel is flat, while the softly rounded corners prevent dust from accumulating and therefore facilitate cleaning. The sink sits effortlessly atop a counter in your bathroom, bring a contemporary feel to the room.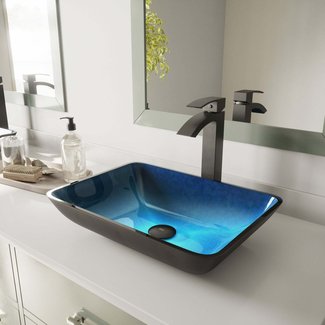 Handmade Turquoise Water Glass Rectangular Vessel Bathroom Sink
Are you looking to give your bathroom the ultimate contemporary facelift? Well, you're in luck. This beautifully designed, rectangular, turquoise bathroom sink is made from solid tempered glass and it is designed to sit above the countertop for a modern and sophisticated look. It is scratch-resistant, and the polished interior keeps stains at bay while the sink is easy to clean. This handmade piece of art is unique and will stand out and grab attention in any bathroom.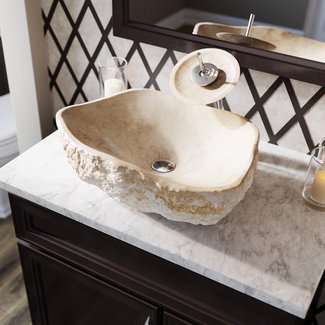 Galaga Stone Specialty Vessel Bathroom Sink
If you have an eye for unique pieces of art and accessories, then you'll definitely appreciate this one-of-a-kind marble freestanding sink. Cut from a single block of stone, the design and appearance of the sink is timeless and thanks to the unrefined and crude bottom, it delivers a look of ancient sophistication. The strong and sturdy construction is hard to damage, and it is unfazed by heat and moisture, making it just as durable as it looks.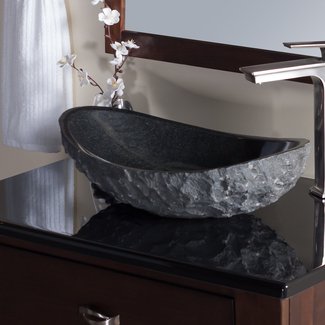 Absolute Stone Oval Vessel Bathroom Sink
Are you tired of looking at every day synthetic porcelain and ceramics? If you are, then this black granite oval-shaped bathroom sink is for you. Beautifully designed and hand-polished to perfection, the stone vessel will become your bathroom masterpiece. Designed for above countertop installation, this sink is consistent and robust. To clean, simply use a soft cloth with mild soap and water. The black granite construction renders this sink, timeless and it works well in either a traditional or contemporary bathroom setting.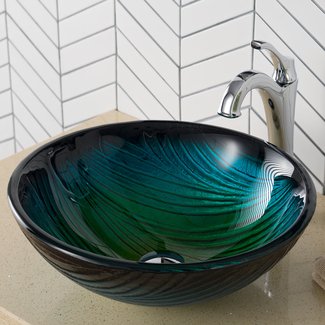 Nei Glass Circular Vessel Bathroom Sink
This striking glass vessel sink is the perfect addition to a monochromatic or modern bathroom. The round tempered glass bathroom sink is also handcrafted with a rolling hillside design which is inspired by the lush green palette. These handmade pieces of art are a sight for sore eyes but completely practical and functional at the same time. Their versatility allows them to be set atop your bathroom counter, and only a small hole is needed for drainage. Thanks to its polished surface, it's easy to keep it clean and looking great.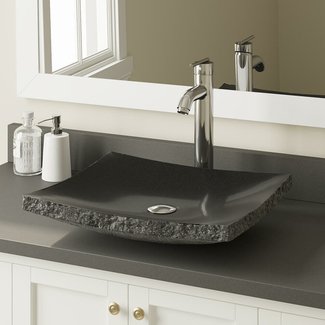 Shanxi Stone Rectangular Vessel Bathroom Sink with Faucet
This rectangular bathroom sink is unconventional and unique, to say the least. Cut from a single block of stone, the sink will maintain its natural strength and ruggedness for years to come. The stone construction also makes it less prone to staining, chipping and scratching. Thanks to the non-porous construction, cleaning is a breeze, and there is no room for bacteria to hide. The high-quality granite natural stone material means that each sink differs slightly color and pattern making your sink unique. So if you're looking to give your bathroom a facelift by adding a sculpted bathroom sink that immediately grabs your attention when you walk into the room, then this is the one.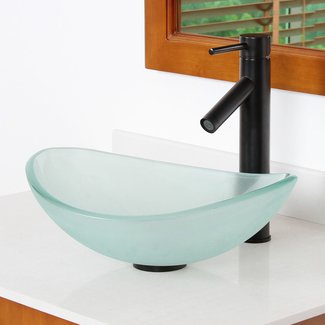 Mini Tempered Glass Oval Vessel Bathroom Sink
This tempered glass bathroom sink will bring some character into an already chic and state-of-the-art bathroom. The oval bowl bottom sink is small in size and therefore designed for compact spaces. Featuring a pop-up drain and mounting ring, the centerpiece will tie in with existing bathroom fixtures and decor. This delicate looking oval-shaped glass sink is tougher than it looks and therefore suitable for both indoor and outdoor use. So go ahead and bring out the best in your bathroom.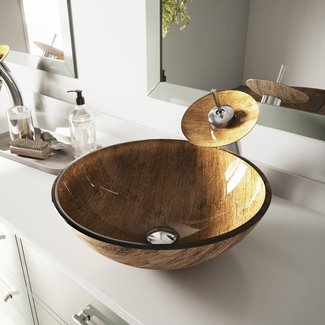 Brown Tempered Glass Handmade Circular Vessel Bathroom Sink
This round vessel bowl bathroom sink will keep your existing bathroom a decorative boost. Thanks to the clever wood-grain design, the tempered glass sink will bring an earthy appearance to a sophisticated bathroom. The hand-painted amber coloring on the interior and exterior, makes each sink unique, and the polishing process makes these sink bowls resistant to stains, rust and scratches. As the bonus, the polished interior makes cleaning almost effortless.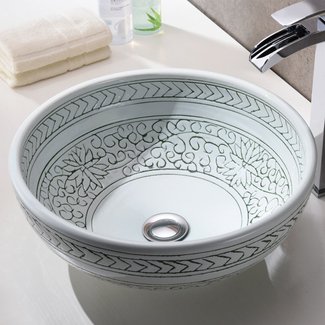 Cadence Glass Circular Vessel Bathroom Sink
This is traditionally crafted round vessel sink will compliment a traditional or modern bathroom. The tempered glass construction is designed using Rhino Alloy certified high tempered decor glass. So eventually what you get is an elegantly shaped, detailed patterned and captivating centerpiece inside your bathroom. This classic white sink will add some charm and whimsy to any bathroom.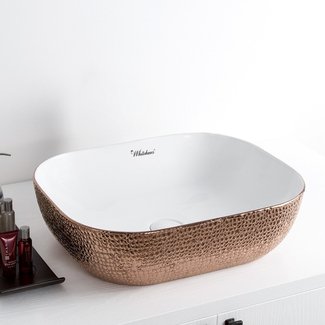 Isabella Plus Vitreous China Rectangular Vessel Bathroom Sink
Combining opulence and ruggedness, this finely crafted rectangular bathroom sink will add to the functional decor inside your bathroom. The bold and seamless design contains an embossed toned exterior as well as a smooth and solid white interior with a center drain and no overflow. Redefine your bathroom and take it to a new level of sophistication by installing this bathroom sink made from Vitreous China material.