Our Choice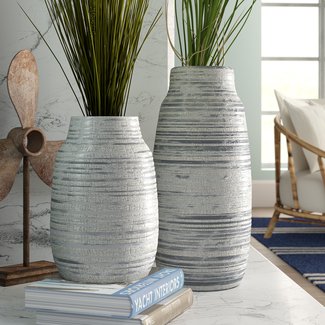 Wesham 2 Piece Table Vase Set
These two ceramic vases reflect a period when Egyptians stored their food stuffs and water in containers similar to these. The cracked white finish shows the years of wear in the sun. Even though the small and large vases are not antiques, they tell an awesome story from days of old when beauty and necessity often merged. The taller vase measures 14.25'' H x 6.75'' W x 6.75'' D while the shorter version is 8.75'' H x 6'' W x 6'' D. Cylinder in shape, they make a charming set on a mantle or showcased with desert flowers on a coffee table.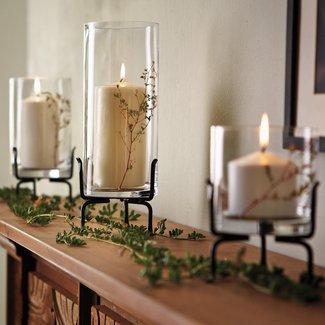 Maley 3 Piece Table Vase Set
This trio of clear glass vases are elegant regardless of the time of year. Set in black metal stands, they are ready for you to show off flowers or candles. The 3 different heights provide fresh ideas for grouping as a centerpiece or using in a stepping stone effect on a mantel. Made of recycled glass, they are waterproof and each has a 4"x4"opening. The smallest stands 6 1/4"tall while the largest reaches 12 1/4". Surround with greenery for a refreshing natural look or interweave through satin-like material for sophistication.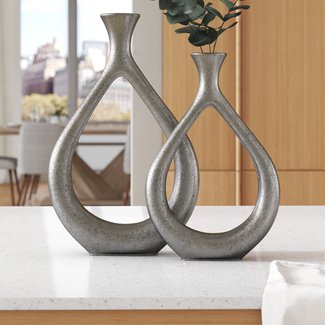 Tompson 2 Piece Table Vase Set
Bring a modern flair to desktop or living room table. Two teardrop shaped metal vases standing 19" and 14" tall respectfully, are able to add a dash of voguish clarity to a simple contemporary decor. Covered with an antique grainy finish, this lovely pair do not take away from the textures displayed in a room, but rather expand a trendy tone. Place side by side on a table with a few wildflowers or a Eucalyptus branch in the smaller one for balance.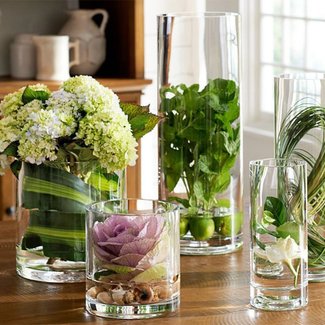 Eivind Glass Table Vase
Quality glass needs no frills to make it stunning. With no blemishes and heavy-weight, this glass table vase stands 5" tall. Add a votive candle or use as a candy dish for visitors. Becoming increasingly popular for small plants or colored stones, the crystal clear cylinder shape gives rise to many items. Available in different heights, use as a trio for new blooms arriving this spring or take one to work and add your lucky bamboo.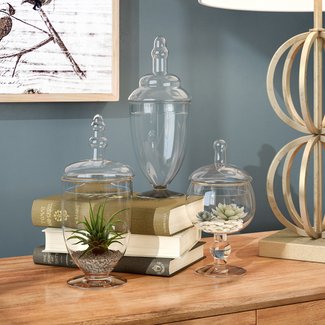 Ralon 3 Piece Jar Set
Three Apothecary jars in three different shapes and diameters set a splendid display to any corner that needs a lift. Made of sparkling glass, each one is topped with an artistically blown lid that brings a stately appearance. Each jar has an individual characteristic that makes it unique, but blends nicely as a threesome. Ready to fill with sand, rocks, colorful stones or plants, these jars can turn a boring table into a sophisticated and pleasurable display.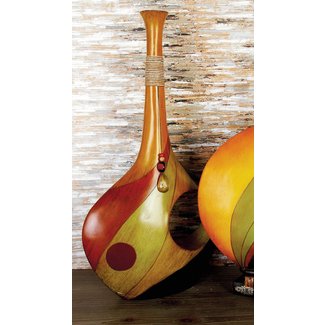 Gemstone Beaded Polystone Vase
This handmade polystone floor vase that is 25'' H x 15'' W x 5'' D will make an international statement when placed on your floor. Hues of brown, red and black have swirls of color and dripping jewels to highlight the piece. A dominant presence of South American handiwork will glow within any corner of a room. Place alongside a natural wall of stone or wood for a captivating glow of natural beauty. Add a tapestry wall hanging to deliver depth and a primitive design.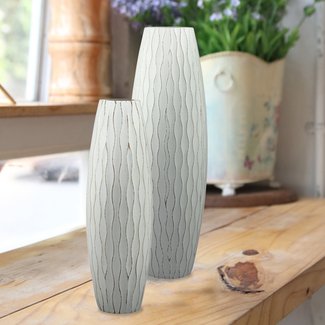 Weathered Wood Vase
A creative wooden vase in pale ocean color delivers a natural nautical feel to a beach front home. Three different heights from 9.84" to 15.9" in height give you different options on placement. A weathered look with fine lines of brown flowing lines brings a haunting look to this natural piece.  Skinny and wholesome, this vase is perfect for showing off natural flowers of the area in addition to dried plants.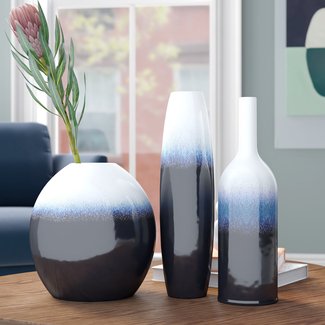 Macy 3 Piece Ceramic Table Vase Set
A mystical haze of black and white give this trio of pottery vases an eye-catching appearance. Three separate pieces in varied sizes and shapes will promote a modern twist to traditional living spaces. Arrange as a group, indoors or out, with artificial greenery or branches. Hand crafted with an emphasis on mixing different textures, the unique shapes and dramatic painting will bring life to any coffee table or fireplace hearth.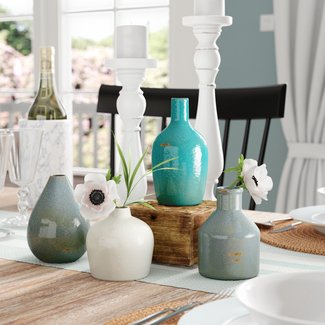 Katniss 4 Piece Table Vase Set
Hand made charm reflects from this 4-piece collection of soft blue ceramic vases. A distressed rubbing puts you in mind of older small jugs that graced grandmother's window sills. None over 7" tall, use as a grouping on a kitchen counter or separate and dot throughout a patio grouping. Each piece is water tight and the colors will not fade under the thick glaze coating.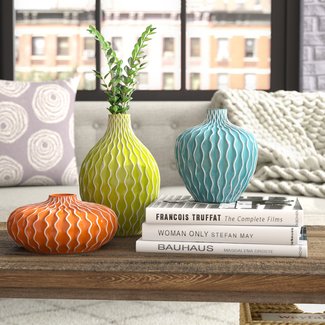 Maximillian 3 Piece Table Vase Set
Add some pizazz to a room with neutral colors with this vase trio of bright and cheerful colors. Green, blue and orange will immediately attract attention in a crisp and inviting way. In addition, squiggly white lines define the vases even further by standing up at attention. Use in a chic environment or as a stunning addition to the wood and metal decor of urban industrial. Greenery or Eucalyptus stems are always welcome in each of the distinctive sizes.