Our Choice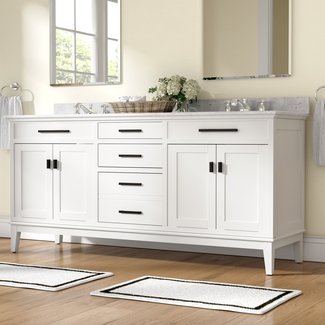 Chesterville 72" Double Bathroom Vanity Base Only in White
Looking to remodel your master bathroom? Well, what better way to do it than with this elegant and sophisticated double vanity. Not only does it bring undeniable style to your master bath, but it offers plenty of storage for your bathroom and personal essentials. Created from popular, the vanity features a sleek silhouette and bronze finished bar pulls to complete a look of luxury in any bathroom. With three drawers and two cabinets, you'll have everything you need tidily out of sight but right at your fingertips.
Melgar 36" Single Bathroom Vanity Base Only
If you're going for a simple and understated look inside your bathroom, then you can easily achieve that with this single bathroom vanity base. Maximizing your storage space has never been easier thanks to the one large bottom pull-out drawer, two smaller pull-out draws and the two soft-close doors featuring an adjustable shelf. When it comes to the finer detail, the doors feature a beaded inlay giving it a subtle hint of luxury, while the overall farmhouse appeal of the vanity will bring the coziness back into your bathroom.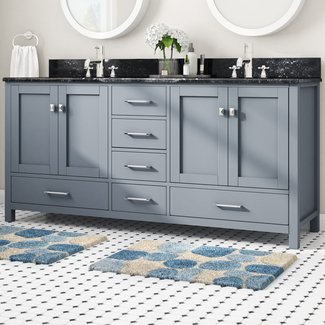 Kazanovicz 71" Bathroom Vanity Base Only
Transform your bathroom with this bold and clean-styled bathroom vanity. Containing two small pull-out draws, two large pull-out draws and two soft-closing doors, when it comes to space, you'll have an abundance of it at your fingertips. The freestanding bathroom vanity is crafted from top-notch materials such as brushed nickel hardware giving its durability and longevity. If you're going for a timeless look for your bathroom, then this will do the trick.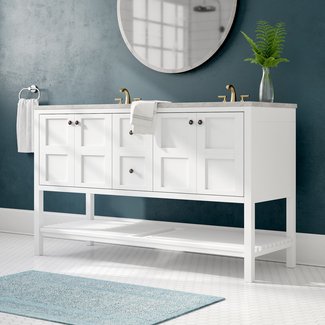 Bonneville 59" Bathroom Vanity Base Only
Create a sleek and minimalist look in your bathroom with this solid oak wood vanity. The frames clean-lined silhouette is understated and features a neutral solid finish while it's also wanted resistant making it durable and long-lasting. It's wide enough to accommodate two standard sized sinks and allows you to personalize it with the counter and faucets of your choice. With two cabinets, there's plenty of storage space to pack away your toiletries, personal belongings and everything else that you can. The two additional smaller drawers are perfect for storing the accessories and trinkets that you most frequently use. The bottom towel rack and designer brass knobs finish off the look on this practical and functional vanity.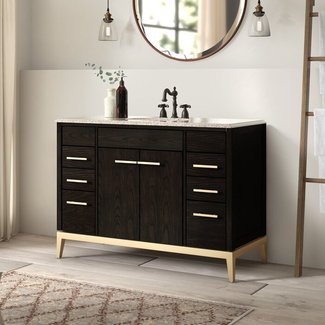 Indianola 48" Single Bathroom Vanity Base Only
This stylish and sophisticated single vanity made from Ashwood and plywood will bring a decorative boost to your bathroom decor. With a double door cabinet and six smaller drawers on soft-close gliders, you'll have enough space to store your cleaning supplies, towels and toiletries. Thanks to the matte gold and dark chocolate finish, a clear contrast exists and gives this vanity an elegant edge. The leg levellers tackle uneven flooring while literally and decoratively giving your bathroom vanity a lift.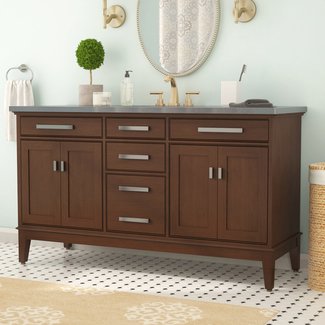 Chesterville 60" Double Bathroom Vanity Base Only
The perfect focal point for a spa-worthy bathroom, this vanity base will bring an instant boost to your master bath or powder room. Crafted from solid wood features with clean-lined features, you'll find three soft-close drawers, four soft-close doors and two interior shelves for storing your linen, toothbrushes and bathroom essentials. The vanity is further accented with brushed nickel and old bronzed finished hardware, while the legs are height adjustable, allowing you to further customize this single vanity.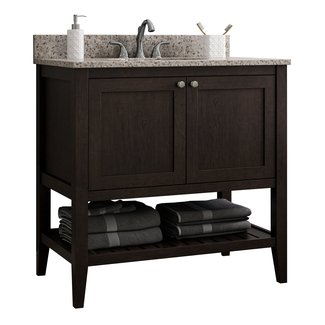 Vanguard 36" Right Drawer Single Bathroom Vanity Base Only
Would you like to save space and organize your bathroom? Well, then this single vanity will do the trick. The small size and freestanding design allows you to squeeze it into the smallest of spaces while the espresso brown finish adds a cozy charm to your bathroom. It features a cabinet on the left with soft-close drawers, two smaller drawers on the right and a towel rack at the bottom to store all of your essential bathroom essentials.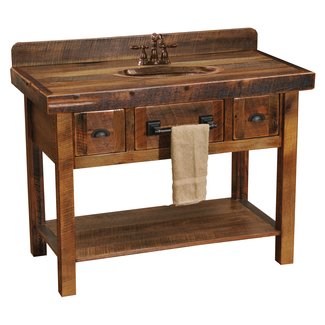 42" Single Bathroom Vanity Base Only
Made from reclaimed Barnwood that has been repurposed from deconstructed tobacco barns, this single vanity has the ultimate rustic appeal. The reclaimed red oak gives the unit a special cottage charm, while the dovetailed drawers are inset and feature soft-close, full-extension ball bearing glides. Filled with natural character, this freestanding solid single vanity is ideal for those looking to give their powder rooms a traditional charm. It contains two small pull-out draws for beauty essentials and a practical towel rack at the bottom.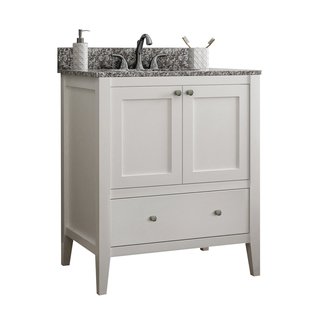 Vanguard 30" Single Bathroom Vanity Base Only
If you are dreaming trimming of a luxurious vanity cabinet to complete your master bathroom, then here's something that combines elegance and functionality. This single vanity is made from solid plywood frame and legs, and the transitional look adds a sophisticated feeling to an updated powder room. There are two shaker style doors with pewter knobs and an open bottom shelf that extends the width and depth of the cabinet. The modern style and classic white color allows you the freedom to choose a variety of different types of countertops and sinks to complete the look.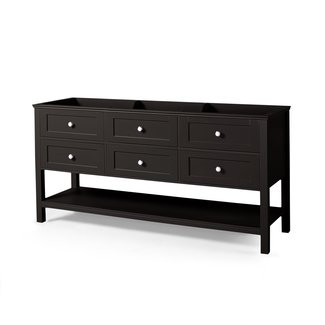 Alexia Johnson 72" Double Bathroom Vanity Base Only
Take your bathroom back to a timeless era with this double bathroom vanity base in classic black. The clean and symmetrical structure will instantly transform your bathroom into a masterpiece. Thanks to the freestanding design, you can manoeuvre and squeeze it into the space of your choice. Six average-sized drawers, as well as a lengthy towel rack, make this double vanity base as functional as it is elegant.