Our Choice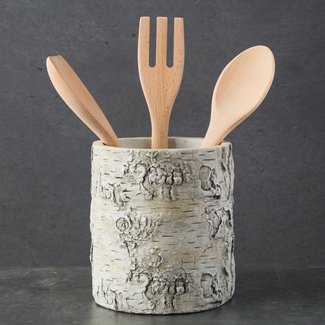 Vintage Log Utensil Crock
Keeping your favorite cooking utensils on the counter can still look clutter-free with the help of this charismatic utensil crock. Ceramic construction with the texture and form of a log makes this a charming addition to a rustic, cottage, farmhouse or neutral kitchen.
The 7" tall cylinder will keep your tools handy and your drawers spacious while adding a decorative touch.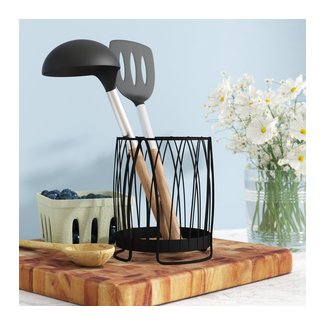 Round Utensil Holder
A wireframe utensil holder can give the standby stove instruments an accessible home without adding unnecessary bulk. Your kitchen will look put together and decluttered with the help of this black finish stainless steel piece.
This crock comes with a handy interior divider to help you organize your utensils and stands 7" tall and 6" in diameter. It's easy to clean with a damp cloth.
Stainless Steel Utensil Crock
A professional or industrial-style kitchen will benefit from this no-nonsense utensil holder. The stainless-steel product in silver exudes sophistication and holds a large number of your essential utensils for easy access from the countertop.
The simple cylindric shape is food-safe and easy to hand wash. It comes in 2-quart and 4-quart sizes so you can pick the perfect addition to your organized kitchen.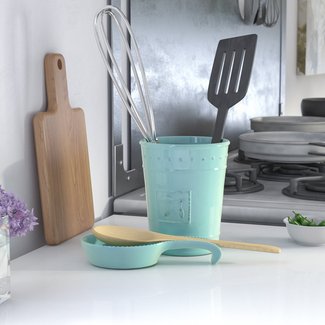 Spoon Rest and Utensil Crock
With a matching utensil crock and spoon rest set, you'll be able to keep your kitchen organized in style. This set affords you ease and convenience to keep your favorite cooking tools ready at the stovetop with no mess or fuss.
This ceramic set comes in aqua or light gray finishes for flexibility in matching them to your kitchen color scheme.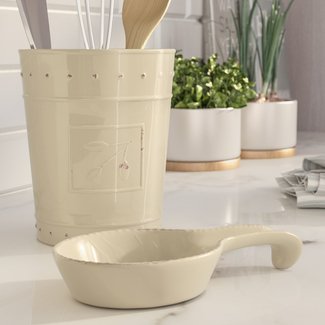 Genesee 2 Piece Spoon Rest and Utensil Crock Set
Maximize your utensil storage with this 6" crock and spoon rest set available in charming distressed ivory. The ceramic pieces are dishwasher safe and finished in a chip-resistant glaze for a truly low-maintenance piece.
The olive leaf decal, beading around the edges, and minimal distressing add a vintage style to the set that will prove a tasteful addition to a farmhouse or vintage-inspired kitchen.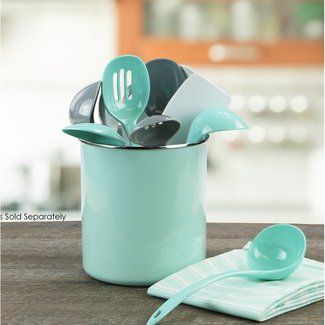 Omar Large Utensil Crock
You'll never need to rummage through messy utensil drawers again with this simple utensil crock. With all your essential kitchen tools at the ready, you'll be able to tackle the most ambitious of cooking projects with peace of mind.
The steel, cylindric crock is coated in tough enamel that is available in a variety of colors so you can find the shade best suited for your kitchen.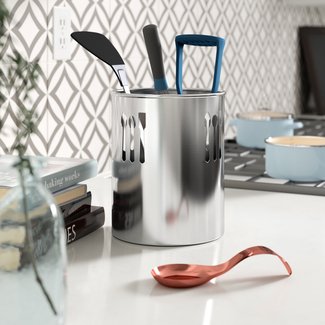 3 Spoons Utensil Crock
Whimsical charm and industrial utility are perfectly balanced in this stainless-steel utensil crock. Available in silver, copper, and gold lacquer, you can find the piece that complements the color scheme of your house.
Charming cutouts of a set of three spoons graces the wall of this cylindric crock. It is food safe and measures 7.5" in height and diameter to accommodate most standard kitchen cooking tools.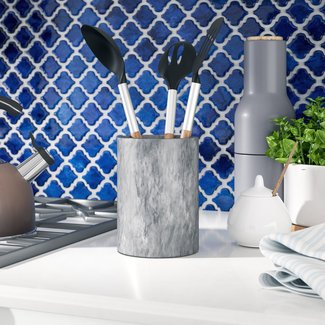 Belani Marble Utensil Crock
Take the style and practicality of your kitchen to the next level with this white marble utensil crock. You can keep your most-used utensils within easy reach on the counter in this solid, cylindric piece of stone.
The solidity of this 5.8 lb. piece is a bonus as it can easily accommodate unwieldy utensils and resist toppling. With a 5" diameter and 7" height, it's a space-conscious storage solution.
Oversized Utensil Crock
No matter how extensive your utensil collection, this oversized stoneware crock can accommodate every piece. Available in glossy red, black or white, you can find the perfect pop of color or neutral shade to complement your kitchen.
This 7.5" crock is dishwasher safe and features a removable three section divider with a non-slip base to keep your tools upright and organized.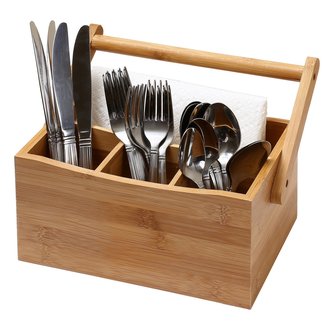 Bamboo Utensil Holder
If you're out of drawer space or simply don't want to keep your utensils hidden away, this flatware caddy offers a solution. The bamboo crafted container comes with four sections and a handle to keep utensils organized and mobile.
This is the ideal solution for buffet-style dinner parties and family picnics, as well as adding a functional decorative touch to your counter space.