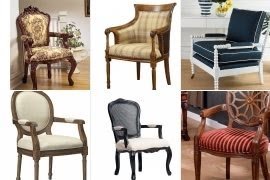 If you looking for a classic chair, you have to choose this one. It features the detailed accent wood structure, hand carved details, bonded leather on the outside and fabric upholstery and seating and back.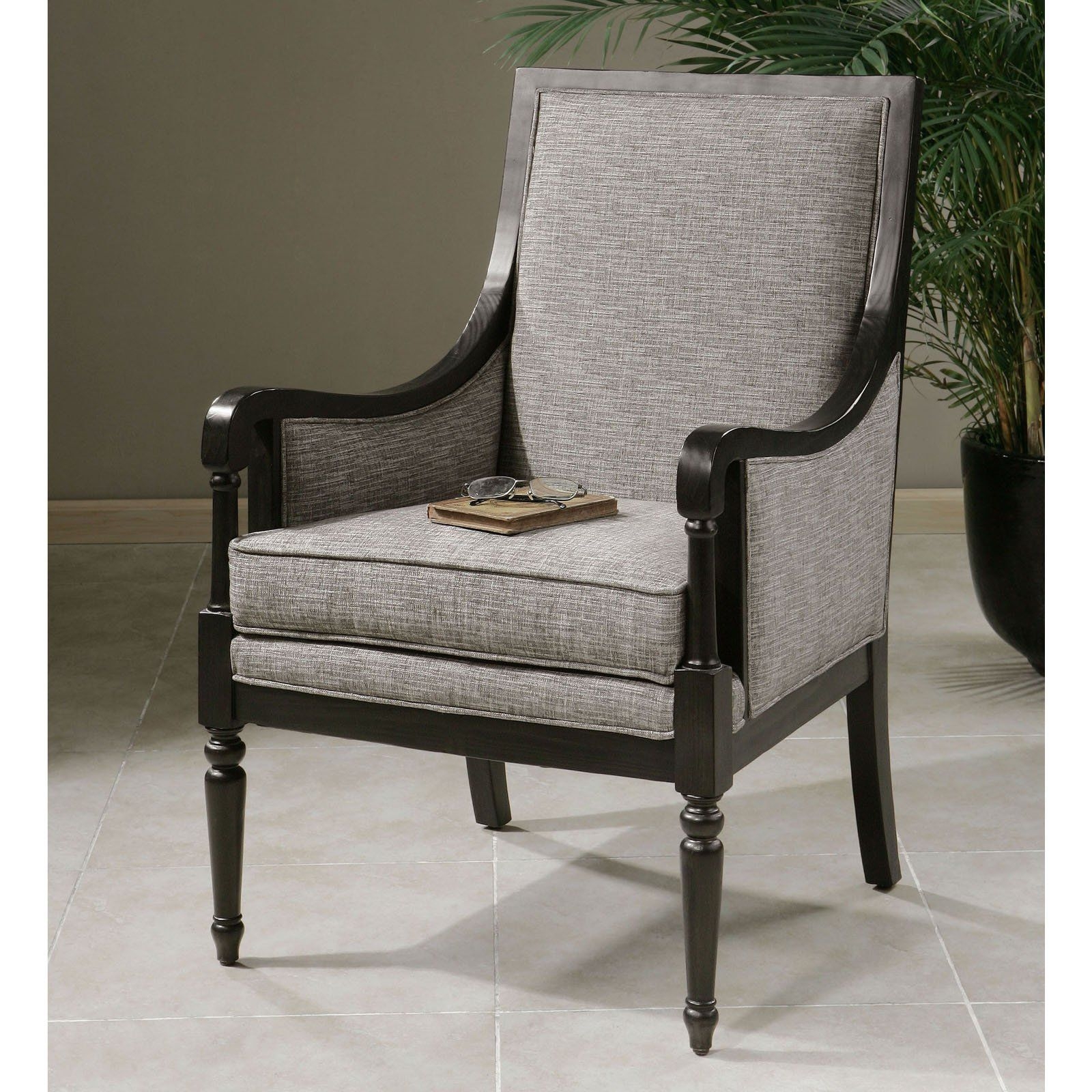 If you want to sprinkle your home with a bit of classic accents, you should, definitely, take a peek at this lovely piece. This refined chair has a wooden frame, with tubular front and flared back legs, and ergonomic armrests. It's upholstered in a grayish fabric that beautifully contrasts with the black frame.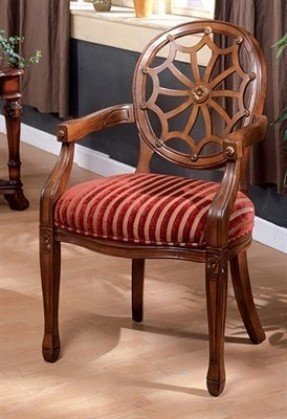 This astounding chair offers a hand-carved structure with beautiful detailing and carvings and offers a truly elegant and traditional look for your household to enjoy a fine boost of visual appeal and sophistication.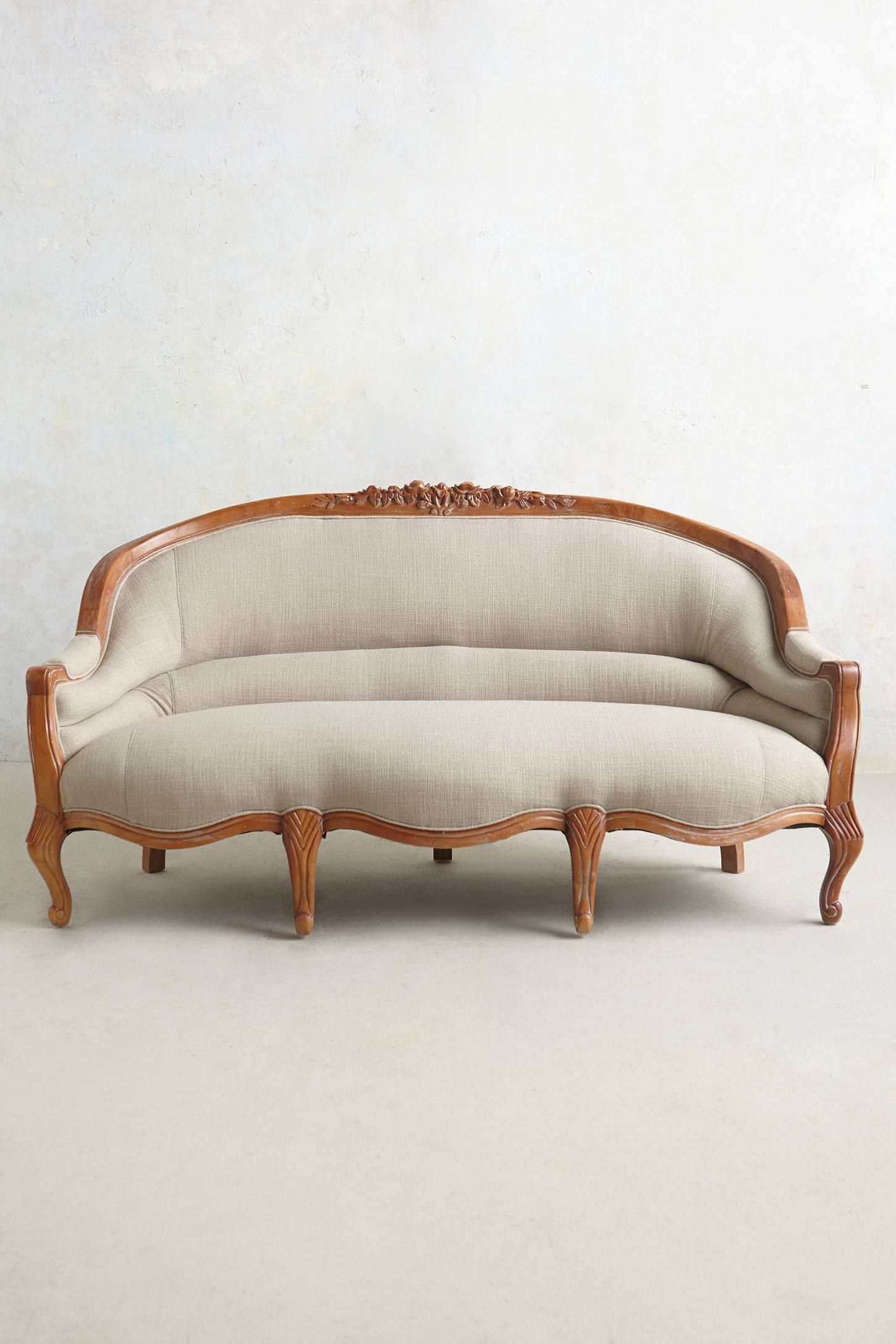 Beautifully carved wood combined with gorgeous creamy white upholstery. These words describe best the fabulous wooden accent chair. Its ornate finishing will add a refined character to any kind of space.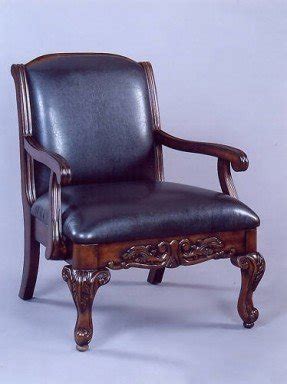 Wooden arm chair with decorative accents. This hand carved antique chair features a very soft, cushioned seat and comfortable backrest covered with leather in universal black color. The chair also includes supportive arms.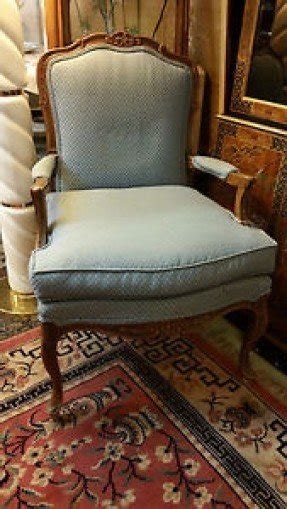 Home & Garden > Furniture > Chairs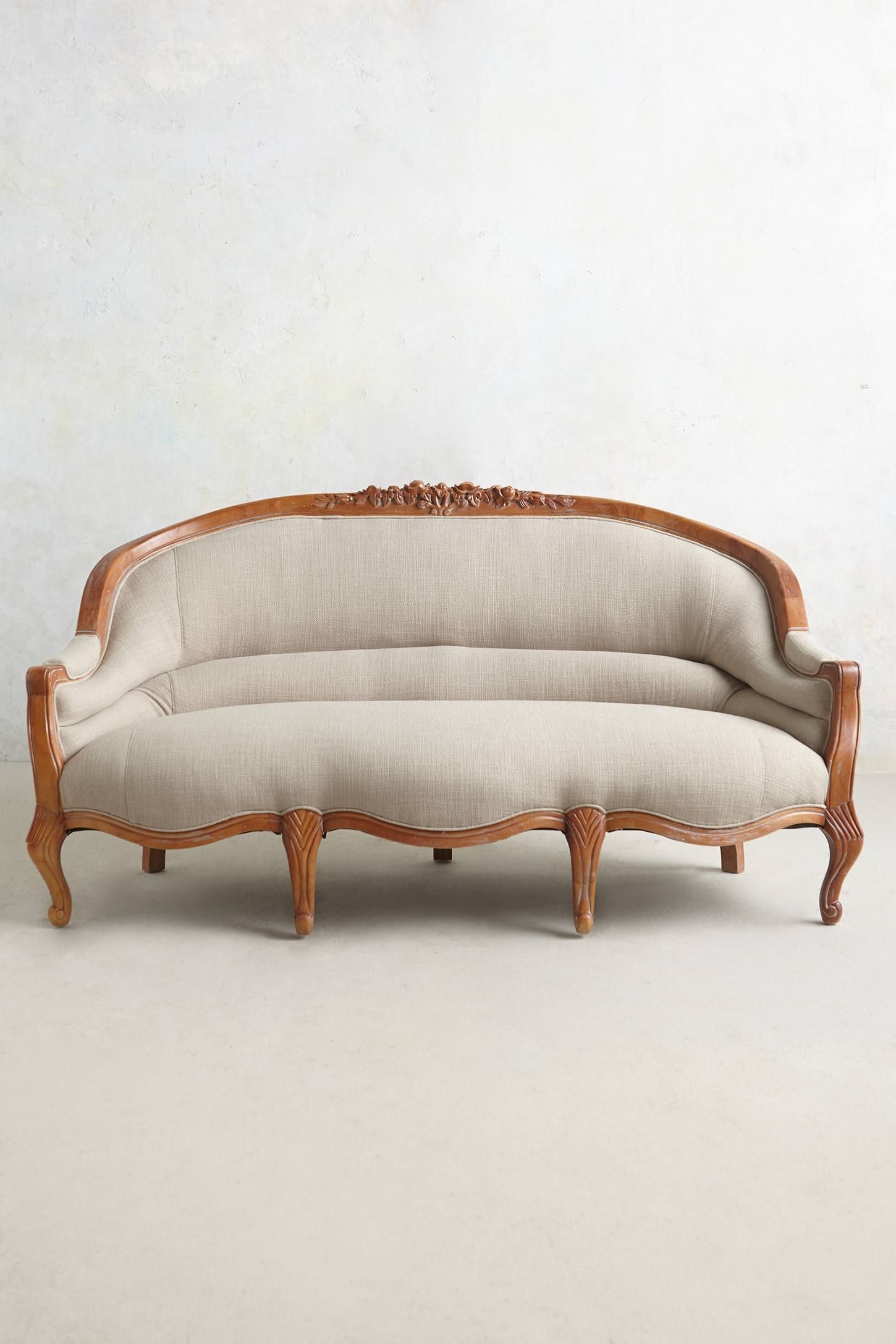 Accent chair upholstered with fabric and finished with decorative nail heads. Frame is made of wood and decorated with carefully made carvings. Application in all kinds of interiors according to taste.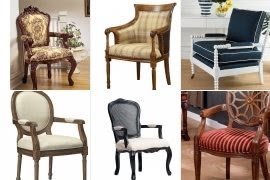 A piece just perfect for any space that's in need of a modern boost - this accent chair sports the unique frame with the bubbly additions and offers a classic carved structure, while featuring upholstered arm rests and reversible cushions.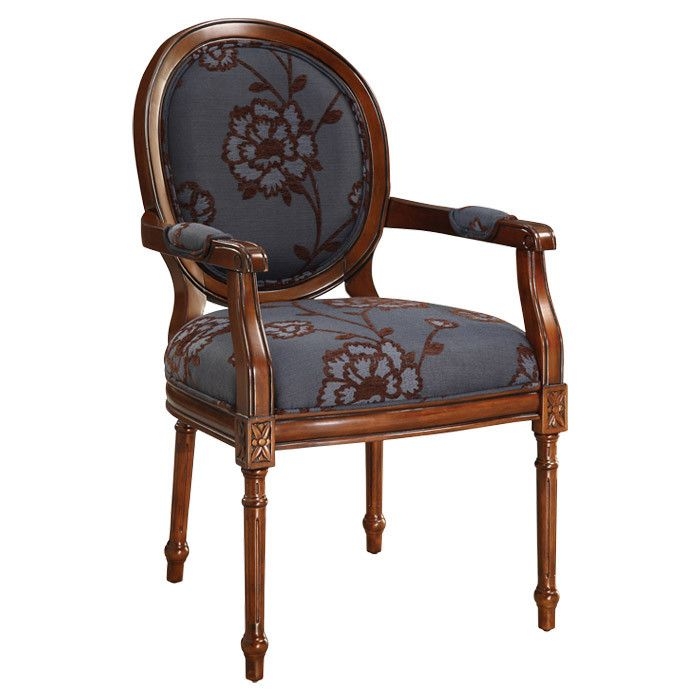 Louis XVI-style arm chair with hand-carved accents and an upholstered seat and back. Product: ChairConstruction Material: Wood and fabricColor: Brown and blueFeatures: Cushioned seat, back and armsHand-carved accentsDimensions: 39.5" H x 24.25" W x 26.75"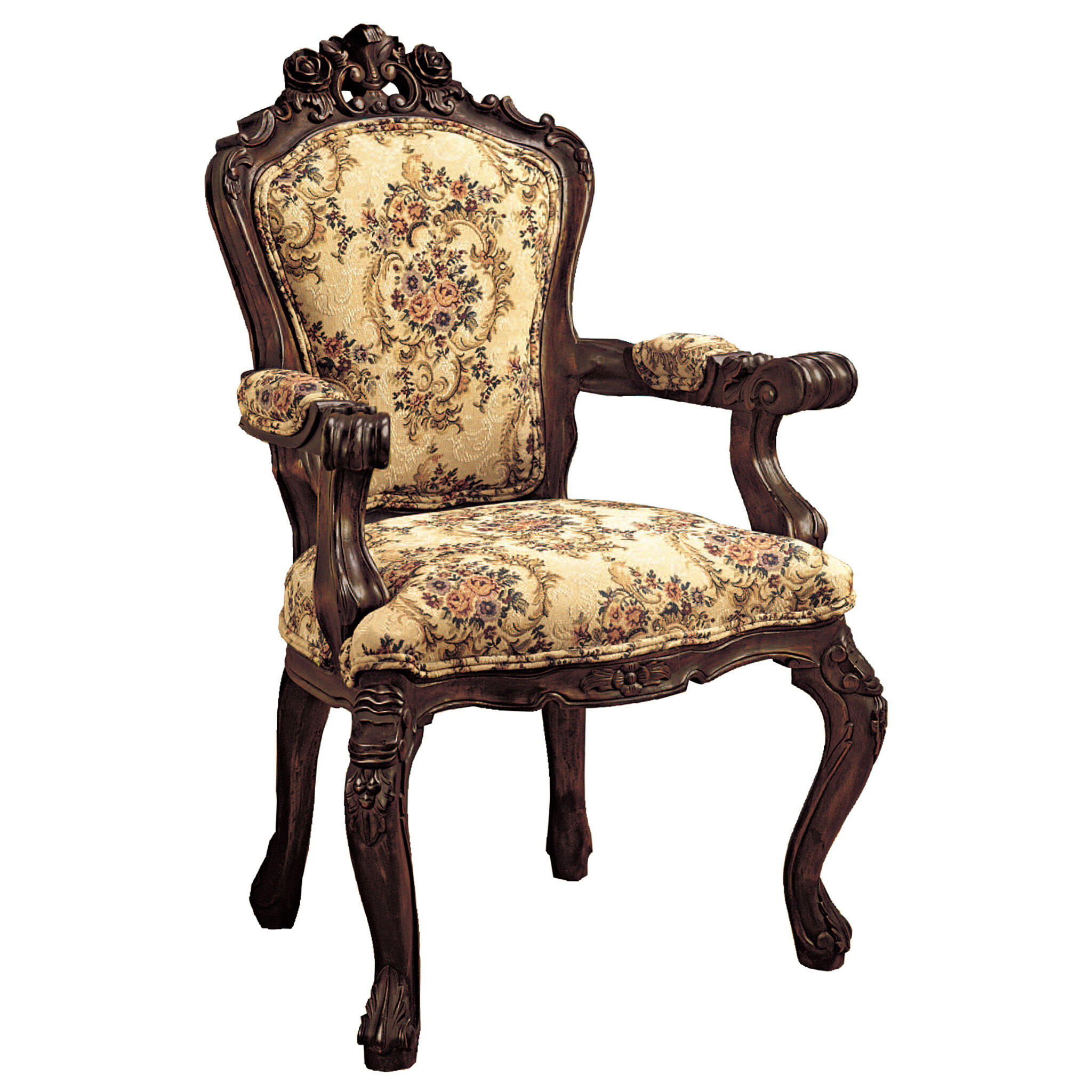 Stylish chair mounted on wooden frame and finished with openwork pattern on the back. Seat is filled with foam and covered with thick fabric. Great as dining chair or additional seating in any interior as needed.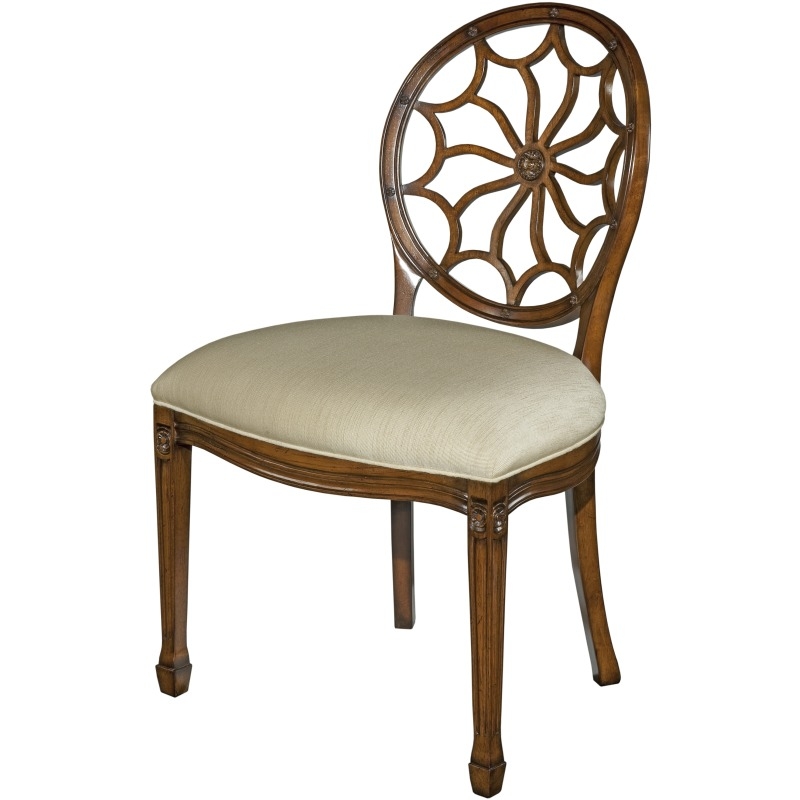 Add style and comfort to your dining room with this amazing 6-piece set with Hepplewhite dining side chairs. They have got a spiderweb pierced backs and upholstered seats for enhanced comfort of use.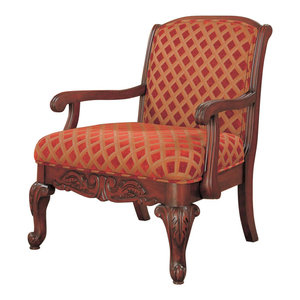 ... upholstered chairs chaises exposed wood arm chairs and chair and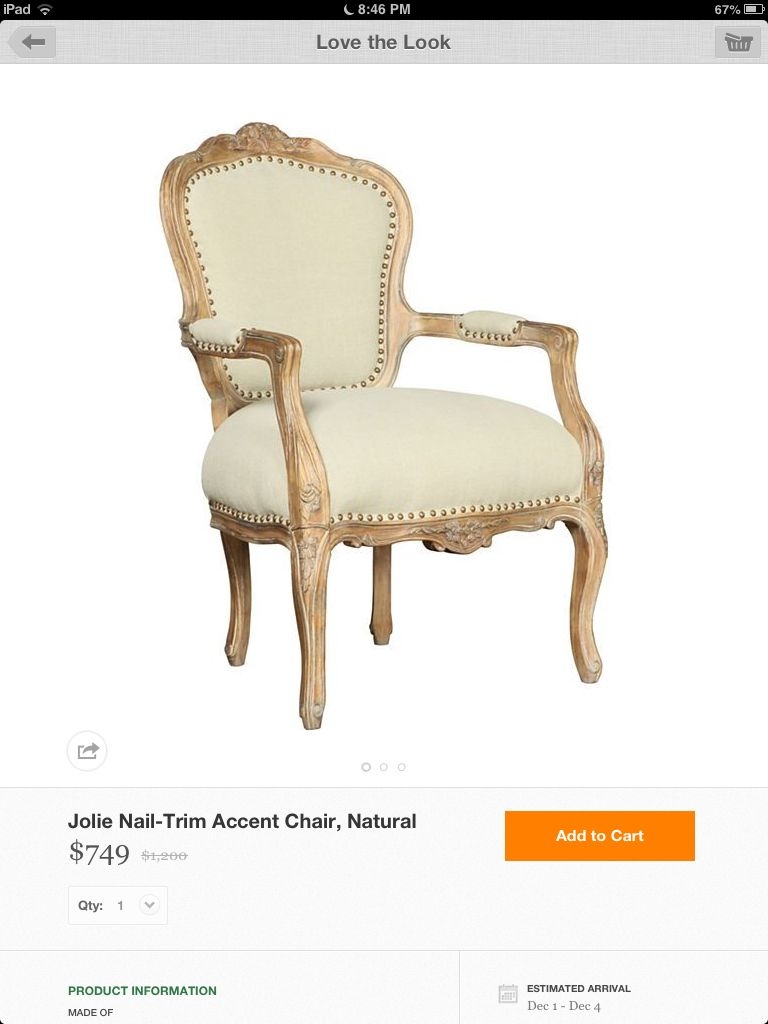 Mirabelle Upholstered Chair with Nail Head Trim and Exposed Wood Arms ...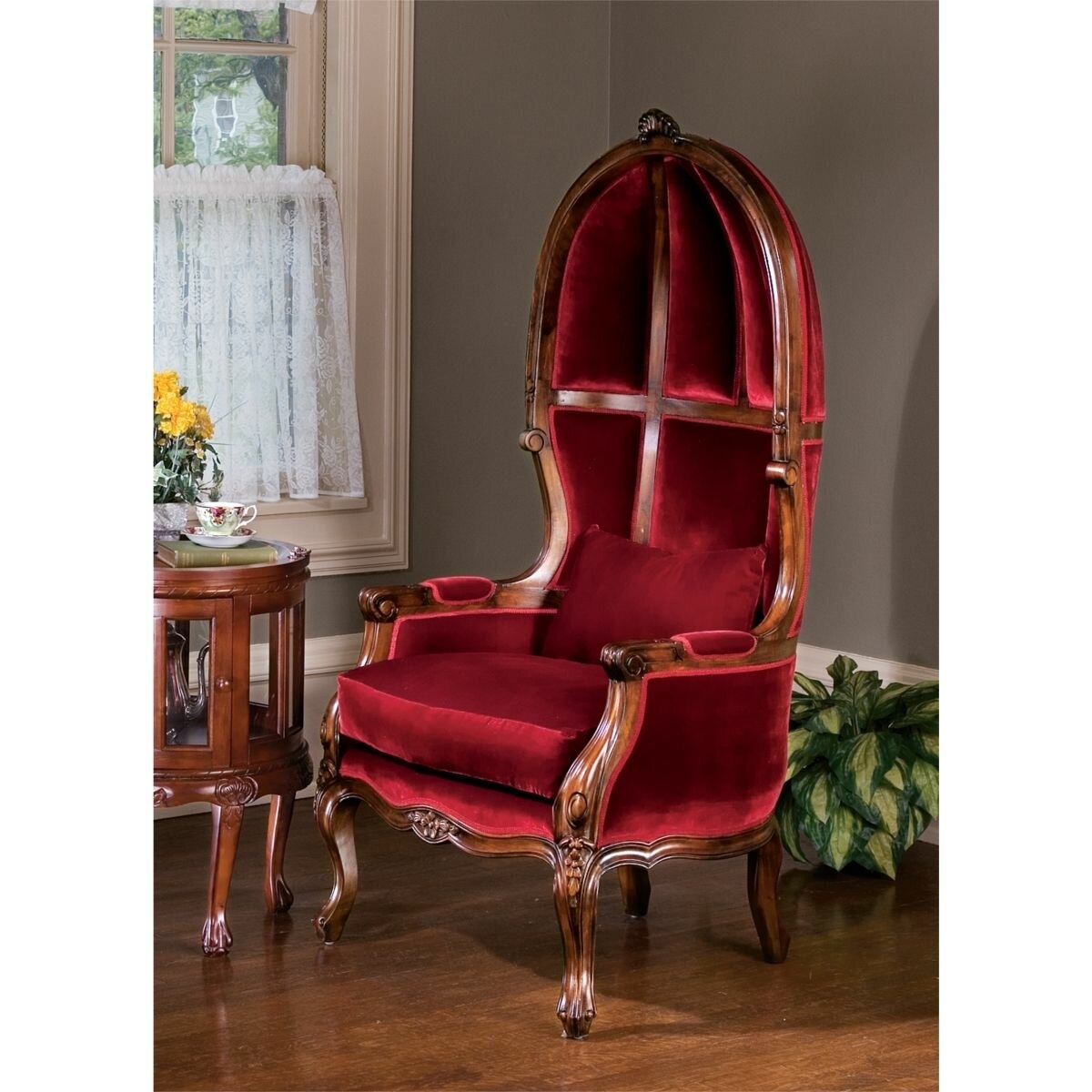 Transform your living room into a royal chamber with this extravagant arm chair in shape of Victorian balloon. Magnificently carved frame is made of solid mahogany, and hand-upholstered in burgundy velvet.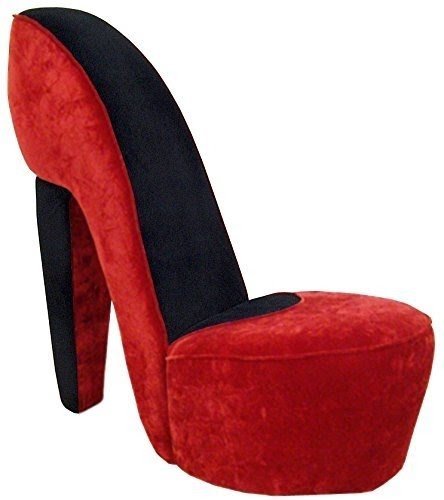 When I firstly saw this chair I just couldn't stop smiling, it's just me! Designed in a high heel shape, it is fun and comfy, and it is complimented by all my friends! It is padded with polyester suede-like fabric in bold red.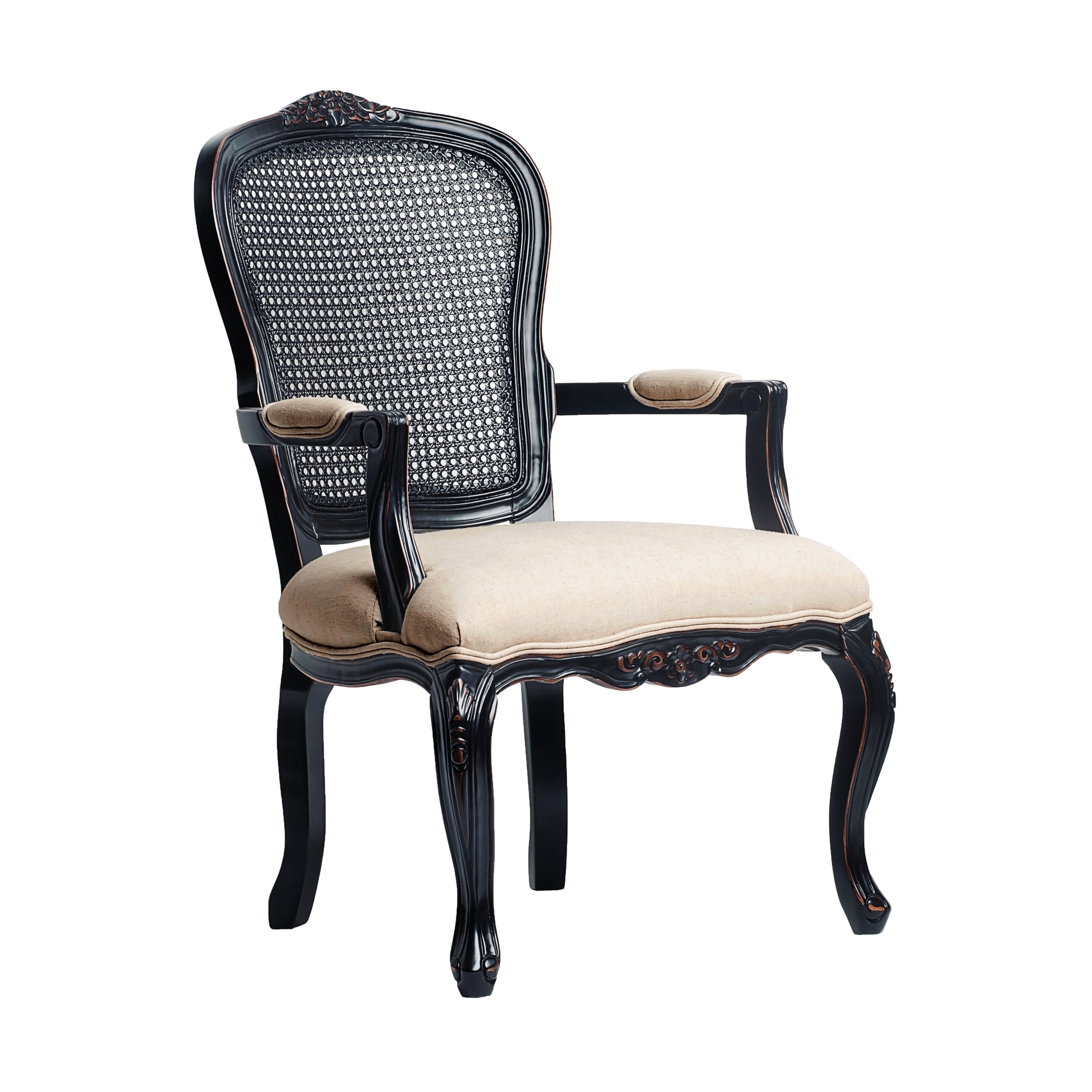 It is a beautiful and stylish carved Comfort Pointe ayla accent chair that has got a brown finish and fabric upholstery. They padded seat provides an excellent seating comfort.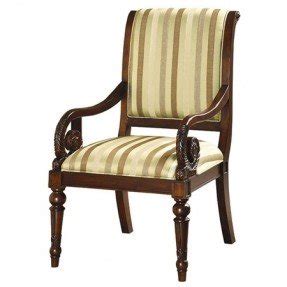 Dark cherry-finished wood arm chair with classical column legs and an upholstered foam cushion. Hand-carved arms and legs. Product: ...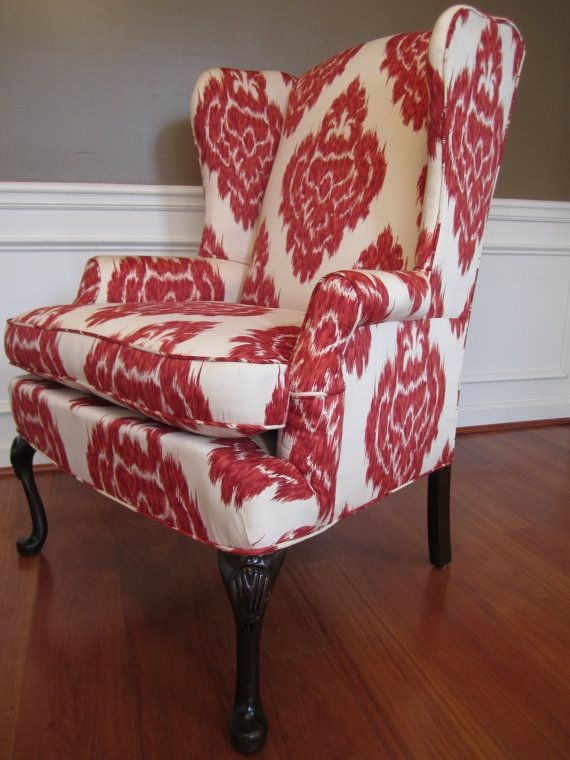 Wingback chair upholstered with pleasant to touch and finished with sophisticated ornamentation. It is mounted on wooden frame. Perfect as additional seating or place for relaxation in the living room, bedroom and more.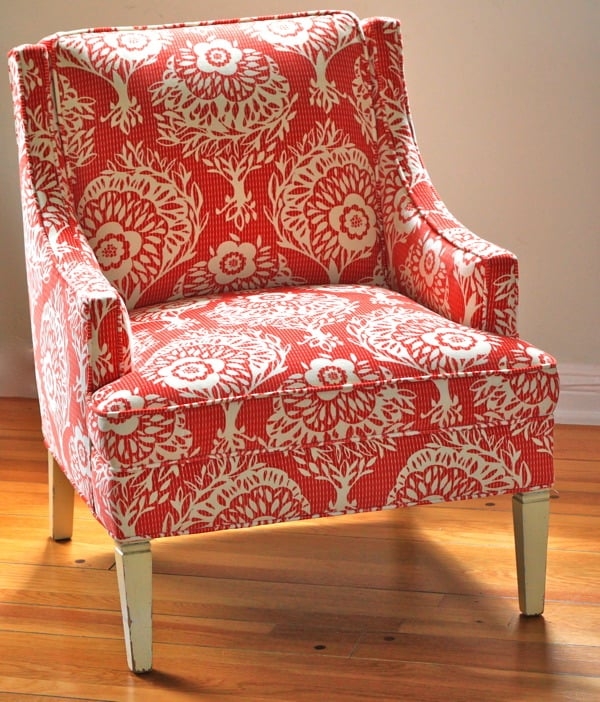 With the fun and colorful pattern of the visually appealing print and the deliberately distressed look of the straight legs and frame this accent chair will beautifully complete the look of your bedroom or home study.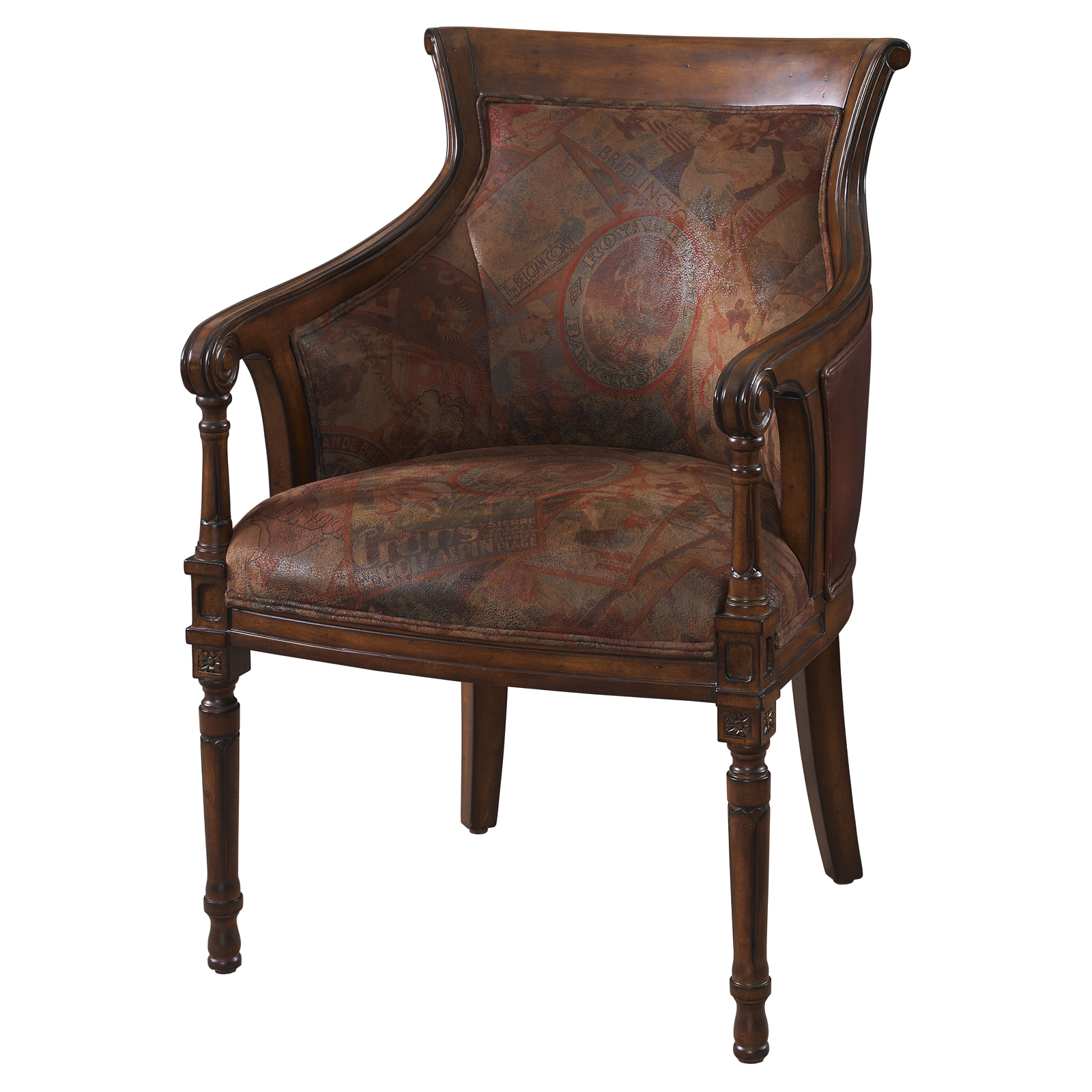 Leather-like material - fantastically reminiscent of the highest quality leather, which is the perfect companion for dark antique mahogany wood. In this way, the colored upholstery in the sacred style complements carved wood accent chair.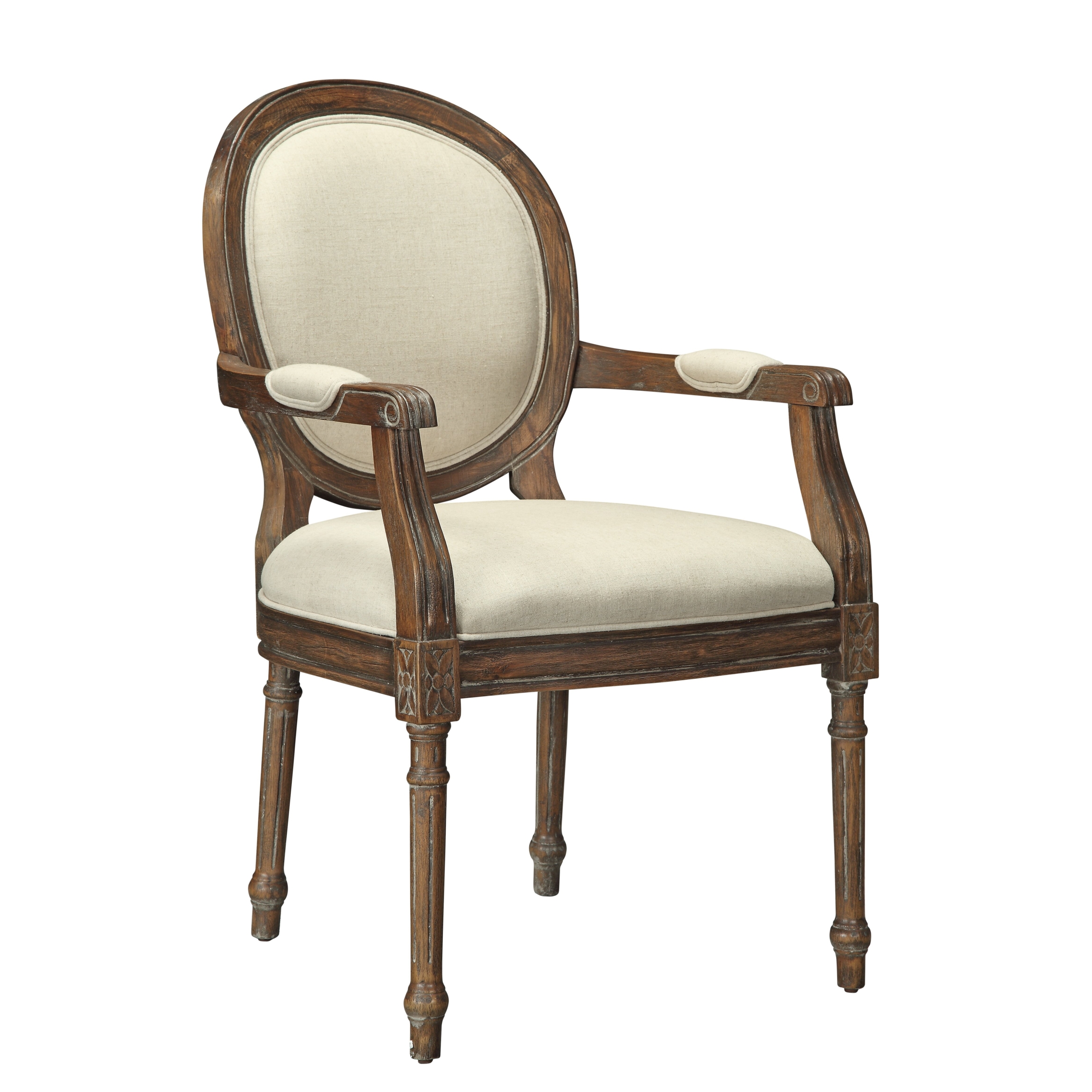 Upholstered accent chair with a hand-carved frame and fluted legs. Product: Accent chairConstruction Material: Wood and fabricColor: Beige and brownFeatures: Hand-carvedDimensions: 39.5" H x 24.25" W x 26.75" D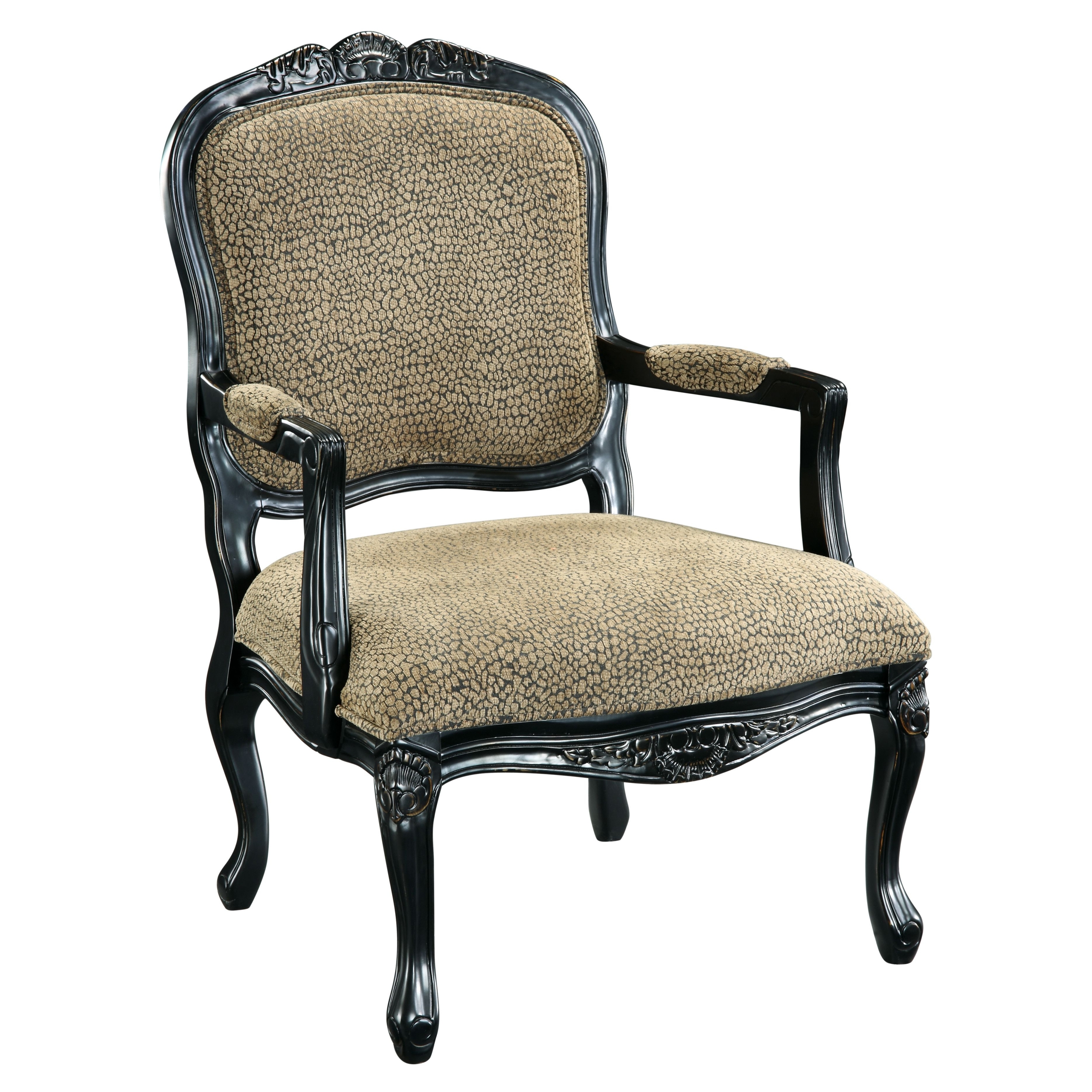 Elegant and sophisticated design for a carved wood accent chair made out of oak wood with a black coat of paint. The accent chair is fitted with upholstered seat, back and armrests, fitted with a cream-colored fabric.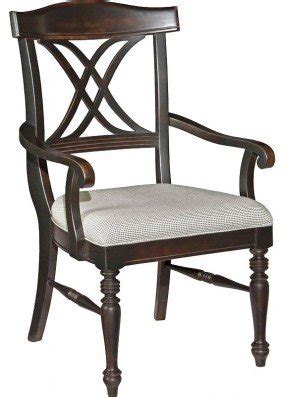 tables cocktail tables sofa tables accent cabinets clocks all accent ...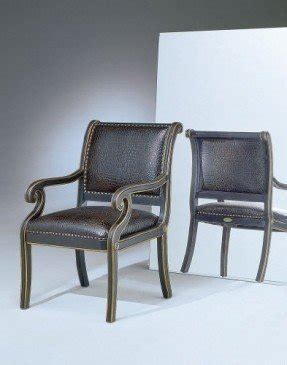 This Maria arm chair has got an ebony faux crocodile leather upholstery, solid construction and contemporary design. It is a great addition for your living room, dining room and other.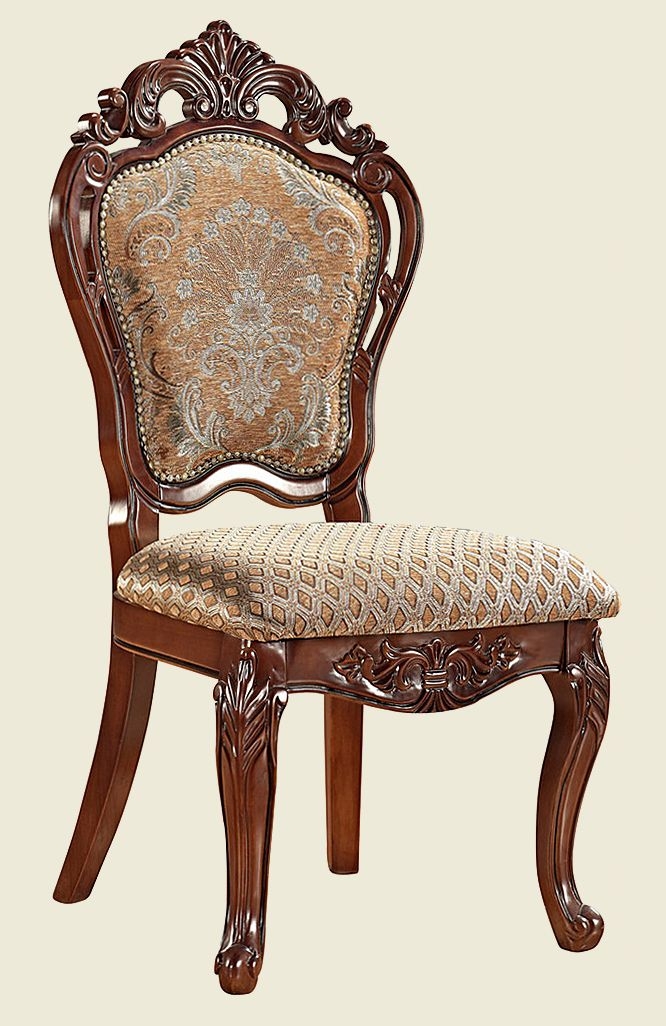 It is a 2-piece set that includes stylish and elegant side chairs for your dining room and living room. They have got a solid oak construction, linen and polyester blend upholstery and romantic look.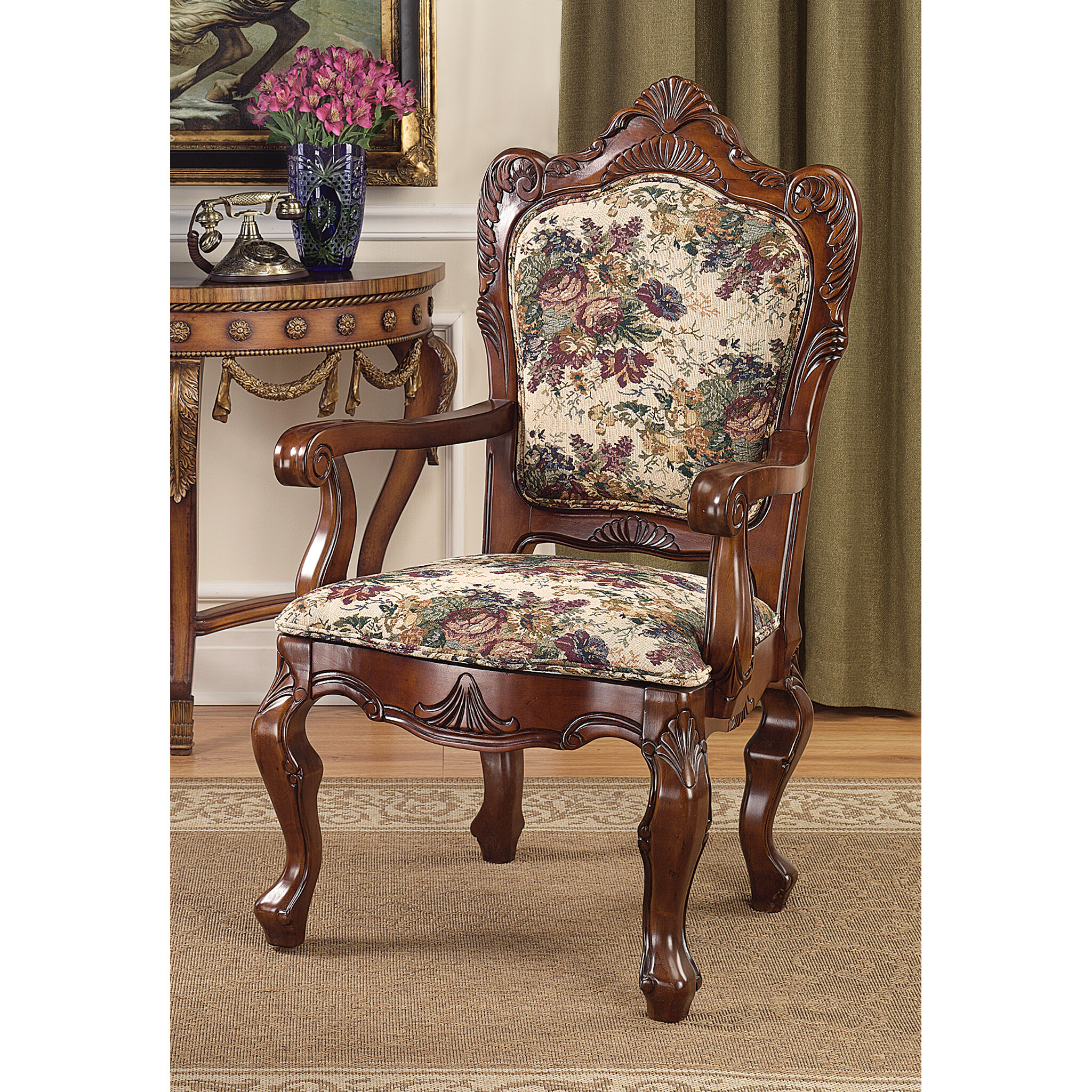 Elaborate arm chair with heavy wooden frame with multiple carvings. Scrolled armrest accent the beauty of the floral jacquard upholstery and the royal style crown that tops the backrest. It's just like wow!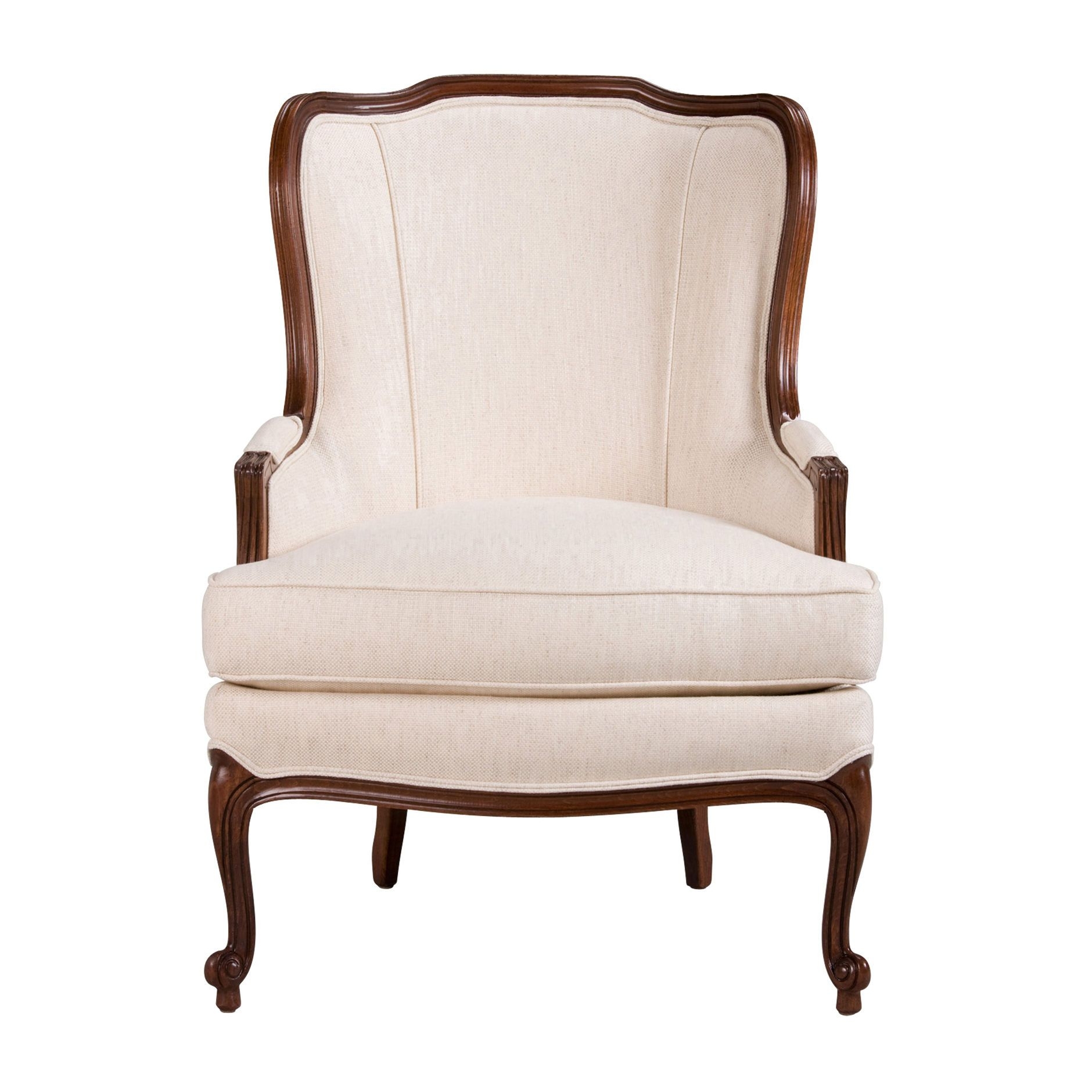 The inspiration is Louis XVI, the imagination is ours. We like to upholster this formal chair in two fabrics or leathers for a fresh look. The classic details -- wings and hand carvings on feet and arms -- can definitely take it. Also graceful, of course,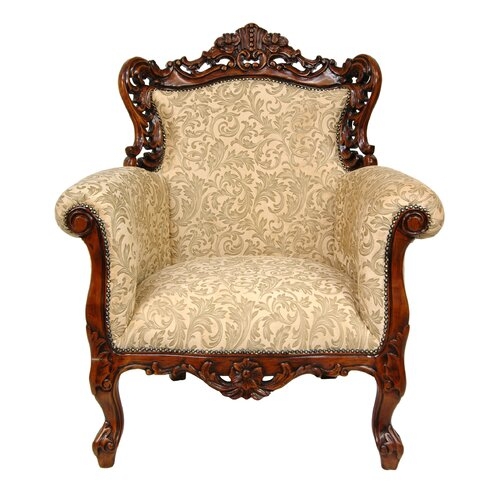 A classically detailed accent wood chair featuring hand carved details, outside bonded leather and soft, floral upholstered seating with individual nail head trim.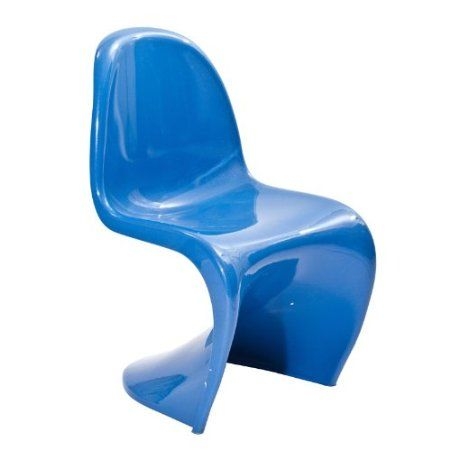 Modern style egyptian chair? Is that even possible? Yeah, this blue finish dining or living room lounge side chair is wisely accented with dark marine blue color. It's plastic so it won't get dirty, maybe just a little bit dusty.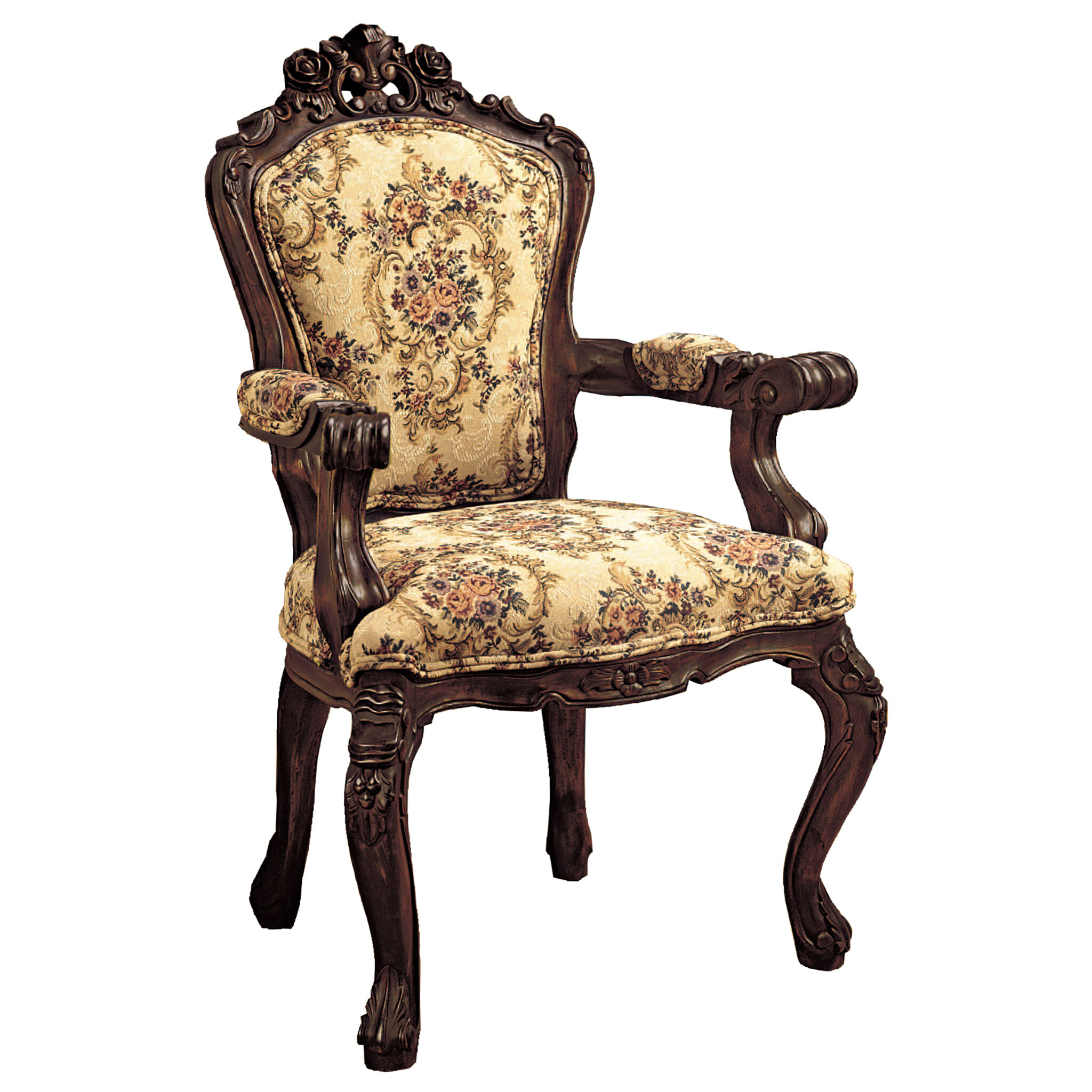 Accent chair in Victorian style. Carefully carving frame is made of wood and reinforced with crossed supports. Seat and back are upholstered with richly decorated fabric. Classic form and timeless style.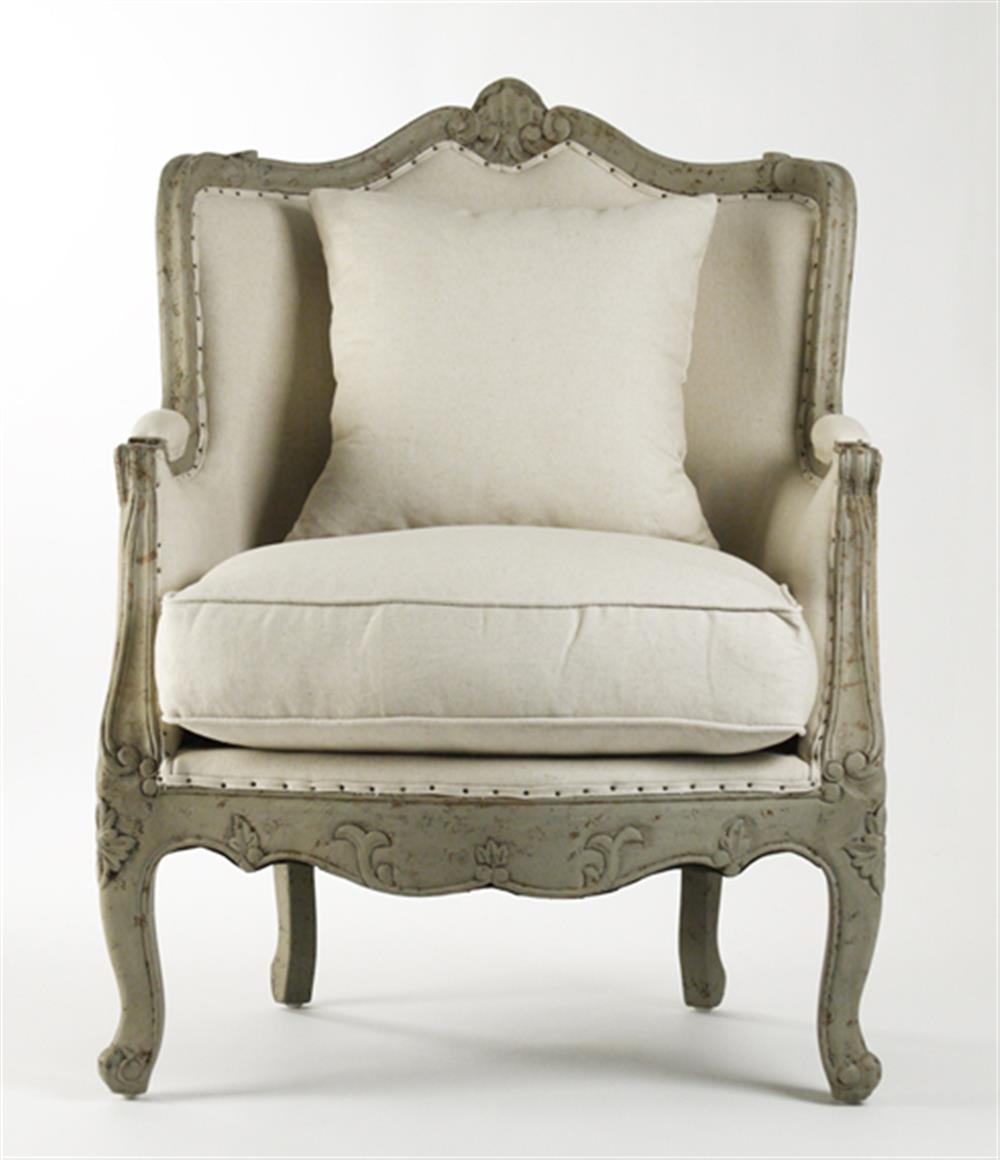 Showcasing a hand-carved oak wood frame and upholstered seat, this elegant accent chair is the perfect addition to your living room or parlor. Product: ChairConstruction Material: Oak woodColor: Olive greenFeatures: Hand-carvedAccent pillow includedDime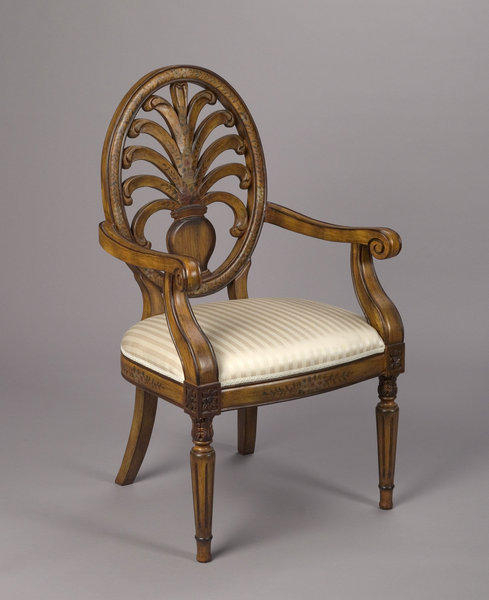 Arm chair with beautiful design, oval back, upholstered seat and construction featuring walnut finish. Additionally, the seat is richly tufted, which makes it very comfortable. The arm chair is a great addition to variety of stylish interiors.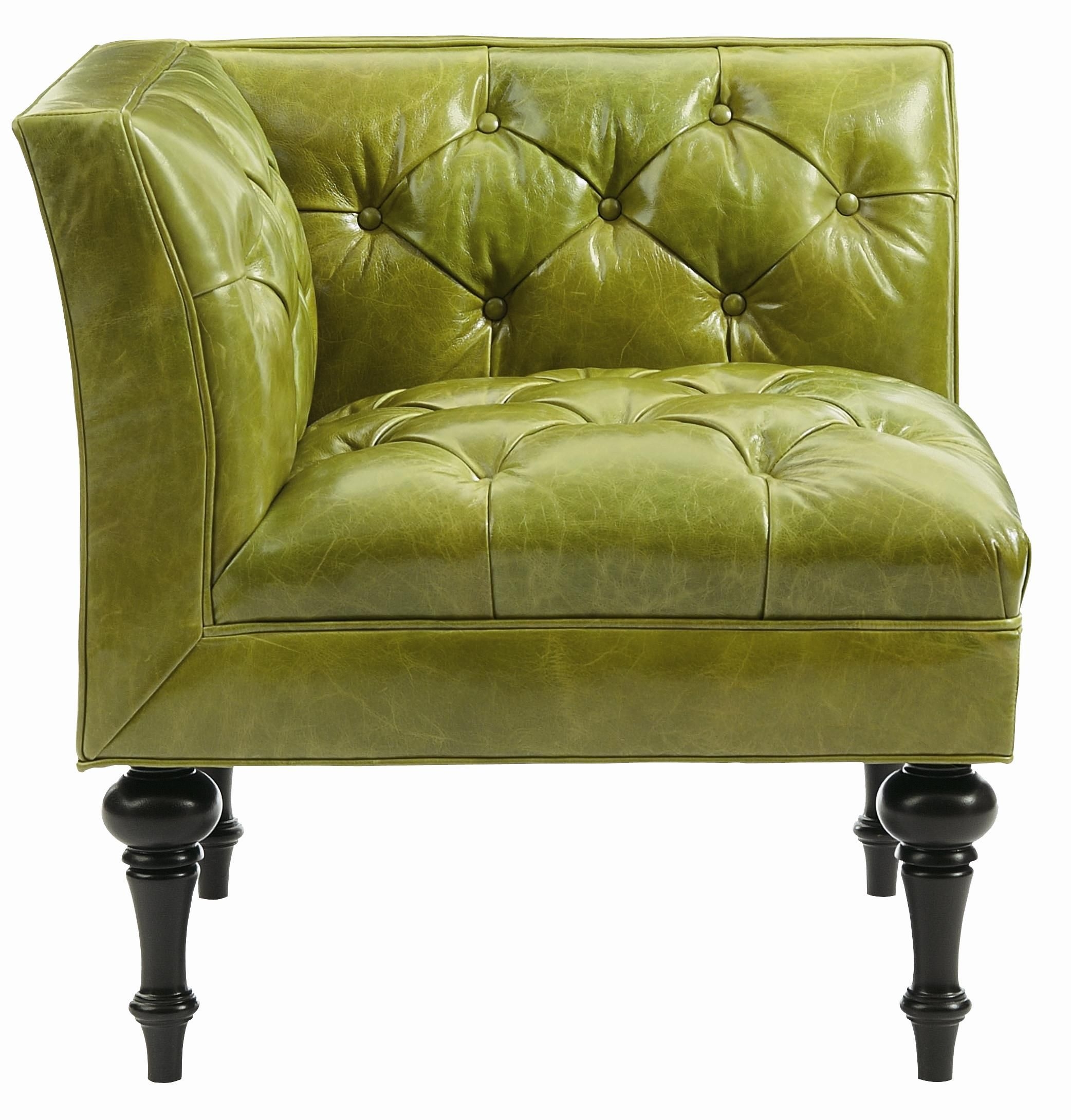 Open your living room to a corner chair that has a historic style. Individually finished buttons, with quilted upholstery and mocha trim, perfectly adapts to a wooden base, made og multi-ply hardwood. Accent chair clearance flaunts modern, timeless style.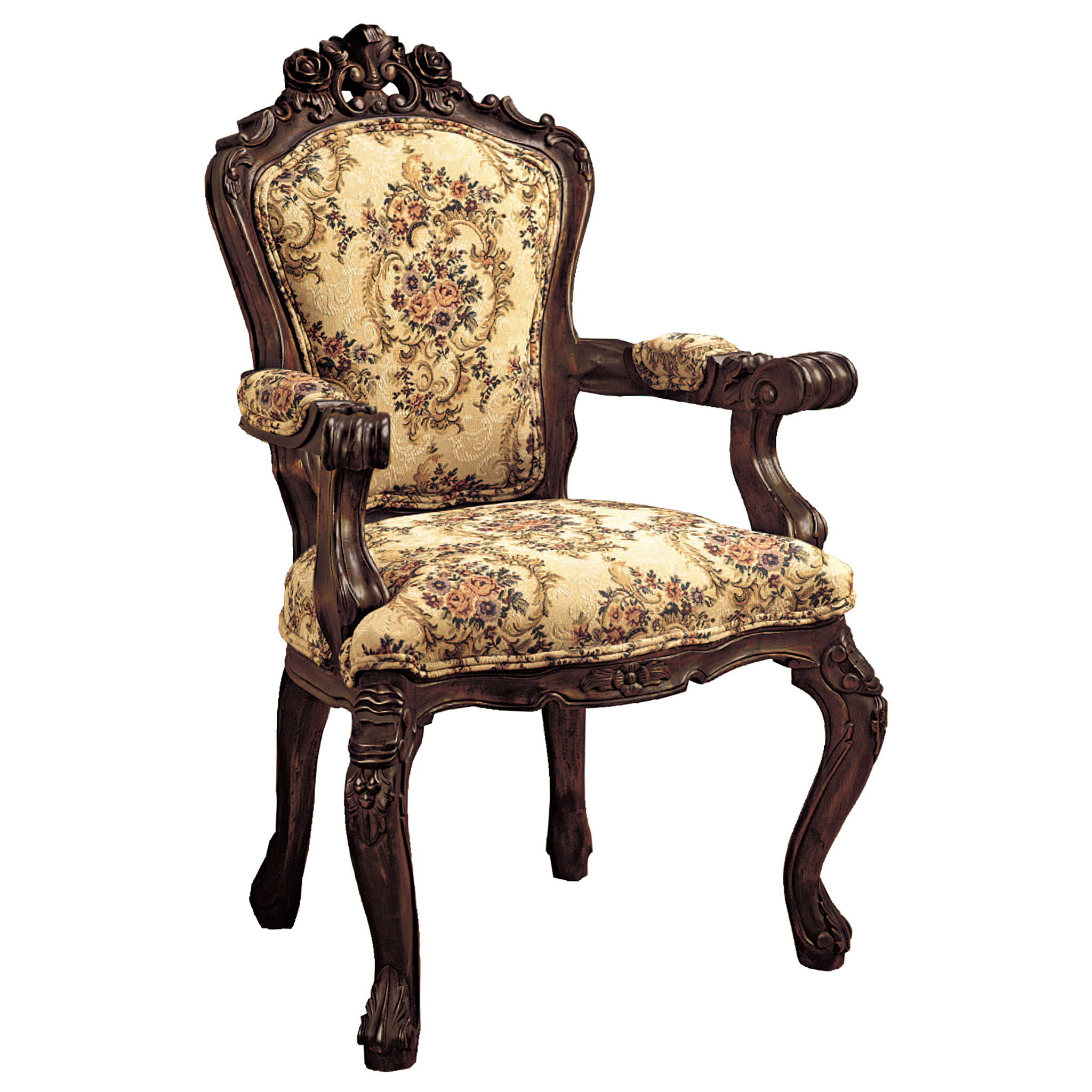 This is the solution how to give your grandma's furniture the second life. The frame of the worn-out armchair had been renewed and relacquered. The new upholstery made of the lime velvet makes it looking modern.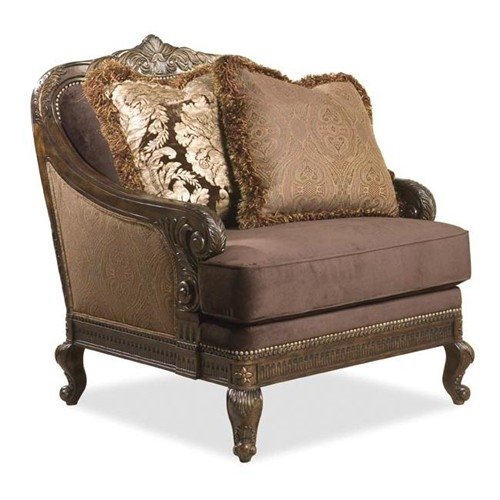 Oriental style for an antique and old-fashioned accent chair, made out of carved walnut wood with a dark brown tint. The chair has a winged back and is upholstered with a microfiber material in a brown colour.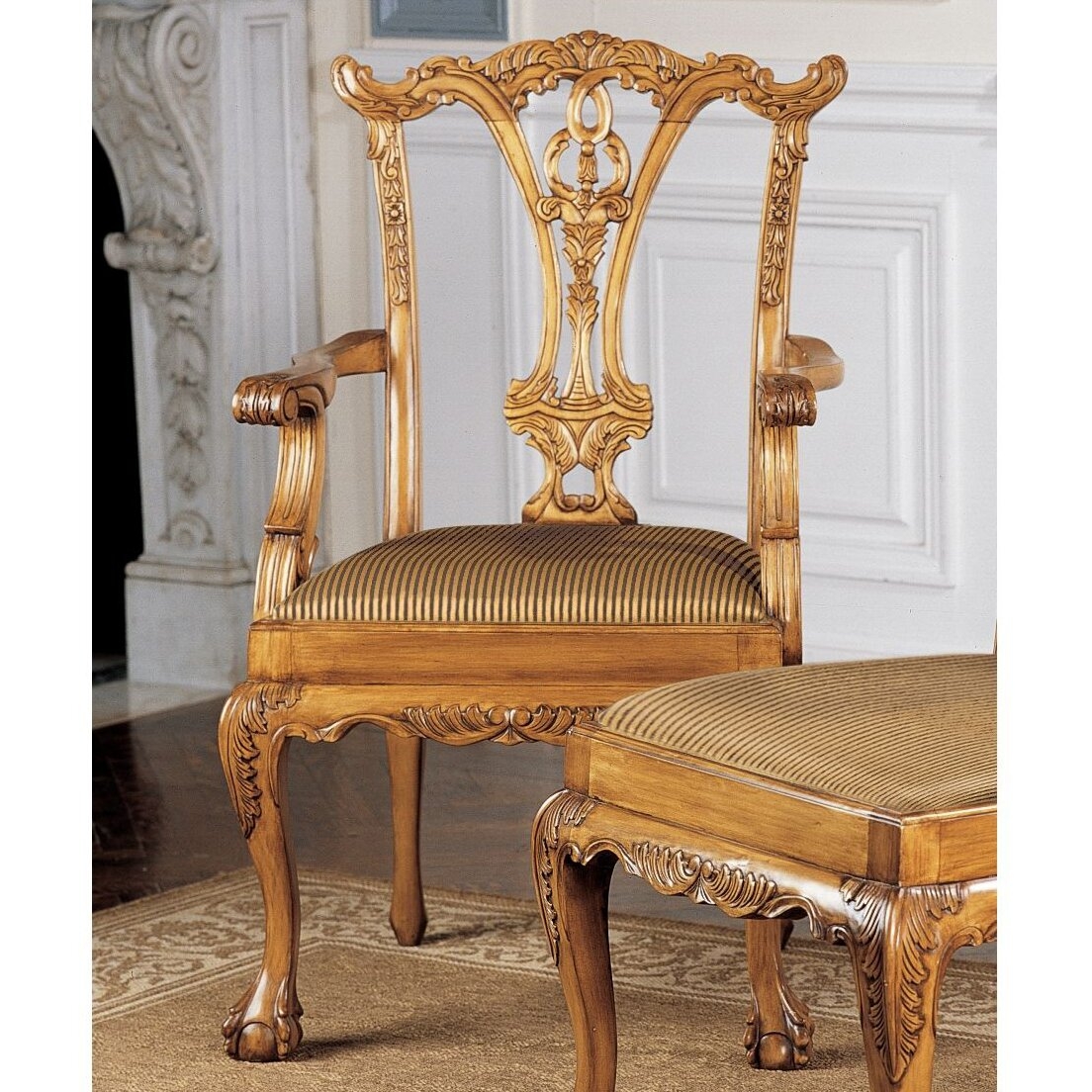 A stylish, decorative and functional piece of furniture. This armchair is made of hand-carved solid mahogany wood. It inteoduces a traditional European style into the house. Its size is 24 inches width by 39-1/2 inches height by 23 inches depth.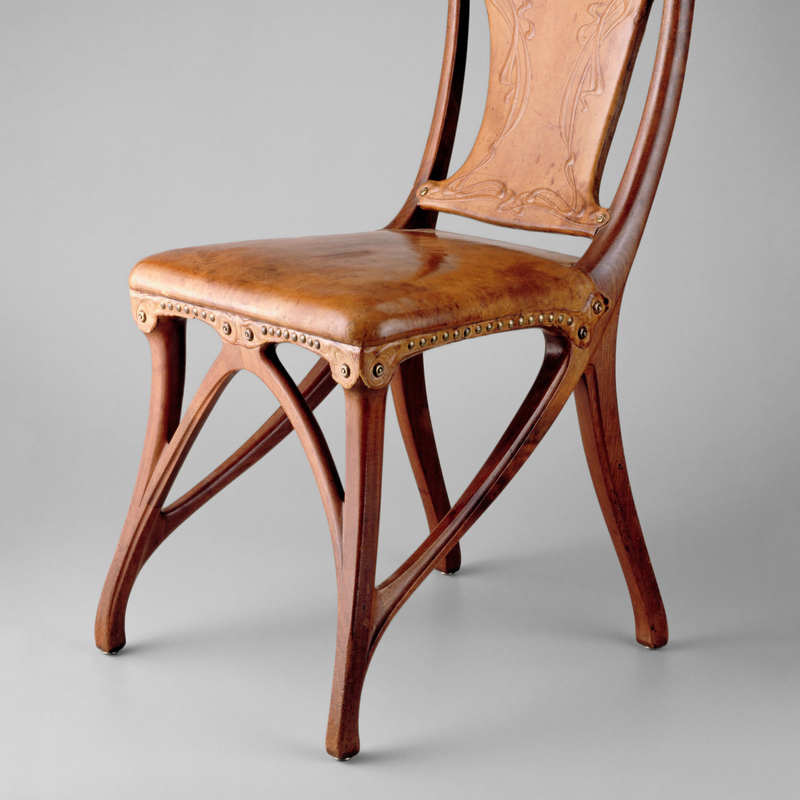 The essence of Art Nouveau was to strive for a unity of art.Its characteristic ceremonies are visible on the example of this antique leather, carved wood chair-wavy lines, plant ornamentation.Combination of pastel brown in the form of upholstery,mahogany wood.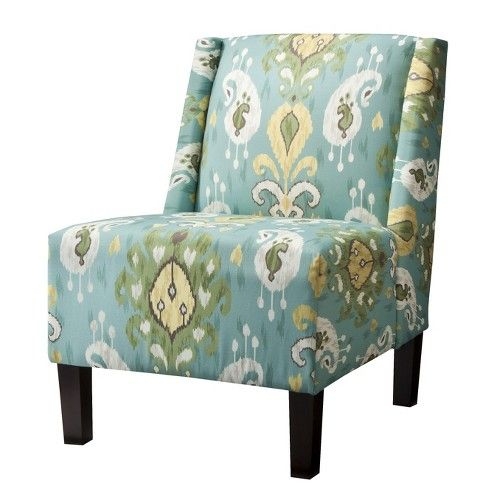 A high quality chair created for people who are interested in having solid and good looking products in their living rooms. This armless chair has got a solid top, soft seat and durable, attractive legs that increase stability.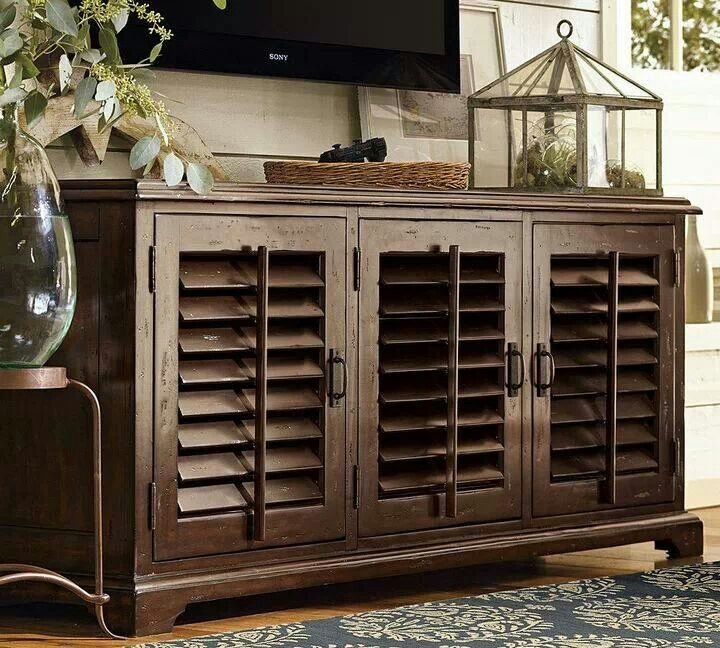 An original product that introduces a classic style into the house. Its neutral colour looks interesting in any decor. The seat and backrest areas are very soft and solid, so they provide the best level of comfort and support.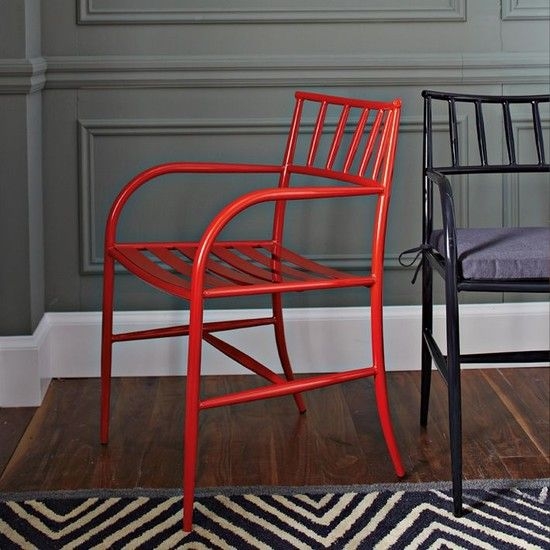 This chair is an interesting product that will provide a high level of comfort, solidity and stability thanks to its steel construction. The powder-coated steel is resistant to different forms of damage and wear.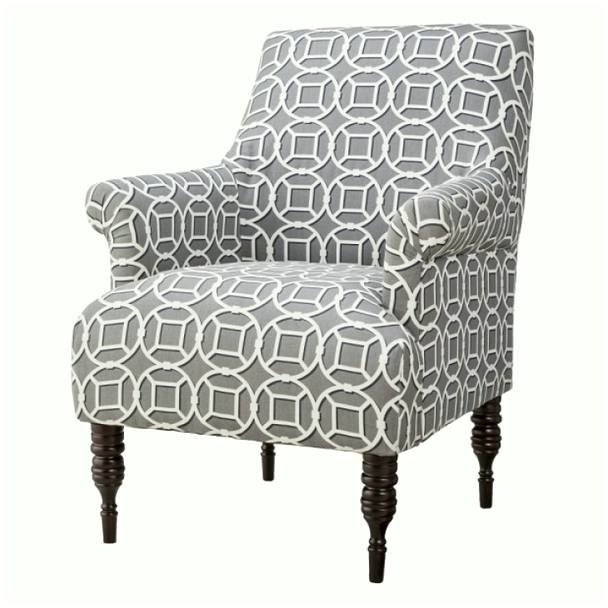 This 2 piece living room furniture set seems and feels so nice. Subtle green accent chair is an ideal mix with leather sofa in a living room. Cool, classic wooden table looks as a nice complement to it all.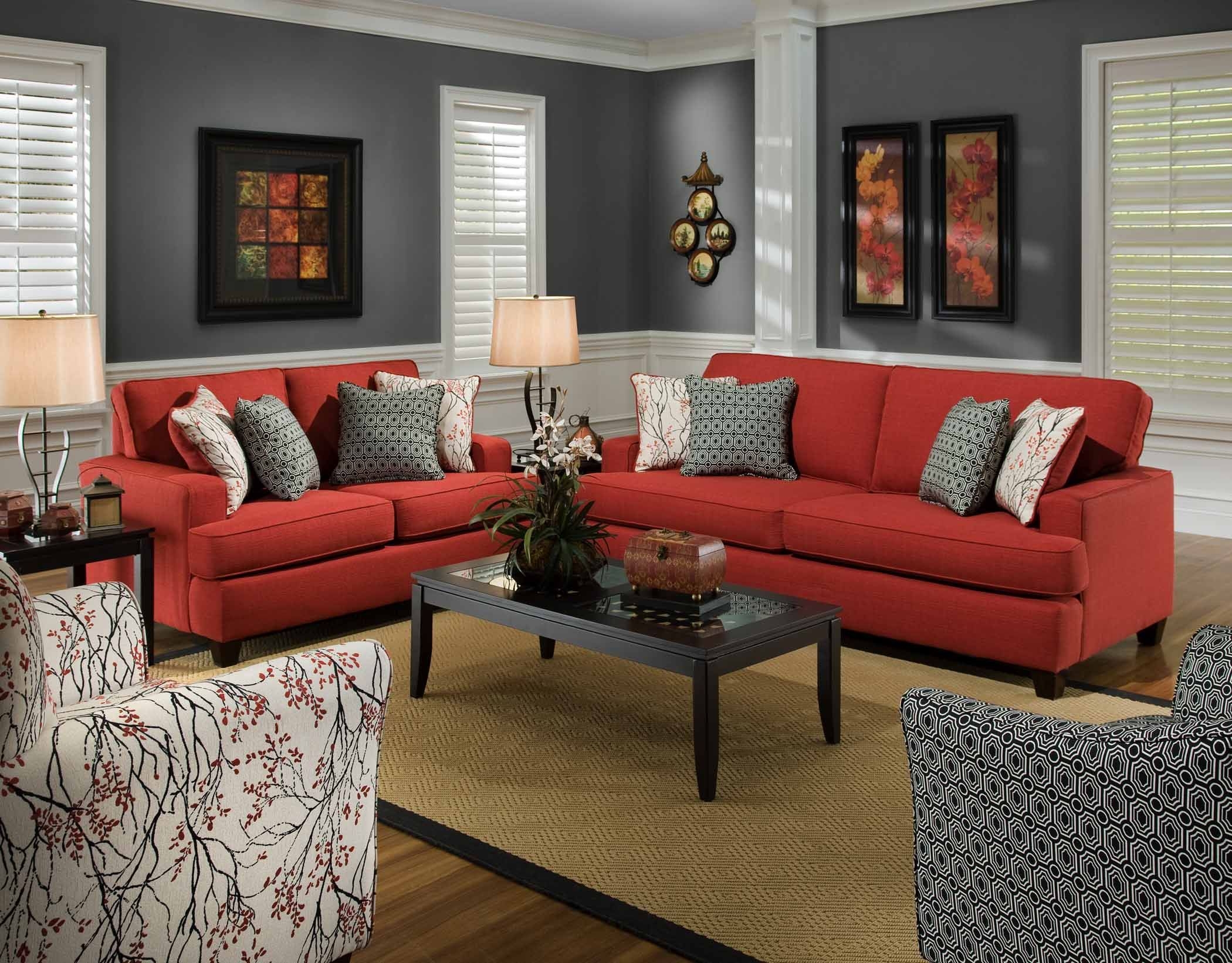 Simple, but elegant living room suite composed of two red recliner sofas, one white and black patterned armchair, armchair with floral pattern and eight cushions made of the same cloth, which cover armchairs.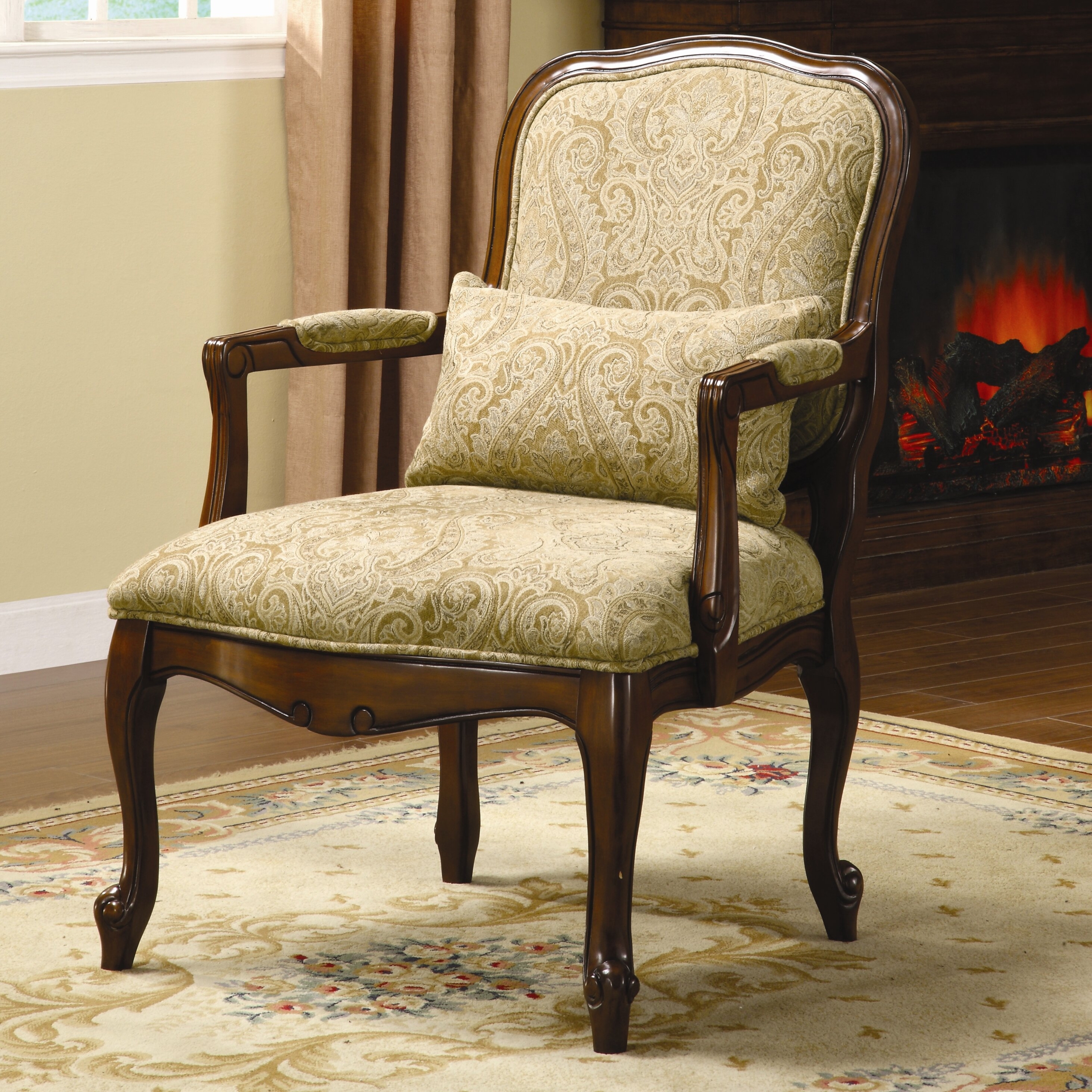 Arm Chair Features: -Oriental pattern on upholstery.-Hand carved ...