From more comfortable viewing to extra peace of mind, placing your TV on a stand will bring you lots of benefits. Still, that doesn't mean that any TV stand will do!
It's important to choose the right one for your TV, room and needs.
Not sure where to start?
Here are 6 practical tips on choosing a TV stand that will upgrade both your viewing experience and interiors.
1.

Decide exactly where you're going to place your new TV stand

If you haven't already done so, you definitely want to figure it out before you're stuck with a TV stand that doesn't fit a specific corner.

In what room are you going to place it? And where exactly?
We don't recommend placing it in front of a window, as the backlighting will create unpleasant reflections;

The best place is usually the middle of your seating area or, if you're trying to save space, a well-lit corner;

You must also ensure that you leave plenty of floor space between the actual TV and where you'll be sitting: for a smaller 29" TV, 3-4 feet will do, but you should increase it to 5-6' for larger models (around 46"), whereas even bigger ones will need between 7 and 8'.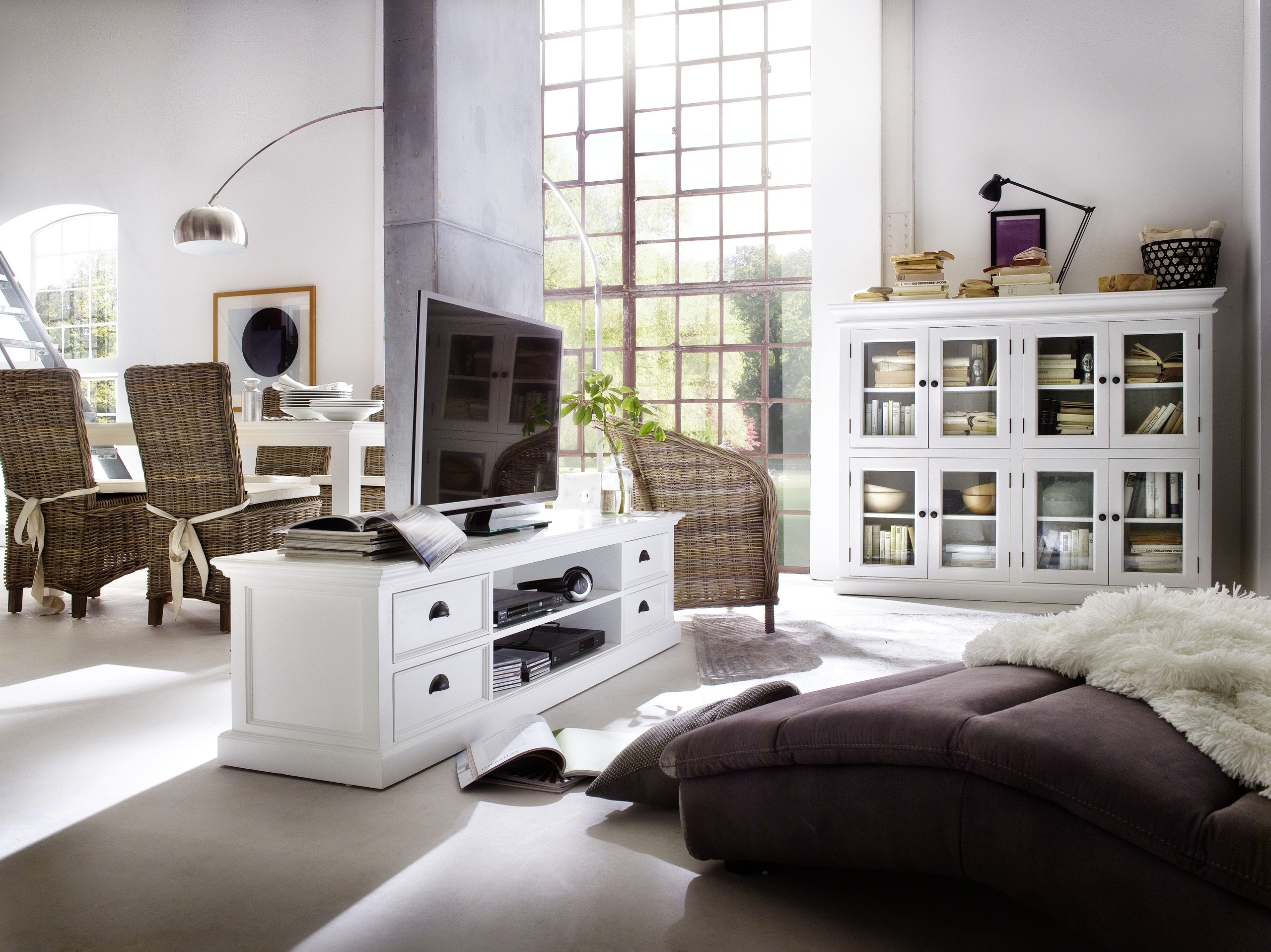 2.

Measure your TV & calculate the right size for your new TV stand

Unless the description of a TV stand specifies that it's made to fit a, say, 65" TV, this size probably refers to the actual length of the stand.

Because, on the contrary, TVs are measured diagonally, you can see how easy it is to end up with the wrong match.
Instead, measure your TV from one edge to the other;

Unless you're opting for wall or flat-mounted models, add 2" to what you've just measured, just so the stand doesn't look too small. Or, if you're planning on placing some decorative items, at least 4-6" on each side.
To avoid tilting your head into uncomfortable positions, you also need to measure the sitting height:
Start by sitting on your sofa or wherever you'll sit when watching TV, and measure the height from the floor to your eye level;

For the best results, the bottom half of the screen should match that height;

This means that the surface onto which you'll place the TV shouldn't be any lower than 12" below measurement.
As for the size of your stand, you must be realistic with your existing furniture. Still, allow around 6" of clearance on one side so that you can access the cables.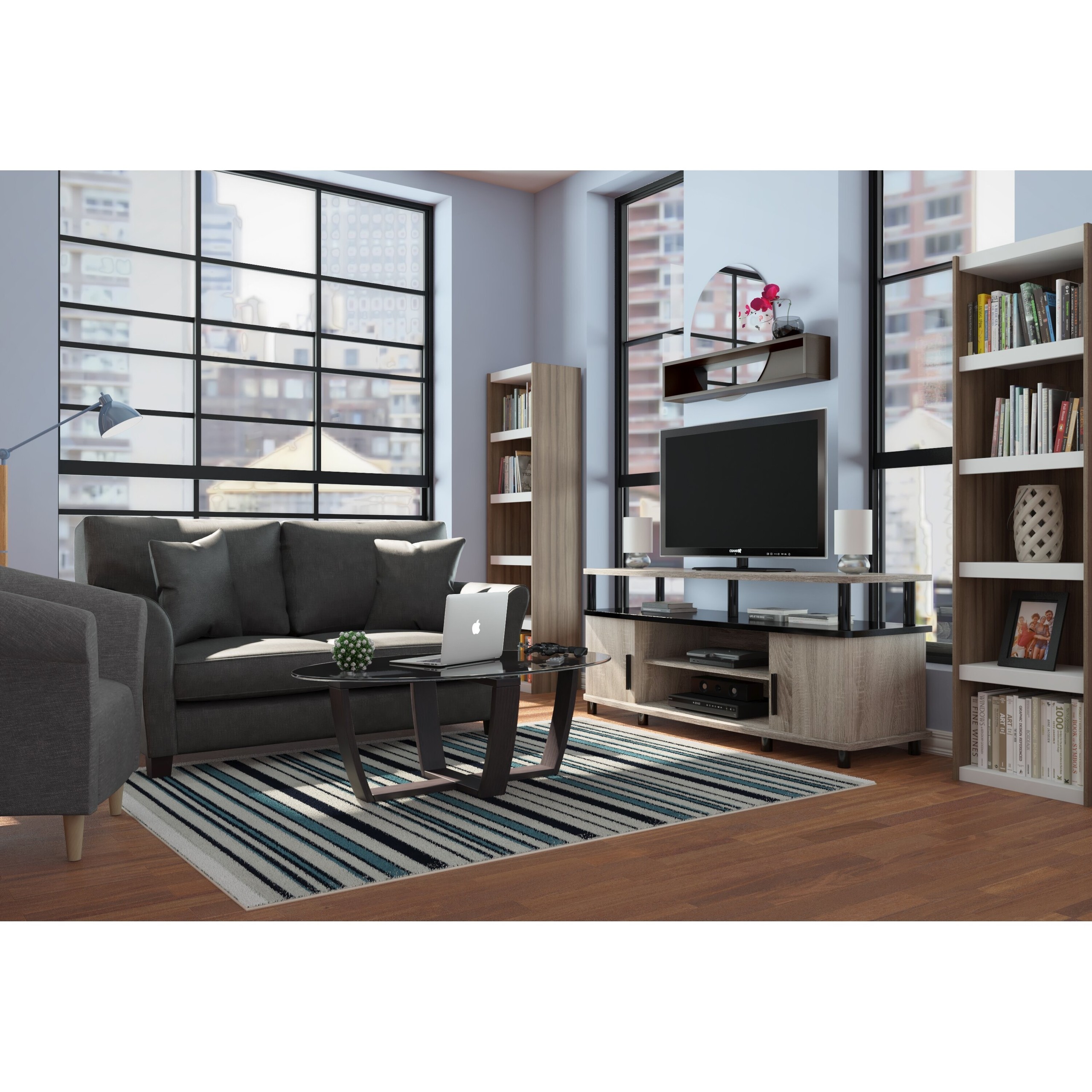 3.

Figure out what type of TV stand matches your needs & room

TV stands come in all sorts of sizes and designs, but it's helpful to start by deciding what type you should go for:
A console TV stand is one of the most traditional options, consisting of long units with a wide top surface and shelves or cabinets for storage. You can either place the TV on it or hang it on the wall above it;

For a more contemporary and minimalist effect, you can save some space by opting for a floating TV stand if you have a wall-mounted TV: this clever design consists of a lighter cabinet that's also mounted on the wall and offers you extra storage;

If you don't watch the TV every single day and have opted for elegant, old-style interiors, then you might not want it to be the focal point of your room. In that case, you can choose a sophisticated TV armoire, opening it only when you're actually planning on using your TV;

Space-optimizing corner TV stands are proper game-changers in smaller homes or flats. Because they can fit in an existing corner, they even offer you extra storage space in what you thought would be a wasted area;

A more streamlined solution, a mounted TV stand consists of a tripod or pedestal that holds the TV while offering minimal storage, for example through a couple of shelves. Here's how to choose a flat-panel mount TV stand;

If you take your cinematic experience extremely seriously (and space is not a problem), then you might want to consider a larger entertainment unit. These TV stands are made to incorporate your sound system and offer you plenty of multimedia storage through cabinets and drawers.