The holiday season is right around the corner and there's no better way to show off your Christmas excitement than to deck out your living room, especially the mantel. We're talking about unique Christmas mantel decors that'll turn your fireplace into a charming and merry focal point!
Besides the typical Christmas stockings and garlands for mantels, there are plenty of other creative ways to dress up your mantel. After all, 'tis the season to decorate so why not pull off something that'll catch everyone's attention?
Settling on a mantel theme may be challenging for those who don't know where to begin, but we've made it easier by selecting decoration ideas that'll convince you to go all out this year! Grab a coffee or tea and get cozy because you're about to be filled with inspiration!
The colors of Christmas
Imagine if all these mantel decorations were in 6 different colors, other than the typical Christmas colors. Wouldn't this mantel look too all over the place? That's the beauty of the Christmas color scheme. You can include bits and pieces in assorted sizes and shapes, and as long as they're in the same color scheme, the final result will always look festive, cohesive, and certainly eye-catching! Although there are plenty of colors present here (green, blue, red, gold, white, beige, etc…), these colors tie the room together and scream Christmas! While a novelty garland hangs below for a minimal touch, colorful toy soldiers and miniature gift boxes along with two small Christmas trees add playfulness to the display. A vintage-style tealight holder centers the mantel and of course, you can't forget about the charming evergreen wreath! Don't forget to balance the accessories by staggering shapes and heights for a more appealing arrangement.
An elegant White Christmas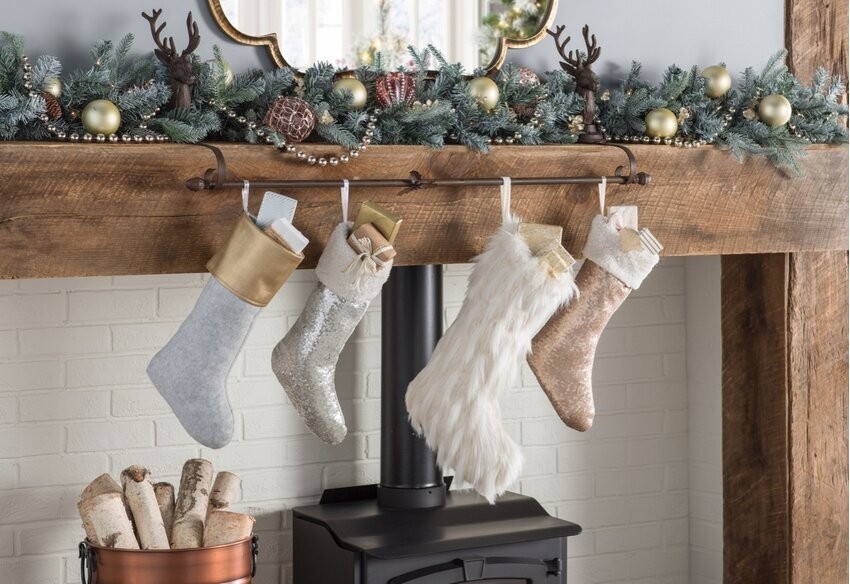 Who wouldn't want to wind down by this sophisticated fireplace at the end of a long Christmas shopping day? If too much color isn't your vibe, keep things simple and classy with neutral-toned stockings. These luxurious stockings in white, shimmering sequin, and gold are hung on a reindeer stocking holder. This stocking holder isn't that big, yet perfectly illustrates the living room's rustic theme. It's the little touches that count! A frosted garland with lights adds a festive flair to the mantel while a gold wall mirror draws attention to the display. To complete the look, champagne and gold Christmas ornaments are placed on the garland for extra elegance. If your garland is short on looks, glitz it up with graceful ornaments.
Christmas decor galore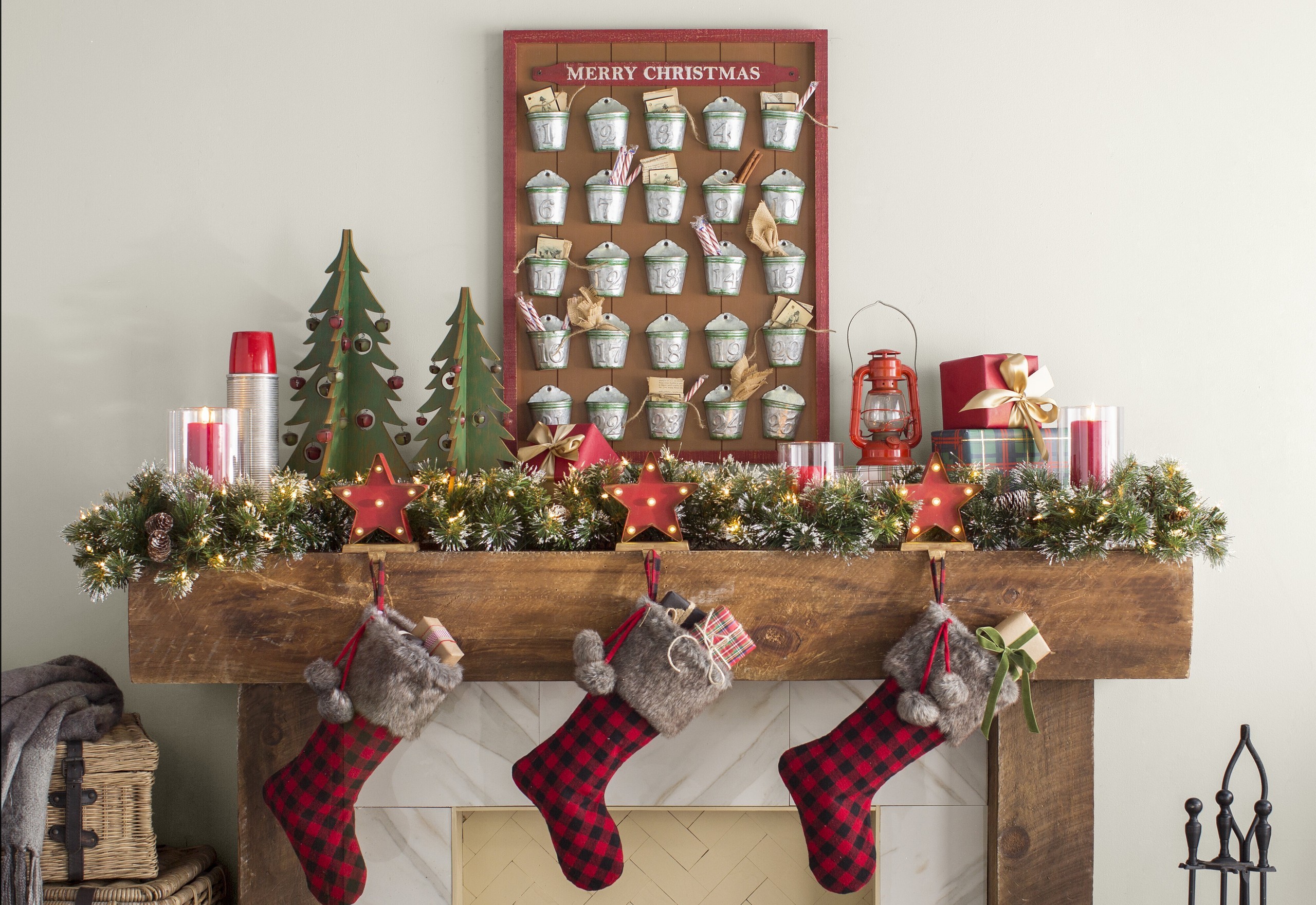 This living room looks straight out of a Christmas shop and we're all for it! The holiday season is the perfect opportunity to get creative with a wide range of decor pieces. An enchanting display of star lamps, mini tree decorations, a vintage lantern lamp, gift boxes, and candles draw the eye in. Nothing looks more festive than a red and green Christmas theme! In addition to these numerous red and green accents, a lush garland is added for an even more Christmassy ambiance. An aesthetically-pleasing advent calendar fills up an otherwise empty wall while buffalo check stockings bring warmth and coziness to the setting.
Pink winter wonderland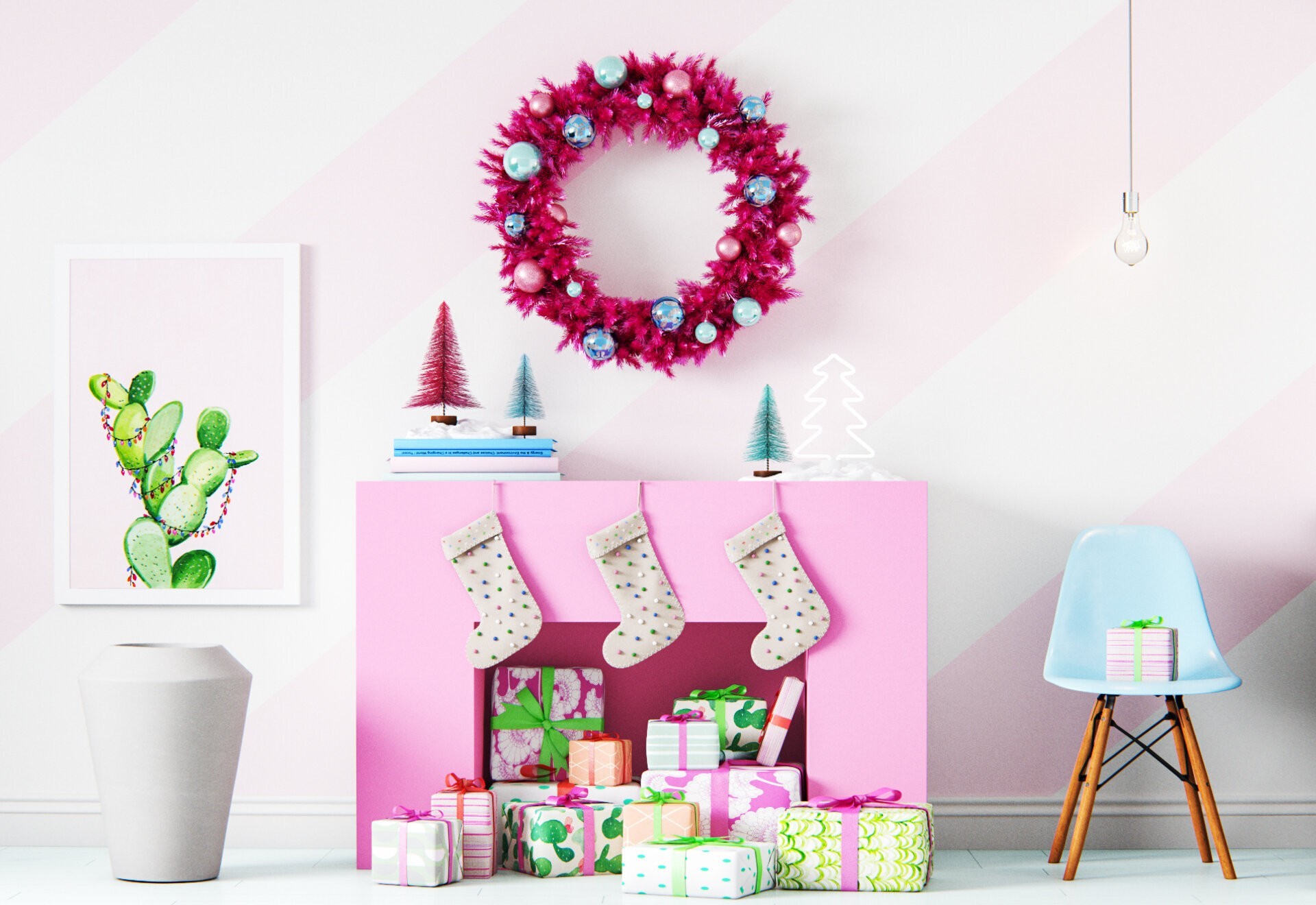 Who says your holiday color palette should only consist of red, green, and white? This living room proves that there's more to the Christmas color scheme than the usual holiday colors. An unexpected color combination of pink hues and pops of green and blue makes a fun and visually-interesting scene. Surprise your little princesses with an unanticipated Christmas theme this year: pink! Moreover, this mantel isn't jam-packed with fussy decorations yet still makes a pretty festive statement! Polka dot stockings and glittered Christmas trees in pink and blue set the scene for a playful and bright holiday. Keeping the mantel minimal will accentuate the elements displayed above and under the fireplace. In this case, a bold pink wreath and colorful Christmas presents steal the show in this living room. Instead of placing your Christmas gifts under the Christmas tree, break the norms by displaying them under the mantel! This year is all about being different and unique!
Christmas coziness in a nutshell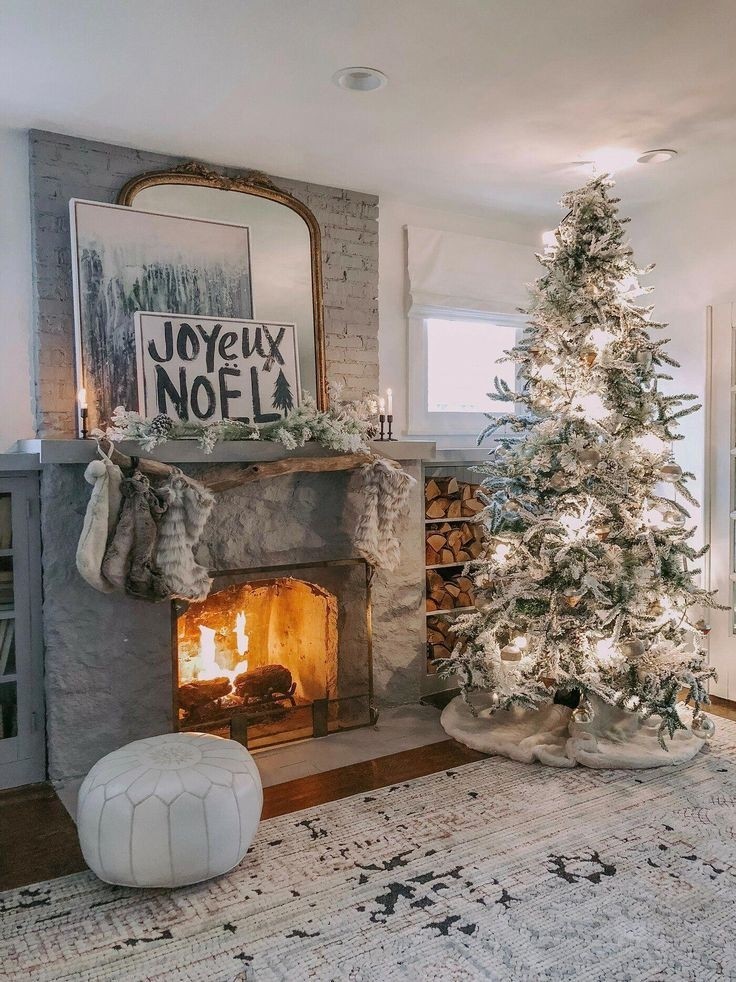 If you have a white or gray brick veneer fireplace, you can achieve this wintry vibe with no trouble! A gray textured facade serves as the perfect backdrop for these oversized accents. If you're not a big fan of traditional wreaths, layer multiple pieces of artwork instead! This way, you can flaunt your aesthetic while dressing up your mantel for Christmas. A frosty finish on the garland and furry stockings hanging on a wood log enriches the atmosphere with a snowy and cozy touch. Finish the look by adding candles on both sides of the mantel for warm and snug evenings with your loved ones.
A modern take on simplicity
Just because it's the holiday season doesn't mean your home has to be filled with all kinds of Christmas decors. Sometimes, all you need are a few accessories. This marble fireplace mantel already makes a gorgeous focal point on its own, which explains why a simple bead garland is preferred here. The mantel is adorned with exquisite objects in silver and gold hues, such as decorative candles, a miniature Christmas tree, and a metallic reindeer that makes an interesting addition. If you fancy an elegant living room design this Christmas, silver, gold, and white are for you!