Our Choice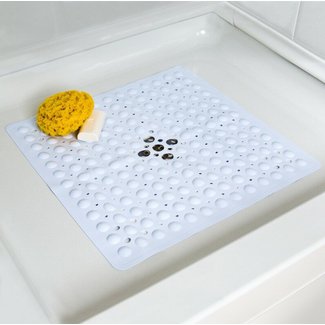 Square Shower Mat
This is a shower mat made of plastic vinyl in a clean looking semi-permanent hue. It comes in a square shape of 21 by 21 inches and a height of 0.25 inches. The shower mat lies flat on your shower drain and comes with circular cut-outs to drain out water easily. It is also machine washable and air-dried for easy maintenance. It also comes with more than 80 suction cups on the reverse side to keep it in place and make it slip-resistant.
Jackeline Pebble Fabric Printed PVC Soft Bathtub Non-Slip Shower Mat
This is a soft printed non-slip PVC bathtub shower mat designed to give your seat comfort every time you step into your bathtub or shower. It is constructed from 100% PVC material and can be wiped clean quite easily using a damp cloth. They are available in a wide range of colors to match different types of bathroom decors. The bathtub and shower mats are antibacterial, have 58 suction cups for stability, and are designed to give you a comfortable underfoot feel.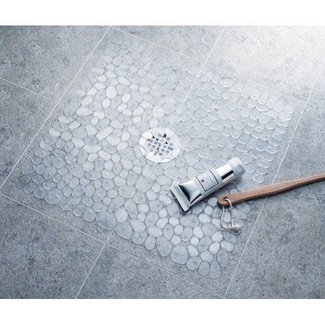 Shower Mat
Are you looking for beautifully designed shower mats for your bathrooms? Look no further than this beautifully textured bathtub and shower mats. They are available in square dimensions of 22 by 22 inches. The shower mats allow water to drain away easily, have a beautiful texture. Lay flat and nice on the floor, and help you to add enough traction in the shower to avoid slips and falls. They are also designed to blend perfectly with your bathroom decor.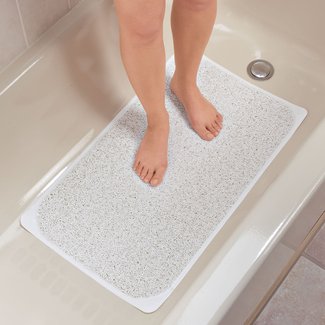 Stickley Shower Mat
This bath and shower mat is uniquely crafted to help you avoid slipping or even falling in your shower and other bathroom areas. It drains out water easily. You can even place these shower mats directly over the bathroom drain. It dries fast and is even resistant to mildew and stains. It is made of PVC material and comes in a perfectly textured pattern with suction cups that ensure the mat sticks hard to the surface.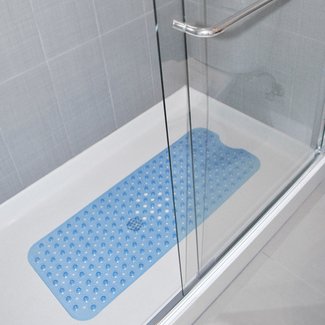 Meryl Shower Mat
Here is an anti-slip bathtub and shower mat designed for optimum comfort and safety in your bathroom. It is a vinyl slip-resistant mat with suction cups that adhere to the floor and prevent bathroom slips and falls. It gives you a reliable and secure footing while bathing. The bath mats come in different sizes ranging from small to medium and large sizes. They are made from strong PVC material which is easy to wash and maintain.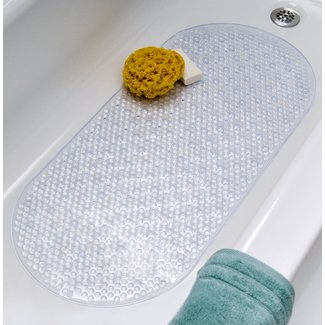 LeLand Bubble Bath Mat
Designed with safety and comfort in mind, this simple-looking but stylishly designed bubble bath mat comes with hundreds of small cushioning bubbles that will luxuriously massage your tired feet for ultimate relaxation. The bubble bath mat is made of durable PVC vinyl material with over 100 suction cups for perfect and reliable slip resistance in your bathroom. They also provide antimicrobial protection which prevents the growth of odor-causing mold and mildew.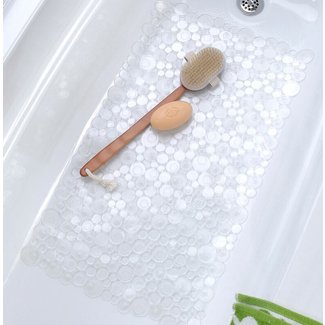 Longbridge Sea of Circles Bath Mat
Here is an attractive bath and shower mat to complement the clean looks of your bathroom and provide you with a comfortable and luxurious experience in your bathroom. The bath mat is made of long-lasting plastic vinyl material and features over 100 suction cups to secure the mat on non-textured surfaces. The suction cups also provide reliable slip-resistance and additional safety in your bathroom. It has a beautiful circle shape that blends perfectly with your bathroom décor.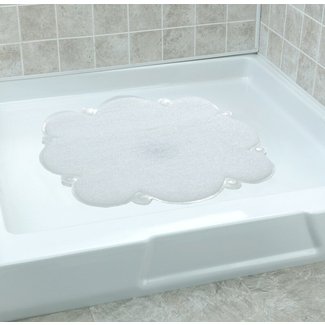 Cloud Shower Mat
This is a perfect cloud-shaped shower mat designed to give you a safe and reliable grip and a soothing feel on your tired feet. The mat features hydrophobic fibers that drain off water easily, eliminate the risk of stagnant water, reduce drying time, and prevent the growth of mold and mildew. It comes in a clean clear color and is also odor-resistant. This is a perfect bathtub and shower mat for bathrooms with non-textured surfaces.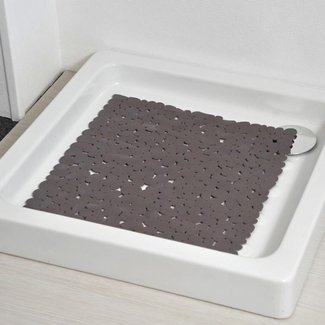 Non Skid Shower Mat
This is a luxurious pebble shower mat made of soft and durable PVC material. It is mold and mildew resistant too. The mat has a unique design that looks and feels like real pebbles under your feet. It features skid-resistant suction cups that attach to non-patterned surfaces firmly for optimal safety. It is a beautiful non-skid bathtub mat with an edgy style that adds a modern look and feel to your bathroom.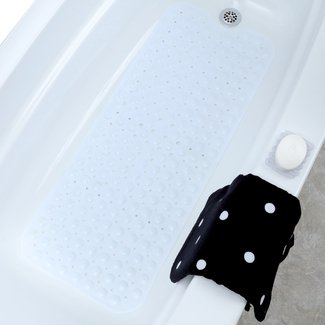 Vinyl Bath Mat
If you are looking for a large bath or shower mat, this vinyl bath mat is a perfect choice for you. It is bigger than standard bath mats by over 30%, which means more coverage, more comfort, and better slip-resistance in your bathroom. The bath mat is made of durable plastic vinyl with more than 100 suction cups for better non-slip traction. It is also quite easy to clean. You can machine wash the mat or just clean it and hang it to dry.