Our Choice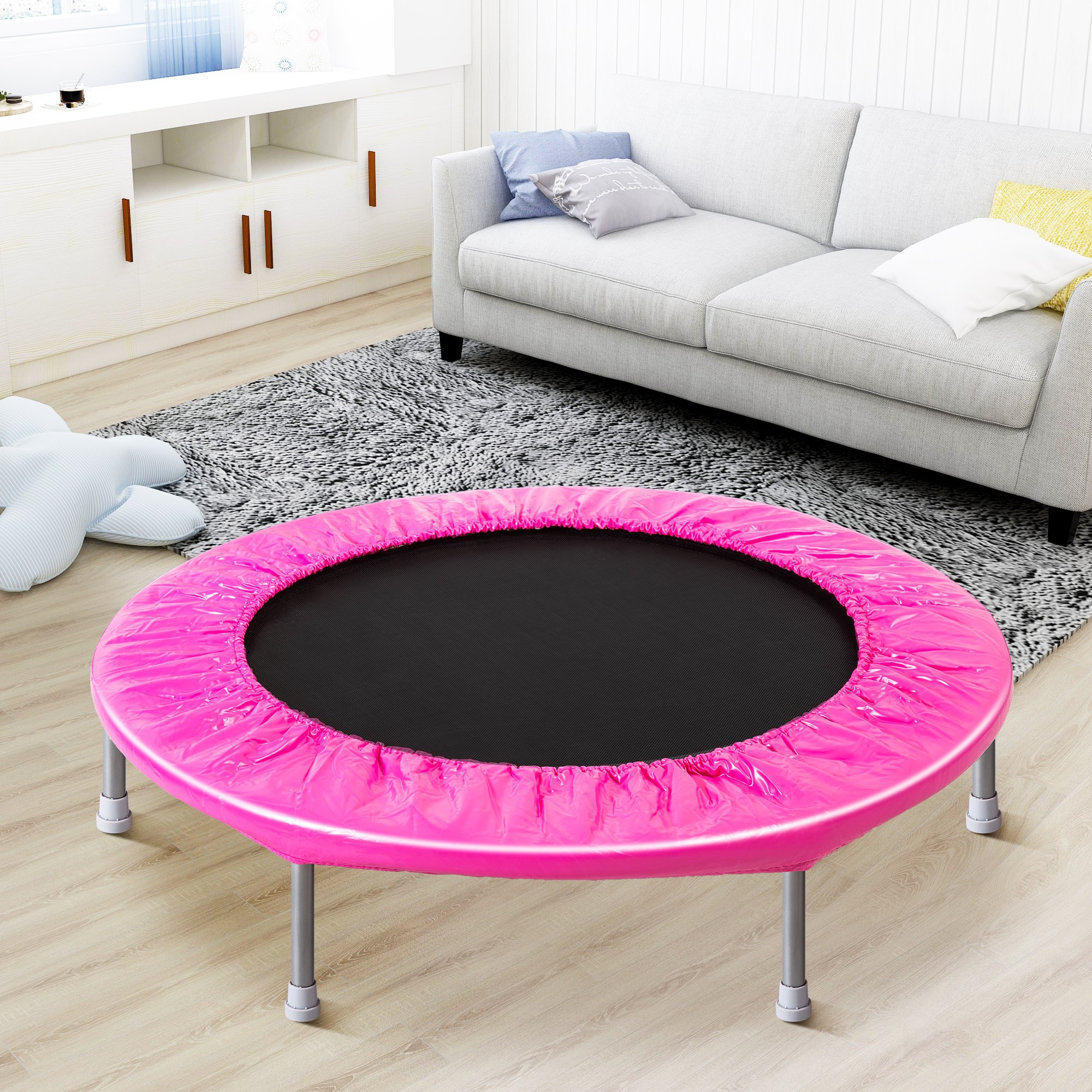 38" Round Trampoline
Transform your fitness routine with this 38" diameter trampoline. Ideal for adults and teens over the age of 13, it can help you bounce into a fitter, happier you.
Sturdy steel legs and no-slip foot caps provide a safe, reliable jumping experience on the polypropylene surface. A pink cover offers protection from the trampoline's coils while also adding extra personality to your fitness space.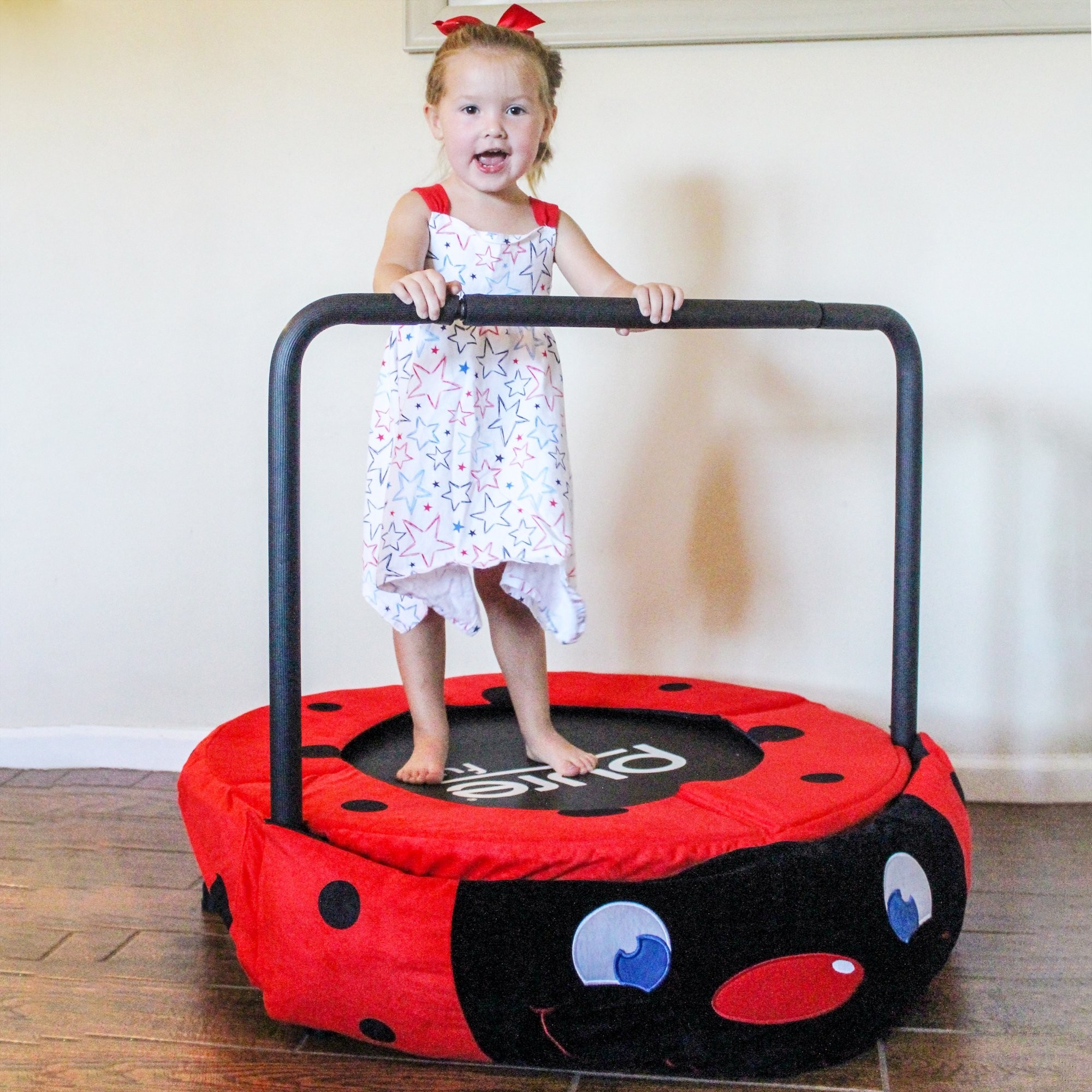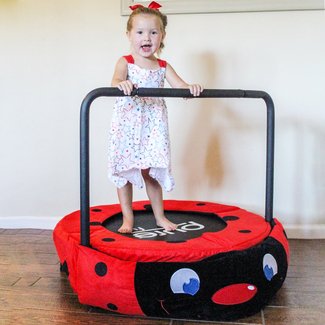 Ladybug Plush Jumper Kids 36" Round Trampoline
Plush and perfect for kids ages 3 to 6, this ladybug trampoline helps little ones bounce away their excess energy and enjoy an active, healthy lifestyle.
Galvanized steel springs provide exciting bounce action, and the soft surface and extensive cushioning are paired with a sturdy, padded, 31"-tall handrail to keep children safe.
As a bonus, this trampoline is simple to set up and folds away for easy storage.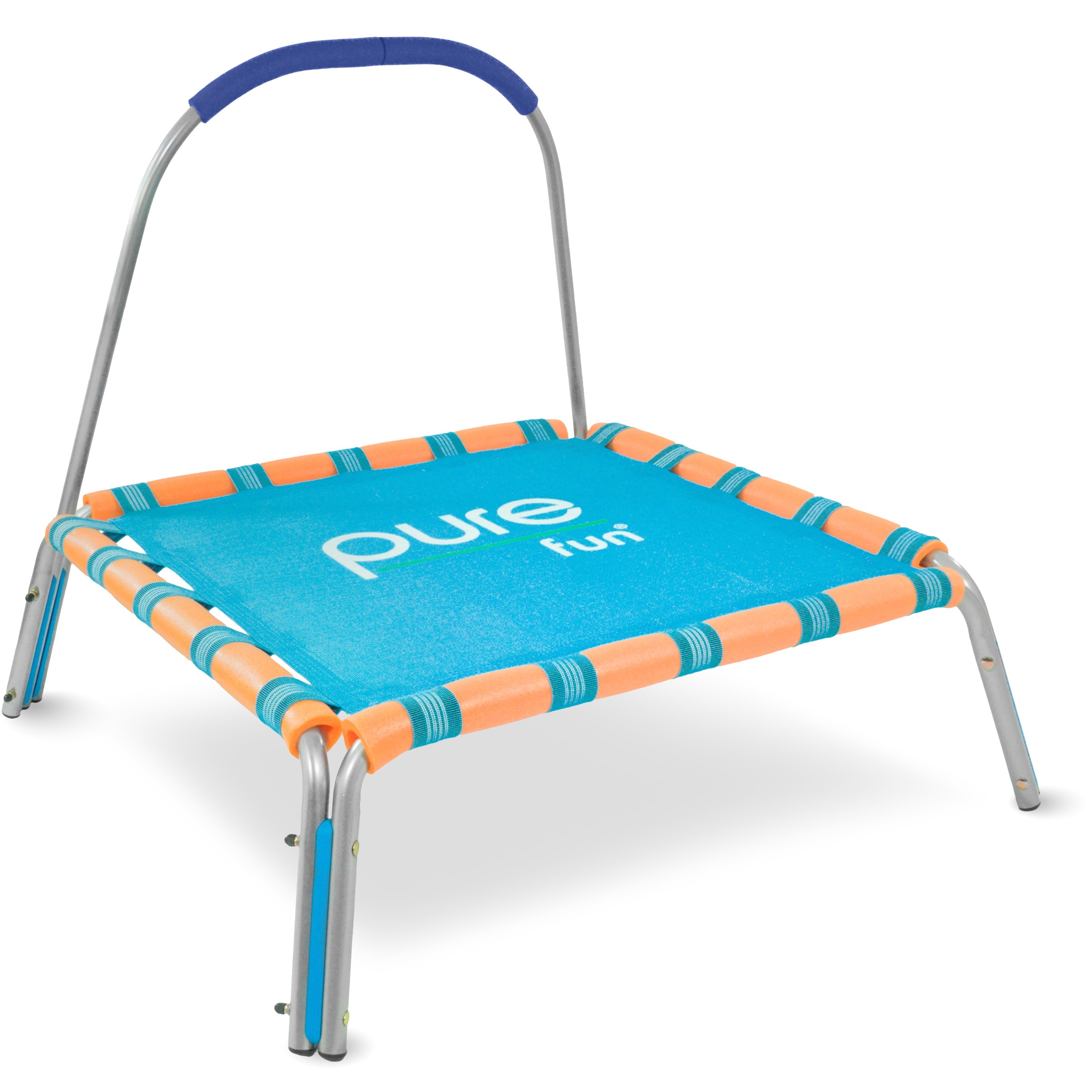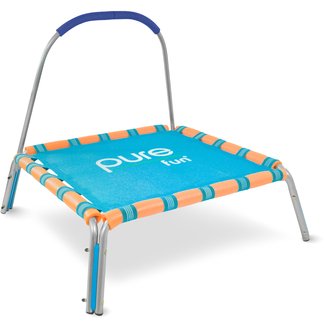 36" Square Trampoline
Put on some music and watch your toddler jump and dance to their favorite song on this happy, brightly-colored 36" square trampoline.
It's lightweight and built for both indoor and outdoor use. Move it out to the yard or deck during sunny weather or keep it indoors when it is raining.
Foam lines the steel frame, and a rubberized grip covers the handlebar. It also features a spring-free bungee jumping surface to help your child bounce safely.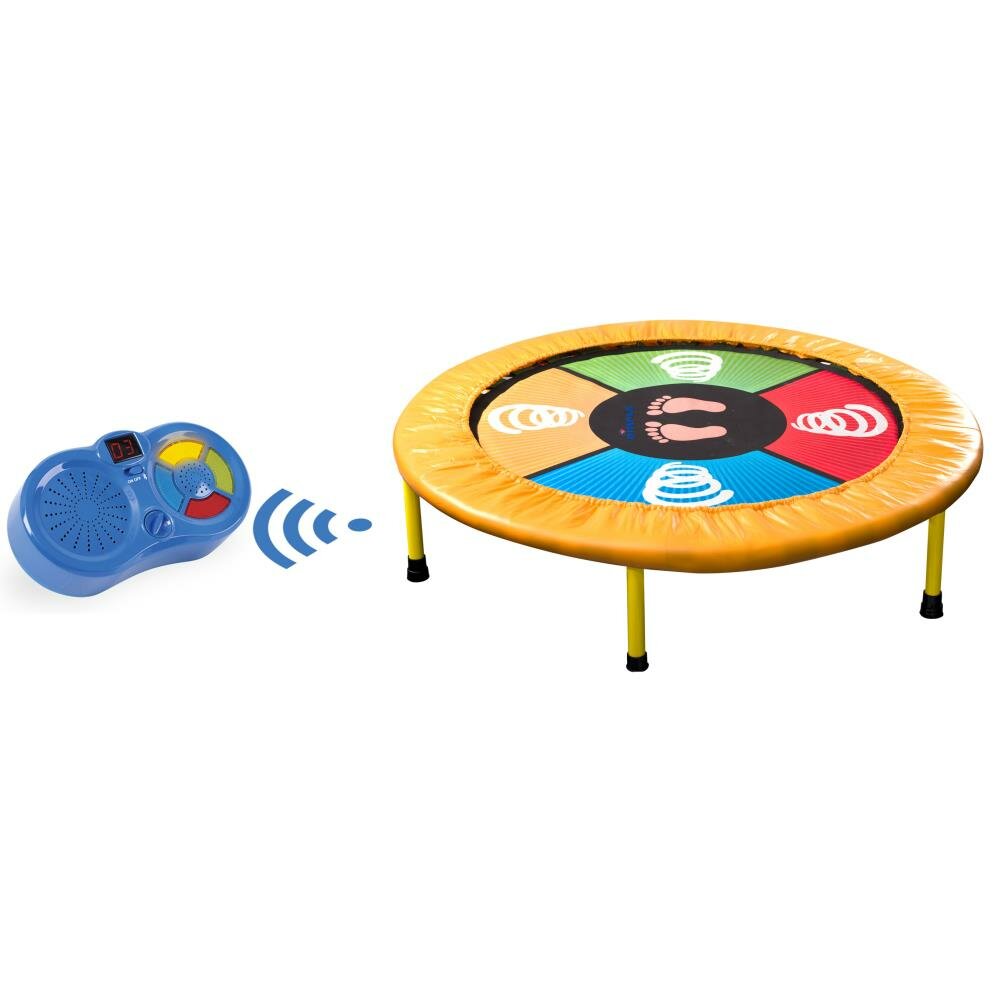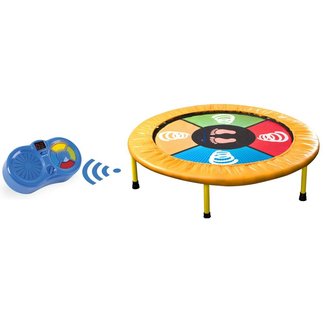 Mini Dancing 40' Round Trampoline
Help your kids explore the joy of movement with this smart, Bluetooth-equipped trampoline.
To help make the trampoline more interactive, it arrives with a light-up, Bluetooth-enabled radio that guides your child through different jumps, hops, and spins.
The 40" trampoline doubles as a touch-sensitive playmat that communicates with the radio. It features protective end caps on the feet for non-slip stability, and it is suitable for both indoor and outdoor use.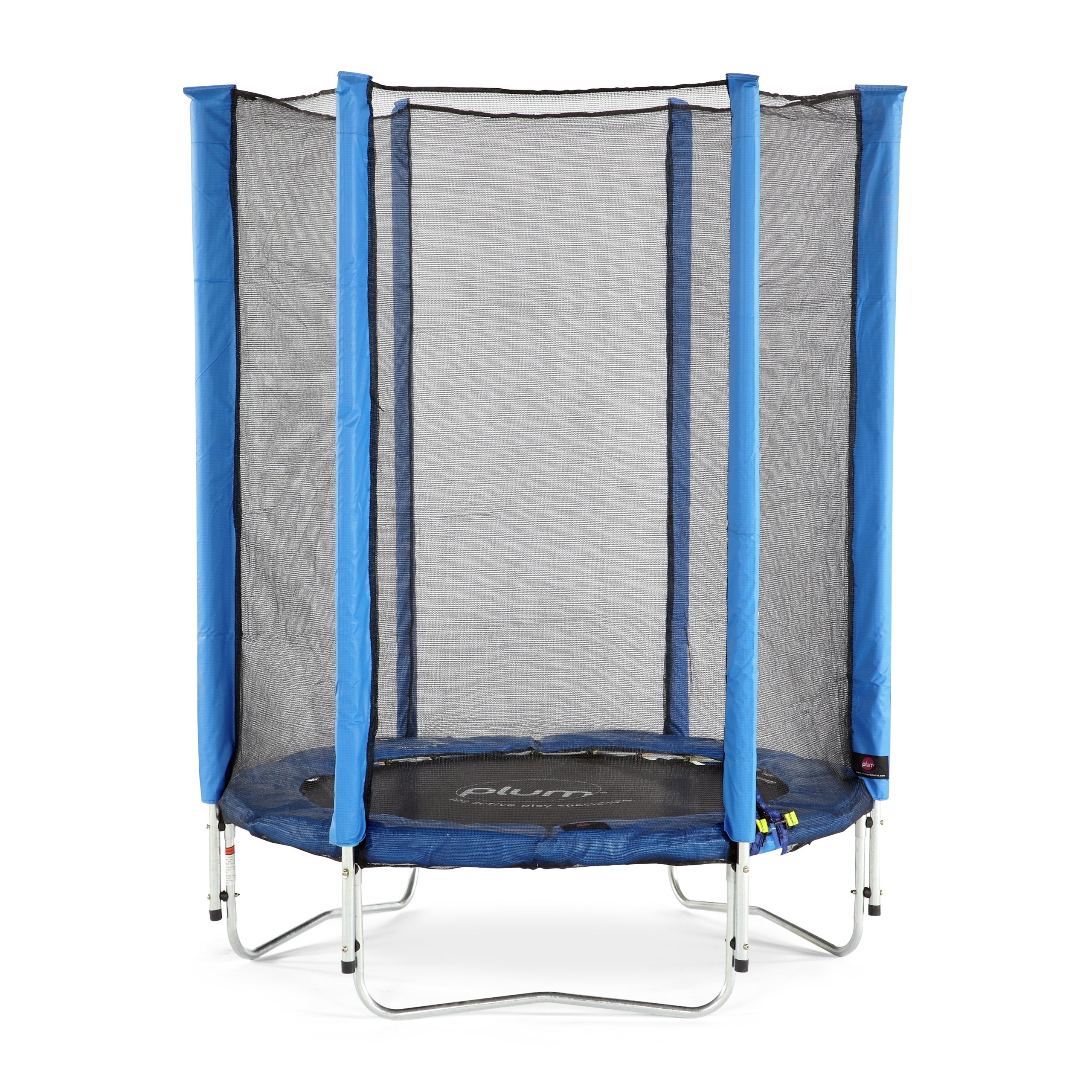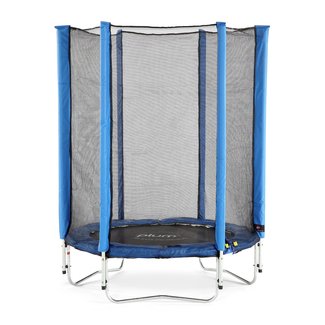 4.5' Round Kid / Toddler Trampoline with Safety Enclosure
If you are looking for a small trampoline that offers a safe introduction to bouncy outdoor fun, then this is the right choice for your family.
Weather-resistant, UV-resistant, and equipped with safety pads and a net enclosure, this trampoline combines safety with durability.
Its frame is crafted from galvanized steel for additional strength and longevity. Small springs deliver a safe, measured bounce. It is perfect for helping kids ages 3-6 jump for joy and build strong legs.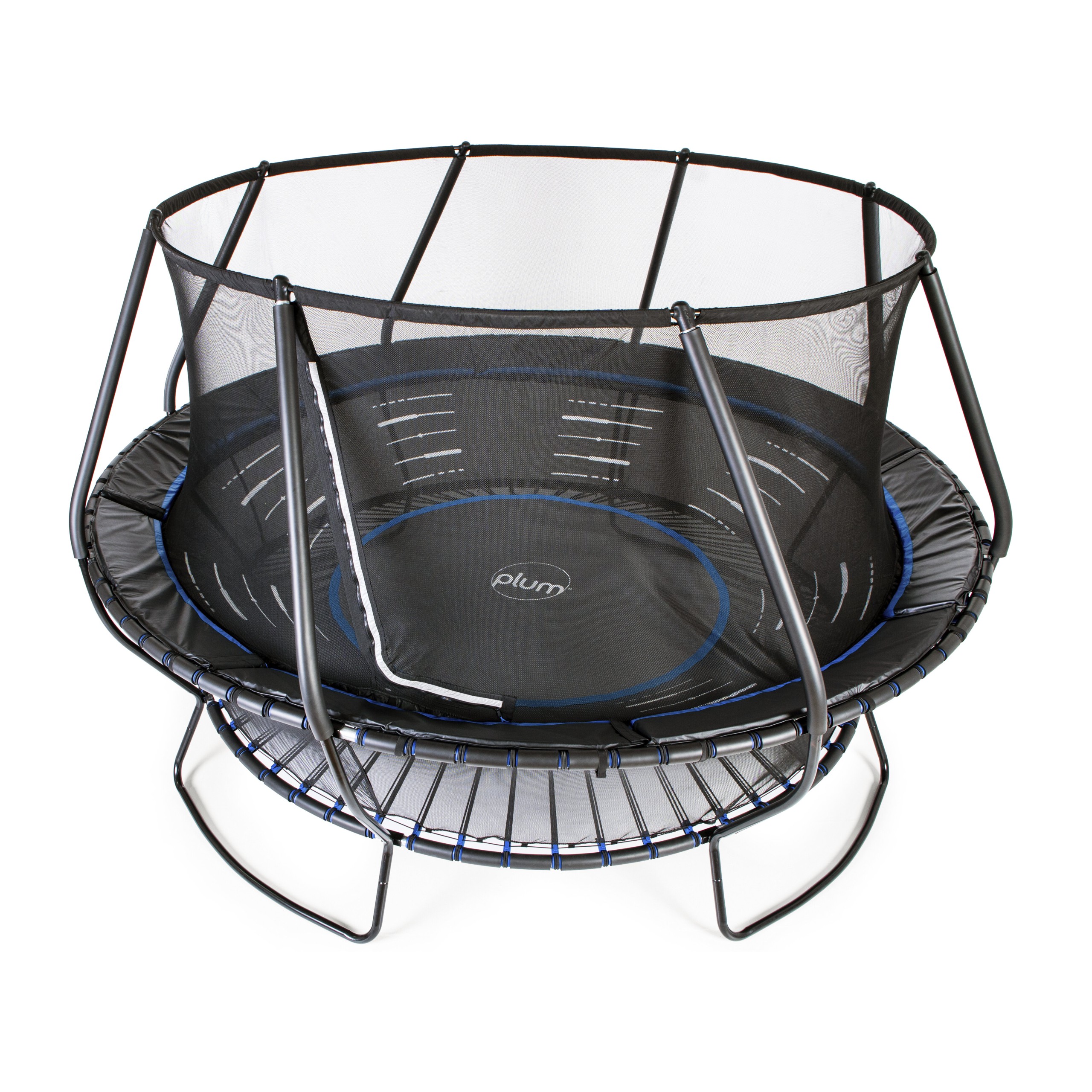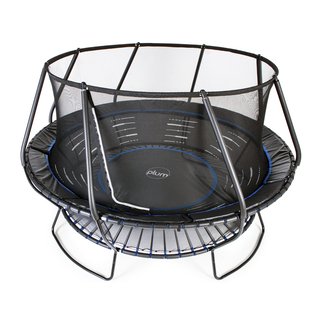 15' Round Backyard Trampoline with Safety Enclosure
With its unique bowl shape and tall safety net, this 15' diameter trampoline helps your young adventure-lover experience a new style of movement while remaining protected.
Freestyle play reaches new heights as spins and tricks are encouraged by the trampoline's curved shape. Suitable for one jumper, it includes a safety pad, zippered entry, and weather cover to help enhance the user experience and protect the trampoline's design integrity.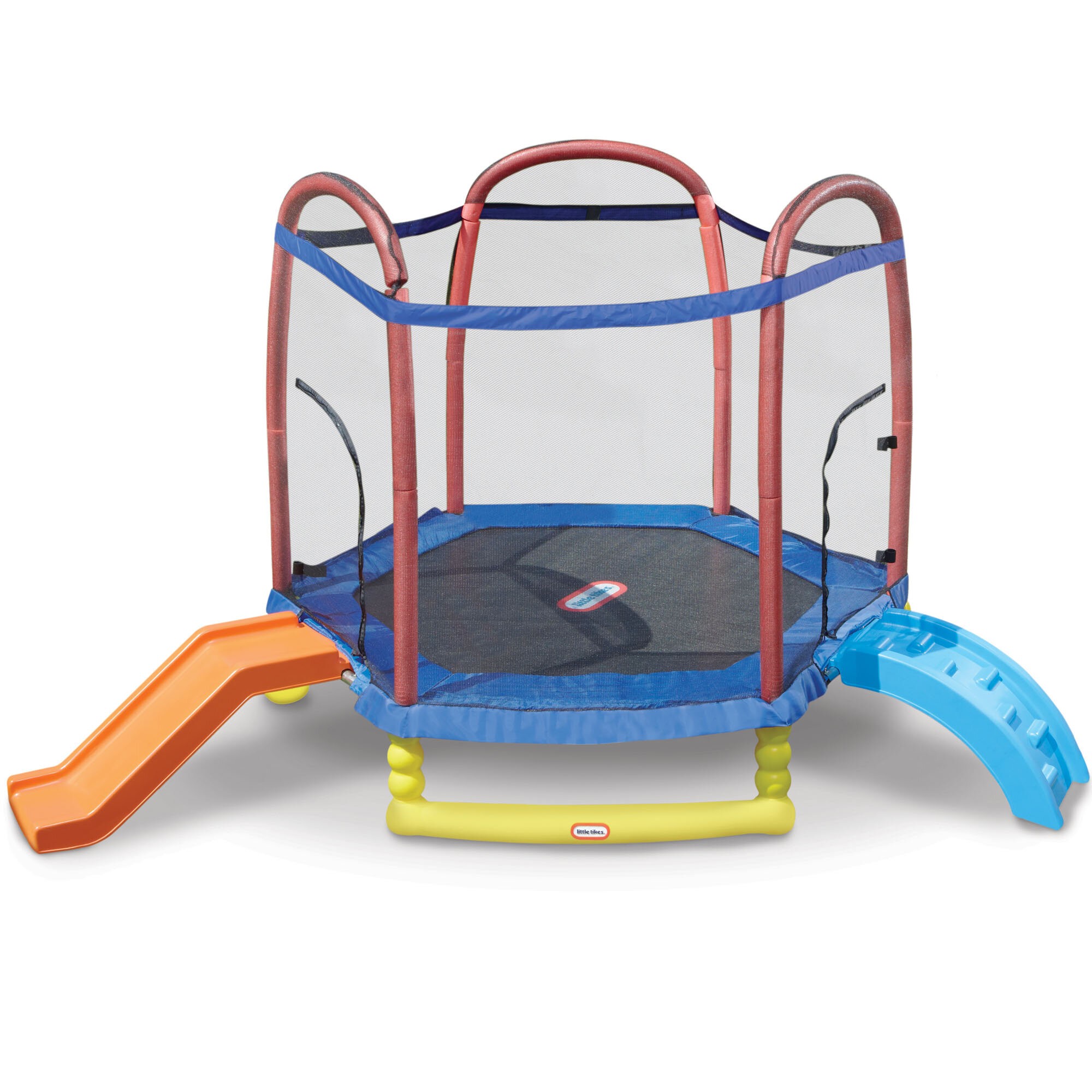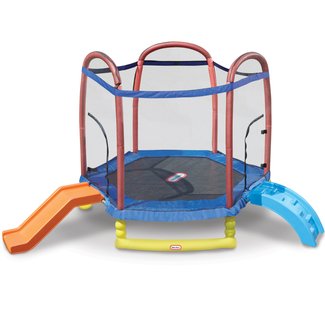 Climb 'n Slide 7' Hexagon Trampoline with Safety Enclosure
Built for kids ages 3-10, this trampoline boasts nylon safety pads, colorful foam-covered poles, and a 7' diameter bounce surface that sits at just 1' 6" from the ground. An orange slide and a miniature blue climber help make the trampoline even more exciting for children.
Both the jumping surface and safety pads are UV-resistant, making it an excellent option for exciting backyard play. The safety net enclosure features two entryways for easy access.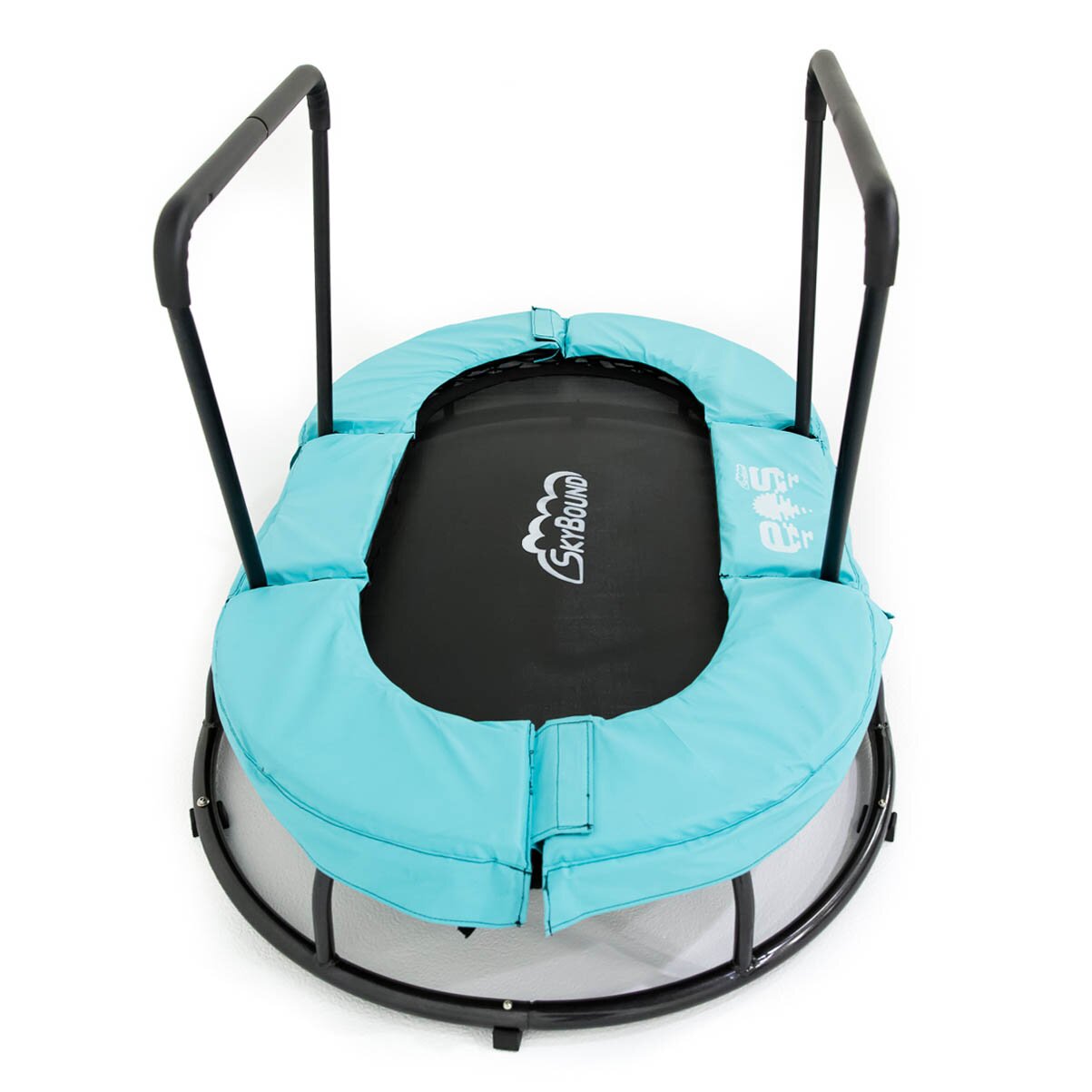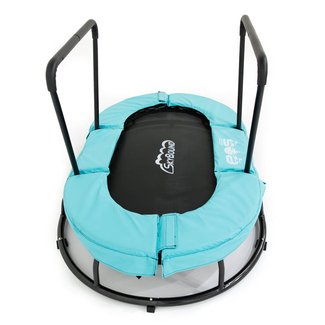 Sensory 48" Oval Trampoline
Parents of children with sensory needs and occupational therapists agree that this trampoline provides safe, integrated sensory input that toddlers and preschoolers can enjoy in the comfort of their own home.
This trampoline features a dual welded frame, two cushioned handlebars, and soft, protective padding on all sides. It's made for helping kids with developmental disorders enjoy the therapeutic benefits of physical activity, such as improved hand-eye coordination and finely tuned balance.
The trampoline's springless design enhances safety by providing a more predictable, gentle bounce.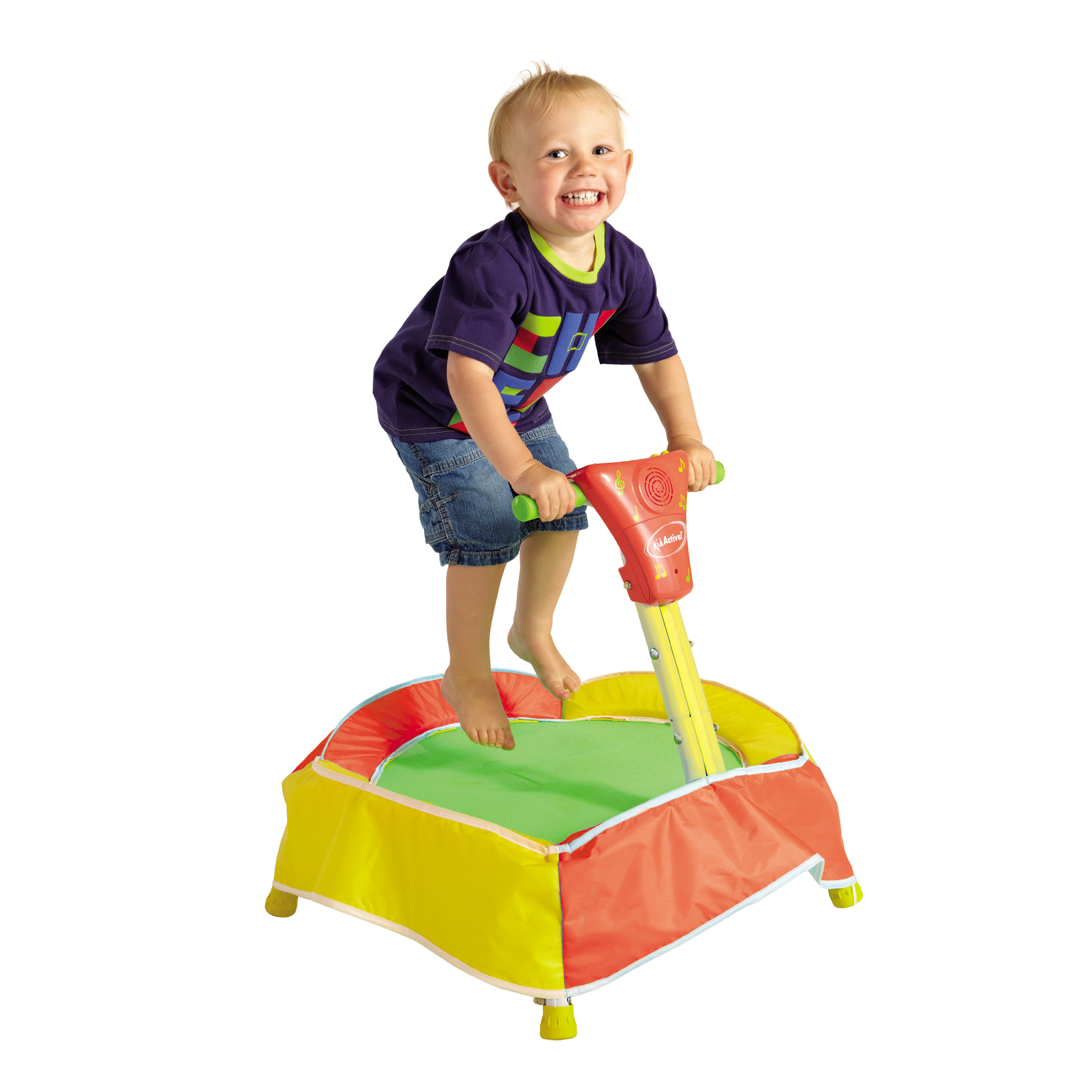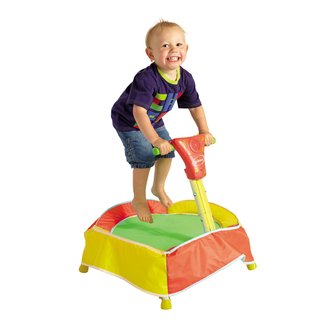 JumpSmart Jr. 2" Triangle Trampoline with Handlebar
Help your toddler build leg strength and core stability with this interactive trampoline. Suitable for ages 12 months and up, the weight limit is 44 lbs.
The trampoline features a handle with a built-in speaker to help your toddler sing songs and play games as they bounce. The music and games are easy to control, even for a toddler. Safety pads encircle the trampoline surface for added protection.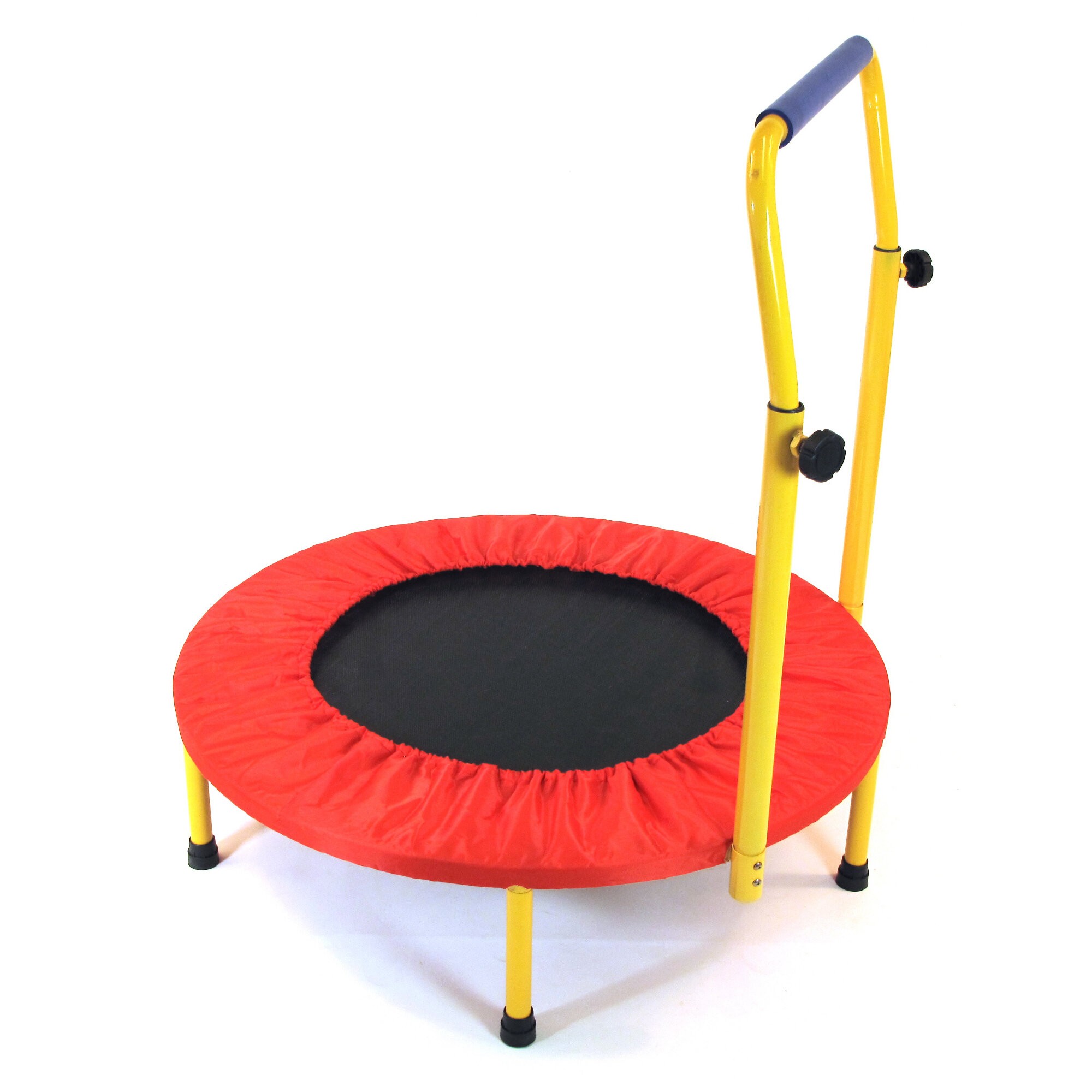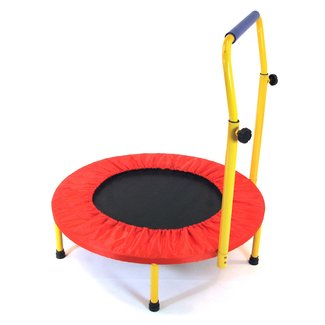 Fun and Fitness Kids 3' Trampoline
Inspire your kids to enjoy an active, safe, and healthy lifestyle while they're still young. At 3' in diameter, this strong, mesh trampoline provides a sturdy, easy-to-assemble play surface for your kids. Its compact design makes it ideal for indoor use.
With five steel legs and safe no-tip design, you can feel confident as your child jumps, bounces, and dances on this compact play space.