Our Choice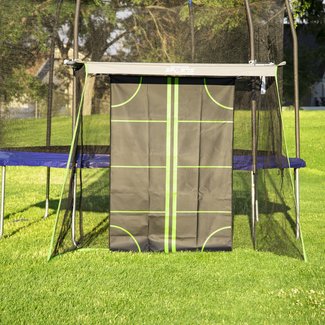 Trampoline Game
Created to provide family fun in the warm summer sunshine, this trampoline game has been designed to be used with the poles of a wide range of trampolines.
The set which consists of a double-sided mat and a robust net is also ASTM certified.
Take advantage of its impressive versatility to have the family practice their favorite ball games such as baseball, football or softball.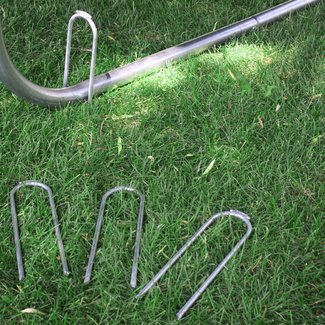 Galvanized Steel Anchor Kit (Set of 4)
Manufactured from galvanized steel, this anchor kit is especially rust and corrosion resistant.
The set is also particularly durable and will fit trampolines of all sizes and shapes, including those which are polygonal in design.
Make the most of its impressive versatility and durability to secure your trampoline and prevent damage to your home in the event of stormy weather.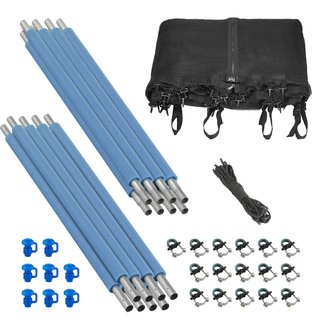 Enclosure and Netting for 13' Trampoline
Designed to provide an extra element of safety during an enjoyable pastime, this trampoline net will connect your pad and jumping mat.
The product which is particularly suitable for round, size 13 trampolines, is also compatible with a wide range of brands and models.
Take advantage of its ability to keep your children and their guests secure when playing with the trampoline.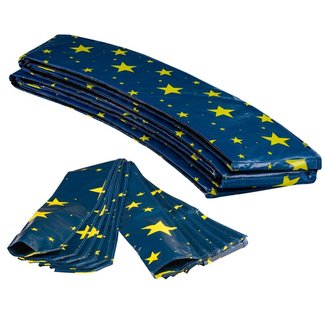 Frame Pad for Trampoline
Especially durable and resistant to water and UV rays, this trampoline frame pad has also been designed to be compatible with the most widely used trampolines.
Specifically suitable for round trampolines ranging from sizes 8 to 11, it is ideal for enhancing the appeal of these recreational items.
Take advantage of its bold tones to add a splash of color to your trampoline and fun family moments spent in your garden.
Enclosure and Netting for 12' Trampoline
Designed to protect your children during play time, this trampoline enclosure is capable of providing you with the peace of mind you require.
Specifically compatible with round trampolines in size 12, this product is also suitable for a wide range of brands.
This trampoline enclosure has also been designed to be especially durable and weather resistant and is an excellent choice for adding an extra element of safety to a favorite pastime.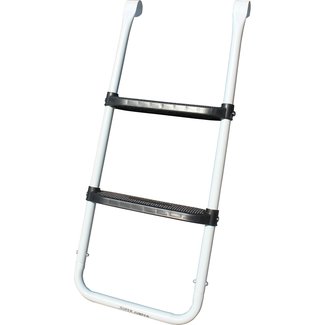 38.5" Trampoline Ladder
Featuring a two-step design and flat platform steps in addition to a silvery allure which adds to its aesthetic appeal, this step ladder will also add an element of convenience when you use your trampoline.
The product which has been designed to be especially durable can also be assembled with ease.
Make use of its hook design to ascend and descend from your trampoline with ease, without the need to attach the ladder to it permanently.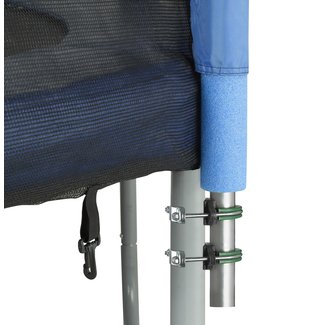 Enclosure and Netting with Poles for 13' Trampoline
Brought to you in black and manufactured from metal and synthetic plastic, this replacement safety net kit will enable you to make the most of your trampoline while remaining safe at the same time.
The set consists of upper and lower poles, protective sleeves and pole caps. It also features buckles and a zipper and comes with a dual closure entry.
Its ability to keep you safe without limiting visibility makes this kit an excellent choice of accessory for your trampoline.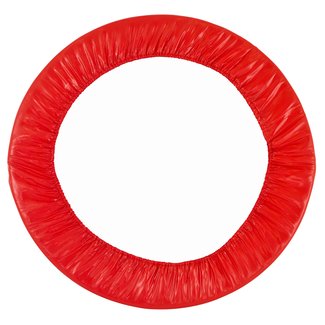 Frame Pad for 3.3' Trampoline
Designed to be a perfect fit with your trampoline, this safety pad is capable of protecting you from falling against its frame or springs.
Manufactured from PVC and high density, cell-closed foam, the pad is also impressively water and mildew resistant and durable.
It is especially suitable for round trampolines and even comes with holes at its outer flap through which you will be able to place the legs of the trampoline.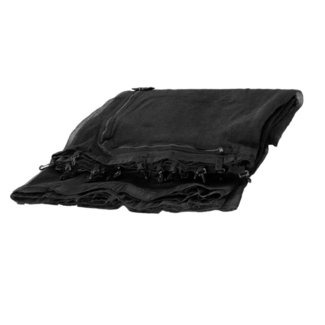 Replacement Safety Net for Trampoline
Specifically designed for square trampolines, this safety pad is also especially versatile and can be used with every available size.
It has also been manufactured from high grade PVC and shock absorbent, closed cell foam, and is particularly durable.
Place on your trampoline to provide protection from its springs or frame during use.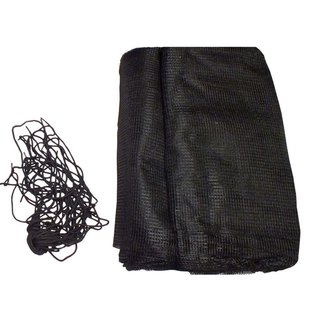 Enclosure and Netting for 15' Trampoline
Created from dense, high quality netting, this trampoline enclosure has been designed for the most common kind of trampolines.
This accessory which is 30% more dense than several nets, also features a zipper for entries and exits, as well as attachment hooks to prevent it from opening accidentally.
It is also especially resistant to mildew, fungi, bacteria and the weather and comes with an extra UV coating, making it ideal for adding an extra element of safety to this favorite pastime.