Our Choice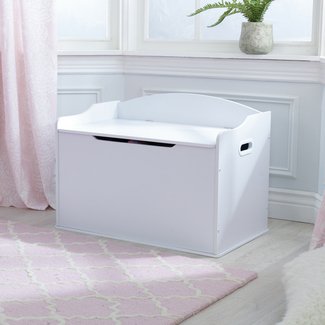 Austin Toy Storage Bench
This roomy toy box makes for quick clean-up. It has 8.33 cubic feet of space to hold all the dolls and princess dress-up accessories. This toybox features a soft-close safety hinge that will not slam on tiny fingers. This is the perfect bedroom accent because once all the toys are put away and the lid is closed it doubles as a bench. With a 153-pound weight capacity, the seat provides enough room for a friend, too.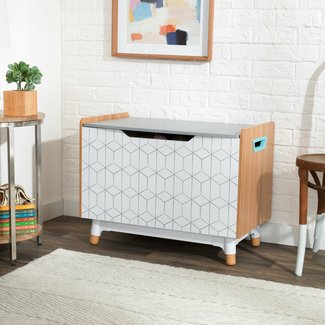 Mid-Century Kid Toy Storage Bench
This Mid-Century Modern toybox brings a designer touch to toy cleanup. Made of solid birchwood, the front features a screen-printed geometric design and rounded feet. The pop-of-color handles on the side make it easy to move this toybox from room to room and the organizer tray on the inside holds even the tiniest plastic brick toys. The safety hinge is designed for a soft close. This toy box hardly looks like a toybox and will slide seamlessly into family room décor.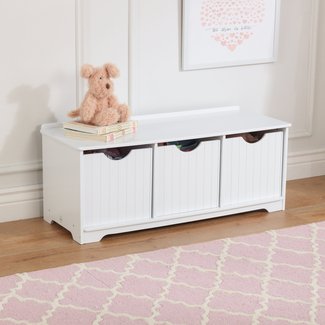 Nantucket Toy Storage Bench
This toybox is a crisp, clean and classic piece of furniture. It has three separate storage drawers that are a foot wide each and deep enough for larger stuffed animals. Each of the pull-out drawers has a cut-out that makes them easy to grasp. The beadboard accents on the front of the drawers gives this one a bit of designer flair. The top stays closed and holds up to 81 pounds. Just add a cushion and some pillows and it's a perfect little seat.
Toy Storage Bench
Classic simplicity and timeless design is what this toybox is all about. It features 8.25 cubic feet of space ready to be stuffed full of toys. The finish easily wipes clean to get rid of any sticky fingerprints. The bench tops holds up to 150 pounds. This style of toybox is a chameleon and will be perfectly in place in a modern, traditional or farmhouse décor.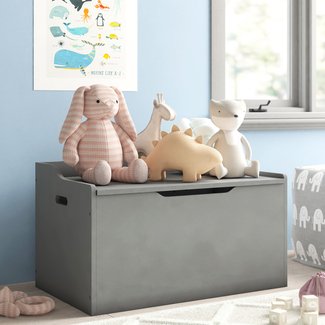 Connally Toy Storage Bench
This toybox really has a soft touch. It features two center-mounted safety support hinges for a soft close and extra sturdiness. Children and toys can pile on top of this one because the bench holds up to 175 pounds. The neutral, soft gray finish is on trend with walls and furnishings around the house so this toybox can be used in playroom, family room or bedroom.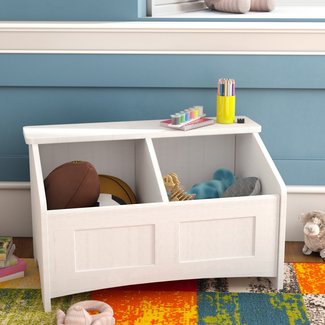 Christiana Toy Box with Section Divider
This toybox takes organization up to another level. A non-removable divider separates the box into two sections and the shelf on top holds 30 pounds of more toys or accessories. It will be a great game for toddlers and preschoolers to learn how to divide and organize when they have to put different toys away into the different sections.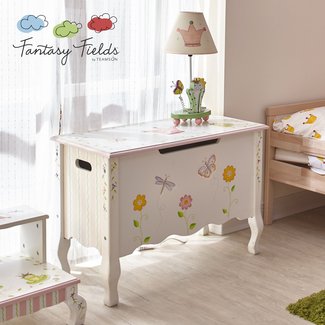 Princess and Frog Toy Chest
This whimsically-designed piece is part toybox, part side table. The scalloped-edge bottom on the front and sides pairs with elegantly curved legs to make a statement. But it is the Princess and the Frog designs that catch the eye.  Flowers, dragonflies, butterflies, a frog and a princess crown all around make this the perfect toybox for any little princess' kingdom.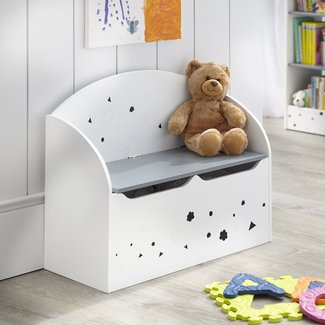 Camelford Toy Storage Bench
This toybox boasts a contemporary and geometric feel. From the printed shapes scattered across the seatback and the front of the box to the curved back and sides this is a toybox for a modern child. The large cutouts not only add to the design of this toybox, they make it extra easy for little hands to lift the lid and get to the toys.
Alamogordo Toy Box
This toybox is truly a statement piece for bedroom or playroom. The shape is reminiscent of a camper or RV. It even has wheels but no worries – they don't function and the toybox won't roll. The lid with a safety hinge flips up to reveal the roomy toy storage area. The side shelves make it easy to keep favorite books just an arm's reach away.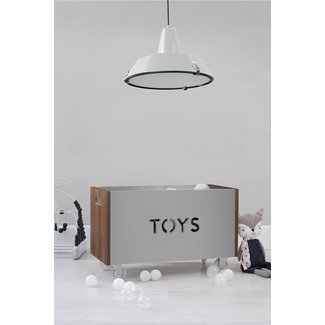 Toy Box
This stylish toybox is more than just a way to handle clutter, it's also an eco-friendly choice. It is made from engineered wood, not MDF or particle board. The paints and finishes all meet and beat strict chemical emissions standards. Each toybox is hand-sanded and hand-painted and it comes in a rainbow of solid shades sure to complement any room. The item comes with casters so it easily rolls from one playspace to another keeping the toys and the mess all in one spot.