Our Choice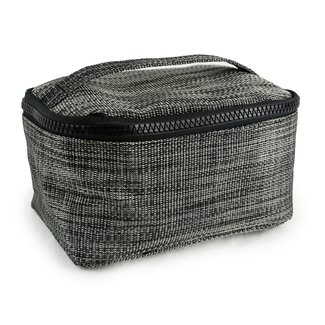 Wiggin Bathroom Cosmetic Bag
This toiletry bag woven with black and mixed gray color makes it a versatile option for both men and women. It's spacious enough to neatly carry your essentials and keep them organized in one place.
Made of 70% PVC and 30% fabric, this bag is durable, has an easy carry handle, and can be used as a jewelry bag and travel kit. Load this portable toiletry bag with your necessities such as soap, shampoos, deodorants, makeup, and razors when traveling.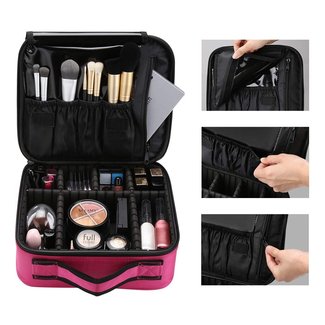 Fabric Travel Makeup Organizer
Store your toiletries in style with this hot pink makeup organizer and toiletry bag. It's easy to carry around, has a spacious layout for various makeup products and beauty supplies, and features 2 shoulder straps for convenience.
This toiletry bag is tear-resistant and durable enough to last for years. It includes 10 removable dividers and 12 slots with loop fasteners to organize and secure your brushes. This bag is also perfect for storing jewelry and electronic accessories during trips.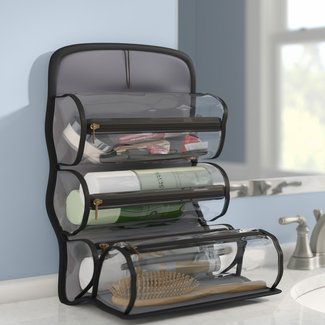 Unisex Toiletry Cosmetic Organizer
If you're looking for a neat and roomy bag to store your essentials, this convenient toiletry cosmetic organizer is the perfect addition. It features 4 compartments that are easy to access designed for different bathroom products and tools such as electric razors.
This plastic toiletry bag is water-resistant which makes it a great choice for road trips and rainy seasons. Simply roll up this bag to save space in your luggage.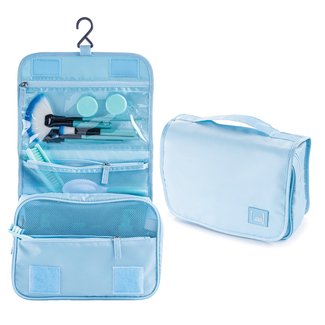 Hanging Travel Toiletry Bag
This simple yet classy toiletry bag is suitable for those looking for a functional bag with a user-friendly design. Featuring 7 compartments and 3 elastic bands, you can store and display multiple necessities and easily access them on the go.
It's slim and lightweight design makes it a favorable accessory for trips, along with its water-resistant feature. Use the integrated hook at the top to turn it into a convenient shower organizer.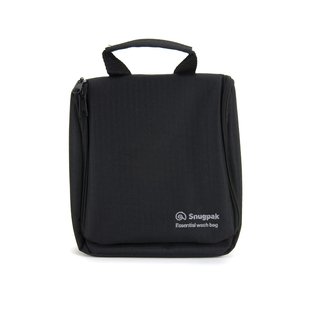 Wash Bag
Compact and simple, this wash bag with a black finish is a great choice in terms of versatility and functionality. Its straightforward design includes a stainless steel hanging hook and a detachable mirror.
This toiletry bag is fully zipped and comes with 2 divided zipped compartments, 1 large storage section, and 3 bottle storage sections to keep your essentials within reach. Its close-packed design can easily fit in suitcases.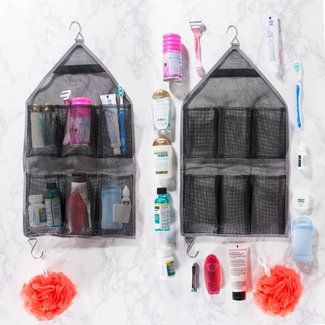 Mesh Bathroom Organizer
This hanging bathroom organizer is ideal for those with small bathrooms and limited storage space such as dorm rooms. It features 6 sturdy pockets to hold your essential products such as washcloths, shampoos, and other bath products.
The mesh fabric is lightweight, allows maximum air circulation, odor and moisture resistant, and durable. All you need to do is hang it by the hook and easily access your items while they remain organized in the pockets.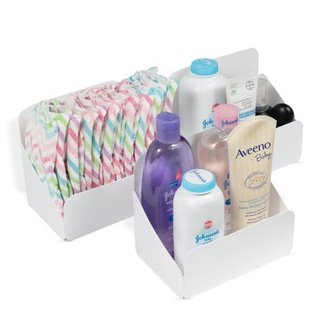 Albus Origami Storage Organizer with Wall Baskets (Set of 3)
Organize your toiletries with these simple and functional wall baskets. These storage caddies can effectively store your bath products such as shampoos, lotions, and even toilet papers while keeping your bathroom clutter-free.
These versatile and organizer caddies can be placed anywhere, whether in the kitchen or office because of their practical yet chic design, and add a touch of elegance to the room. They're spacious enough to accommodate various items while keeping them organized in one place.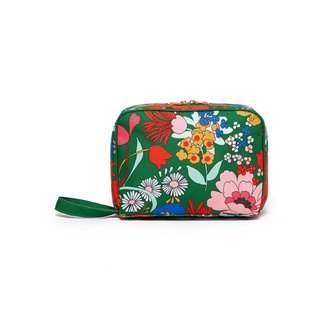 Superbloom Emerald Fabric Toiletry Bag
The vibrant and stylish design of this toiletry bag makes it a perfect addition to colorful and neutral suitcases. This green cotton canvas toiletry bag can make a statement whether you're bringing it during your trips or simply keeping it at home to organize your makeup products.
It features a handle, a center divider, an interior nylon zip pouch, pockets, and a double zipper. The rectangular shape adds a modern touch while the floral print provides a vintage twist.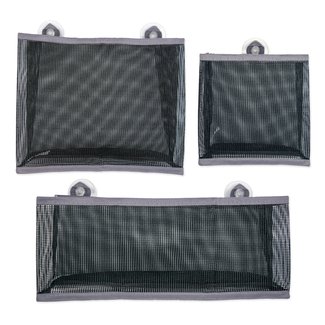 Savana 3 Piece Mesh Bathroom Organizer Bag Set (Set of 3)
This hanging bathroom organizer bag set is ideal for keeping your bathroom clutter-free and tidy. It's perfect for storing shower supplies, makeup products, and other accessories around your home. Because of its versatility, it can be placed in the kitchen, laundry room, and bedroom.
The set includes 3 bags in different sizes with a sturdy PVC mesh that allows maximum air circulation for quick drying without collecting mold. Simply wipe the bag with a damp sponge to clean.