Our Choice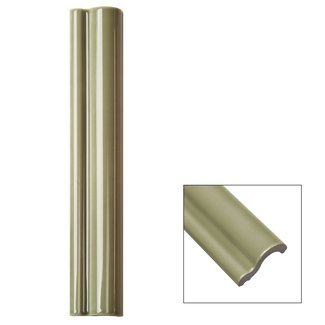 Catalina 12" x 2" Ceramic Quarter Round Tile Trim in Green
Designed for enhancing any wall-tile application, this pencil liner will give you the desired results. Irrespective of whether you are using ceramic, natural stone, or glass tiles, this tile trim will do a wonderful job of adding the finishing touches. It's modern, contemporary, and versatile enough to finish any tiling job. This lovely shade of green would complement tiles in neutral colors, like grey and cream.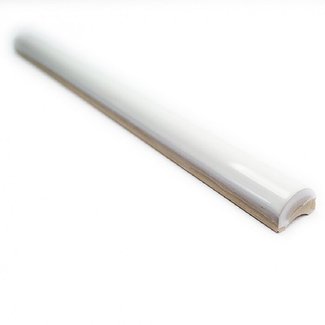 Catalina 12" x 0.75" Ceramic Pencil Liner Tile Trim in White
Are you looking to enhance your wall-tile application? If you answered yes to that question, then you are in the right place. Irrespective of whether you want to coordinate your glass, natural stone, or ceramic tiles, these pencil liners will definitely pick them up. Like adding a feather to a hat, this tile trimmer, adds the final touches of elegance and sophistication to any wall-tile application. The versatility of the white color means that you can use it with a wide variety of tile colors.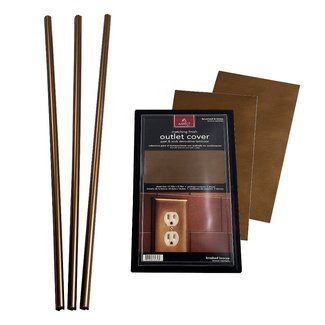 8" x 0.5" Polished Plastic Trim Kits Tile Trim
Add the ultimate finishing touches to your backsplash or wall tiles with these easy to install decorative wall tile trimmers. It adds a professional touch to any project and includes three peel and stick trims, as well as a pack of outlet covers. If you're going for a polished plastic pencil liner look, then this is exactly what you need to finish off your wall tiles and backslashes.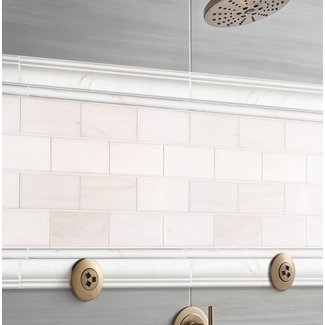 16" x 4" Ceramic Bullnose Tile Trim in White
No wall tile job can ever be complete without a tile trim. This is because it does an absolutely perfect job of edging your wall tiles and backsplashes. This particular tile trim does a great job where rounded edges are needed. The high-performance bullnose puts the finishing touch on any number of projects. Irrespective of whether you are using natural stone, mosaic, porcelain, or ceramic tiles, these pencil liners will definitely do a good job of neatening up edges. As a bonus, it is water-resistant.
Veneto 3" x 4.7" Porcelain Bullnose Tile Trim in Smooth/Gray
This medium sheen bullnose tile trim is the ideal accessory to any decorative setting. Whether you are installing wall tiles or creative backslashes, these pencil liners will give any setting an overall professional appearance. They provide a contemporary and modern decor option and also feature water-resistant properties that make it suitable for installing inside and outside the home. The tile trim is also completely frost resistant, so it is ideal for indoor and outdoor applications.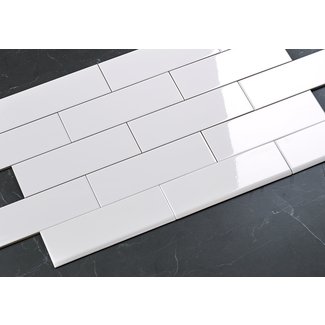 Hudson 12" x 4" Glossy Ceramic Bullnose Tile Trim in White Glossy
If you're going for a simple, clean and contemporary look, then this is it. This glossy ceramic tile trim in classic white is easy to decorate and blends wonderfully with a range of other colors and styles due to the versatility of pure white. It's also water-resistant, making it excellent for interior and exterior decoration. In addition to its water-resistant properties, it is also rust, chip, stain, scratch, and slip-resistant.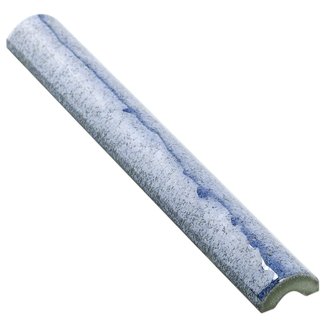 Angela Harris 8" x 1" Ceramic Bullnose Tile Trim in Blue
With subtle hints of Cuban-inspired tones, the ceramic quarter round tile trim in blue will inspire any space. It's also versatile enough to blend with an array of colors, and it allows you to bring a globe-trotting ambiance into your interior space. Suitable for commercial and residential use as well as wall and counter top use. The vibrant blue color is ideal for a bedroom or living room area.
48" x 0.7" PVC Corner Piece Tile Trim in White (Set of 2)
Do you find finishing off the corners on your wall tiles and backsplashes a challenge? Well, it no longer has to be thanks to these easy to install tile trims. They perfectly hide the cut edges on the corners of your wall panels, and there are no special tools needed to install them. Simply cut with tin snips or utility knife, and you're good to go. Ultimately, they add an attractive and professional touch to the corners of your walls, giving you complete neatness and elegance.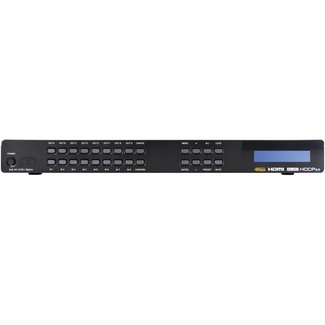 Treccia 7.9" x 1" Quarter Round Tile Trim in Nero (Set of 12)
Complete the luxurious look of a personally decorated room with this black glossy tile trim. It is non-vitreous, so it can be used in the shower or on any part of your home. It's made from natural ingredients making it safe for children and pets and is also resistant and durable, ensuring that it lasts for years to come since it is non-flammable and slip-resistant too. When it comes to cleaning and maintenance, all you need to do is wipe with a damp cloth.