Our Choice
Cristy Stained Glass 20.25" Table Lamp
Showcasing 201 pieces of handcrafted glass, and 30 pieces of glowing cabochons, the patterned diamond lamp with amber and green and blue hues is one-of-a-kind. The stained glass lamp accommodates two 60 W bulbs below the shade and can be placed on your nightstand, dressing table or side table in your living area to bring some artful charm into the atmosphere.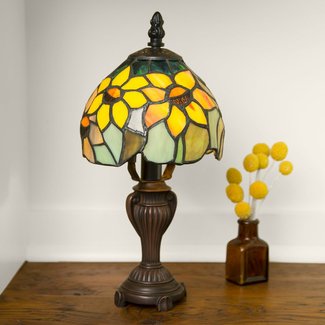 Crary Sunflower Blossoms 12" Table Lamp
Reminiscent of sunshine, flowers and warm summer days, this bright and cheery lamp will bring out the best in any room in your home. The yellow sunflowers on the lampshade are guaranteed to bring out the best on your bedside table or any space that you choose to station it. It makes a great accent piece for the home but also a wonderful gift for a family member or friend for any occasion or milestone. Containing 93 hand-cut glass pieces and 12 cabochons, this lamp is really a work of art.
Adel Table Lamp
This artfully crafted table lamp combines a bit of old and new to bring you a piece of decor that's between two worlds. The empire shade consists of 232 pieces of stained glass in a kaleidoscope of colors to add a splash of color to any side table. It takes two bulbs underneath the lampshade, and this piece adds the perfect touch of style and sophistication to a modern living room or dining area.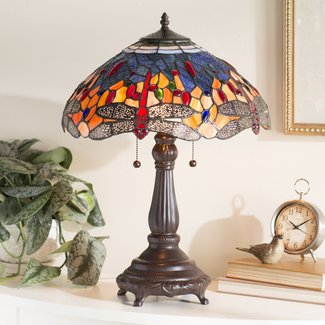 Burchette 22" Table Lamp
If you love handcrafted pieces of decor inside your home, then you're going to love this beautiful Tiffany-style table lamp. Featuring a dragonfly theme, it uses pieces of stained-glass that are hand-cut and wrapped in fine copper foil. Ultimately, the colors of blue, red hues of yellow and orange, pink and emerald green all come together to make this table lamp truly eye-catching. Use it on your favorite side or main table to create a focal point in your living room or dining area.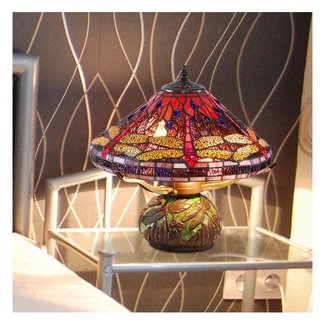 Hackettstown 16" Table Lamp
This gorgeous little dragonfly themed lamp might be small; however, it makes a big statement. It is artfully designed with hand-cut pieces of stained-glass individually wrapped in fine copper foil to create a stunning and elegant vintage look. The lampshade surrounded by dragonflies are held up by 3 arms, and the lamp stand features some brown leaves and more dragonflies. Place the lamp in any room of the home that needs a pop of color.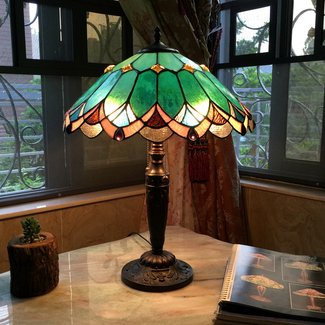 Rumi 21" Buffet Lamp
Jade green stained-glass and golden cabochons adorn this table that oozes with elegance. This luxury looking lamp makes a statement wherever it is. Perfect for interior spaces that are well decorated. Ultimately, this table lamp has an antique charm to it. So that said, it will feel right at home in a traditionally decorated room. Alternatively, if you'd like to combine old and new decor place this lamp in a contemporary or minimalistic room to provide an eye-catching piece of art.
Tiffany Mission 23" Table Lamp
If you're looking for a lampshade that's going to stand out, then you've just found one. This handcrafted lampshade contains hand-cut pieces of stained glass wrapped in fine copper foil. It is adorned with beautiful geometric designs running through the center of each panel of the shade. The shades of green and bronze provide a warm and cozy ambience while the bronze finished base delivers a solid look and feel. Feel free to place it on your favorite countertop or table to brighten up the area.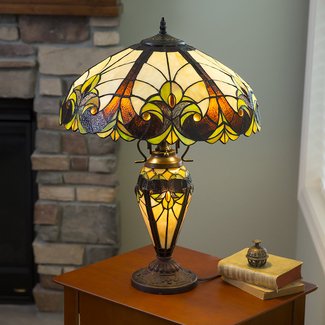 Crepeau Double Lit Tiffany 24" Table Lamp
With a total of 428 pieces of glass, this beautiful lamp is what style and sophistication is all about. Whether you need an illuminator while playing a hand of cards or a bit of light and warmth in your living or dining room, this lamp is can pull it off. The multi-colored and floral-inspired shade will diffuse light but still bring a warm ambience into the room. The base of the lamp also doubles as a nightlight for when you need a little glow in the dark.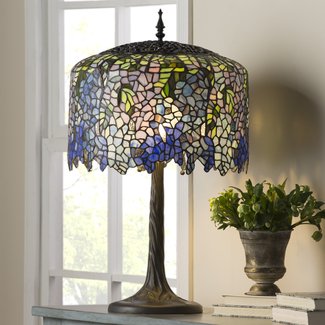 Crannell Tiffany Inspired Grand Wisteria Stained Glass 29.50" Table Lamp
This intricately designed lampshade features a whopping 1898 pieces of hand-cut glass. Meticulously put together this lamp is dramatic and bold, making a stunning impression wherever it is placed in the home. It makes the ultimate focal point in an entryway, reception room or dining hall. The majestic stained glass lamp is charming and elegant but will also bring a touch of accented decor into your home. Feel free to gift it to family and friends who want to spice up their interior decor.